Who is a Database Architect?
Big data is at the foundation of all the megatrends that are happening ~ Chris Lynch
Career as database architect builds and maintains vast electronic databases for large volumes of data to be processed and coordinated. This is a highly qualified occupation. Data architect roles and responsibilities include helping businesses to evolve and develop into new marketplaces and build a roadmap to achieve strategic objectives. Expert database architects work in close collaboration with software designers, design consultants and others to create robust databases that can be used by thousands of people. Students can pursue Electrical Engineering and Computer Science Engineering to become Database Architects.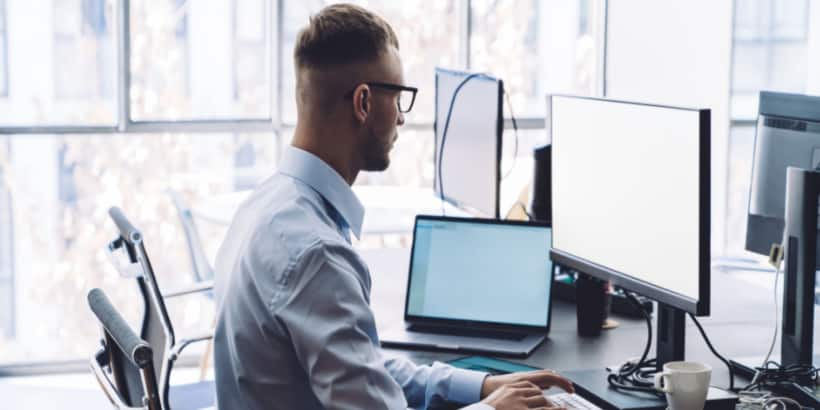 Database Architect in a Nutshell
If you are intrigued by the programming world and are interested in developing communications networks then a career as database architect may be a good option for you. Data architect roles and responsibilities include building design models for data communication networks. Wide Area Networks (WANs), local area networks (LANs), and intranets are included in the database networks. It is expected that database architects will have in-depth knowledge of a company's business to develop a network to fulfil the requirements of the organisation. Stay tuned as we look at the larger picture and give you more information on what is db architecture, why you should pursue database architecture, what to expect from such a degree and what your job opportunities will be after graduation. Here, we will be discussing how to become a data architect. Students can visit NIT Trichy, IIT Kharagpur, JMI New Delhi.
Quick Facts for Database Architect
Industry

Technology

Average Salary in India

₹80000

Suitable for

Male, Female, Others

Individuals can take up a career as database architects, it is not gender-specific. Men, women, and others can choose a career as database architects. The occupation of a database architect is not specific to any gender. Males, females and others can choose a career in this field. In India, a male and female database architect gets equal benefits because gender in this profession is insignificant.

Any special needs

Yes

Everyone, including those with physical disabilities, is appropriate for individuals who opt for a career as database architects. The career as database architects is well suited to everyone, even those with special needs. The profession is ideal for everyone, even the ones with special needs. They are supposed to attend seminars, visit sites and schedule meetings with customers. Individuals with bodily deformity can easily organise and design the electronic database; they should show the world that they can attain their goals in all circumstances.
What is the role of Database Architect?
Data architect roles and responsibilities include planning and designing how the electronic database should look and operate. Database architects would then write the code to build the database, using coding skills and access to data. Individuals who opt for a career as database architects will focus on troubleshooting any issues and finding and fixing oversights once the database is established. They will work closely with employees inside the organisation during the construction of the database to ensure that the database meets the standards of the database design firm. The type of database that has been developed may be anything from a system that handles payroll to one that handles inventory or client satisfaction. A solid architecture of the database is vital to most modern companies and errors made inside it can cost up to millions of dollars. For this purpose, database architects must be sure of paying careful attention to detail. Db architectures evaluate their employer's current and future network needs and are able to build a framework that works in various fields over different systems.
Database maintenance
A database management system is a database development and maintenance software. The database management system offers a structured way of creating, accessing, modifying and controlling data for users and programmers. There are many software which can be used by custom database architects to manage transactional databases, such as human resource management, finance. MySQL, PostgreSQL, Microsoft Access, SQL Server, FileMaker, Oracle, RDBMS, dBASE, Clipper and FoxPro are some examples of the database management system.
Troubleshooting
Troubleshooting is a problem-solving technique that is often applied to repair damaged goods or processes on a device or system. It is a logical, systematic analysis for the root of a problem, and again to make the product or method work. It is used to tackle problems with hardware, software and many other applications. The basic principle of troubleshooting is to start with as many general issues as possible, and then narrow it down to the particular problem.
System check
The operating system is the most significant program that runs on a computer system. To run such applications and programmes, computers must have an operating system. Computer operating systems perform fundamental tasks such as detecting keyboard inputs, transmitting data to the display screen, keeping track of files and directories on the storage devices and controlling external devices such as printers. Individuals who opt for a career as database architects perform all the tasks required for the flawless running of the operating system.
Prepare reports
Reports can provide useful knowledge that can be used to generate future predictions and make decisions easier. Technical reports are important to work materials written for the engineers. Detailed hypotheses about designs, experiments and other projects are also made by database architects. Documents provide scientific idea analysis that also includes graphic design and data representations. A report needs to be submitted on successful initiatives. Database architect job descriptions include preparing reports for future references.
Types of a Database Architect
Systems developer: Systems developers devise and identify system scope and goals for assigned projects that incorporate expertise and skills in all computing systems. They build and maintain specialised computer system integration, and make suggestions or decisions on modifications and improvements in software and hardware. System developers perform installations and modifications of software and hardware as needed. They also prepare comprehensive specifications from which applications are to be built and optimise hardware components. System developers change procedures to solve problems considering the ability and limitations of computer equipment, running time and performance. Systems developers plan and implement software programs for backend processing systems used in organisations.
Project manager: Project managers are responsible for project preparation to ensure that tasks are completed in a timely manner and within budget. Project managers plan and assign resources for the project, prepare budgets, track progress and keep stakeholders updated along with the process. Project managers are responsible for a project's success, or failure. Project managers are multitaskers, they have excellent skills in time management and communication, they are good communicators and they are trustworthy and optimistic. Project managers oversee a company's numerous programmes or projects, track its progress and completion, and ensure that they fulfil clients' standards. Project managers do not typically need to conduct the hands-on activities involved in a project, they must have a degree of expertise about the different aspects of a project.
Network manager: Duties and responsibilities of network managers can apply to manage multiple networks in one or more locations. Additionally, as a business or entity expands, network managers aid with creating new network technologies. A network can include a local area network, a broad area network, a network for a storage area, a virtual LAN, and local intranet or extranet servers and resources. Network managers in association with the executive team are involved in upgrading IT strategies. They prepare designs and implement all short- and long-term methods to improve infrastructure capacity. Network managers execute evaluations and provide guidance for network strategies. These types of expert database architect communicate with different departments and offer new procedures and policies.
Data Analyst: Data analytics is usually defined as a mechanism for analysing data sets to draw any conclusions with the assistance of specific applications based on the data provided. A data analyst collects, analyses and conducts statistical analyses of large data collection. With the growth of computers and a rising drive for technological progress, data processing has developed. As a data analyst, the development of the database gave the individuals involved in the career a fresh breath. Data analysts can create dashboards, design and maintain databases and systems for various departments within their company using business intelligence tools such as tableau, and programming.
Data Scientist: Data scientists are commonly referred to as big data wranglers, gathering and analysing massive data sets from different sources. In order to identify patterns and manage knowledge, data scientists are analytical and statistical experts who use their technical and social science expertise. These types of expert database architect help the company make the right choices and a good marketing plan in the global marketplace, based on the data review. Data scientists gain industry-specific knowledge of analytical and programming abilities. To assemble large quantities of data, they write extremely complex algorithms.
What is the workplace/work environment of Database Architect like?
Individuals who opt for a career as a database architect work inside an office environment. They work in information technology businesses, organisations that develop software to run for other businesses or consumers and other companies that rely on computer network systems. In order to make the infrastructure more functional and seamless, database architects spend much time updating, installing, designing and evaluating software programs.
Does Database Architect require travelling?
Not Likely
Expert database architects' work does not necessarily require much travel. Not at least during the early stages of the career. This occurs when database architects want to visit the client's workplace. To provide guidance and supervision to other developers, engineers travel quite regularly both domestically and internationally.
Employment Shifts
Full Time, Part Time
Expert database architects work full-time, although schedules can vary based on tasks, obligations and duration. Usually, database architects work 40 hours a week, with increasingly complex activities that typically require additional shifts. Database architects participating in important projects will spend more than 40 hours a week on the site.
Employment Nature
Contractual, Permanent
The nature of employment of database architects is both permanent and contractual. Individuals who opt for a career as database architects have to work inside the companies as part of a team. They consult with the supervisors about the assignments and connect with customers across the globe. Expert database architects may need to be able to travel to satisfy customers and criteria for jobs will differ based on the geographic position of the business. They can also be hired for a certain period of time, but typically work as permanent workers by database architects.
Work Place
Private Offices Factory
Expert database architects develop or implement suitable programmes, or analyse errors, and often create computer software. All those tasks are carried out in the office environment. The work does not require too much physical labour but it requires intellect and mental strength.
Presence in Geographical Area
Semi-urban, Urban
In rural areas, database architects have fewer resources than in urban or semi-urban environments. Individuals who opt for a career as a database architect operates mainly in urban areas since there are several multinationals headquartered in metropolitan cities.
Time Pressure
Likely
Custom database architects may perform tasks for a business or entity within a specified time-span. It takes a lot of time and mental strength to do this job, and we know that without hard work and commitment nothing positive can be accomplished.
Overtime Details
Custom database architects also work independently with multinational companies and they usually work nine hours a day. However, they have to work about fifteen hours a day while working on big projects. Some tasks need more effort, so that database architects need to stretch the duration of their shifts in time.
Weekly Hours of Work
Min 45 Hours
Database architects working at the site operate about nine hours a day, around 45 hours a week. Database architects' job falls under some changes, though they can work more hours in various types of projects to solve the problem. Individuals who opt for a career as database architects work nine to ten hours a day in major projects to fix the mistakes.
How to become a Database Architect?
What are the skills and qualities required to become a/an Database Architect?
When it comes to how to become a data architect, the first thing that they should know is about database architect skills. Some of the essential database architect skills we have mentioned below.
Programming skills: Expert database architects use programming languages like SQL, Java, C++, or Python to write codes. They are not supposed to learn any programming language but learning at least two languages will be useful in order to improve job opportunities. Most database architects usually select one field of specialisation and then learn the programming language best suited to that field.
Communication skills: Strong research and development skills are closely connected to outstanding communication skills. Database architects may easily grasp the issues, break them down into theories and logically find solutions. Individuals who opt for a career as database architects frequently work independently, depending on their organisation, role and project. Database architects also operate in groups and often collaborate with hardware engineers, technicians and partners. Communication skill is one of the most crucial database architect skills.
Mathematical skills: Individuals who opt for a career as a database architect are expected to have a comprehensive understanding of computer programming, software, and related technologies. Effective analytical methods and concepts to address the problem can be implemented and evolve to be more impactful. Mathematical equations and formulas are frequently used by database architects; they need to have a thorough understanding of mathematics, including calculation and statistics. Many aspects of programming require an understanding of mathematics beyond the basic level. To become an expert in programming they should have a strong knowledge of algebra and arithmetics.
Popular Online Engineering Courses and Certifications
Which certifications and internships can be helpful in becoming Database Architect?
We have mentioned below certification courses that aspiring individuals may opt for a career as a database architect.
Internship Availability
Yes
The internship is an opportunity that a firm offers for promising students to work for a short period of time. Individuals who opt for a career as database architects are generally graduate students and most training programmes vary between one and six months. Interns are also paired with other engineers who serve as mentors or guides. Database architecture includes operations such as coding and testing software systems and playing with elements of the design. Often expert database architect interns review code with other developers, check applications and patch codes and implement enhancements and updates where appropriate.
Career Path Progression for Database Architect
Data Administrator: Data administrators use data collection and management tools, such as financial reports and customer shipment records. These types of expert db architect ensure data is open to users and are safe from unauthorised access. Data administrators work in many different fields, including developing computer systems and financial telecommunications providers, insurance firms, banks, and hospitals. Data administrators, also referred to as DBAs, ensure that data analysts can use the database easily to locate the information they need and that the system works as it should. Data administrators often collaborate with the management team of an organisation to understand the data needs of the business, and to prepare the database goals. Data administrators often prepare security steps, ensuring data is safe from unauthorised access. Many databases contain personal or financial information which is essential to security. Data administrators are responsible for server backups of a power outage or other catastrophe.
Computer Programmer: Computer programmers decide the method of designing, composing, checking, debugging, troubleshooting and preserving software programs' source code. In a programming language, the source code is written so that the machine can 'understand' it. The code may be a current source update, or something entirely new. Often, computer programmers develop a graphical user interface so that non-technical users can access the software. The graphical user interface serves as a translator between software code and user. Computer programmers write and review code, to allow computer and software programs to work properly. Computer programmers work closely with software developers, and their position overlaps in some businesses. While developing software, these types of expert database architects may play a developer's role too.
Computer Systems Analyst: Computer systems analysts check the existing computer networks systems and then find a way of making them function more efficiently and effectively. These types of expert database architects offer solutions for technological innovations through recognising business requirements and information technology. Computer systems analysts serve as automated experts. These types of expert database architects record technology systems for understanding, modifying, developing and helping to restore those systems. This may involve figuring out why a computer system is unable to monitor applications, programs, databases and networks using software programs. Usually, they specialise in those types of computer systems that are unique to the field in which they operate. These analysts are often called IT project managers since they keep track of the progress of a project, deadlines and expectations are met. Computer systems analysts use data modelling to design computer systems, which helps them to take a look at the processes and data flows even before any programs are written.
Database Architect Jobs and Salaries
Computer system analyst
Monthly Salaries
Average Salary

80000

Junior Level Salary

60000

Senior Level Salary

150000
Job Description
Computer systems analysts analyse the hardware and software that are part of the computer systems of an organisation, in addition to how the systems are used. They evaluate the work a company does and find ways a computer system can better support it.
Salary Description
The more experience you learn in this sector, the better salaries you will earn in this industry. At the beginning of their career, computer systems analysts earn respectable salaries, they will earn nearly Rs. six lakhs a year but ultimately get more than Rs. fifteen lakhs at the senior-level.
What is the job outlook for Database Architect?
The demand for custom database architects has driven salaries through the roof. India needs qualified professionals in various governmental and private organisations according to the current demand for database architects. Though trained database architects from top-notch institutes are employed in different real estate development firms, the government agencies. There are plenty of opportunities for highly trained and skilled architects employed with consulting companies, design firms and universities. It is very clear that data architects are essential for a business that deals with enormous amounts of data. For people who are prepared to take the leap, this profession is a great opportunity. This reflects a 15.94 per cent annual rise for the next five years in the data architect career path. The data architect career path is expected to rise by 10 per cent from 2019 to 2029, far faster than the average for all occupations. Growth in this occupation is driven by the rising data needs of businesses across the economy. The COVID-19 pandemic unfortunately affected industries in all sectors and IT is no exception. Database architect has an advantage in a virtual recruiting process because they are used to taking tests online as part of an evaluation process.
Student Also Liked:
Frequently Asked Questions for Database Architect
Que. What are the data architect responsibilities?
Ans.
A database architect's purpose is to create complicated, open, useful and reliable computer systems. A database architect helps identify the end use of the database, then provides a blueprint for the database creation, testing and maintenance.
Que. What is the difference between a solutions architect and a data architect?
Ans.
These two practitioners deal with the technologies of an enterprise but data architects concentrate on how knowledge transfers from one application to another through the system. But solutions architects look at the company's overall technical environment.
Que. What is a data architecture strategy?
Ans.
Data architecture determines how to collect, store, process, distribute, and consume data. The term data strategy, on the other hand, means the overarching vision and underlying structure of the data-centred capabilities and activities of an organisation.
Que. Where do Data Architects work?
Ans.
Data architects develop complex computer database systems for businesses, be they for the general public or individual businesses. They work with a team that looks at the database requirements, the available data and builds a plan to build, evaluate and manage the database.
Que. What is the difference between a data modeller and a data architect?
Ans.
A data modeller may be great at modelling a particular system or business case. But a data architect needs to look more closely. Data modelling usually focuses on the architecture at the physical level of a specific database, or at the logical or conceptual level, of a particular business field.
You might also be interested in
The question have been saved in answer later, you can access it from your profile anytime.
Access now
Report Question
Select your reason of reporting