Placements play an instrumental role in a management institute. It is the responsibility of the institution to aid students in creating a prosperous future and emerging as future leaders. JBIMS Mumbai placement drive is a process that helps students showcase their potential and get employed by the business giants they wish to work with. Jamnalal Bajaj Institute of Management Studies Placement drive offers the students an opportunity to enter the league of business giants and corporate leaders. The placement drives organised by the management institute include the final placement drive for the students in their final semester and the summer placement drive which is equivalent to a full-time summer internship.
Also Read:
JBIMS Mumbai Placement Fast Facts
As per the Jamnalal Bajaj Institute of Management Studies placement report for MMS batch 2019-21, a total of 68 companies participated in the placement drive and provided jobs to the students. The median salary offered to MMS students was Rs. 22,28,000 per annum. The average salary offered to M.Sc. Finance course students in the year 2019-20 was Rs. 17,27,000 per annum.
JBIMS Mumbai Placements MMS (2019-2021)
| | |
| --- | --- |
| Placement Details | Statistics |
| Batch Strength | 157 |
| Total Companies that Visited | 68 |
| Median CTC | Rs. 22.28 LPA |
| Highest Package | Rs. 44 LPA |
| Mean CTC | Rs. 23.16 LPA |
| Number of PPOs | 54 |
Sector-Wise Jamnalal Bajaj Institute of Management Studies Placements MMS (2019-21 Batch)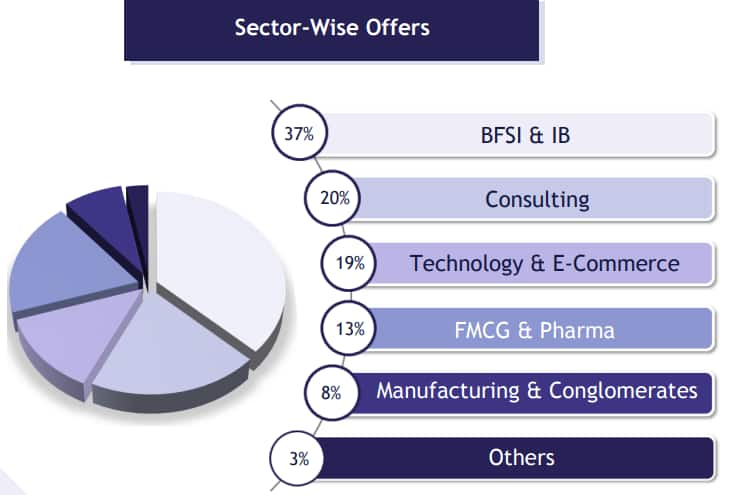 Image Courtesy - JBIMS Mumbai Placement Report MMS 2020-21
JBIMS Mumbai Placement Data M.Sc. Finance (2019-2020)
| | |
| --- | --- |
| Placement Details | Statistics |
| Average CTC | Rs. 17.27 LPA |
| Highest CTC | Rs. 24 LPA |
| Median CTC | Rs. 16.60 LPA |
| Average CTC of Top 10% | Rs. 22.67 LPA |
JBIMS Mumbai Summer Placement M.Sc. Finance (2019-2021 Batch)
| | |
| --- | --- |
| Placement Details | Statistics |
| Highest Stipend | Rs. 2.40 Lakhs |
| Average Stipend | Rs. 1.25 Lakhs |
| Median Stipend | Rs. 1 Lakh |
| Average stipend of Top 10% | Rs. 2.17 Lakhs |
JBIMS Mumbai Top Recruiters
| | | |
| --- | --- | --- |
| Tata Cliq | Accenture | Grofers |
| Wipro | Abans | HDFC Bank |
| Flipkart | Reckitt | Himalaya |
| Yes Bank | ACG | HSBC |
| Cochlear | Airtel | Hindustan Unilever |
| Deloitte | Amazon | IBM |
| RBL Bank | Pepsico | Infosys |
| Tata Steel | Flipkart | ICICI Bank |
| TCS | Axis Bank | IDFC First Bank |
| Cisco | Arzooo | Vedanta |
| Vistara | Byju's | Kotak |
| Media.net | Capgemini | Medtronic |