B.J (Bachelor of Journalism)
BJ (Bachelor of Journalism} - When we talk about journalism, the first picture that strikes in mind is that of media reporters, news anchors, etc. Press or Media is one of the most important aspects of nation building and is also considered the fourth pillar of government. Press consists of a group of people with specialized skills that bring in the information through various media (print or electronic). There are various educational programmes that teach journalism, one of which is Bachelor of Journalism (BJ). It's a one year undergraduate degree course in the field of journalism for those who are already graduates in any stream and have changed their mind to become a journalist. Interested aspirants may go through the complete article below to know more about BJ degree inclusive of the eligibility required, admission process, career opportunities after bachelor of journalism and much more.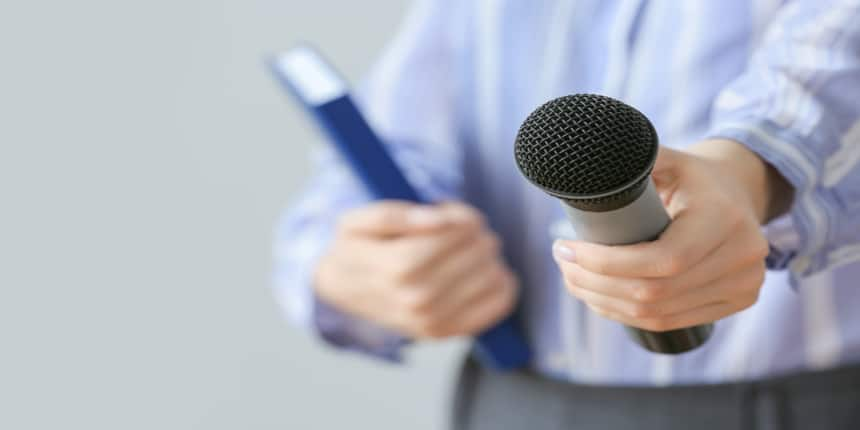 What is Bachelor of Journalism?
Journalism stands for the collection, assessment, edition and presentation of information in the form of news through various media. Bachelor of Journalism can be explained as a degree that offers aspirants with the basic learning on how to become a journalist, collect data and make relevant information out of it to be skillfully expressed to the audiences through various forms of media. People interested in a career in media houses, i.e. print media or electronic media usually get into the course of journalism.
Types of BJ (Bachelor of Journalism)
Bachelor of Journalism is an undergraduate degree course in the field of journalism having a minimum duration of 1 year for those who wish to enter the media profession after completing their graduation. It is the basic qualification for a person interested in a career as a journalist, however, there still lies an option to pursue further education and enhance their specialization accordingly.
Bachelor of Journalism Eligibility
In order to get enrolled into the B.J. course, the aspirants have to comply with the basic eligibility criteria as provided by the institute applying for. In general, all the institutes put forward the following eligibility norms for those who wish to pursue bachelor of journalism:
Candidate who is a graduate in any stream (science, commerce or arts)

Minimum score of at least 50% to 60% in the qualifying examination

Cracking entrance examination (for those institutes/ universities that offer admission to Bachelor of Journalism through entrance)
The above mentioned points are the basic ones and there can be additional conditions as well depending upon the institute or university that the candidate may apply for.
Bachelor of Journalism Admissions
Being a part of the list of University Grants Commission courses, there are various UGC approved institutes and universities across India that offer this 1 year BJ degree course. Thus, one has to search for such institutes not getting confused with BJMC and BA (MC) courses that are long term degree courses (3 year duration) and can be pursued after class 12 or equivalent examination. The admission procedure shall of course depend upon the institute applying for. Some institutes might admit the prospective applicants based on the merit in the qualifying examination which is a bachelor's degree in this case. However, there might be some others that conduct a separate entrance examination for admissions into Bachelor of Journalism courses.
Top BJ Exams
There are no major entrance examinations for admission into bachelor of journalism degree, however, it may totally depend upon the particular institute that the candidate may apply for as to whether they conduct entrance or provide admission on the basis of marks obtained in graduation.
Bachelor of Journalism Specializations
Under BJ degree, the aspirants are not offered any such specializations and the curriculum is designed general because already its a one year degree course. However, there are various specializations in order to enhance their journalism skills afterwards. Given below is a list containing names of such specializations that can be pursued after completing B. J. course:
News reading for Radio

News Reading on TV

Voice Control and Modulations

Anchoring on Television

Event Management: Planning and Designing

Coordination and Execution of an event

Photoshop Tools

Layout and Design

Cinematography

Camera Techniques and its Composition

Camera and Light Handling

Storyboard

Networking

Sound Editing

Anchoring and Reporting

Marketing Tools on the Internet
Further qualification in the specialized subjects introduces the aspirants with new opportunities and helps them become a professional in those skills and techniques.
Bachelor of Journalism Courses
As provided through University Grants Commission (UGC) norms, Bachelor of Journalism is an undergraduate degree course that has to be conducted for a duration of minimum 1 year distributed in two semesters of 6 months each. However, some may think that 1 year is a short term to gain in-depth knowledge and be called a bachelor of such a field, but BJ can be pursued only after completing a bachelor's degree in any stream or specialization. After completing a degree, in any specialization, a person is already mature enough to understand how things can be understood in a better way, and journalism is one such field that needs general knowledge and skillful application which is part of the curriculum of BJ degree.
Bachelor of Journalism Syllabus
Being a 1 year degree course, the curriculum under B.J. is vast and varied so as to cover all the aspects in well manner so that the students are not overloaded and not even at a loss due to less focus upon the subjects and their knowledge. Given below are the subjects as stated the basic ones to be inculcated into BJ curriculum according to UGC:
Introduction to Mass Communication and Journalism
The subject involves understanding of various methods and theories used for the purpose of communication. Students get to know how the world of media evolved so far.
Reporting for Print Media
Under this, students are made aware of the basic understanding of print media as essential in the present era of technology.
The path of communication, i.e. media and its journey of development is involved along with selection of news, features, laws, development reporting, views, etc.
This head includes the knowledge and experience of collecting, and presenting edited news materials for the purpose of being published or broad casted accordingly being another form of journalism.
Hereunder, students are given in-depth knowledge of the evolution of journalism, specifically in India. The various forms and products of media, i.e. news papers, magazines, Cinema, radio, television, etc. are made aware of with all related information.
Media is a form of communicating information related to one thing to a broader section of society. Here, the base is information and there are times when the information is not genuine and might be a harm for some. So under this head, students are taught how to use media while protecting the humanistic interests complying with the national as well as international norms.
This can be said as a segmented form of journalism which focuses upon a particular section of the society, eg- women, children, businessmen, technology lovers, etc.
Advertising and Public Relations
This subject helps in developing student concepts in a variety of executions in advertising for all types of products and related services.
Along with theoretical knowledge, practical experience is also required for journalism aspirants, that is why the practicals include reading and writing of lab newspapers, computer practicals, etc.
This includes taking any topic from the current affairs and writing scripts over the course.
There might be some institutes that may mould the above mentioned subjects or even add some balancing the credit limit allowed by UGC. Thus, these can only be taken as a standard and not in exact for a BJ degree course.
Bachelor of Journalism Salary
The salary of a person with bachelor's degree in journalism may range from 5,000 to 20,000 to even lakhs depending upon whether he or she is an intern, a fresher, or a person with experience. The pay gap shall also make a difference based upon the designation that he or she holds because reporters are sometimes paid less as compared to those of editors, and the news anchors are even paid more. Along with the basic remuneration, some organizations may also give their employees some additional allowances, perks, concessions, etc.
Scope of Bachelor of Journalism
As the term 'journalism' suggests, a person who has completed bachelor of journalism is a journalist and is supposed to join the media world. The nature of work might vary upon the interest of the person and the opportunities that fall upon him. There are several organizations and media houses whose work nature is mostly similar and something new might be introduced depending upon the need of the hour and technological developments in order to fetch more and more audiences.
Careers Opportunities after BJ (Bachelor of Journalism)
As the media world is so vast and full of variety, the career opportunities that may follow up after completing bachelor degree in journalism are also diverse and thus, one should surely opt for one that suits their interests as well as grip over the field. The list below provides some of the careers that one can pursue as the BJ degree is accomplished:
Copy Editor

Proof-reader

Columnist

Researcher

Television Anchor

News Reporter

Television Correspondent

News Critic

Broadcast Reporter

Photojournalist

Cartoonist
Frequently Asked Question (FAQs) - B.J (Bachelor of Journalism)
Question: After completing bachelor of journalism, can a person pursue further studies in the same field?
Answer:
Yes, however a BJ degree is pursued after completing graduation, a person can still go with masters in the field of journalism opting for a specialization according to their interests.
Question: What kind of job can I expect with a BJ degree?
Answer:
As the course is directly related with media and journalism, the work nature is also in the same field of media agencies.
Question: After completing a BJ degree, should I go for an internship or an employment?
Answer:
The answer shall depend upon the organization that one is applying for. In general one should always go for employment, but if it is some renowned media house that is offering an internship for the time being, one should not drop this opportunity for the sake of experience.
Question: What is the suspected future of journalism?
Answer:
Be it good or bad in the eyes of people, there should be no end to journalism because press/media is called as the third pillar of institution called as government and it has to grow for the sake of democracy.