​​Career Options After 12th Arts - Courses With Highest Salary
Arts is considered as a broad field with aesthetic and creative nature. One of the best things about Arts stream is that it comes with so many career options. The major subjects offered in 10+2 in Arts are History, Geography, Linguistics, Law, Economics, Political Science, Social Studies and Psychology. Depending on the interest aspirants may specialise in any of the subjects and choose a career in which they fit perfectly. There are a number of aesthetic, legal, finance, hospitality and managerial professions that one can pursue after completing 10+2 in Arts.The salary offered in these careers varies depending on the employer's geographical location, candidates' skills and prior experience.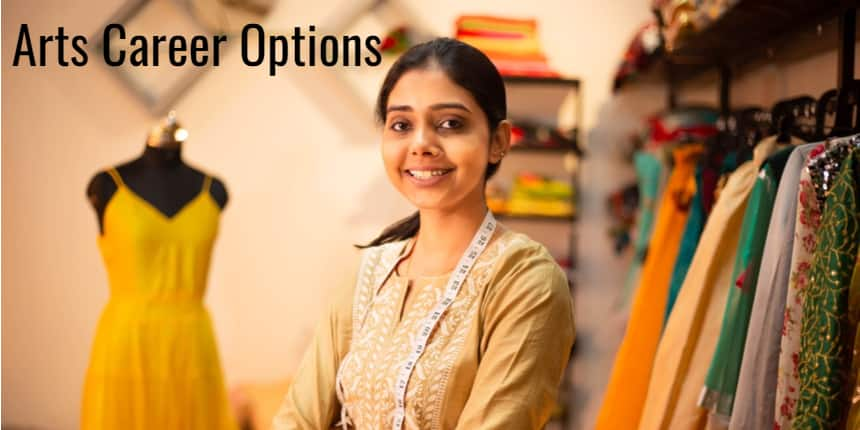 There are various options to pursue courses after 12th arts. We have provided details of some high salary courses after 12th arts. These are the best courses after 12th arts to pursue.
Candidates do not limit themselves to only one career in the arts stream. There are an array of career options after 12 arts to pursue. Check these popular career options after 12th Arts. Candidates are required to complete the minimum required qualifications to pursue these careers.
4 min read
Mar 05, 2022
Read More
Streamed Webinar
01 Apr'22 05:00 PM to 01 Apr'22 06:00 PM IST
Journalist: A Journalist is a professional involved in writing, researching and dissemination of information that contains a news value. He or she gathers the facts and ensures the credibility of news by presenting all the arguments from various sources. A Journalist keeps his or her audience abreast of the various ongoing events in the world. Journalism is a practice of keeping people informed of the current events going on in their surroundings and that may have an impact or influence on them. He or she strengthens up the fourth pillar of democracy and keeps the citizens informed about the political conflicts and new policies that may affect their rights. A Journalist may specialise in a specific area such as Politics, Entertainment, Lifestyle, Health, Sports and others.
Qualifications
Undergraduate: BMC, BJ, BA (J&MC)
Postgraduate: MJ, MA (J&MC)
Also Read: Career as Public Relations Specialist
Historian: A Historian is a professional who studies notable past events such as political milestones, social events, military conflicts and others. A Historian is usually employed in universities and other educational settings. He or she may also work for public, private and non-profit organisations. Several government agencies may hire historians to advise on proposed policies having a potential impact. He or she may advise on both domestic and foreign policies concerning major conflicts utilising the records of a range of important details. It may include military technology, leadership, communications and wartime public health.
Streamed Webinar
03 Apr'22 12:00 PM to 03 Apr'22 01:00 PM IST
8 min read
Mar 05, 2022
Read More
Qualifications
Undergraduate: BA in History
Postgraduate: MA in History
Also Read: Career as an Anthropologist
Archaeologist: If you have an interest in studying ancient human culture, then this career might be the right choice for you. An Archaeologist may directly stay involved in carrying out excavations also known as digs. An Archaeologist employed in local authorities may advise on the archaeological implications of planning applications. Those who are employed in museums or heritage centres provide assistance with the preservation, conservation, display and interpretation of artefacts. An Archaeologist is also employed by universities and research institutions.
Qualifications
Undergraduate: BA in Anthropology, BA in Archaeology, History or Geology
Postgraduate: MA in Anthropology, Archaeology, History or Geology
Fashion Designer: If you have an aesthetic mind and a good sense of fashion, then this career might be the right fit for you. The career revolves around the creative aspects. A Fashion Designer stays involved in creating clothings, accessories, jewellery, footwear, costumes and more. Designing skills are crucial for this role, aspirants must work on CAD software to visualise their designs in three dimensions. The fashion industry is wide, with varying roles and responsibilities of professionals. There are several fashion designers who create their own pieces to sell, while other fashion designers are hired to create sketches. Several designers work on creating patterns or designing clothes for established brands without any recognition.
Qualifications
Undergraduate: B.Des.
Postgraduate: M.Des.
Also Read: Career as Jewellery Designer
Transform your Career with Popular Online Design Courses and Certifications
Content Writer: If you have got good writing skills with a knack of vocabulary and eye to identify grammatical errors. Then, you may pursue this career. Candidates with a background in Journalism, Mass Communication or English are preferred for this role. Content Writers spend their quality of time researching on the internet, they read articles written by other writers and utilise the information in writing a fresh article, newsletter, blog posts or others. They may use several tools to identify and eliminate any grammatical errors or plagiarism from their articles.
Qualifications
Undergraduate: BMC, BJ, BA (J&MC)
Also Read: Career as Editor
Popular Online Arts And Crafts Courses and Certifications
Lawyer: Law plays a crucial role in protecting the rights of the citizens of a nation granted by its constitution. It makes it easy to smoothly run the operations of a state and manage the system without any conflicts internally and externally. Those who practice law are known as lawyers.Law is among top courses after 12 arts to pursue. A lawyer may advise and represent clients in the court. He or she conducts case studies based on previous cases and their verdicts concerning arguments and evidence presented in the court. He or she interprets laws, rulings and regulations for individuals and businesses in a simpler manner.
Qualifications
Undergraduate: BA-LLB, BLS-LLB, BA-LLB Hons.
Postgraduate: LLM
Also read: Career as Criminal Lawyer
Film Director: There is not any formal education requirement to become a Film Director. A relevant degree may add up to skills. Aspirants may opt for internships in production houses and build a network. Further, they may take up the role of assistant director and progress to the Director level. A Film Director is someone who controls the artistic and dramatic aspects of the film production. He or she visualises the screenplay and then guides the film crew and actors to fulfil the vision.
Qualifications: BA or B.Sc. in Filmmaking, Cinematography, Diploma in Acting, Diploma in Dramatic Arts (not mandatory)
Also read: Career as Art Director
Student Also Liked:
Conclusion: There are numerous career options 12th Arts to pursue. Aspirants can opt for law, media, design or administration careers. One can also pursue a career in the entertainment industry as well. 12th in Arts does not limit you but brings an array of career options to establish yourself in the world of work.
​​Career Options After 12th Arts - Courses With Highest Salary