Who is a Jewellery Designer?
I've always thought of accessories as the exclamation point of a woman's outfit ~ Michael Kors
We are going to solve your each query regarding Jewellery Design as a career. Who is a Jewellery Designer? What does a Jewellery Designer do? How to become a Jewellery Designer? To get answers to all such questions, you are required keep reading this article as it will provide all the details to your curiosity.
Jewellery has been popular amongst people from ancient times. Nowadays the jewellery market is booming with designer jewelleries. Therefore, being a jewellery designer can be a great career choice. Imagine working with precious metals, beads, and gemstone in order to create wearable pieces of art. We all have heard of diamonds from Tiffany, but do you know a jewellery designer C.L. Tiffany made this luxury jewellery brand. Such is the power of this field. Even you can have your label of designer jewellery.
Is jewellery designing a good career option? Such is the question that comes to every aesthetic individual who want to establish a career as a jewllery designer. A career as a jewellery designer is as sparkling as jewelleries itself. Jewellery designers work with precious metals such as diamonds, beads, and gemstones to create accessories that complement the dress. Jewellers have been there since ancient times. We can observe it in movies and shows based on ancient history. It gives us a glimpse of how the rulers and common people used to dress up. In ancient times the royal families used to wear multiple necklaces and crowns on their heads. It was not limited to a gender, but both women and men used to adorn themselves with jewellery such as anklets, bracelets, necklaces, and crown. Jewellery design as a career is considered as aesthetic profession. It perfectly suits the candidates who have a keen interest in designing and would like to spend hours trying to design a masterpiece. Either this or they would keep a collection of charcoal pencils to design all day on sheets to master the skills and create enduring designs that receive compliments from everyone.
The art of creating the best jewellery design in India is an ancient profession. It requires a lot of training, aesthetic creativity, and time and a person needs to have an eye for detail. The jewellery designing career not only requires to create the designs but also moulds the jewellery. A jewellery designer also identifies and tests the gemstones required for jewellery making. There are two career options open for jewellery designers. Either they can join the industry as a designer or they can become a part of the manufacturing industry. There are numerous specialisations in jewellery design such as gemology, costume jewellery, anadising, electroplating, and lapidary.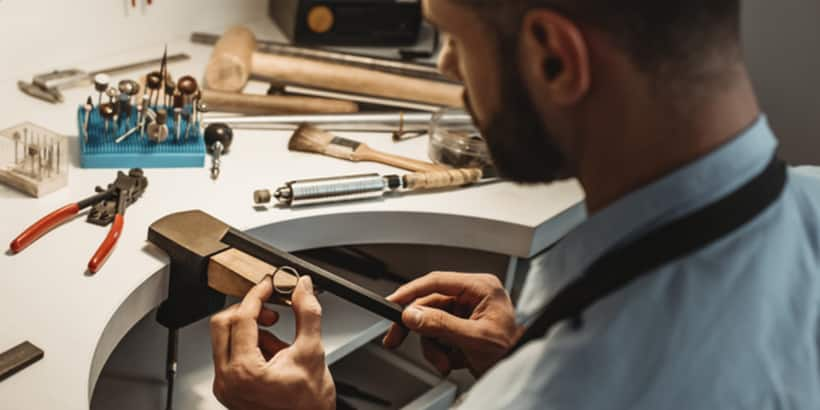 Jewellery Designer in a Nutshell
Jewelery design as a career is as attractive and magnificent as jewellery he or she creates. The career comes with numerous opportunities for jewellery designer jobs. Almost every woman owns jewellery and men are also fond of wearing bracelets, rings, and gold chains. The jewellery industry has flourished in the last few years and is not limited to a caste-based profession anymore. There are various other career paths related to jewellery designer such as jewellery manufacturers, custom designers, hand-rendered and sales associates. Jewellery design in India is an traditional profession from centuries.
Quick Facts for Jewellery Designer
Industry

Fashion

Average Salary in India

₹30000

Suitable for

Male, Female, Others

A career as a jewellery designer is a profession of fine designing, creating such designs that are enduring and pleasant to show up and move out. This profession does not limit any gender to not to be involved in it. The jewellery designer career is aesthetically fulfilling and a fascinating one. A career as a jewellery designer is suitable for everyone regardless of gender. Whether a person is male, female or belongs to any other gender can opt for this career. An individual's gender does not affect the career growth.

Any special needs

Yes

To establish a career as a jewellery designer, the candidate does not necessarily require to be fit, but a good health and physical condition is essential for functioning efficiently. The candidates must not be affected by any kind of visionary disease or vision problems. A career as a jewellery designer requires to create designs manually on paper and also through CAD software.
What is the role of Jewellery Designer?
A career as a jewellery designer is not confined to creating sketches of designs. But their everyday work life requires expertise and command of design processes such as cutting, shaping, polishing, stone setting, mounting, welding, and engraving. This career comes up with many opportunities. Most designers like to work on a freelance basis while college graduates are more willing to do a full-time salaried job. Jewellery designers can find many interesting opportunities in small and medium-sized entities that supply the finished product or goods to galleries, high street stores, boutiques, and retail chains catering to the high-end market.
Professionals involved in designing jewellery can work independently and have their stores. They travel to showcase their designs and finalise deals with the manufacturing companies. Candidates require not only good aesthetic skills but also master the commercial skills to acquire jewelery designer jobs. They build a professional network to increase their income by bagging as many commissions as possible. Designing jewellery career require to liaise with their clients and customers to understand what they need and require such as specifications in terms of design and stone. Jewellery designers work as specialists, their everyday task may involve setting stones ( precious and semi-precious), electroplating, enamelling, and engraving. Jewellery design jobs requirements include casting metal, mounting, stamping, soldering, and polishing. Once the designs are finalised, the rest is the hands-on jewelry-making activities such as preparing moulds for casting metal, mounting, stamping, welding, soldering, and polishing. It may also perform specialist tasks that include setting precious and semi-precious stones, electroplating, enamelling, and engraving.
Mounting
Constructing the framework for the piece of jewellery is known as mounting. It includes handling, forming, drilling metal, and creating opening outholes to place gemstones. Mounting helps in covering up the dark patches of the stone.
Model making (casting)
Model makers are skilled and trained in this profession, that they even make the best out of waste. Before finally making a jewellery piece, its model is created using the mould to conceptualise the final design. All the decorative details are constructed on the model.
Stamping and presswork
Stamping and press work is done by metalworking machines to create fine designs and shapes of jewellery. Stamping is not just used in jewellery but other industries also such as agriculture, electronics, Lock hardware, automotive, small as well as major appliances, and many more.
Chasing
The creation of raised patterns or carving raised patterns on the surface of the model is known as chasing in the field of jewellery designing. Chasing is also used to give a new shape to the design of jewellery. Gold, silver, copper can be used for chasing.
Soldering and fabrication
The technique used to join pieces of metal together by lowering the heat temperature with a metal filler having a lower melting point is known as soldering. While fabrication is the process of creating an item from metal.
Polishing
Polishing is an essential part of jewellery. Polishing helps in restoring the shine of jewellery. Using the right kind of polish will help in giving the best shine to the jewellery. Jewellery is required to be polished for an enduring finish and long-lasting shine. Various kinds of tools are used polishing the jewellery some of them are Bristle brush wheels, Cratex Polishing wheels, felt polishing wheels, and many more.
Stone setting
Stone is one of the major steps of jewellery making. The stone setting is a fine work that requires removing tiny pieces of metals to make space for stone to fit perfectly. Stone setting helps the gemstone to fix properly in the jewellery. To increase the brightness of jewellery the gemstone should be in a proper cut, colour, and clarity.
Electro-Plating
Electroplating is now used popularly as it is economic. Electroplating is a technique in which a layering of metal is done on a base metal. It becomes difficult to identify the base metal unless it is done by a goldsmith or related professional. All types of metal can be plated with this, for example gold, silver, copper, nickel, platinum, and more.
Enamelling
It is a technique to create coloured patterns and pictures on metal by fusion of powdered glass on the metal in a kiln. Enamel jewellery was used in ancient times with the name of meenakari. Any colour can be used for enamel jewellery but red is the preferred colour.
Welding
It is a technique to permanently join two or more metals together by melting the parts at high temperature and then cool it to create fusion. In many cases different types of weld joints and metals can be soldered together to make a welding jewellery. Some of the popular methods used for welding are Shielded metal arc welding, Gas tungsten arc welding, Flux-cored arc welding, and many more.
Brazing
Brazing is a technique to join two or more metals by using metal fillers at the joints to attach the metals. Silver brazing can be used for brazing, it contains many pieces of silver and metal including copper, cadmium, and zinc. Silver brazing is known as the hard brazing.
Engraving
The manual carving by hands or by computer-aided manufacturing (CAM) of lettering or patterns into precious metals is known as engraving. Experts use high- powered lasers to engrave the material. Engraving has three different types which include etching, laser engraving, and rotary engraving.
Promotion
For self-employed jewellery designers promoting and developing the business is more important to sustain in the industry. Networking is an essential part of this profession. It is required to enter the competition and attend craft fairs. Jewellery designers need to have many connections and with the help of those connections they can easily promote their material.
Types of a Jewellery Designer
There are various specialisations of a career as a jewellery designer. Designing jewelery include several stages. Candidates involved in jewelery design profession may opt for various roles depending own their skills and specialisations. We have mentioned below major sub-disciplines of jewelery design as a career option.
Craft and fine artists: Craft artists are skilled in fine arts and they create functional products for their customers. They craft showpieces such as glassware, pots, and also textiles. The masterpieces of craft and fine arts include paintings, sculptures, and customised drawings. The sole purpose of fine art is to create aesthetic and enduring designs. It is considered as one of the major aesthetic option in the sub-disciplines of career as a jewellery designer.
Metalworkers and related occupations: There are also other professions in the field of metalworkers such as welder, cutter, and brazer or solder. Each performs a task related to the construction of metal products including jewellery creation. The aspirants with a background in designing may choose to specialise in the area of the jewellery manufacturing industry as it is one of the best jewellery design course.
Jewellery merchandiser: Jewellery Merchandisers' work responsibility includes planning and forecasting sales, stock, intake, and discount. Merchandisers are usually based at the head office of a jewellery company. They work alongside the team to plan the ranges and stock levels. They forecast trends and monitor sales.
Also read - Career as a fashion designer
What is the workplace/work environment of Jewellery Designer like?
Jewellery design jobs are offered in jewellery stores, repair shops, and manufacturing plants. Candidates are required to spend most of their time with tools related to jewellery designing and manufacturing. They work with torches, lasers and other chemicals. Designing jewelery requires making designs using CAD software such as Photoshop, Illustrator and other programs. They also make sketches on paper using charcoal pencils. A career as a jewellery designer requires to be involved in other activities related to manufacturing of jewellery such as mounting, model - making, stone cutting, engraving, polishing and testing the quality of precious metals and gems. Candidates are also required to develop skills to perform activities such as electroplating, metal colouring, anodising, enamelling and stone setting to acquire jewellery design jobs.
Does Jewellery Designer require travelling?
Likely
The jewellery designer career occasionally requires travelling. Self-employed jewellery designers are required to travel to present the designs to clients, get their feedback and understand their requirements. Jewellery are required to visit community events for networking and other market-related insights. Jewellery designing professionals often require to purchase the material related to jewellery making such as gemstones, metals, alloys. They are required to meet and coordinate with other professionals of the industry for productivity and sales generation. Those jewellery designers who work full time sitting in an office environment are less likely to travel as compared to those who are self-employed.
Employment Shifts
Full Time, Work From Home
The jewellery designer career comes with many alluring opportunities. Fresh graduates prefer to work full time in an office environment. This career also suits those who want to work on a freelance basis. Work from home is possible when it is required. Jewellery designer career is least likely to generate on-call or hourly basis employment opportunities.
Employment Nature
Contractual, Permanent
A career as a jewellery designer brings both types of employment contractual and permanent. The export houses and other firms hire designers on contractual and permanent terms.
Work Place
Jewellery designers work in export houses, manufacturing entities, and retail stores. The full-time jewellery designers who work in an office environment work eight to nine hours a day and approximately 45 hours a week. Their work hours sometimes may stretch due to deadlines. The working hours of self-employed jewellery designers are flexible. They do not limit their productivity to regular hours.
Presence in Geographical Area
Urban, Rural, Semi-urban
jwellery design as a career provides flourishing opportunities in urban areas. There are the least opportunities in rural areas for jewellery designers. Mostly export houses, jewellery manufacturing entities, and retail stores are established in urban areas. Almost in every part of India, people wear types of jewelleries as it is the part of culture and tradition as well. All the states of India provide jewellery designing jobs. So in a way there is no specific geographic location for a jeweller to work. But if a jewellery designer is interested in working in a manufacturing firm then, he or she needs to work in the metro cities, where there are better facilities for a jewellery designer.
Time Pressure
Likely
Designing jewellery is considered as a profession for creative and aesthetic individuals. Jewellery designers working permanently hardly face any time pressure. However, one who works as a freelancer for big design organisations is more likely to face time pressure. Also, in situations such as reaching deadlines or project completion, jewellery designers might be required to handle time pressure and work for long hours to manage their work.
Overtime Details
A career as a jewellery designer is a profession that requires a lot of creativity which sometimes works as a hindrance in accomplishing the projects. Working overtime is quite normal in the profession. Jewellery designers are generally required to work more than their scheduled time.
Weekly Hours of Work
Min 45 Hours
Full-time jewellery designing professionals work a minimum of forty-five hours per week. Freelance jewellery designing professionals may work more than standard hours to meet the dealines. They get jewelery design projects from a network of clients and other professionals involved in jewellery designing.
How to become a Jewellery Designer?
What are the skills and qualities required to become a/an Jewellery Designer?
Attention to Detail: Designing jewellery takes a lot of patience and dedication. Bench jewellers have to pay close attention to major and minor detailed information about items they contribute to making. The jewellery designer is required to pay attention to detail. They have to create fine arts and give it an aesthetic finish. The incomplete design or untidy design may spoil the whole ornament
Strong Focus: Focus is the ability to understand which really works by allowing people to start an assignment without anxiety, and then retain their time and consideration until another stage is accomplished. In the midst of interruptions and failures, focus helps people pay more attention and maintain the energy and time needed to achieve a target. The profession of jewellery designing requires concentration to create fine designs. They have to make multiple sketches to get the best of them to receive approval. They have to work with clients and understand what their requirements are.
Computer Skills: Empowering the employees to become computer savvy will improve productivity and also help combat difficulties that could really require investment and considerable amounts of wealth. Several more firms have begun to rely on computerized technology to get the jobs completed. The jewellery designer must have hands-on experience in jewellery designing using computer-aided-design or CAD software such as Photoshop, Gimp, AutoCad, Illustrator and CorelDraw.
Aesthetic Sense: Office aesthetics is an excellent way of enhancing the faith, trust and esteem of the staff and create everyone's' day better. Aesthetics refers to a person or a thing's enthusiasm, positivist, or elegant personality. When art elements and principles work together to build some certain sense for the aesthetic qualities are like bright colours that create an atmosphere of perfection and harmony. Jewellery designing is an aesthetic profession. The jewellery designers are required to create unique designs that reflect the beauty of the metal and enhances it.
Commercial Skills: Commercial skills are particularly important as they illustrate the insight which an employee has of the company or organization in which individuals operate. Jewellery designers must own commercial skills to establish in the market. They must be confident about their designs. Negotiating and persuasion skills are most important for self-employed jewellery designers.
Technical Skills: Technical skills enable employees to perform more efficiently, increasing confidence by making a more appealing prospect for employment. In addition, employees with skill and technique in a difficult and demanding position sometimes get better at multitasking. The candidates must have technical skills such as gemology. These skills can only be acquired by enrolling in an academic programme related to gemology or by practising it in a professional body. Each gemstone has its unique value in terms of astrology and prize value.
Also read - Skills required to become a footwear designer
Which certifications and internships can be helpful in becoming Jewellery Designer?
Internship Availability
Yes
The students can find jewellery designing internships at various big and small firms that manufacture or deal with jewellery items. The jewellery designing interns are designing design and creation of jewellery items. They design sketches that have been conceptualised by them. Jewellery designers are often required to involve in the jewellery making process such as manufacturing, selection of gemstones, cutting, brazing, and other related activities. The jewellery designing interns are often required to create designs for mass production or they may require to make few designs as per the requirement of the client. Few interns master the aesthetic skills and are more focused on designing while few gain commercial skills also during their internship period. Commercial skills are important for self-employed designers such as negotiation, persuasion, and building up a marketing network.
Career Path Progression for Jewellery Designer
How to become a Jewellery Designer? How does one progresses in the career as a jewellery designer? We have all the answers to your queries related to a career as a Jewellery Designer. You have to keep reading to feed of appetite of curiosity about Jewellery Design as a career. There are several types of job roles in the career as a Jewellery Designer. We have mentioned below major job roles of a career as a Jewellery Designer.
Store Manager: The store manager is responsible for hiring employees. The store manager makes schedules, tracks inventory, and sales. His or her work responsibilities also include working with vendors, marketing, and participating in community events, creating a network beneficial for sales growth. Store managers carry Jewellery designers certification or academic degrees related to jewellery designing and manufacturing. It is considered as a senior-level role in jewellery design career.
Gemologist: Gemologists are skilled professionals. They work closely with wholesalers, manufacturers, and independent sellers. They purchase the stock from independent sellers. They coordinate with managers and other individuals concerned with jewellery purchasing decisions. Their job includes risk-taking activities such as purchasing high-value material. Gemologists are required to stay updated about the market trends. They must know the market value of various gemstones used in jewellery making. Gemologists must know how to set prices and negotiate while purchasing bulk precious metals, gemstones, or finished pieces.
Bench Jewellers: Bench jewellers get creative freedom while working within the organization to repair the broken jewellery. Bench jeweller can repair broken jewellery and recreate it as original as new jewellery items sold in stores. Bench jewellers use the input from other team members such as the gemologist, sales team, and store manager for approval of designs. He/she coordinates with a gemologist to buy the right stones.
Sales Professionals: Sales professionals are responsible for effective communication with customers to generate sales. They report to the sales manager. They work closely with gemologists and bench jewellers as they are more aware about the customers' buying behaviour in terms of design, gemstones, and prize value. Sales professionals coordinate with the other members of the team to know the trends of the market. They take customers' feedback and requests and communicate the same to other members of the team.
Jewellery Designer Jobs and Salaries
Gemologist
Monthly Salaries
Average Salary

30000

Junior Level Salary

20000

Senior Level Salary

100000
Job Description
Gemologists research gemstones' atomic structure and define their origin, and seek ways to avoid their degradation or damage. Gemologists recognizes the gems and recommends the jewellers on the quality of gems with the metals involved.
Salary Description
In particular industry, salary depends on business knowledge and experience.The entry level salary could be up to two to three lakhs per year and eventually, it could be above fifteen lakhs per year depending on the skill of the gemologist.
Bench jeweller
Monthly Salaries
Average Salary

30000

Junior Level Salary

20000

Senior Level Salary

100000
Job Description
Bench jewellers handle entry-level procedures like basic clasping or repairing; moreover, incorporating valuable and pseudo-precious jewels and stones. They could also manufacture jewelry from scratch.and also have computer-aided design and soldering expertise.
Salary Description
Salaries in bench jewellers' profession rely on the skills and experience. The entry-level pay is up to three lakhs per year, and gradually it could be more than twelve lakhs per year.
What is the job outlook for Jewellery Designer?
How to become a Jewellery Designer? Are jewelery designers in demand? Well, the path to become jewelery designer is very easy. Jewellery designers are in demand in every part of the country. Not only women, but also men are fond of wearing jewelleries. Jewellery is essential part of Indian wedding culture. The market's insights are good for jewellery designer as a career. The market for jewellery is constantly growing and blooming with the up-gradation of technology. Jewellery designers work with repair shops and manufacturing plants. They spend most of their time surrounded by tools required for jewellery designing and manufacturing. Professionals involved designing jewellery work with torches, lasers and various other tools. Jewellery designers are required to work using CAD software and other programs on computers to create aesthetic and vibrant designs of jewellery items. After knowing the size and prize value of jewellery, designers work on creating a prototype before the final production of jewellery. Around 75 per cent of jewellery designers work full time and 40 per cent of jewellery designers are self-employed. 1.3 million jewellery designing jobs have been created by Indian Gems and Jewellery industry across the country. Jewellery designers online sell their designs. While other designers lookup for local craft and design shows and stores to sell their designs. Jewellery designers work on flexible hours to boost sales. Their job is not limited to working eight to nine hours a day or 35 hours a week.
Jewellery design jobs can be found in jewellery designing houses, export houses, and fashion houses. Many jewellery designers are self-employed or work on a freelance basis. Working with an export house would be a good option to reach the global market. There are good chances of growth for advanced specialty trained and skilled designers. Most companies hire labour from other countries to get workers in low-value currency or lower the production costs. It is the main reason for the expected decline in jewelleery design jobs.
Frequently Asked Questions for Jewellery Designer
Que. Can I pursue B.Design in jewellery designing after BA in sociology?
Ans.
Yes, you can pursue the course even after completion of graduation in other subjects. The minimum requirement for pursuing B.Design is the completion of 10+2 in any subject with aggregation of 50 per cent of marks.
Que. I have passed 10+2 with 53 per cent of marks. Am I eligible for pursuing bachelors of arts or BA in jewellery designing?
Ans.
Yes, you are eligible for pursuing bachelors of arts or BA in jewellery designing. The minimum requirement for pursuing the course is to complete the 10+2 in any subject with an aggregate of 50 per cent marks.
Que. I have completed a diploma in jewellery designing. How will I get working opportunities in the industry?
Ans.
You need to start with internships related to jewellery designing. Make a portfolio of projects done by you, while pursuing the diploma course. Present the portfolio of designs along with your CV to employers or recruiters. You can find recruiters on various recruitment websites such as glassdoor, LinkedIn, naukri.com, monster India, indeed, Internshala, lets intern and other online platforms.
Que. I have completed class 10. Am I eligible for pursuing B.Design in jewellery designing?
Ans.
No, you are not eligible for pursuing any bachelors course in any subject. The minimum qualification requirement for jewellery designing is the completion of 10+2 with an aggregate of 50 per cent of marks. You can opt for a certification or diploma course related to jewellery designing after completion of class 10.
Que. How to learn jewellery designing online free?
Ans.
There are few courses that candidate can opt for free, some of them are Free jewellery mini-classes, jewellery making and beading for dummies cheat sheet and many more.
You might also be interested in
The question have been saved in answer later, you can access it from your profile anytime.
Access now
Report Question
Select your reason of reporting