B.Ed (Bachelor of Education)
B.Ed (Bachelor of Education) - Teaching is a noble profession in India being among the most respected ones. People these days know the importance of education and want their children to be literate, and thus, have to rely upon people called 'teachers' for that purpose. However most of the students initially don't at all like the teachers or their profession, by the time passes, the importance of teachers is understood. Bachelors of Education is a degree with 2 year duration which is a base towards employment as a teacher for primary, secondary or senior secondary levels in a school. In the Indian education system, a person has to complete his/ her schooling at least till class 10 to be counted among literates. The article below deals with complete information of the various facets related with pursuing a degree in Bachelors of Education (B. Ed.), including the top B.Ed entrance exams, syllabus covered, careers opportunities and salary after completing B.Ed degree, etc.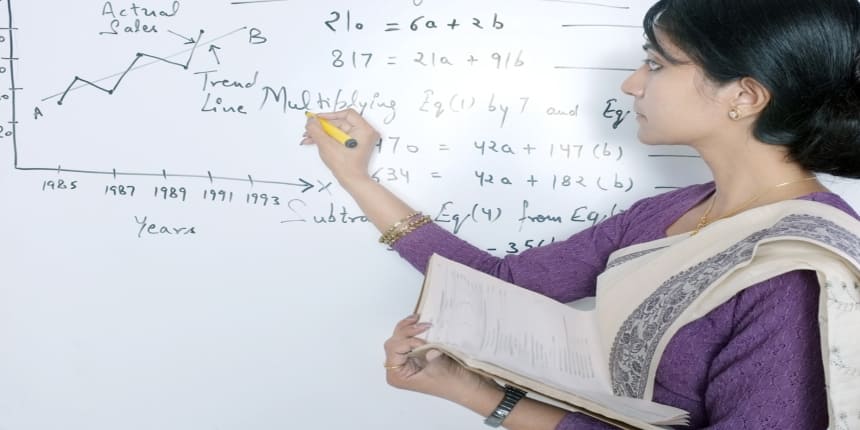 What is Bachelor of Education (B.Ed)?
B.Ed degree is an undergraduate professional course in the field of teaching which has become a mandate for those interested in teaching in the primary as well as higher levels. The National Council for Teacher education is the authority that regulates teaching courses in India including B. Ed.
Types of B.Ed
However the B.Ed degree is pursued after completion of bachelor's degree, but it can not be said to be a postgraduate degree. In the education profession, B.Ed is an undergraduate degree and those who wish to pursue masters in the same have to go for M.Ed, i.e. Masters in Education.
B.Ed Eligibility
The exact eligibility criteria for Bachelors of Education shall vary depending upon the institute applying for. The basic points of B. Ed. eligibility can be summed up as below:
Educational Qualification: The candidate should have a bachelor's degree in any stream from a recognized university, be it science, commerce, humanities, journalism, etc.

Minimum Score: As per trends, people willing to take up admission into a B.Ed degree should have a score of at least 50% - 60% or such equivalent grade in their bachelors.

Age: There is no specific upper or lower age limit for candidates who want to get a B.Ed degree.
B.Ed Admissions
The admission procedure for B.Ed degree courses varies for the different institutes. For example, there are universities that conduct specific entrance examinations in order to take up admissions in B. Ed degree, while some others offer admissions directly on the basis of merit and not through some entrance examination. Thus, the process of admission shall totally be based upon the institute itself.
Top B.Ed Exams
As there are some institutes that offer admission to Bachelor of Education through entrance examinations, under mentioned is a list containing top entrance exams for pursuing B.Ed degree:
The list is huge and candidates are advised to look for an institute that suits based upon the location and curriculum and apply accordingly. In any case they will be required to fill in the application form, whether it's online or offline, and then proceed with further process accordingly.
Bachelor of Education Specializations
As such, there are no separate specializations in B.Ed degree unlike other graduation courses. But the students are required to opt for specific subjects while pursuing the bachelor of education degree as part of course duration depending upon what stream they have graduated from. For example, people who are graduates in medical sciences might opt for subjects related with life sciences, and those having a degree in history, or humanities, will choose their subject options accordingly. It may be noted that the subject specified syllabus is there because students who pursue a profession in teaching have to impart knowledge in their own educational field, so it is crucial that they should gain in-depth knowledge of their subjects.
B.Ed Courses
Generally, B.Ed is an undergraduate course for those interested for a profession in the field of teaching. Earlier, the course duration was less but recently, the duration of B.Ed degree has been declared to be a minimum of 2 years. The programme offers imparting knowledge on various aspects related to teaching and dealing with the challenges that happen to appear in teaching profession.
B.Ed Syllabus
The syllabus for bachelor of education may vary for different institutions and universities that provide admissions to B.Ed. course. However, the National Council of Educational Research and Training (NCERT) can be considered a standard authority for the purpose of referring to the B.Ed degree syllabus. Given below are the major topics to be covered under the curriculum of B.Ed degree:
Childhood and Growing Up

Contemporary India and Education

Language across the Curriculum

Pedagogy of School Subject

Understanding ICT and Its Application

Exposure to School

Engagement with the Field: Tasks and Assignments

Learning and Teaching

Pedagogy of School Subjects

Knowledge and Curriculum

Assessment for Learning

School Attachment

Community living camp

Engagement in the Field: Tasks & Assignments for Courses

1 week Pre internship

15 weeks Internship

Engagement with the Field: Tasks and Assignments related to internship

2 weeks Post Internship

Gender, School and Society

Reading and Reflecting on Texts

Arts in Education

Understanding the Self

Creating an Inclusive School

Health, Yoga and Physical Education

Engagement with the Field: Tasks and Assignments
B.Ed. Salary
The salary of a bachelor of education can not be reiterated in exact numbers, and the numbers will also vary according to the post held by such a person. So if it's the Trained graduate teacher (TGT) level, the B. Ed. salary will comparatively be less than a Postgraduate teacher (PGT). Another factor that matters is whether the person is employed in a private school or institution, or is it an employment under the government.
On an average, a teacher's salary ranges in B.Ed. around 3 lakh per annum for TGT and around 4.5 lakh per annum for PGT teachers.
Scope of B.Ed
Students who wish to pursue teaching enter the degree of B. Ed., and thus, the scope surrounds the same. Bachelor of Education degree holders can proceed with employment in the teaching profession at government or private institutions, or can also think of becoming a tutor for special education apart from mainstream school education as needed by most of the students these days. They can also go for pursuing further studies in the field of their graduation, or even apply for Masters in Education (M.Ed).
Careers Opportunities after B.Ed
It is well known among the student fraternity that B.Ed is a basic for pursuing a profession in teaching. Candidates can be employed as a teacher at primary, secondary and senior secondary levels. And so, the base of career opportunities after bachelors in education lies around teaching, however, the place of teaching may vary depending upon the employment. Given below are some fields of nature of employment that are open for someone who has completed his/ her B.Ed degree and looking for a career thereafter:
Teaching at school

Private Tuitions

Educational Researcher

Online Tuitions

Educational Content Developer

Educational Consultant

Principal and Vice Principal
Frequently Asked Question (FAQs) - B.Ed (Bachelor of Education)
Question: Is a B.Ed degree regular one or distance?
Answer:
It depends upon the institute that the candidate is applying for, as to whether the programme will be regular or in distance mode.
Question: Is it compulsory to appear in an entrance examination for pursuing B.Ed?
Answer:
No, this again depends upon the institute applying for. There are some universities that conduct a specific entrance examination while some others just provide admissions on merit basis.
Question: As I have completed my Masters, am I still eligible to pursue Bachelors in Education?
Answer:
Yes, the basic educational qualification for pursuing B.Ed is having completed the bachelor of education degree with requisite marks. And thus, any additional degree will only add up to the candidate's qualification only.
Question: I have a score of below 50% in my graduation but that in post graduation is 62%. Am I eligible to apply for B.Ed?
Answer:
The exact answer to this question will depend upon the institute one may applying for. However, in such a case the marks obtained in post graduation should ideally overcome that of a qualifying examination.