Covid-19 compelled schools and educational institutions to shut down and stay closed for almost two years. At a time, when children are meant to develop holistically, build a sound academic base, interact with classmates and enjoy school life, shutting down of schools wreaked havoc in the daily lives of students, and contributed to a number of mental health problems even if they were not identified. The Indian Psychiatry Society carried out a survey and found that there was a 20% rise in the number of cases of mental illness at the end of March 2021. After that the situation has not improved, rather only worsened.
The three most common mental health problems seen in children are anxiety, depression, and ADHD. We shall now talk about each of them in more detail.
Anxiety
The first common mental health problem is anxiety. Anxiety, in layman terms, can be understood as a persistent feeling of worry about the unknown. Most of us experience anxiety from time to time, however, intense worry over a prolonged period of time such that it begins to interrupt daily life, might be indicative of a mental health disorder, or a clinical condition that needs professional attention.
Common signs of anxiety may include:-
Feelings of stress, restlessness, apprehension, or fearfulness
Irritability
Trouble concentrating
Excessive sweating and dizziness
Shortness of breath
Muscle pain and tension
Headaches
Frequent upset stomach or diarrhea
Panic attacks
Also Read | Anxiety And Depression In Children: Preventive And Remedial Strategies
The causal factors of anxiety include a combination of genetics, naturally occurring brain chemicals, and stress from the environment. However, it's difficult to pin point any single factor of anxiety. Some common causes of anxiety in children that I have observed in my experience as a counsellor, especially post-Covid, are:-
Among the younger age groups, having to stay away from parents during school hours after spending the lockdowns in each other's total presence, may cause separation anxiety.
Having to return to school after a long period of staying in the comfort of their homes
Excessive dependence on gadgets and video games
Increased social media use, thus leading to negative thoughts and feelings about oneself
Belonging to a dysfunctional family
Increased risk-taking behaviour
Academic lag having crept in students because of online teaching and lockdown
Also Read | Are You Romanticising Mental Health Issues?
Depression
The second common mental health problem is depression. Depression is a mood disorder that involves persistent feelings of sadness, hopelessness, and loss of interest in previously enjoyable activities.
Signs Of Depression In Children
Some of the signs of depression in children may include:-
Changes in sleeping and eating patterns.
Changes in social behavior, such as withdrawing from others and isolating oneself
Increased negative thinking i.e. pessimism, and mood swings
Trouble concentrating or paying attention
Difficulty comprehending and finishing assignments in school
Loss of interest in activities they once enjoyed
Not attending classes or social outings
Reacting negatively or with apathy to most things
Talking often about death or suicide
Also Read | How To Identify Depression: Know When To Seek Help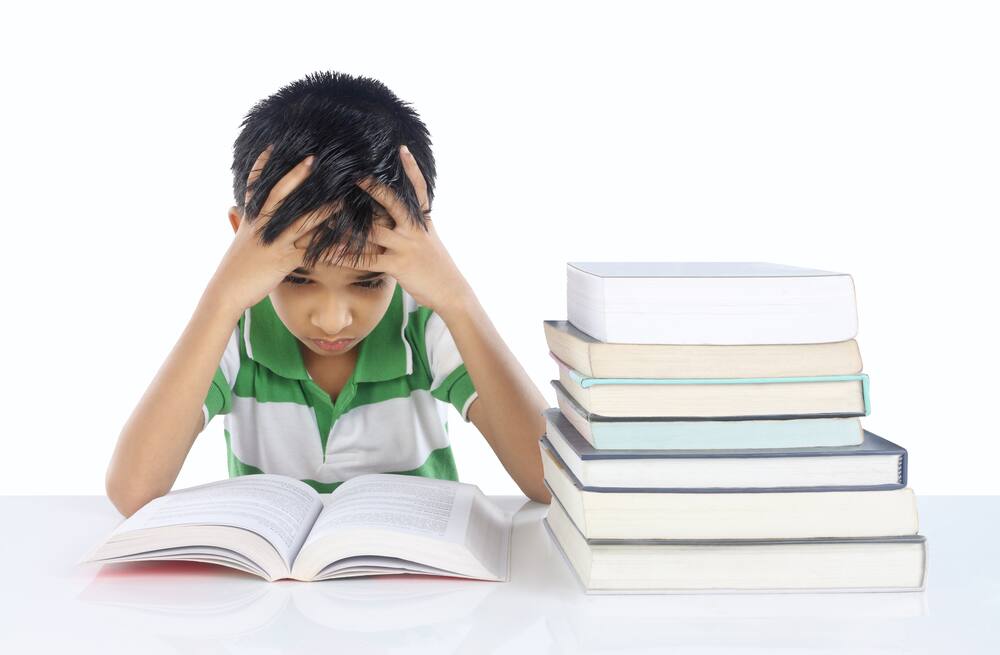 Not Being Able To Concentrate May Be One Indicator Of Depression
Attention Deficit Hyperactivity Disorder
The third common mental health problem is Attention-Deficit Hyperactivity Disorder (ADHD) which is a chronic condition that affects millions of children and can significantly interfere with their personality and academic development.
Signs Of ADHD In Children
Features of ADHD include inattention and hyperactive-impulsive behavior. Symptoms of the mental health disorder of ADHD typically start before age 12, and in some children, they're noticeable even before that.
Some of the signs of ADHD are not being able to pay attention in class, not being able to sit in one place, making frequent errors while writing, not being able to wait for one's turn in a queue, and so on. However, the symptoms vary with the subtype of ADHD that a child is diagnosed with.
It has been found statistically, that ADHD occurs more often in males than in females, and behaviors can be different in boys and girls. If you're concerned that your child shows signs of ADHD and is facing difficulty to manage at home/ school, please see your pediatrician, family doctor, or a psychologist for mental health help.
Complications Accompanying ADHD
Children with ADHD struggle with school ,academics, and general functioning at home. They often engage in high-risk behaviours, thus making them more prone to accidents. Academic gaps may lead to failures in school, sometimes even forcing them to drop out, thus further negatively influencing their self. Children with ADHD have been found more likely to take to alcoholism and drug abuse later on in life.
Also Read | Things Mentally Healthy People Do
Why Mental Health Issues Worsen
What are some of the reasons that mental health issues worsen? Let us take a look at a few:-
Stigma
The biggest issue with mental health problems in India is the stigma attached to them. However, mental health help by professionals can make a significant difference. Realistic expectations and appropriate assistance from parents and teachers, coupled with open communication, assistance can ease recovery of students undergoing mental health problems.
Lack Of Awareness
A lot of times, children are unable to realise they are facing a mental health problem and simply credit their bad mood to 'feeling low'. This is due to lack of mental health awareness. It is, therefore, important for students, teachers, and parents to realise the commonality of mental health issues in children and teenagers, and give them the help they need.
Troubled Parents Or Guardians
Living with parents or guardians who are undergoing/have undergone a mental health problem themselves can be challenging, especially when children become targets or victims to parental frustration. Parents who knowingly or unknowingly project their personal and professional stresses onto their children
Increased Screen Time
Another big cause of rising mental health issues in children is increased screen time, whether it's for online classes or entertainment. Studies in psychology have stated that increased screen time can lead to negative consequences on a person's self.
Also Read | Self-Care Tips To Feel Happy And Rejuvenated
Remedifying Mental Health Issues
What can parents, teachers, and other important adults in the lives of children do if the latter are diagnosed with mental health issues? Here are a few suggestions.
Accept that each child is different, in the sense that they have different tolerance levels for stress, fear, and anxiety.
Keep yourself abreast with the changing times and keep reading the relevant literature to understand when the attention of qualified mental health professionals is needed.
Psychotherapy and counselling, in other words, mental health help with a psychologist can make a huge difference.
Do not rely on therapies that are not based on any scientific evidence, it might cause more harm than good.
There's no substitute for early identification and remediation. Be vigilant and seek professional help for mental health disorders at the earliest
Allow the child to express their thoughts and emotions. Be an empathetic listener.
Spend quality time with your ward and listen to him/ her non-judgmentally.
As a teacher, talk openly about these issues.
Make psychological and mental health help services available in school and the community
Join a support group that helps you through.
Appropriate intervention for mental health issues needs us to eradicate the stigma around them. With professional assistance now easily available, children with mental health issues can easily overcome them, given that they get complete acceptance and support of their parents and teachers.
Also Read | How To Help Your Child Nurture Their Mental Health
Note-The signs pertaining to different disorders mentioned in this article are subject to various important factors such as duration of their presence, comorbidities, etc. The information provided in this article is only indicative, and should not be used to make any clinical diagnosis.
Ritu Johari is a Delhi-based Counselling Psychologist with more than two decades of experience in counselling students - both children and adolescents, their parents, and teachers. She has a specialisation in Developmental Psychology from North Campus, Delhi University, and did her professional training at AIIMS, New Delhi. She received the Upgrad Global Expo 2022 award for her outstanding contribution to the field of counselling.