Who is a Oncologist?
The standard treatments for cancer are not meant to heal, but to destroy ~ Andreas Moritz
An Oncologist is known as a cancer doctor. He or she is responsible for providing medical care to patients diagnosed with cancer. There are three specialised areas in oncology: medical, surgical, and radiation. Cancer is a threat to billions of lives on this planet. You might have known someone in your family and relatives who have suffered from Cancer and spent days in the hospital getting treatment, chemotherapy and immunotherapy. We know several celebrities who won their battle with cancer through diagnosing at the right time and getting accurate treatment from Oncologist.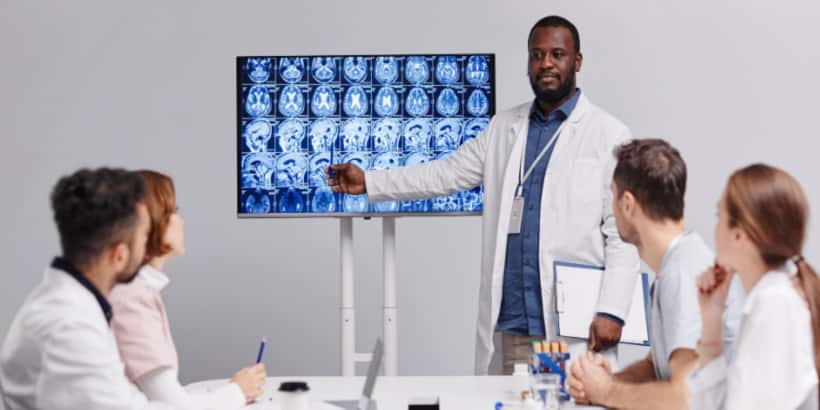 Oncologist in a Nutshell
An oncologist is a specialised doctor responsible for providing medical care to patients diagnosed with cancer. He or she uses several therapies to control the cancer and its effect on the human body such as chemotherapy, immunotherapy, radiation therapy and biopsy. An oncologist designs a treatment plan based on a pathology report after diagnosing the type of cancer and where it is spreading inside the body.
Quick Facts for Oncologist
Industry

Healthcare

Suitable for

Male, Female, Others

A career as oncologist is suitable for everyone regardless of gender. Whether a person is male, female or belongs to any other gender, he or she can become an oncologist. Anyone can become a cancer oncologist after fulfilling academic requirements as there are no gender based restrictions in this career.

Any special needs

No

The career as an oncologist is not suitable for individuals with special needs. The career demands candidates to perform multitask and effectively apply treatment methods such as biopsies, immunotherapy and chemotherapy to treat cancer. He or she must possess strong decision-making skills to determine a treatment plan. Communication and leadership skills are crucial for this role.
Table of Contents for Oncologist
What is the role of Oncologist?
Are you searching for an oncologist job description? For a layman, an oncologist definition could be as, 'physicians who inspect, diagnose and treat cancer through various therapies, medical and surgical care are known oncologists. There are several sub specialisations in oncology such as medical oncology, gynecological oncology, pediatric oncology, radiation, surgical oncology and hematology. Medical oncologists apply immunotherapeutic, chemotherapeutic and medical care to treat cancer. While gynecologic oncologists deal with cancer affecting female reproductive organs. Pediatric oncologist provides treatment of cancer to the children and teenagers. Radiation oncologists use radiation therapeutic methods to treat cancer. Surgical oncologist provides surgical care to treat cancer. Hematologists are medical professionals who provide treatment to medical cancer. They deal with malignancies of blood-forming tissues and leukemia.
Treatment
An oncologist is required to explain patients effectively about the treatment plan and cancer stage. He or she has to discuss treatment options and provide assistance in managing the side effects and symptoms of cancer and treatment procedure.
Coordination
An oncologist has to lead the cancer treatment team that includes various healthcare professionals.He or she has to coordinate treatment plans that includes various types of treatments such as immunotherapy, chemotherapy and other treatment methods. A radiation therapist applies radiation therapy to treat cancer patients.
Surgery
A surgical oncologist is responsible for performing surgeries to remove tumors and ensure that the cancer has not spread from its original starting point. He or she also assists patients in pain management.
Administrative work
An oncologist is responsible for performing basic administrative and clerical tasks. He or she keeps records of test results, writes prescriptions and provides cancer information to patients and monitors treatment plans.
Types of a Oncologist
Medical Oncologist: A medical oncologist is someone who provides medical care to patients suffering from cancer. He or she applies chemotherapy, immunotherapy or targeted therapy to treat them.
Surgical Oncologist: A surgical oncologist is a medical professional who provides surgical care to patients suffering from cancer. He or she performs surgery to tumor as well as nearby tissue during surgery. A surgical technologist also performs several biopsies to diagnose cancer.
Radiation Oncologist: A radiation oncologist performs radiation therapy to treat cancer patients. He or she uses high energy photon beans to destroy cancer cells. A radiation oncologist may also perform radiosurgery, if required.
Pediatric Oncologist: A pediatric oncologist is a specialised oncologist who treats children diagnosed with cancer. It includes brain tumors, leukemia, Ewing' sarcoma and osteosarcoma.
Gynecologic Oncologist: A gynecologic oncologist is responsible for providing treatment to gynecologic cancer patients. It includes ovarian cancer, uterine cancer and cervical cancer.
Hematitis Oncologist: A hematitis oncologist is responsible for providing treatment to blood cancer such as leukemia, lymphoma and myeloma.He or she may also treat blood disorders which are not cancer such as anaemia and hemophilia.
What is the workplace/work environment of Oncologist like?
A career as oncologist provides a secure working environment in healthcare facilities and hospitals. He or she gets employment opportunities in medical and surgical hospitals, cancer clinics, and outpatient cancer care centers. Several oncologists may also take up to the role of professor and teach in oncology colleges. Oncologists work in a fast-paced and challenging environment. An oncologist undergoes residency training in the initial years of his or her career. He or she spends most of his or her time standing. A career as an oncologist requires working in rotational shifts. Working on late evenings and weekends is quite common in a career as an oncologist. Patients may require cancer treatments at all hours including day and night. Therefore, oncologists may often be required to work extended hours.
Does Oncologist require travelling?
Not Likely
Oncologists usually do not require travel. They may require travel to visit medical seminars on oncology or cancer treatments. In emergency cases, he or she may be required to travel to deal with the case.
Employment Shifts
Full Time
An oncologist works full time in hospitals, cancer clinics and other healthcare facilities. He or she may also provide on-call consultation on emergency situations. A career as oncologist requires to work in rotational shifts. Emergency cases may arrive at any time. People may require an oncologist at any time whether it be day or night, therefore oncologists often have to work at extended hours.
Employment Nature
Contractual, Permanent
The career as oncologist provides both types of employment opportunities contractual as well as permanent. The management of the healthcare facility recruits oncologists on contractual basis depending on the requirements of the facility. The duration term for contractual oncologist depends on the requirements of the oncologist.
Work Place
hospitals
A career as an oncologist requires to serve cancer patients in hospitals, cancer treatment centres, cancer clinics, cancer hospitals and other healthcare facilities. An oncologist may also opt for teaching roles and provide lessons in medical colleges.
Presence in Geographical Area
Semi-urban, Urban
There are more developed healthcare facilities in urban areas as compared to rural areas. Bengaluru offers 144 per cent higher salary than the national average salary of oncologists. Vijayawada, Hyderabad, Mumbai and New Delhi also offer alluring opportunities to Oncologists.
Time Pressure
Likely
Yes, being an oncologist requires working under frequent time pressure.
Overtime Details
Working on weekends and late evenings is quite common in the career as an oncologist. He or she often requires to work extended hours.
Weekly Hours of Work
Min 45 Hours
An oncologist works a minimum of 45 hours per week. A career as oncologist often requires working extended hours.
How to become a Oncologist?
What are the skills and qualities required to become a/an Oncologist?
Teamwork: An oncologist is required to perform efficiently and effectively in a team. He or she is required to provide medical assistance to other surgeons while performing surgeries that relate to their area of speciality.
Communication skills: An oncologist must possess strong communication skills. He or she is required to listen carefully to his or her patients when they describe symptoms and related problems. An oncologist is required to prescribe medications and necessary precautions to be taken to patients. He or she is required to possess both verbal and written communication skills.
Organising skills: An oncologist meets multiple patients and listens to their problems in his or her working day. He or she is required to prescribe medications to each patient depending on the level or effects of diseases or disorders. An oncologist is required to stay organised. There is no space for any mismanagement in the profession of an oncologist. He or she is required to manage time and schedule appointments for consulting patients.
Which certifications and internships can be helpful in becoming Oncologist?
Internship Availability
Yes
MBBS students are required to undergo rotational internship of duration of one year. MD and MS graduates are required to opt for residency programmes with a minimum duration of 2 years and maximum duration of seven years in hospitals under a senior practitioner.
Career Path Progression for Oncologist
Trainee Oncologist: A trainee oncologist is recently graduated oncologist who performs residency in a cancer hospital for several years under the supervision of senior oncologist to get the medical license.
Junior Oncologist: A junior oncologist is a medical oncologist who has finished his or her residency programme and possesses a medical license to treat patients. He or she possesses an entry-level experience in the field of medical oncology.
Senior Oncologist: A senior oncologist is an experienced oncologist who possesses years of experience in the field and has treated numerous patients. He or she has a medical license to perform treatment methods on patients.
Oncologist Jobs and Salaries
Trainee Oncologist
Job Description
A trainee oncologist performs under residency programme. He or she has to serve in a team of medical professionals and apply his or her knowledge that he has acquired during his or her academic programme.
Salary Description
The salary of a trainee oncologist ranges between Rs. 1.1 lakh to 1.7 lakh per annum.
Junior Oncologist
Job Description
A junior oncologist performs oncology treatment under the supervision of a senior oncologist. He or she may often provide consultation to patients and perform several therapies on patients such as immunotherapy or radiotherapy.
Salary Description
A junior oncologist could earn anything between Rs. 1,700,000 to Rs. 1,800,000 per annum.
Senior Oncologist
Job Description
A senior oncologist works with patients in order to diagnose the spread of cancer. He or she consults the patients in determining the treatment plan and managing its side effects. A senior oncologist performs surgery on patients to remove the cancerous tumors.
Salary Description
A senior oncologist earns more than Rs. 3,400,000 per annum.
What is the job outlook for Oncologist?
There is an expected increase of 14 per cent in the demand of oncologists in upcoming years. It is quite higher than other occupations. Medical technology has also upgraded with the time, industry demands oncologists who are familiar with the latest technology. The human population has also increased over the years. Therefore, the demand for trained oncologists has also increased. Oncologists with superior communication and leadership skills can easily acquire managerial positions in hospitals and other healthcare facilities. Several experienced oncologists can start their own practice and take up entrepreneurial roles. Several oncologists may take upto teaching roles in medical schools. They can also progress up to administrative roles.
Frequently Asked Questions for Oncologist
Que. What are the top oncology colleges in India?
Ans.
There are various oncology colleges that offer oncology degrees and certification oncology courses. We have mentioned below top oncology colleges.
Christian Medical College, Vellore
St Johns Medical College, Bangalore
All India Institute of Medical Sciences New Delhi
MS Ramaiah Medical College, Bangalore
Institute of Medical Sciences Banaras Hindu University, Varanasi
Vydehi Institute of Medical Sciences and Research Centre, Bangalore
B J Medical College, Ahmedabad
Sri Ramachandra Medical College and Research Institute, Chennai
Madras Medical College, Chennai
Dr Ram Manohar Lohia Institute of Medical Sciences, Lucknow
Jawaharlal Institute of Postgraduate Medical Education and Research Puducherry
Que. What is the average fee of a postgraduate oncology course?
Ans.
The fee varies depending on institutes. Government colleges charge less fee as compared to private medical colleges. The average fee of MD oncology course ranges Rs. 200,000 to Rs. 1,800,000.
Que. What is the average oncologist salary?
Ans.
The salary varies depending on skills and experience of medical professions. The average oncologist salary is Rs. 1,700,000 per annum.
Que. Are hematologists oncologists?
Ans.
Yes, hematologists are specialised oncologists. They treat blood cancer and its various conditions. Hematologists also treat non-cancerous blood diseases and disorders such as hemophilia, leukemia, lymphome and sickle cell anemia.
You might also be interested in
The question have been saved in answer later, you can access it from your profile anytime.
Access now
Report Question
Select your reason of reporting