Who is a Pathologist?
You have to be a good observer to be a good pathologist ~ Bill Bass
In a career as Pathologist, a physician is responsible for studying the cause, nature and effects of diseases. We have all had our share of diseases and illnesses but have you ever thought about the research that goes behind finding the cure of a disease? Or who researches about the origin, cause and effect of a sickness? If topics like these fascinate you then pathologist careers are possible career options for you. Individuals who opt for a career as pathologists are medical professionals who are responsible for conducting several tests and examinations on a day to day basis. A career in pathology in India is a broad field and a pathologist mainly concentrates on changes in cells, tissues and organs. Students need to study Biology course in their 10+2. Here we will discuss how to become a pathologist in India, careers in pathology, pathology employment, a career in pathology in India, pathologist education, pathology course and pathologist training.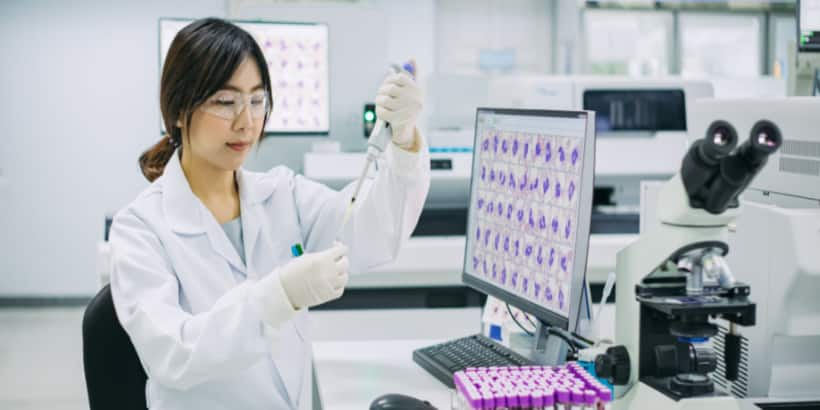 Pathologist in a Nutshell
The career in pathology in India is filled with several responsibilities as it is a medical branch and affects human lives. The demand for pathologists has been increasing from the past few years as people are getting more aware of different diseases. Not only that, an increase in population and lifestyle changes have also contributed to the increase in a pathologist's demand. The pathology careers provide an extremely huge number of opportunities and if you want to be a part of the medical field you can consider being a pathologist. If you want to know more about a career in pathology in India then continue reading this article.
Quick Facts for Pathologist
Industry

Healthcare

Suitable for

Male, Female

Individuals can take up a career as pathologists, it is not gender-specific. Males, women, and others can choose a career as pathologists. In order to become a pathologist, an individual from any section or gender can do so. It does not matter which gender he or she belongs to when it comes to taking up a career in the field of medicine. Being a pathologist in India can be of several advantages due to the vast career opportunities available in this field where an individual's gender is insignificant.

Any special needs

Yes

Everyone, including those with physical disabilities, is appropriate for individuals who opt for a career as pathologists. The career as pathologists is well suited to everyone, even those with special needs. The career of a pathologist is about researching and analysing various diseases and their nature. Pathology is a branch of medicine that involves laboratory examination of several organisms and tissues involved in a disease. It requires a pathologist to be physically fit himself in order to carry out his work efficiently and effectively. Therefore, ideally one should be physically fit in order to become a pathologist. But, it is nowhere mentioned that it is compulsory to be physically fit in order to be a pathologist. Therefore, if the individual's disability does not cause any negative effect on the work, he or she can become a pathologist.
Table of Contents for Pathologist
What is the role of Pathologist?
Pathology careers have become one of the most popular fields in the healthcare industry with a wide range of occupations. Pathology work will require an individual to conduct research to investigate the causes and effects of various diseases and ailments in patients. The need for skilled and trained individuals who opt for a career as pathologists, nationally and internationally has increased due to the huge need for such staff in various fields. With the inevitable increase in the world's population, the need for knowledgeable physicians will continue to increase, especially with new and dangerous diseases spreading around the world, and pathologists will be able to find beneficial career options throughout their lives. Here we will discuss about how to become a pathologist, careers in pathology, pathology employment, jobs in pathology, pathology classes, pathology course and pathologist training.
Testing
Individuals who opt for a career as pathologists are responsible for conducting several tests on a daily basis. These tests are conducted mainly for diagnosis purposes. Tests could be like blood tests, smear tests as well as tissue removal tests. These tests help a doctor to understand the cause or presence of any disease, virus or infection and he could treat the patient accordingly. Once the test results are filed he or she explains the patient about the results and suggests the further steps accordingly.
Treatment
Individuals who opt for a career as a pathologist provide a solution or prescribe a medicine depending on the patient's disease. Once the tests are done and the reports are out a pathologist could either refer the patient to any specialised doctor or if it is a minor ailment or disease he or she could prescribe the medicine directly. Not only that in cases of blood transfusion it is a pathologist who is responsible to make sure that the blood is safe enough to be transferred into the patient's body.
Types of a Pathologist
Clinical Pathologist: A clinical pathologist works in a hospital's lab as well as in the pathology groups to practice as a consultant physician. It is the first step for a fresher in this field to develop and apply knowledge of tissue and laboratory analyses. It would enable him or her to assist in the diagnosis and treatment of individual patients in the future.
Anatomic Pathologist: Anatomic pathology is the branch of medicine that studies the effect of diseases focusing on the structure of body organs. An anatomic pathologist does so by focussing on the disease both as a whole (grossly) and microscopically. The primary role of anatomic pathologist is to identify abnormalities that can help to diagnose disease and manage treatment. It requires an individual to have good observation skills.
Forensic Pathologist: Forensic pathology is a branch of pathology that mainly focuses on determining the cause of death by examining a corpse. A post mortem is performed by a medical examiner, usually during the investigation of criminal law cases and civil law cases in some jurisdictions. One needs to have an experience of at least four to five years in anatomic pathology or clinical pathology to become a forensic pathologist.
Medical Lab Technician: Individuals who opt for a career as medical lab technicians offer an individual the opportunity to have a significant impact on patient care, without actually interacting with patients. If one wants to make it to the field of medicine then being a doctor is not the only option.
Laboratory Technician: Individuals who opt for a career as laboratory technicians collects and processes specimens, including skin and bodily fluid samples, from patients in a hospital or private medical diagnostic laboratory. Blood work technicians work under a laboratory technologist's supervision using procedures that help medical professionals diagnose diseases, plan treatments, and ascertain their effectiveness.
What is the workplace/work environment of Pathologist like?
Individuals who opt for a career as a pathologist either work in a hospital or a research firm. In both the cases he or she works in a closed and clean environment. Being part of the medical field one has to be wearing clinical clothes as well in order to protect himself from any kind of infections.
Does Pathologist require travelling?
Likely
Individuals who opt for a career as pathologists do not require to travel. This is the case at least in the individual's initial days. Once an individual has gained experience and made a good name in the market he or she may have to travel to different places in order to attend conferences or give a guest lecture. But, it is not a full-time travel based job.
Employment Shifts
Full Time
The employment shift of a pathologist is full-time in nature. The duration is generally ranging between 45-55 hours a week. It often stretches depending on the workload on the individual. Individuals who opt for a career as a pathologist could also practice on his or her own by setting up one's own clinic or research firm. In that case the working hours will entirely depend on his or her preference and the client's needs.
Employment Nature
Permanent
The nature of employment of a pathologist is permanent in nature. Any hospital or even a research based firm can hire him or her on a full-time basis. Individuals who opt for a career as pathologists can also work for himself or herself by setting one's own clinic.
Work Place
Laboratory, clinical lab, clinic
The nature of the employment of the career in pathology in India is permanent. Pathologist jobs in government/government organisations or private institutions but the job is mainly permanent in nature.
Presence in Geographical Area
Rural, Semi-urban, Urban
Individuals who opt for a career as Pathologists mostly function in an urban or semi-urban as well as rural location. In rural areas, a pathologist is found mostly in government clinics.
Time Pressure
Likely
A pathologist's job is time-bound as it is an essential service. Having said that, one cannot hurry in such professions either as it may cost a patient's life. Therefore, individuals who opt for a career as pathologists are required to pay adequate attention to his or her patients.
Overtime Details
Individuals who opt for a career as Pathologists may have to work overtime in order to check his or her patients.
Weekly Hours of Work
Min 54 Hours
Individuals who opt for a career as pathologists work somewhere between nine to twelve hours a day. But, it may extend depending on the number of patients one has to attend.
How to become a Pathologist?
What are the skills and qualities required to become a/an Pathologist?
You must be wondering that how to become a pathologist in India? So, in this section, we will be answering the most commonly asked question that how to become a pathologist after 12th. In order to make a career as pathologist one must possess some skills. Some skills required by a pathologist are mentioned below:
Communication skills: The ability to communicate effectively is one of the most necessary skills required by a pathologist in order to perform his or her job duties. The laboratory team working under a pathologist should be able to understand the work that is expected out of them. Not only that, but seamless communication also helps in avoiding any sorts of miscommunication between the pathologist and the patient. Being able to communicate effectively becomes important in a high-stake team environment in pathologist careers.
Attention to detail: A pathologist is required to make important decisions while treating a patient's ailment or researching for a vaccine. Hence, he or she is required to pay meticulous attention to detail to produce highly accurate work even when under pressure. Paying attention to small details is essential during the operation in pathologist careers. It is one of the most important skill sets required by an individual to become a pathologist.
Patience: A pathologist faces critical situations where he or she is required to stay calm and make decisions that might be an important factor in a patient's life. A pathologist is one of the most essential members when it comes to the treatment of the disease as he or she is responsible for a proper diagnosis. The work he or she does help in keeping critically ill and medically unstable people alive. Situations like these required him or her to stay calm and level-headed.
Science skills: Nothing can be achieved without deep understanding and interest in the subject. In order to become a pathologist along with excelling in the career, it is important for the candidate to have a deep interest in science and technology. A good academic background is a non-negotiable requirement in the pathologist careers that can be achieved only through knowledge and a deep interest in science and technology.
Popular Online Medicine Courses and Certifications
Which certifications and internships can be helpful in becoming Pathologist?
We have mentioned below certification courses that may help you to upgrade your skills and knowledge for a career as pathologist.
Internship Availability
Yes
Internships are considered as the best possible way for gaining experience for jobs in pathology. Since the field of medicine is very critical as it deals with human lives one has to go through a compulsory internship before he or she can practice professionally as a pathologist. An internship is often referred to as a residency. Internships provide an aspiring candidate the opportunity in pathologist careers to apply the theoretical knowledge he or she gained during the time in college, to bring them in practical use. Not only that, internships also enable the candidate to make connections in the field for future use. If he or she performs well during the internship several companies or organisations could also hire the candidate on a full time basis.
The candidate can get an internship either through his or her college, an online medium or he or she could also contact any hospital of choice directly. The internship period for a pathologist is between one to two years.
Career Path Progression for Pathologist
Cytopathology: It is a branch of pathology which deals with the process and study of human cells found in body fluids or by removal techniques like scraping. Here the pathologist thoroughly examines the extruded cells and studies the causes and effects of various diseases and ailments associated with them in pathology careers.
Histopathology: Histopathology is the science of studying tissues and cells to determine changes and general history of diseases in a particular body. Here, a histopathologist will need to take a sample of the skin, tissues, or even bone to understand the causes and effects of certain diseases, usually through a procedure known as a biopsy.
Immunopathology: This is a field of pathology that deals with various immune diseases. Experts in this field are experts in transplant surgery and understand the various issues related to immunosuppression, rejection of organ transplants, and the analysis of blood samples.
What is the job outlook for Pathologist?
A candidate who wishes to become a pathologist experiences quite a significant job growth. As and when the individual gains knowledge and experience he or she steps up the ladder of designation in the field of pathology. Since the career in pathology is vast and it continues to grow as science and technology evolve, there are plenty of job growth opportunities. Depending on the individual's skills and credibility he or she could also begin practicing on his or her own. Currently, with the pandemic situation that is going on at a global level, several job opportunities are going to open for the people involved in the medical field.
It is a field that requires a lot of hard work and years of perseverance but once a candidate has completed the education there will be several job growth opportunities. Currently, the job market scenario for career in pathology in India are extremely bright. There are several job openings in both public as well as private sectors. This is mainly because of the evolution of science and technology. Another reason is the outbreak of Covid-19 which is expected to increase job opportunities in future for health workers. The job growth for a pathologist is expected to grow by 7.2 per cent by the end of 2026. It is higher than the average of most medical specialisation fields.
Student Also Liked:
Frequently Asked Questions for Pathologist
Que. What is a pathologist's salary?
Ans.
For an entry-level post of a pathologist with a specialisation, the average total compensation offered is somewhere around Rs. 30,000 per month. After gaining the intermediate experience in the industry, he or she earns a monthly package of Rs. 2 lakh.
Que. Is a pathologist A doctor?
Ans.
A pathologist is a doctor who specialises in diagnosing diseases by examining tissue samples and conducting research work based on nature and effects of a disease.
Que. What are the types of pathology?
Ans.
Branches of pathology include:
Anatomic pathology

Cytopathology

Forensic pathology

Molecular pathology
Que. What tests are done in pathology?
Ans.
Pathology tests cover blood tests, and tests on urine, stools and bodily tissues. A pathologist interprets the results of blood and pathology tests and looks for abnormalities that may point to disease, such as cancer and other chronic illnesses, or health risks, such as pre-diabetes.
Que. What is the role of Perfusionist?
Ans.
A career as perfusionist comes with a variety of responsibilities such as operating the heart-lung machine, which is an artificial blood pump that launches oxygenated blood to the patient's tissues while the surgeon operates on the heart. Perfusionists are responsible for managing the physiological and metabolic demands of the patient while the cardiac surgeon operates on the heart.
You might also be interested in
The question have been saved in answer later, you can access it from your profile anytime.
Access now
Report Question
Select your reason of reporting