Who is a Veterinary Doctor?
As a veterinarian and lover of animals, I feel the time is now to stop the practice of horse soring for good ~ Ted Yoho
A veterinary doctor is animal healthcare professional. Animals do get hurt and get injured in road accidents or become a victim of violence. The doctors who treat humans provide medications and surgical care to human illnesses, diseases and disorders cannot treat the animals in the same way. The internal organs of animals and their functioning vary. Therefore, we have specialised animal doctors known as veterinary doctors. If you love animals and want to treat their illnesses, injuries and diseases, then you must opt for a career as a vet doctor. In a layman's language, he or she is known as a pet doctor. A veterinary doctor not only treats domesticated animals but also treats other wild animals including stray animals. Aspiring candidates who want to become a Veterinarian are required to enrol in a vet science course.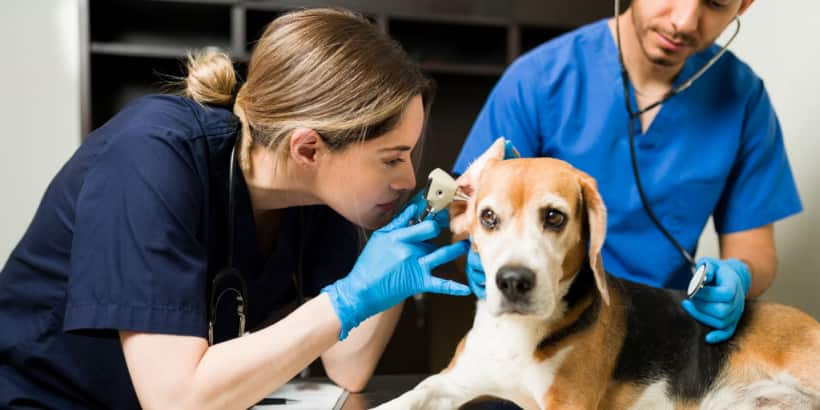 Veterinary Doctor in a Nutshell
A veterinary doctor is a medical professional with a degree in veterinary science. The veterinary science qualification is the minimum requirement to become a veterinary doctor. There are numerous veterinary science courses offered by various institutes. He or she is employed at zoos to ensure they are provided with good health facilities and medical care to improve their life expectancy.
Quick Facts for Veterinary Doctor
Industry

Healthcare

Suitable for

Male, Female, Others

A career as a veterinary doctor is suitable for everyone regardless of gender. Individuals' gender does not affect career progression. Whether a person is male, female or belongs to any other gender, he or she can opt for a degree in veterinary science to become the vet doctor.

Any special needs

No

Candidates with special needs should not opt for this career. Special needs may affect his or her career progression and efficiency of functioning as a pet doctor. A pet doctor is required to be fit in order to treat animals through medicinal as well as surgical methods.
What is the role of Veterinary Doctor?
Are you searching for a veterinary doctor job description? What does a veterinary doctor do? How to become a veterinary doctor? Here, we will answer all your queries. No matter what, we will support you throughout the path to let you establish a successful career as a veterinary doctor. He or she provides medical and surgical care to animals. A veterinary doctor may also work as a Livestock Development Officer providing care to livestock and looking after their breeding to improve animal production such as milk and eggs. Candidates are required to enrol in a vet science course to acquire skills and knowledge essential to function as a veterinary doctor.
Maintenance of equipment
A Veterinary Doctor is responsible for the maintenance of clinical equipment used in the diagnosis and treatment of animals.
Diagnosing
A Veterinary Doctor is responsible for diagnosing the illnesses, symptoms of diseases and health disorders in animals.
Treatment
A Veterinary Doctor is responsible for determining the treatment of the diseases, illnesses and disorders of the animals after diagnosing it. He or she provides medical and surgical care to animals.
Prevention
A Veterinary Doctor is responsible for restoring animal health by providing them with accurate treatment. He or she ensures the prevention of rabies, brucellosis, and other health disorders in animals by testing and providing inoculations.
Documentation
A Veterinary Doctor has to document the reports and details of pets and their owners as well as other animals treated by him. He or she has to keep animal records of provided treatment. He or she is responsible for informing about the disease spread in animals to public health officials.
Promotion
A Veterinary Doctor is responsible for promoting animal health and enhancing clinic reputation. He or she may own his or her own clinic and provide consultation to required sanitation measures for animals, feeding and general care.
Types of a Veterinary Doctor
In the field of veterinary sciences, there are numerous career options that exist for graduates in veterinary science courses. Successful completion of a vet science course is the minimum requirement for opting for a veterinary career. We have mentioned below various alternative options in the field of veterinary careers. One can choose to become a Veterinary Receptionist, Veterinary Sales Manager, Veterinary Assistant, Veterinary Technologist or Veterinary Supervisor. To know further about various veterinary course details you are required to read the article.
Veterinary Assistant: One can begin in the healthcare field as an assistant and can provide assistance to the veterinarian as well as the veterinarian surgeon in carrying out several tasks. An individual is required to clean, maintain and monitor the health of the patient. One is required to inform the health conditions of the patient to both the pet owner as well as the veterinarian.
Veterinary Technologist: A Veterinary Technologist is a practitioner who works under the supervision of a Pet Doctor. He or she is primarily responsible for testing animals and diagnosing disorders, illnesses and other diseases in animals.
Veterinary Supervisor: A supervisor is the one whose responsibility is to keep a check on several veterinary assistants that are working. He or she is responsible for maintaining a record of work details as well as which assistant is responsible for which patient. Not only that but he or she also keeps a check on the assistant's capabilities and assigns the work accordingly.
Veterinary Receptionist: Several veterinary hospitals hire professionals in the field of veterinary as their receptionists. The veterinary receptionist acts like an extra player in a sports team. His or her primary job is to take care of the receptionist work but in cases of emergency or in situations where there is no veterinary assistant one could take over and provide assistance to the animal by providing first aid.
Veterinary Sales Manager: There are several sales companies that sell animal products. These companies prefer hiring professionals from the field as they are the ones who have a better understanding and knowledge of animals and their requirements. An individual who is looking for a job that is inclined towards the business side can apply for such companies.
To know more about the career such as how to become a veterinary doctor and veterinary doctor degree courses, you are required to keep scrolling and jump to the next section to read the entire article.
What is the workplace/work environment of Veterinary Doctor like?
Veterinary doctors work in various animal healthcare facilities. They sometimes work in zoos, veterinary clinics and hospitals. Several doctors may specialise in the treatment of specific domesticated animals such as dogs, cats, and cattle. While several veterinary doctors provide treatment to wild animals such as lions, wolves, giraffes and animals. A degree in veterinary science is crucial. Most Veterinary practitioners work in private hospitals and clinics, laboratories, and classrooms. Several veterinary doctors were required to travel to farms and forest lands for animal welfare.
Does Veterinary Doctor require travelling?
Likely
It depends on the job role and assigned responsibilities of the veterinary doctor. They may often travel to farms and forest lands whenever it is required. Such roles are offered in animal husbandry departments.
Employment Shifts
Full Time, Hourly Basis, On Call
The employment shift of veterinary doctor generally involves full-time and on-call work. A career as veterinary doctor may involve working in rotational shifts. Private clinics run by veterinarians themselves have their scheduled timing and they are least likely to be open at weekends.
Employment Nature
Contractual, Permanent
Veterinary doctor career provides both types of employment opportunities contractual as well as permanent employment. The contractual term of a veterinary doctor completely depends on the organisation and employer.
Work Place
Veterinary Clinic, Animal Hospital
Veterinary doctors work in animal healthcare facilities. It includes veterinary clinics, laboratories and animal hospitals. They may often be required to travel to farms and forestlands to provide treatment to injured animals.
Presence in Geographical Area
Semi-urban, Urban
Bengaluru, Chennai, Madurai, Mumbai, Pune and Delhi provide alluring opportunities to Veterinarians with good pay.
Time Pressure
Likely
A veterinary doctor works under frequent time pressure. A career as veterinary doctor requires effective time management skills.
Overtime Details
A career as a veterinary doctor often requires to work extended hours due to work pressure. In emergency situations, he or she is required to operate animals.
Weekly Hours of Work
Min 45 Hours
Veterinary doctors work a minimum of 45 hours per week. Veterinary doctors may often be required to work extended hours.
How to become a Veterinary Doctor?
What are the skills and qualities required to become a/an Veterinary Doctor?
If you want to know how to become a Veterinary Doctor, what are veterinary skills and what veterinary course details are, then you should read the entire artcle. There are several skill sets required to function in a career as a Veterinary Doctor.
Communication Skills: A veterinary doctor must have a good command of his or her language. It is important for his or her job position to be able to explain their message to the recipient clearly and precisely. Being able to communicate well eliminates the probability of errors being caused due to any sort of miscommunication between the pet owners and the veterinarian. It is essential to be a good listener in order to communicate well.
Attention to Detail: A Veterinary Doctor is expected to have extremely high attention to detail. It is important in his or her job position that he or she does not miss out on anything while treating an animal. One needs to keep a close monitoring eye on the animal and the recovery process.
Service Orientation: For any individual who wishes to be a part of the healthcare industry it is important that he or she is service-oriented. One must have the inner urge to help a person in need therefore it is one of the primary skills required to be a Veterinary Doctor.
Decision-Making Skills: A Veterinary Doctor is required to determine the treatment procedure after diagnosing the disease. He or she needs to be calculative as well as decisive to identify the risks.
Critical Thinking: After the diagnosis of a patient the next step is to choose the treatment process. One must be able to decide how he or she is going to go about it. The Vet Doctor is required to rationally compare available options, critically think about them and then choose to go with the one which promises a better outcome.
Popular Online Medicine Courses and Certifications
Which certifications and internships can be helpful in becoming Veterinary Doctor?
Internship Availability
Yes
Veterinary internships are designed to train candidates with skills and knowledge required to work in the industry. They get prepared for further roles through advance speciality training programmes. An effective veterinary internship includes a strong didactic component. It may also include journal clubs, seminars, lectures, morbidity or mortality rounds, clinicopathologic conferences and various other training sessions. A veterinary intern is often assigned with several responsibilities such as first opinion and emergency and critical care cases. A veterinary science qualification is required to opt for veterinary internships. Such intern roles provide the opportunities to candidates to be a primary veterinary surgeon on various entry level procedures and ensure appropriate level of progress is made throughout the treatment and recovery of animals.
Career Path Progression for Veterinary Doctor
There are several job titles in the hierarchy of a career as Veterinary Doctor. We have mentioned below the major Veterinary Doctor job descriptions with job titles.
Veterinary Trainee: A Veterinary Trainee or Veterinary Intern is an entry-level job role. Aspiring individuals can opt for this role during their semester break of the Veterinary Doctor degree programme or after successful completion of it.
Junior Veterinary Surgeon: Freshly graduates are offered the role of Junior Veterinary Surgeon. They are responsible for providing surgical care to animal patients under the supervision of a senior Veterinary Doctor.
Livestock Development Officer: Livestock Development Officer is a job role offered by the State Public Service Commission in the Animal Husbandry Department.
Senior Veterinary Surgeon: Senior Veterinary Surgeons are responsible for providing consultations to pet owners and surgical care to various animals. They carry out investigative procedures to diagnose diseases and disorders. Senior Veterinary Surgeons are responsible for regularly undertaking Continuing Professional Development to ensure and maintain veterinary skills and knowledge.
What is the job outlook for Veterinary Doctor?
Around 44 per cent of millennials prefer to keep pets over children in a survey. It may seem quite strange but it is the reality. The demand for the Vet Doctor is expected to grow at least 19 per cent in the next decade. The lifestyle of people in urban lands has transformed with time and it has become part of the culture to keep a pet as a family member at home. People are now willing to spend on owning and taking care of necessities for their pets. Veterinarians find alluring opportunities in zoos, wildlife sanctuaries, and the army. Army dogs also get treated through the Vet Doctor. Remount Veterinary Corps is the dedicated service of the Indian Army. The Vet Doctors employed in the RVC are responsible for breeding, training, treatment and immunisation of military animals.
Student Also Liked:
Frequently Asked Questions for Veterinary Doctor
Que. How to become a Veterinary Doctor?
Ans.
Aspiring Individuals are required to enrol in a Veterinary Science course and opt for an internship of a year. They are required to successfully complete a residency programme of a minimum period of three years to become a Veterinary Doctor.
Que. What is the average Veterinary Doctor salary?
Ans.
The average salary of a Veterinary Doctor varies depending on his or her skills and experience. The average Veterinary Doctor salary is Rs. 500,000 per annum.
You might also be interested in
The question have been saved in answer later, you can access it from your profile anytime.
Access now
Report Question
Select your reason of reporting