A person with disability can apply for CDS exams?
Aspirants submit their CDS online application form before the last date. but before fill form you should need to check your eligibility for CDS Entrance exam. here we are talking about CDS physical standards and CDS medical fitness both. Check all information regarding "CDS Physical eligibility" below.
PHYSICAL STANDARD FOR UPSC CDS EXAM –
General physical and mental standards are very important points to consider before apply for UPSC CDS Exam. here you find physical requirements for CDS and what type of physical fitness required for CDS check below.
First of all participant must aware about this that you are physically & mentally fit and fine and free from any type of disease / disability.
Participant not have any type of mental breakdown record in past.
Aspirant must undergo a preliminary medical check-up for wax in ears, refractory error of eyes, fungal infection of skin before reporting for the SSB interview.
Candidate must be under a standard weight
Chest should be in fine condition . X Ray will taken for figure out any disease in chest.
The minimum range of expansion after full inspiration should be 5 cms.
You should be no disease of bones and joints of the body. these are some of the CDS Physical criteria for interested candidates. here is more things which are also consider as CDS Physical eligibility.
MEDICAL ELIGIBILITY FOR CDS
CDS Medical examination is also a important part of CDS exam eligibility. Here are many CDS physical conditions in medical examination. check it
A Participant selected by the Services Selection Board (SSB) will undergo a medical examination process by a Board of Service Medical Officers.
Female participants will undergo Medical Examination by a Medical Board comprising male / female doctors / specialists / Gynecologist. There will be a lady Medical Officer as member of Board.
Whole Generate reports by Medical board are confidential and not disclose to anyone.
The final decision of Candidate fitness will be intimated by the President of the Medical Board.
The candidate will also be intimated about the procedure for Appeal Medical Board.
Candidates declared unfit during Appeal Medical Board will be intimated about the provision of Review Medical Board.
Candidates must be Physically and Mentally fit according to the given standards. for more details such as vision standards , Height & weight criteria , eye sight criteria , Ear , Nose , throat , teeth condition etc.
EYESIGHT ELIGIBILITY FOR CDS EXAM
Most of the students ask this question that What is eyesight criteria for CDS ? CDSphysical test also covers your eyesight conditions. and vision standard for naval and Air force different from this which also mention below. Eyesight for CDS Exam –
Vision standard for Male Candidates
Candidate must able to read 6/6 in a distant vision chart with each eye with or without glasses (For navy and Air Force without glasses only).
Myopia should not be more than 3.5D
Hypermetropia should not be more than 3.5D including Astigmatism.
Vision standard for Female Candidates
Aspirant must able to read 6/6 (better eye) and 6/8 (worse eye) in a distant vision chart with or without glasses
Myopia should not be more than minus 5.5 including Astogination.
Internal examination of the eye will be done by means of ophthalmoscope to rule out any disease of the eye.
A candidate must have good binocular vision.
The colour vision standard will be CP-III.
A candidate should be able to recognize red and green colours.
Vision standard for Naval
Uncorrected without glass 6/12
corrected with glass 6/6
Limits of Myopia -1.5
Limits of Hypermetropia +1.5
Binocular vision III
Limits of colour perception I
Vision standard for Air Force
Uncorrected without glass 6/12
corrected with glass 6/6
Limits of Myopia -0.75D
Limits of Hypermetropia +1.5D
Binocular vision III
Limits of colour perception I
Teeth , Ear, Nose and Throat Conditions – CDS Physical Qualification also covers your conditions of teeth , ear Nose , Throat etc. Check the standards given below.
The applicants ought to have adequate number of normal and sound teeth.
At least 14 dental focuses will be satisfactory.
A hopeful ought not be experiencing serious pyorrhea.
The listening must be ordinary.
A hopeful ought to have the capacity to hear a constrained whisper with every ear at a separation of 610 cms in a very room.
There ought to be no confirmation of present or past disease of the ear, nose and throat.
Sound metric test will be ruined AF. Sound metric misfortune ought not exceed+20 db in frequencies somewhere around 250Hz and 4000 Hz.
Height and weight standards
CDS Exam physical eligibility test also includes one major point is aspirant height. Here is a table for height required for CDS Exam for male and female candidates with weight parameters check it.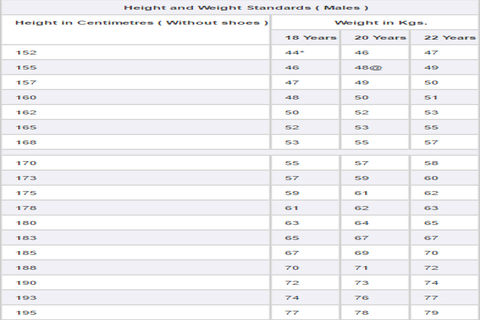 *45 for Navy @ 47 for Navy A ± 10% ( for Navy ) departure from the average weight given in the table above is to be considered within normal limit. However, in individuals with heavy bones and broad built as well as individuals with thin built but otherwise healthy this may be relaxed to some extent on merit.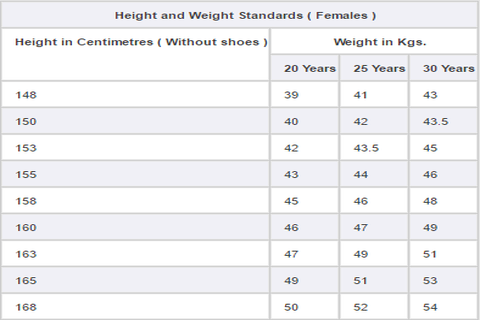 The acceptable weight for Air Force candidates will be ± 10% of the average weight given above.
Know More about
Get Updates
Brochure
Thank You!
Your Combined Defence Services Examination brochure has been successfully mailed to your registered email id "".