BAMS (Bachelor of Ayurvedic Medicine and Surgery) Course, Admissions, Eligibility, Syllabus, Career Options
What is BAMS?
Candidates willing to take medicine as a career can opt for a Bachelor of Ayurveda Medicine and Surgery (BAMS) after the completion of Class 12. BAMS is an Ayurveda traditional healing art-based undergraduate medical program in India. BAMS course provides complete knowledge about 'Ashtanga Ayurveda' along with scientific advances in modern medicine along with extensive practical training. Central Council of Indian Medicine (CCIM) is the responsible body for admission to Ayurveda education at the undergraduate as well as the postgraduate level and for practicing Ayurvedic medicine in India.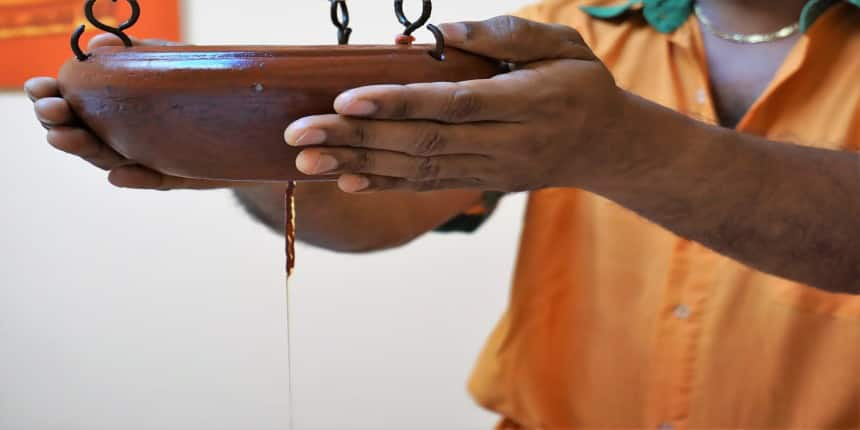 The admission to BAMS courses will be granted on the basis of scores obtained in the NEET exam. Besides that, candidates must fulfill certain eligibility criteria of BAMS specified by the authority. BAMS syllabus and curriculum are uniform across the country and admission to BAMS courses is done in only Ayurvedic colleges affiliated with the respective universities, which are permitted by the Department of AYUSH, Union Government of India. Interested aspirants must keep reading to know all about BAMS for more information on course details, eligibility criteria, admission process, fees, and total seats among others.
BAMS Highlights
| | |
| --- | --- |
| Programme Name | Bachelor of Ayurvedic Medicine and Surgery |
| Abbreviation | BAMS |
| Program Level | Undergraduate |
| Program Type | Degree |
| Field | Ayurveda Medical Science (Healthcare) |
| Duration | 5.5 years (including 12 months mandatory internship) |
| Average Salary | Rs. 300,000 to Rs. 700,000 |
| Average Fees | Rs. 25,000 to Rs. 320,000 |
| Career Opportunities | Pharmacists, Surgeons, Dieticians, Gynaecologists, Teachers, Panchkarma Practitioners |
BAMS Eligibility Criteria
It is mandatory for aspirants to fulfill certain eligibility conditions to get admission to the BAMS course. Some basic BAMS eligibility criteria are mentioned below.
BAMS Admissions
Admission to BAMS courses will be taken on the basis of NEET UG score and the corresponding rank. Therefore, candidates are required to qualify for NEET conducted by National Testing Agency (NTA). AYUSH Admissions Central Counselling Committee plays a crucial role in the allotment process of seats in Ayurveda, Yoga, Naturopathy, Siddha, and Homeopathy colleges.
NEET: In order to take admitted to BAMS course, candidates are required to secure NEET cutoff percentile. Candidates can check the category-wise minimum required percentile in the table below. However, NTA is only responsible to conduct NEET and prepare the merit list for the same. The admission to BAMS will be taken by a state-wise counseling procedure. For the BAMS admission process, each state will release its own state merit rank based on the NEET merit list for which the candidates will be required to fill out the application form.
BAMS Course
BAMS stands for Bachelor of Ayurvedic Medicine and Surgery. It is an undergraduate program designed for aspiring candidates who want to enrich their knowledge in Ayurveda Medicine and Surgery to treat various diseases and disorders. It is a program that focuses on the ayurveda medical practice or ancient healing methods used by vaidya (ayurveda physician). The duration of the BAMS course is 5.5 years including a mandatory internship of 12 months. There are other similar courses as well. We have mentioned below such courses.
Type of BAMS
BAMS course is an undergraduate degree awarded the degree of 'Ayurvedacharya'.after five and a half years duration. The admission to BAMS degree is granted after qualifying National Eligibility cum Entrance Test - NEET entrance exam.
BAMS course fee structure
The fee structure for BAMS colleges varies when it comes to government and private colleges. The course fee structure also differs state wise. However, aspirants can check the table below to get an idea about the fee structure.
| | |
| --- | --- |
| Fee Level | Fees |
| BAMS first year fee | Rs. 50,000 to Rs. 70,000 |
| BAMS full course fee without yearly charges | Rs. 3,00,000 to Rs. 4,00,000 |
| BAMS full course fee with yearly charges | Rs. 5,00,000 to Rs. 6,00,00 |
Advantages of BAMS
Bachelor of Ayurvedic Medicine and Surgery is an undergraduate-level medical program based on ancient Ayurveda methods of healing. Candidates who could not make it to the MBBS program due to the hefty fees can opt for the BAMS program. The average fee of the BAMS is economic. Candidates can opt for postgraduate programs in Ayurveda medicine after the successful completion of the BAMS program. It provides numerous careers in the field of medical sciences. One can become a surgeon, gynecologist (ayurveda), pharmacist, teacher, and numerous other roles offered in the healthcare industry.
BAMS Specialisations
There are no specialisations offered in the BAMS program. Candidates are required to opt for specialisations in postgraduate programs in Ayurveda Medicine and Surgery. These programs include an M.S. (Master of Surgery) (Ayurveda) and an M.D. (Doctor of Medicine) (Ayurveda).
Candidates can opt for the following specialisations mentioned below in MS (Ayurveda) and MD (Ayurveda) programs.
| | |
| --- | --- |
| Padartha Vigyan | Charak Samhita |
| Sharir Rachana | Prastuti and Stri Roga |
| Sharir Kriya | KaumaraBhritya |
| Swasthavritta | Kayachikitsa |
| Rasa Shastra | Shallya Tantra |
| Agad Tantra | Shalakya Tantra |
| Rog Vikriti Vigyan | Charak Samhita |
BAMS Syllabus
The syllabus of BAMS is divided into three sections, i.e Professional one, two, and three. Aspirants can check the syllabus of BAMS mentioned in the table below.
Year 1

Sanskrit

Charak Samhita (Purvardha)

Padartha Vigyan

Swasthavritta

Ayurveda Itihas

Dravyaguna Vigyan

Ashtanga Hridayam (Sutrasthan)

Rasashastra & Bhaishajya Kalpana

Rachana Sharir

Roga Vigyan Evum Vikriti Vigyan

Kriya Sharir

Agada Tantra, Vyavhar Ayurved Evum Vidhi Vaidyak

Year 2

Agadtantra

Kayachikitsa

Swasthavritta

Panchkarma

Prasuti Tantra Evum Stri Roga

Shalakya

Kaumarbhritya

Shalya

Panchkarma

Research Methodology and Medical Statistics
Compulsory Rotatory one-year internship in the clinical departments
The theory BAMS course is carried out in four and a half years, while it is necessary for candidates to complete a year rotatory internship for practical training.
Scope of BAMS
With an upsurge of countless grave health issues and limitations of allopathy, Ayurveda has emerged as an alternative. Therefore, BAMS as a medical course is gaining popularity not just in India but all over the world. With almost zero side effects, Ayurveda is being increasingly opted by people all over the globe. People suffering from lifestyle diseases also seek help in the traditional art of healing which indicates the growing demand of BAMS doctors.
After the completion of the BAMS course, candidates can either opt for practising or may pursue higher studies and specialise in a particular branch of Ayurveda. Along with regular practice, a BAMS graduate can also take up specialized practice after pursuing higher education in the discipline, e.g., therapy of skin diseases, spinal disorders, ophthalmologic conditions, anorectal diseases, etc.
Popular Online Medicine Courses and Certifications
Career Opportunities After BAMS
Pharmacist: Candidates can also opt for a career in Ayurvedic Pharmacy. He or she can become a pharmacist after successfully completing a BAMS program. A pharmacist develops ayurveda medicines in accurate composition.
Teacher: A BAMS graduate candidate can opt for a career as a teacher. He or she can opt for a postgraduate program and after successful completion of postgraduate program, aspiring candidates can enroll in a Ph.d. program. After successful completion of a Ph.D. program, he or she can opt for a professor role in any Ayurveda college.
Counselor: BAMS graduates can opt for a role as Ayurveda counselors. He or she promotes preventive healthcare methods through traditional Ayurvedic medical science.
Dietician: An expert in dietetics is known as a dietitian or dietician. Dietetics is a study of human nutrition and the regular diet. A dietician alters his or her patients' nutrition depending on their medical conditions and requirements. He or she diagnoses, assesses, and treats nutritional problems.
Panchkarma Practitioner: A Panchkarma Practitioner is a professional who provides panchakarma treatment and remedies to various human diseases, disorders, and illnesses. Panchkarma generally means five procedures. It involves ayurvedic treatment methods of purification to release stress and prepare the human body tissues to accept the benefits of food, nutrition, and exercise.
Students also liked
Frequently Asked Question (FAQs) - BAMS (Bachelor of Ayurvedic Medicine and Surgery) Course, Admissions, Eligibility, Syllabus, Career Options
Question: What are the career options after BAMS?
Answer:
Pharmacists, teachers, lecturers, and medical supervisors are the career options after BAMS.
Question: What are the subjects involved in the BAMS course?
Answer:
Kayachikitsa, Prasuti Tantra Evum Stri Roga, Agadtantra, and many more subjects involved in BAMS course.
Question: What is the first year fee for the BAMS course?
Answer:
The first year fee of BAMS is between 50,000 to 70,000 Rs.
Question: What is BAMS all about?
Answer:
BAMS is a five and half years of study of Ayurveda,
Question: What is the minimum age to apply for BAMS?
Answer:
Aspirants need to be minimum of 17 years of age to be eligible for MBBS admission.
Question: Do I need to qualify NEET in order to pursue BAMS?
Answer:
Yes, one needs to qualify and secure a minimum cutoff percentile of BAMS in order to pursue BAMS.
Question: What is the full form of BAMS?
Answer:
The full form of BAMS is Bachelor of Ayurvedic Medicine and Surgery.