Highest paying jobs for freshers in India
Everyone dreams of financial stability and a passionate career. And for a fresher, it is both an exciting and quite nerve wrecking time. Especially after the global COVID-19 pandemic wrecking our economy, everyone is looking for well-curated careers with job security and good money. In this article let us take a look at some of the highest paying jobs for freshers in India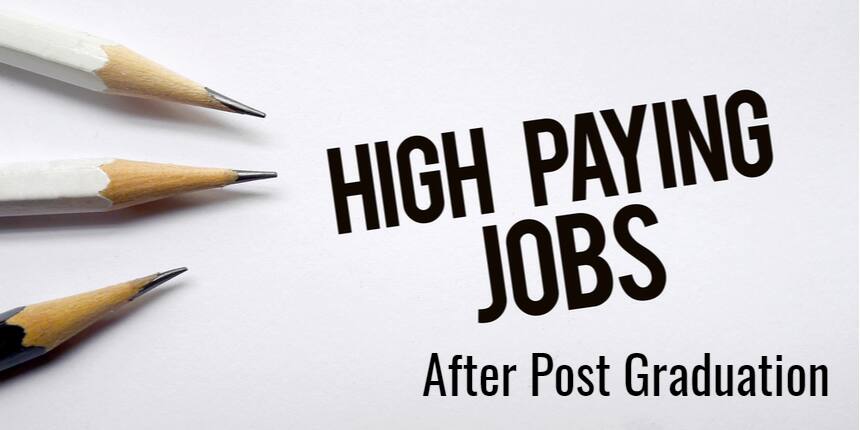 When it comes to deciding a career path aspects such as Qualification, skills, location, demand for jobs and other factors work together. A lot of factors and substantial planning is put together. However, to avoid bumps in the road with loss of interest in jobs and financial crunches, a candidate must go for a good paying job and not waste his or her time, wisdom and resources.
Here we have compiled a list of some of the highest paying jobs for freshers in India that are definitely worth checking out.
Top highest paying jobs for freshers in India
Data Scientist
One of the most sought professions today is of a Data Scientist that demands for a Bachelor's degree in CS, Mathematics or statistics. One can even go for job oriented computer courses in fields like Data Science certifications to score a job. Huge firms invest heavily in big data to enhance their product or service performance and come up with customer-centric solutions to the issues. The base salary for freshers in this field is around 36% higher than any other profession related to the analytics industry.
The average entry-level annual salary for a fresher is 5-7 Lakh and it can increase up to 25 Lakh/annum with experience. Data Scientists help the companies to make data-driven decisions by analyzing huge chunks of information. Thus, the skills required are data visualization, analytical skills, machine learning and programming skills. The demand for Data Scientists is increasing with time and top businesses and organizations recruit data scientists like Infosys and MuSigma.
Also read: 10+ Highly Paid Non- IT Jobs in India
Investment Banker
One of the highest paid jobs for freshers in India, this great profession in finance can take up one related to investment banking. The job profile of an Investment Banker is highly in demand as they are the ones who help in raising capital for huge financial organizations. It is a very crucial job that decides the financial fate of the company, making it a very responsible, well-paid and demanding job. The educational requirement is a bachelor degree in mathematics, economics, finance or related fields.
Dealing with investments and stakes is the job that can either make or break the firm. The entry level salary is around 9 lakhs per annum that can go up to 25 Lakhs with experience. The skills required are decision making skills, dealing with critical situations, decision making skills, in depth market knowledge, leadership skills and analytical skills.
Software Engineer
India is known for the inclination towards Engineering and is rather infamous for the number of IT professionals that keep rising every year. Bachelor's degree in Computer Science, software engineering or computer system engineering are the educational requirements of this field. The reason being advancement in technology, steady domestic market and escalating number of tech giants investing in our country for international projects. The Indian market is absorbing a huge number of software engineers every year along with outsourcing of the talent overseas, thus, keeping the demand intact. Freshers with computer programming skills, software testing, debugging and software development skills can definitely excel in this field. The entry level salary is around 6 Lakh per annum while senior level can go up to 30 Lakhs.
Also read: Explore Online Courses and Certifications
Commercial Pilot
Aviation is one of the most glamorous professions in the whole world. It is also one of the highest paid jobs for freshers in India as well as around the world. Commercial pilots can earn a handsome amount of money and can score a place in top-most airlines given physical fitness and educational requirements. A fresher with Bachelor's degree in aviation, aircraft operations, aeronautical engineering and related fields can go for this job. Apart from the degree, a candidate needs around 1,500 hours of flight hours and 40 hours of instrument flying up their sleeves because this career is purely practical. The long flying hours can be very tiresome hence, pilots need to be fit. The skills like team coordination, physics and mathematical skills, understanding of aircraft mechanism and spatial awareness bodes well in the career. The salary is around 16 Lakhs per annum in this field.
One of the highest paid jobs for freshers in India, this is quite a tough career to get in. Finances of a company are handled by chartered accountants. The job responsibilities of a CA include ensuring that the firm remains tax compliant and profitable. Educational requirement for being a Chartered Accountant is CA certification. The entry level salary for a Chartered Accountant is 7 Lakhs per annum. The skills that a fresher requires are analytical skills, problem-solving skills, mathematical skills, communication and general business interest and awareness. The top recruiters are Wipro, BHEL and HDFC.
Artificial Intelligence Professionals
An AI professional has the job of enabling artificial intelligence in the machines, understanding as well as creating AI algorithms and more. The education requirement includes graduation in computer science, mathematics, statistics and other related fields. The scope is undoubtedly very high in AI because very few students pick this field creating a supply-demand gap. However, the application of AI is only increasing with time. As a result, there are a lot of vacant AI positions for freshers to get their hands on and build a career with ease. A fresher with analytical skills, robotics, programming skills and statistical skills can expect a salary of around 17 lakhs per annum.
Explore Free Online Courses and Certifications by Top Providers
Marketing Professionals
The core of any business strategy is marketing and new avenues are being generated because digitization is at peak. As a result, this has emerged as one of the highest paying jobs for freshers in India. This is the reason why the creative online course of Digital marketing is also receiving the topmost priority by students in the present time which is one of the best job oriented courses after 12th. The educational requirement is a bachelor's degree in marketing, business, advertising, communications and other related fields. Even digital marketing course certification can help you land lucrative jobs in the field with the entry level salary of 5 or 6 Lakhs per annum with top recruiters like Accenture. A fresher who has a knack for brand building, influencing skills, IT skills, communication skills, market analysis skills and creative thinking should definitely make a career in this field.
Also read: Career as Doctor
Cyber Security Professional
The Internet is running every sphere of our personal as well as professional lives with all our data available online. This need for safety makes it another one of the highest paying jobs for freshers in India. Because a business with no online presence can find it hard to survive in 2020. However, this calls for the importance of protecting our valuable digital assets. This is where the Cyber Security Professionals swoop in and save the day. The growing demand of online presence has made the demand for Cyber Security professionals indispensable. The educational requirement includes certification in a cyber security course or graduation in statistics, Mathematics, Computer Science or any other related field. The jobs include ensuring that the sensitive data of businesses and crucial information present online is secure from cyber threats. A fresher with computer forensic skills, technical aptitude and knowledge of security on various online platforms can make a good career. The entry level salary in this job is 6 Lakhs per annum and it can reach up to 40 Lakhs per annum.
Also Read- Innovation and Information Technology Management by IIM Bangalore via Swayam
Machine Learning Professional
Just like Artificial Intelligence, Machine Learning also took the modern world by a storm. ML designs a lot of personal solutions for the customers. Professionals in this field ensure that the business risk is minimal and brands can take data-driven decisions for profitable consequences. Skills required to excel in this field include data analysis, software engineering and design, probability, statistics, programming and knowledge of Computer Science. The demand of ML has led it to become one of the highest paying jobs for freshers in India. ML technology is one of the most popular short term job oriented courses after graduation these days. The educational requirement in this field includes bachelors degree in AI, CS or related fields. A certification course of Specialization in Machine Learning can also help steer forward in the field for an exciting career with an entry level salary of 5-7 Lakhs per annum.
Full stack developers
The tech department of any firm requires a professional to work on the front and back-end functionalities and this is the job of the developers. A bachelor's degree in CS, Mathematics, statistics or related fields can lead you to this field. Apart from a degree, proficiency with programming languages like HTML, JavaScript, CSS and others is mandatory. The job of full stack developers includes overall web development and its maintenance. Majority of the startup companies employ full stack developers for end-to-end product application responsibility. Recently, a spike of around 20% has been observed making it one of the highest paying IT jobs in india for freshers. Those who have a flair for coding and have a control over coding languages like Java, Python, SS, RubyonRails and others can score high paying offers from not just startups but also MNCs. The average entry level salary of Full Stack Developers is 5-6 Lakhs per annum with TCS and IBM as top recruiters.
Top Trending Courses & Certifications:
Cloud Computing Professionals
If your passion is in computer science and are looking into one of the highest paying IT jobs in india for fresher, then this is it. You can become a cloud computing professional with a certified cloud computing course along with a bachelors degree in Computer applications, Computer Science or Science stream. The job of Cloud computing involves safe data storage and delivering all the networking resources safely via cloud that allows access from any computer with Internet. The entry-level salary ranges from 6 to 8 LPA and skills like Programming, Database management, AI, ML etc. are helpful. Some of the best job oriented courses that computer enthusiasts can pursue concern cloud computing in some form or the other.
Also Read: Professional Certificate Programme in Information Technology Management
Law
Legal profession is one of the most honored and graceful professions in India. The job includes advising the client, representing them in court trials and trying to seek justice by winning one's case. Lawyers are of many types and backgrounds like tax lawyer, environmental lawyer, criminal lawyer, intellectual property lawyer etc. By 2028, around 50 thousand job openings are speculated by the Bureau of Labor Statistics. This profession requires a bachelor's degree in law, liberal arts or political science. Courses like LSAT and Law School Admission tests can also pave the way for a career in law. Freshers can expect an entry level salary of around INR 200 per appearance in lower court or INR 5 LPA in corporate firms like S&R Associates and Khaitan and company. In recent times, a cyber law career has become quite a rage amongst the youth and can be a great option for those interested in IT & cyber forensics.
Read more - Online Financial Accounting Courses & Certifications
Civil Services
One of the most satisfying career options is civil services and it has a very respectable and reputed position in our country. The UPSC examination leads to a career in civil services helping to explore challenging areas like IFS, IPS and others. Civil Servants work closely with government officials and handle sensitive information across various departments. The entry level of a fresher is minimum INR 50,000 per month. The educational requirement is an undergraduate degree from any discipline and the only route is through the Civil Services exam. The top recruiters are Armed Forces Headquarters Civil Service and Pondicherry Police Service.
Also read: Career as Indian Foreign Service Officer
React.js
This is one of the best highest paying IT jobs in india for freshers. ReactJS or React.js is a job for javascript developers that involves working on JAVAscript and designing user interfaces for mobile applications and pages. The surging IT services has resulted in a growth in the demand of ReactJS professionals with an average salary of around INR 743K per year. The top recruiters are Accenture and even Facebook. The educational requirement is that candidates should have a certificate course in React and proficiency in HTML, Java, CSS and others.
Also Read: Course in Information Technology by Savitribai Phule Pune University, Pune via Swayam
Blockchain
Demand of digital currency like Bitcoin is pacing up slowly and it triggers a demand of block chain experts too. Integrated with AI and ML, Blockchain is a predominant career option. It is one of the highest paying jobs in 2020 that aims to record data and store in ledger. A job oriented computer course of BlockChain or bachelors degree in CS, IT or related field can help a candidate score a good job in the field. Average salary is around INR 5 LPA with UST Global and Accenture as top recruiters.
Conclusion
An attractive salary package is very much dependent on skills and knowledge. The degree matters but your knowledge speaks volume. Also, the true winner is the candidate who chooses the career path that he or she finds interesting and not just because of the perception about it among people. To hone your skills and gain knowledge about any specific subject or field, one can go for job oriented courses and certification courses both online or even offline. Our skills and ideals lead us to career paths but they can only be sustained with sheer hard work and determination.
Explore Popular Platforms Certification Courses
Frequently Asked Question (FAQs) - Highest paying jobs for freshers in India
Question: What are some of the highest paying jobs for freshers in India ?
Question: Which companies provide highest paying jobs for freshers in India?
Answer:
There are many firms and huge organizations that give job opportunities to freshers like Google, Accenture, TCS, Cognizant Technology Solutions and many more. The field decides the firm in which you can get a job.
Question: Is INR 50K a decent salary in India?
Answer:
Yes, in general INR 50K is a very good salary. However, it depends on the personal needs, expenditures and the kind of life one leads.
Question: Which jobs are in high demand in 2020?
Answer:
The top 15 highest paying jobs are mentioned above in the articles. Apart from that, some of the most in-demand jobs in India with average educational requirements are Physiotherapist, Operations research analyst, Financial Advisor, Nursing assistant and others.
Question: Which is the highest paying job for MBA graduates?
Answer:
The high paying jobs students with MBA degrees can apply for are: Investment Banker, Project Manager, Business Development Manager and Marketing Manager.
Question: Which are the best jobs for Indian women at present?
Question: Which skills are in high demand during recruitment?
Answer:
Different job profiles demand for different skills. However, to stand as a competitive candidate in any recruitment, some demanding skills are communication skills, analysis, reasoning and logical skills, problem solving skills, etc. One should get enrolled in online job oriented courses to hone the skills needed for the dream job.
Question: How can I get a job in 2020?
Answer:
The following are the ways to look up for a job opportunity:
Look online: surf the internet to seek job openings and related information.

Build your LinkedIn network to grow good connections in industry and get an offer.

Contact hiring managers.

Ask for referrals, keep a check on ads and government jobs enrollment etc.
Question: As a cloud computing professional which are the top cloud software or frameworks one should know?
Answer:
Some platforms that are a hot commodity in the cloud computing space include -
Amazon Web Services

Microsoft Azure

Google Cloud

SAP

Alibaba Cloud
Question: How much do ReactJS developers make in India?
Answer:
ReactJS developers in India currently make anywhere close to INR 400,000 per annum with less than an year of work experience.
Skill Development Updates and Articles