Who is a AI Developer?
Some people call this artificial intelligence, but the reality is this technology will enhance us. So instead of artificial intelligence, I think we'll augment our intelligence ~ Ginni Rometty
Do you know who is an AI Developer? It often happens that we search about a product and then all we see on all the internet platforms is that product or the related ones or we interact with the content of a certain genre and all the suggestions that follow are from the same genre. It is no magic, the computer hasn't developed itself to understand consumer needs but an Artificial Intelligence team or an AI developer works behind it to provide user exclusive content. The field of Artificial Intelligence has been growing with the click of the mouse and this is a great time to enter this field and make a career as an AI developer. Artificial Intelligence Engineers (AI Engineers) are people involved in problem-solving or Artificial Intelligence technology. They go through traditional software models and Machine Learning models. With the development of Artificial Intelligence and Machine Learning in different areas of the IT industry, the demand for these IT professionals is high.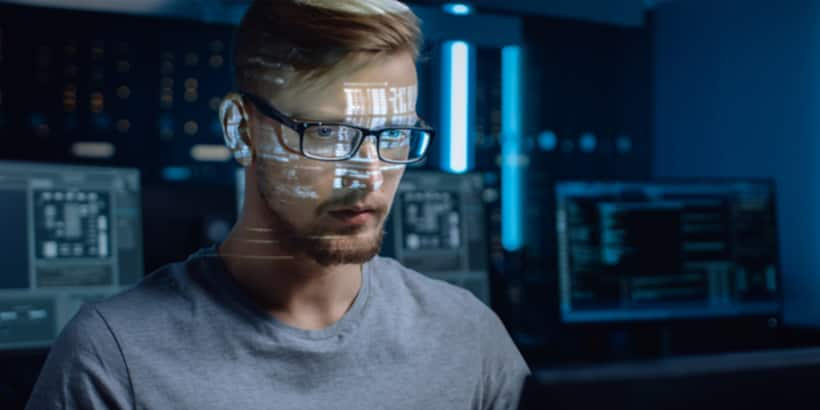 AI Developer in a Nutshell
As the name suggests, an AI Developer or an AI engineer deals with artificial intelligence. A career as AI developer requires to assist in creating AI-based algorithms in software. They create, test and implement AI models, along with the handling of the AI infrastructure. They often work on coding as well, when working on a project.
Quick Facts for AI Developer
Industry

Technology

Average Salary in India

₹55000

Suitable for

Male, Female, Others

Any individual who is interested in computers and software development can pursue career as AI developer. An individual from any section or gender can become an AI engineer or developer. It doesn't matter which gender he/she belongs to when it comes to taking up an artificial engineer career path. Being an AI engineer is one of the most desired professions where an individual's gender is insignificant. The field of artificial intelligence is opening up with new prospects which makes it attractive to a growing number of students, including women. However, AI engineering jobs are dominated by the male gender.

Any special needs

Yes

Like in any other career, a career as AI developer also requires the individual to be physically fit for a better and efficient way of working. However, there is no hard and fast rule that it is compulsory to be physically fit in order to become an AI engineer. As long as the disability doesn't come in the way of one's work they are good to go for an artificial intelligence career path.
What is the role of AI Developer?
In the career as AI developer, people build, test, and deploy AI models, as well as maintain the underlying AI infrastructure. They are problem-solvers who can navigate between traditional software development and machine learning implementations. In order to understand this role better, it is important to have an idea of just what machine learning is. In a nutshell, machine learning is a relatively novel approach at solving some problems in computer science that were traditionally hard to solve, such as, for example, building a program that will successfully recognize handwritten text.
Understanding problem
Understanding the problem is an essential part of an AI developer's job profile. Primarily artificial intelligence is used for finding solutions to a problem. Hence, it is important for an artificial intelligence developer to understand the problem in hand so that he or she can use the AI to help find a solution. There are several challenges that all the industries face, what artificial intelligence does is that it helps to find the solution and that can happen only when there is a complete understanding of the problem. In other words, an AI engineer has to understand the business problem, challenges of existing technologies and areas of application for AI technologies.
Identifying solutions
Finding a solution forms a core part of an artificial intelligence developer's profile. Now there might be multiple solutions of a single problem. It is the duty of the developer to find out the correct or the most apt solution for a particular problem, as it will help the company to overcome a problem in the most efficient manner. Hence, it is important for an AI developer to identify the most important or relevant issue.
Develop technological solution
An AI engineer is required to develop the required machine learning models or prototype applications applying formulated AI methods and verify the problem/solution fit. As industries across all sectors are going digital or are using artificial intelligence extensively, several technological problems and hurdles keep cropping up. In order to remove these hurdles and solve such problems, it is essential for an AI developer to create technological solutions in order to make the process more efficient.
Types of a AI Developer
The field of artificial intelligence provides a wide variety of career options. Some of the options available in the career as an AI developer are as follows:
Machine Learning Engineer: The role of a machine learning engineer is at the heart of AI projects and is suitable for those who hail from a background in applied research and data science. However, it's also necessary to be an AI programmer and demonstrate a thorough understanding of multiple programming languages.
Data Scientist: Data scientists are charged with collecting, analyzing, and interpreting large, complex datasets by leveraging both machine learning and predictive analytics. They also play a vital role in developing algorithms that enable the collection and cleaning of data for analysis.
Business Intelligence Developer: Careers in artificial intelligence also include the position of business intelligence (BI) developer. The primary objective of this role is to analyze complex data sets to identify business and market trends. Business intelligence developers are typically responsible for designing, modeling, and maintaining complex data in highly accessible cloud-based data platforms. Those who are interested in this role need to possess strong technical and analytical skills. Candidates should be able to communicate with non-technical colleagues and display strong problem-solving skills.
Research Scientist: One of the leading careers in artificial intelligence is the job of the research scientist. These individuals are experts in multiple AI disciplines, including applied mathematics, machine learning, deep learning, and computational statistics. Like data scientists, research scientists often are expected to have advanced masters or doctoral degrees in computer science. However, many companies accept an advanced degree in a related technical field that's supported by experience.
Big Data Engineer: As big data engineers and architects play a vital role in developing an ecosystem that enables business systems to communicate with each other and collate data, most companies prefer professionals who have completed a PhD in mathematics, computer science, or a related field. They often work with data analysts and data scientists.
Related article - Career as a software developer
What is the workplace/work environment of AI Developer like?
In the career as AI developer one spends most of his or her time in office. They generally work with a team of professionals such as software developers, data scientists, data analysts, software engineers because of which they must be able to work well with others. In addition, researchers often work closely with experts in many fields to benefit from their knowledge.
Does AI Developer require travelling?
Not Likely
In a career as AI developer, one does not require traveling as such. But, an artificial intelligence engineer may have to travel sometimes in order to meet their stakeholders or clients, however, it is mostly a desk job.
Employment Shifts
Full Time
In the career as AI developer, one usually works for eight hours a day. They may work for extra hours depending on the workload and deadlines.
Employment Nature
Permanent
The nature of employment in the career as AI developer is permanent. However, there are a lot of AI engineers who do freelancing additionally or on a full-time basis later in their careers.
Work Place
Private Offices Factory
In the career as AI developer, one works in an office setup. They are required to work for a minimum of 40 hours a week. The work hours may extend depending on the project in hand.
Presence in Geographical Area
Semi-urban, Urban
In the career as AI developer, one works for companies that are generally located in urban or semi-urban geographical areas. There is negligible employment for AI engineers in rural areas.
Time Pressure
Likely
In a career as AI developer, one is prone to face time pressure. Their work is quite uncertain and might require them to work under unusual circumstances and odd working hours. Artificial intelligence developers usually work under a lot of time pressure.
Overtime Details
Typically, in a career as AI developer, employees are required to work for 9 hours per day. But these working hours are generally expanded because of unattainable results and work pressure. Hence, AI developers are required to work for long hours facing stressful situations.
Weekly Hours of Work
Min 40 Hours
The job of an AI engineer is like a 9-5 job. In a career as an AI developer, one has to work on an eight-hour shift. AI developers usually work in day shift business hours.
How to become a AI Developer?
Steps to become a AI Developer
What are the skills and qualities required to become a/an AI Developer?
To make a career as AI developer, one must have a few technical and non-technical Artificial Intelligence skills
Programming skills: To make a career as AI developer and a successful one, an individual has to become proficient in a few programming languages. An aspiring AI engineer needs to pick one or more languages that will help him/her explore and implement the capabilities of AI. A few of the many languages that work well with AI are Python, Java, C++, Lisp. Each language satisfies the different needs of AI. Although an individual cannot learn all, but one can start with a language that fits their learning curve and helps them get started with AI.
Statistical skills: Statistics is the backbone of any algorithm. As a matter of fact, an entire AI program will depend on the type of algorithm an AI engineer uses. Now, to work on an algorithm, one will need considerable knowledge of statistics, calculus, or algebra, and probability to boost their AI program. Moreover, one will encounter Machine Learning models which require a firm understanding of probability in the career as AI developer.
Knowledge of Algorithms: To build a model or use an existing one, an aspiring AI engineer must have a good knowledge of algorithms. As an AI developer, you must have a grasp of the concepts of an algorithm and a solid understanding of applied mathematics. Areas, where one will be frequently using their algorithms and applied mathematics knowledge, are Quadratic programming, Partial differential equations, Gradient descent, Lagrange, Convex Optimization, etc.
Natural Language Processing: Natural Language Processing (NLP) is all about combining computer science, information engineering, linguistics, and AI into one and programming the system to process and analyse large datasets. Therefore, in the career as AI developer, one has to work extensively on NLP, which involves language, audio, and video processing by leveraging various NLP libraries and tools
Communication skills: In the career as AI developer, an individual will be working extensively on data. Thus, an AI engineer's stakeholders will be depending on them to solve their critical problems. To do that, an AI engineer needs to communicate their findings in an efficient manner. Also, having good communication skills will make the AI engineer go to places and establish a good rapport with their stakeholders.
Analytical skills: To make a career as AI developer, one has to gear up fast to fact-check the numbers and data. This requires analytical thinking. An AI engineer also has to put questions to the data analytics team to ascertain the feasibility of data and brainstorm with the key stakeholders.
Business sense: The most successful, also common, Artificial Intelligence project requires working on the front and solving the vulnerable pain points. Therefore, no matter which industry an AI engineer is in, he/she must be aware of the market, customers, and how the core business runs. If an AI engineer does not possess the business acumen to translate their technical ideas into a successful business model, then having those technical capabilities will be of less use.
Rapid prototyping: In order to find a viable idea, one must consider a number of ideas as soon as possible. This applies to the selection of the right model, A/B testing, NLP libraries, etc. An individual must use a variety of techniques to quickly create realistic scale models of solid parts or assemblies using 3D computer-aided designs, especially when using 3D models.
Students also liked
Which certifications and internships can be helpful in becoming AI Developer?
We have mentioned below certifications that individuals may opt who want to establish a career as AI Developer.
Internship Availability
Yes
Internships are a good way of gaining a foothold and make a career as AI developer. It gives the individual the necessary exposure to the industry and the work environment, so in a way, they are prepared for the pressure which comes along with the career. Artificial intelligence internships give a brief overview of what the job is like and individuals are prepared and won't be like the metaphorical 'deer caught in the headlight'. When it comes to AI engineering a lot of practical knowledge about the field can be gained through an internship. No matter how much practical education your university provides you, knowledge about the work field can be gained by being there physically and it is true in order to make a career as AI developer as well.
Career Path Progression for AI Developer
There are varying job roles in the field of Artificial Intelligence. We have mentioned a few job roles below.
Machine Learning Engineers: At the center of any machine learning project lie the machine learning engineers. With backgrounds and skills in data science, applied research, and heavy-duty coding, they run the operations of a machine learning project and are responsible for managing the infrastructure and data pipelines needed to bring code to production.
Data Scientists: Supporting the machine learning engineers are data scientists who do not typically ship production code, but rather tackle discrete problems using preexisting data to validate models. They have PhD in data science or statistics, or backgrounds in computer science, math and physics. In the process of developing algorithms and analyses, data scientists also perform the critical task of collecting, cleaning, and preparing data correctly which can be the most time-consuming portion of their work.
Research Scientists: Research scientists often build on promising data leads uncovered by data scientists or experiment with novel approaches, some of which may have originated from academic or industry research facilities. They are more focused on driving scientific discovery and less concerned with pursuing industrial applications of their findings. Tying these two fields together are the applied research scientist.
AI Developer Jobs and Salaries
Machine Learning Engineer
Monthly Salaries
Average Salary

50000

Junior Level Salary

40000

Senior Level Salary

200000
Job Description
Machine Learning Engineers were a specialist on the use of data in model development. The models are also used to optimize processes such as image detection, natural language processing and market prediction. For every problem, machine learning developers create a custom-made solution. The first and only way to get good outcomes is to analyze the data thoroughly and pick the best algorithm for a particular context.
Salary Description
Machine Learning Engineers' salary might vary based on their expertise, skills, and experience. Machine Learning Engineers' average salary structure is more than Rs. six lakhs per annum, the initial pay may be up to seven to eight lakhs per year. Several organizations are paying higher salaries to the qualified and experienced junior agricultural engineers, who could earn more than fifty lakhs a year.
Data Scientist
Monthly Salaries
Average Salary

60000

Junior Level Salary

30000

Senior Level Salary

100000
Job Description
Data Scientists compile, interpret and conduct mathematical analyzes of the large set of data. They find out how data can be supplied to answer questions and solve problems. With the development of computer systems and a growing push towards technological enhancement, data processing grew. The database creation has provided a fresh air to the data scientists.
Salary Description
Data Scientists earn on average yearly Rs. six to seven lakhs. They earn almost four to five lakhs a year at the beginning of their career, but eventually earn more than twelve lakhs at their career's senior level as they acquire in and out industry expertise.
What is the job outlook for AI Developer?
Over the past few years, there has been tremendous growth in the field of artificial intelligence. We now have self-driven vehicles, where there is no requirement for humans. Steadily, a lot of the functions are being taken up by machines. When it comes to the career as AI developer many companies are looking for artificial intelligence developers or engineers to work in their organisation. Reducing human error in any business process leads to the development of the business, and that is exactly what companies are aiming at.
Artificial intelligence (AI) promises to deliver some of the most significant and disruptive innovations of this century. Self-driving cars, robotic assistants and automated disease diagnosis are all products of an emerging AI revolution that will reshape how we live and work. And with the demand for talented artificial intelligence engineers more than doubling in the last few years, there are limitless opportunities for professionals who want to work on the cutting edge of AI research and development. There is a great opportunity when it comes to a career as AI developer not only in India but abroad as well. Several European companies are hiring AI developers to make their businesses and processes more efficient and the trend only seems to be on an upward trajectory. Hence, there is a great scope and several job opportunities of being an artificial intelligence developer.
Frequently Asked Questions for AI Developer
Que. Is AI a good career?
Ans.
AI is a sound career choice for a while now and as the adoption of AI in various verticals continues to grow, the demand for trained professionals to do the jobs created by this growth is also skyrocketing. Therefore, if you are an AI enthusiast then be optimistic and prepare for a great career in AI.
Que. Is AI a growing field?
Ans.
Yes, the artificial intelligence field is growing faster. AI has been there since the 1950s but the growth was much slower back then. AI researchers have struggled for decades. But now you can make a career as AI developer and researcher with a good salary package.
Que. Does AI require coding?
Ans.
You can use any languages for artificial intelligence, there is no such language in which you can't implement Artificial Intelligence or Machine Learning. Some common languages are JAVA, C++, Python and many more.
Que. How to become an artificial intelligence engineer?
Ans.
A bachelor's degree in computer science, engineering, or game development is enough for making a career as AI developer. Some people may prefer a master's in a technology degree.
You might also be interested in
The question have been saved in answer later, you can access it from your profile anytime.
Access now
Report Question
Select your reason of reporting