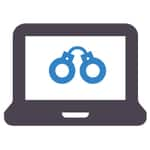 What is Cyber Law
Cyberlaw courses specialise in the laws against cyber crimes. The technology industry in India has seen a lot of growth over the past few years. While technology has impacted India in positive ways, it also has certain adverse effects. The advancement and rise in technology have seen a bump in the number of cyber-scams, data theft, and cyberbullying, among other things. So, in order to decrease these "cyber-crimes", the Indian government enacted the Information Technology Act in the year 2000 in order to address this new range of new-age crimes by implementing Cyberlaw.


If a student wants to pursue Cyber law diligently, it is advised that he or she goes for the Post Graduate Degree in Cyber Law after completing a Bachelor's degree. Both courses are designed to educate aspiring students to learn about the various problems tackled in cyberspace and the laws made by the Indian government to prevent crimes from happening in cyberspace. The main objectives of the Cyber Law courses are: -
Cyberlaw Course Highlights
Top Cyberlaw Colleges in India


Many colleges and institutes provide cyber law courses in India. The cyberlaw fee is mostly determined by the degree programme chosen by the student, faculty, and location of the college. The table below lists some of India's top cyber law colleges.
Top Private Cyberlaw Colleges in India
There are many private Cyber law colleges and universities offering cyberlaw courses in India. Admission to Cyberlaw colleges is based on the entrance examination. The fee for private is more compared to government colleges. A few private Cyber law colleges are also offering internships for law students. The table below lists some of India's top private Cyber law colleges.
Top Government Cyberlaw Colleges in India
There are numerous government Cyber law colleges in India that offer Cyber law courses. Students can afford the tuition fee at these universities. In recent years, these colleges have excelled at academic achievement. Some of India's top government Cyber law colleges are listed in the table below.
Eligibility Criteria (UG & PG) of Cyber Law
Eligibility of Cyber Law
Every college and university has different eligibility criteria. Candidates need to fulfill certain requirements to get admission into top law universities and colleges. Candidates who are interested in becoming cyber lawyer chooses this course. For pursuing these courses at the PG level especially, candidates need to follow the below points.
Candidates must pass 10+2 classes from a recognised university or college.
For pursuing an undergraduate course the student needs to have passed the 10+2 from any stream.
For pursuing post Graduation candidates must pass the LLB course with a minimum of 50 per cent.
Candidates must attend the entrance exams that are conducted by the top law universities and examination agencies.
Top Entrance Exams for Cyberlaw
CLAT: CLAT stands for Common Law Admission Test. This is a national-level examination conducted by National Law Universities in India. This exam is conducted for getting admission to UG, Integrated, and PG law courses. Candidates after completion of the 12th class from a recognised board are eligible for appearing on the exam.
LSAT: The LSAT India examination is an approved test designed to examine law students' skills in advanced reading, critical thinking, and informal and deductive reasoning. The Law School Admission Council, often known as LSAC Global, administers the exam for admission to undergraduate and postgraduate law courses at affiliated law colleges.
MHCET: MHCET stands for Maharashtra Common Entrance Test. This is a state-level entrance examination conducted by the State CET cell. This exam is conducted for admission to various law courses at UG and PG levels in a particular state. There are 150 multiple-choice questions on the exam. Law students who take the entrance exam are shortlisted for admission to top law universities.
Popular Online Law Courses and Certifications
Scope of Cyber Law in India and Abroad
India is rapidly increasing in the technology sector. Cyber law is new and slowly becoming one of the most successful careers in law. There are new career opportunities being generated in this field of law every day. The demand for cyber law professionals is increasing, and they seem to be paid a handsome amount of money. Cybercrimes in India are also growing at an exponential rate. With the rise in the number of cybercrimes, there is a need for more people to study and look for jobs on the good side of Cyberlaw.


Various organisations look for people who are well-versed in Cyberlaw in order to gain their legal services for advice and expertise. Even talking from an international standpoint, there is a need for cyber law and cyber security professionals in companies that even have the smallest of work that involves computers and the internet. The demand for such people has been at an all-time high due to the rise in technology. Aspirants can do a Post Graduate course after their LLB if they want to practice Cyber Law as law where they can be part of a law agency, or they can start their own practice.
Course Fees Cyber Law
Minimum Fees
Maximum Fees
Private
Government
Private
Government
UG

19.93 Lakhs

Dual Degree in Cyber Law at School of Law, University of Petroleum and Energy Studies, Dehradun

---

Data not available

20.18 Lakhs

Dual Degree in Cyber Law at University of Petroleum and Energy Studies, Dehradun

---

Data not available

PG

5.15 K

P.G.D in Cyber Law at Govindrao Wanjari College of Law, Nagpur

3.00 K

P.G.D in Cyber Law at Vardhman Mahaveer Open University, Kota

5.17 Lakhs

L.L.M in Cyber Law at School of Law, University of Petroleum and Energy Studies, Dehradun

1.83 Lakhs

L.L.M in Cyber Law at National Law Institute University, Bhopal

DOCTORAL

3.90 Lakhs

Ph.D in Cyber Law at Shoolini University of Biotechnology and Management Sciences, Solan

---

Data not available

3.90 Lakhs

Ph.D in Cyber Law at Shoolini University of Biotechnology and Management Sciences, Solan

---

Data not available

DIPLOMA

9.45 K

Diploma in Cyber Law at Progressive Education Societys Modern Law College, Pune

9.00 K

Diploma in Cyber Law at Department of Law, Bhagat Phool Singh Mahila Vishwavidyalaya, Khanpur Kalan

90.00 K

Diploma in Cyber Law at CT University, Ludhiana

9.00 K

Diploma in Cyber Law at Department of Law, Bhagat Phool Singh Mahila Vishwavidyalaya, Khanpur Kalan
Course Subjects
All the following subjects are taught during the study of Cyber law:
1. Digital Signatures
2. Intellectual Property Rights
3. Cybercrime Law in India
4. E-commerce
5. International Legal Regime
6. Information Technology Act, 2000
7. Copyright Issues
8. Trademark Issues
9. Regulation of Cyber Crimes
Careers in Cyber Law
Technology is increasing day by day in all fields. People are entering the digital age. The greater the usage of technology and the internet, the greater the opportunity for a career in cyber law. In comparison to other industries, the rise of cyber law is accelerating. Cyberlaw professionals earn an average income of Rs. 5,00,000 to Rs. 10,00,000. You will not be limited to one field and will have the chance to work in a variety of sectors including business, academic, private, and public organisations.
There are currently more career possibilities in cyberlaw than there are professionals available. A profession in cyber law is also available at the international level.
Upcoming trends
An important priority for relevant stakeholders is going to be Data Protection. The laws in the Indian judicial system are inadequate to provide data protection to people. We can see this being improved in a couple of years. Big data analytics is expected to play an important role. Big data analytics helps identify patterns of behavior and possible mistakes made in corporate scenarios.
Cloud computing, which involves the on-demand availability of online storage and other resources without directly being managed by the user, is going to have a big impact on cyberspace. The continued hacking of social media websites has been a continuous nuisance; we might see more stringent security measures in that area.
Job Profiles and Top Recruiters
The Cyber Law programme allows students to work in a number of private and government sectors. Candidates can work in multinational companies, including IT companies, corporate sectors, and other organisations. Some of the career options that can be pursued by Cyber Law aspirants are mentioned below.
Some of the common Job profiles in Cyber Law are mentioned below.
| | |
| --- | --- |
| Job profile | Job description |
| Security Auditor | Security Auditor work will depend on the firm for he or she works. His or her work includes in examining the efficiency, effectiveness, and compliance of operational procedures to ensure they are in accordance with corporate security policies and applicable government legislation. |
| Network Administrator | The work of a Network Administrator involves keeping the network of a company up to date through the installation, repair, and constant upgrading of the network of the company. |
| Cyber Advisor | Cyber Advisors advise their clients about the proper maintenance of data, correct cyberspace actions, and cybersecurity. |
| | Legal Advisors are lawyers that specialise in a certain area, in this case, Cyberlaw legal advisors are employed in order to warn and help their clients from legal consequences. |
| Cyber Lawyer | A cyber lawyer is a specialist who handles illegal crimes committed in cyberspace on the internet. He or she addresses cybercrime issues involving enterprises, private organisations, and law enforcement authorities. |
| Cyber Consultant | This is the most sought-after job after pursuing Cyber Law; these people are specialists who are employed by companies to improve their security. These people are constantly one step ahead of hackers. |
Top Recruiters
Candidates after completion of cyberlaw graduation can work in both public and private sectors. A few recruiters where cyberlaw graduates are recruited are mentioned below:
| | |
| --- | --- |
| Trilegal | Kochhar and Co. |
| Nishith Desai Associates | AZB and Partners |
| Cyril Amarchand Mangaldas | Forbes Advisor |
| General Motors | Capital One |
| Apple | Cisco |
Average Salary
Remunerations play an important role when choosing any career option. As it takes investment with respect to money and time, one should know about the returns for their own interest as remunerations. Average salaries in Cyber Law are more or less similar, but it also depends on the job profile. A list of the average salary in different job profiles in the field of Cyber Law is mentioned below.
| | |
| --- | --- |
| Job profile | Average salary (in Rs.) |
| Security Auditor | Rs. 3,00,000 LPA |
| Network Administrator | Rs. 3,80,000 LPA |
| Cyber Advisor | Rs. 3,60,000 LPA |
| Cyber Legal Advisor | Rs. 6,00,000 LPA |
| Cyber Lawyer | Rs. 8,00,000 LPA |
| Cyber Consultant | Rs. 9,50,000 LPA |
Required Skillset for Cyber Law
Candidates who want to get succeed in their careers need to possess a few skills. These skills help the candidate to understand the job role and responsibilities. Candidates who want to become cyber lawyers, need to know both law and technology. The required skill set for cyber law depends on what kind of job the aspirant is seeking after the program.
| | |
| --- | --- |
| Critical thinking | Communication skills |
| Soft Skill | Knowledge of law |
| Technology Awareness | Writing Skills |
| Contract of drafting | Teamwork |
Course Curriculum for Cyber Law
Anyone interested in a profession in Cyber Law can choose between two types of diploma courses. The first is an Undergraduate Diploma Course, whereas the second is a Postgraduate Diploma Course. The Undergraduate Course is intended to provide students with an overview of all cyber legislation under the Indian Judicial System. Students who take the course will be qualified to intervene in Cyber law concerns. The Post-Graduate Course is more professional course that gives more in-depth knowledge of Cyber Law from an industry perspective; the course will provide students with solid foundation to manage cyberlaw-related challenges both professionally and personally.
Students also liked
Popular Cyber Law Entrance Exams in India
Popular Cyber Law Colleges in India VIEW ALL
Frequently Asked Questions (FAQs)
Question: What are the top colleges that offer cyber law courses in India?
Answer :
Some NLUs (Kolkata, Kochi, Hyderabad and Lucknow) offer cyber law courses.
Government Law College, Mumbai
OP Jindal Global University, Sonipat
Rajiv Gandhi National University of Law, Patiala
Sinhgad Law College, Pune
Question: Is there a time limit to finish this course?
Answer :
In most colleges, this course should be finished within one year. However, many colleges give an option to extend this course to two or maybe three years.
Question: What is the cyber law in India?
Answer :
All the cyber laws in India come under the Information Technology Act, 2000. This Act was amended in 2008 to include some cybersecurity protocols.
Question: Is ethical hacking a cybercrime?
Answer :
Hacking in any form is a cybercrime until the 'hacker' has an EC-Council certification and a written statement from the company that he or she is attacking.
Question: Is prior knowledge of the law required for the course?
Answer :
The cyber law courses do not presume any previous knowledge of traditional law. It is better if the students know the law, but it would be fine even if they do not.
Question: Is a course that is done in India, specific to laws in India?
Answer :
The courses generally cover principles that apply to Cyber Law in general. But mostly, the courses include a study of the Information Technology Act, 2000 in detail. Most of the courses are not India-specific, though.
Questions related to Cyber Law
Showing 2894 out of 2894 Questions
Courses Similar to Cyber Law
Interested in Cyber Law? Find information around eligibility, career scope, jobs , colleges and exams and much more for free.