Who is a Airline Pilot?
Both optimists and pessimists contribute to our society. The optimist invents the airplane and the pessimist the parachute ~ Gil Stern
The career as an airline pilot is one of the most ambitious, respected, and well-paying jobs out there. An airline pilot is always in high demand therefore, a career in the aviation industry is quite promising. Navigators or flight engineers and other aircrew members are considered as aviators. These professionals are also considered as aviators because they are involved in operating the aircraft's navigation systems. In the aviation industry, an airline pilot is someone who operates aircraft to transport passengers or goods from one location to another. Commercial airlines, corporations, or governments hire aviators. An airline pilot can be self-employed or work for an individual. Captain works independently provides private transport in small aircraft or private jets. Aviation is a diverse career field with several opportunities in both the public and private sectors.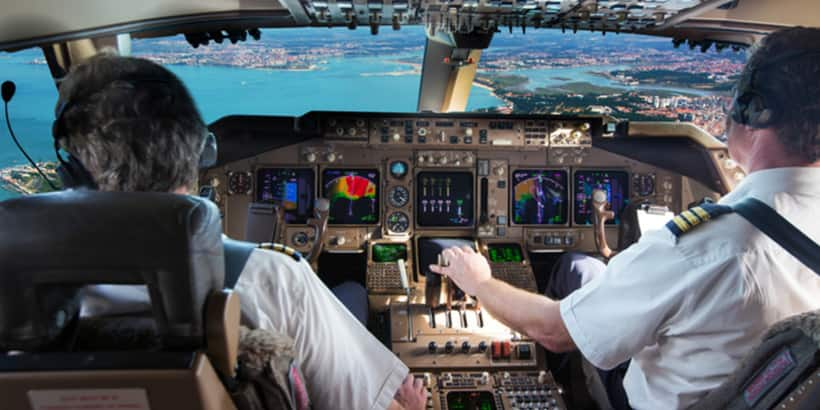 Airline Pilot in a Nutshell
Are you searching for an 'airline pilot job description'? An airline pilot or airline commanders fly aircraft and helicopters to provide transportation to passengers or cargo. The airline pilot operates the engines of aircraft and controls to navigate and fly the aeroplane. The ability to learn new technologies every time and to stay up-to-date with the changes in the industry is what aviators should possess. The career as airline pilot is also one of the highest-paid professionals and the job is quite coveted.
Quick Facts for Airline Pilot
Industry

Aviation

Average Salary in India

₹100000

Suitable for

Male, Female, Others

The career as Airline Pilot is not gender-specific. Male, females, and others can opt for careers as airline pilot. But statistics show that the profession of an airline pilot is mainly dominated by men. The careers as airline pilot is not as popular among women as it is among men. No profession should be described as feminine or masculine because one individual should choose his or her profession solely based on personal abilities and talents. Therefore, if an individual wishes to become an airline pilot and go to a pilot school.

Any special needs

Yes

The career as airline pilot suits everyone, even people with special needs. Airline pilots can use hand-operated gear to fly some airplanes that do not require rudder operation. Physical strength is important or to qualify the medical tests are important but it does not mean stop them from becoming airline pilot, they anyway don't have to be able to run a triathlon.
What is the role of Airline Pilot?
Airline pilots are responsible for transporting people, members of the military, private and commercial products, or types of cargo depending on the industry where pilots are working in. Whether the aviator will fly a helicopter or a commercial aircraft, it depends on the pilot training an airline pilot specialises in. Some airline transport pilots fly planes to transport automobiles, industrial equipment, and other goods from one location to another. But the most well known or we can say the popular airline pilots are those who work for private airlines that transport passengers. The primary responsibility of airline pilots is to operate the aircraft, but they need to perform other tasks too. Airline pilots are responsible for the safety of all crew and passengers on board while flying. A career as airline pilot comes with serious responsibilities.
Give instructions
It is the airline pilot's duty to give all sorts of instructions to the passengers before, during or after the flight. They also give out instructions in case there is an emergency and have the final authority in the aircraft. Airline pilots give instructions to the crew members on board and also coordinate take-off and landing systems with crew members.
Communication
Airline pilots are responsible for contacting air control towers for takeoff and landing clearances. An airline pilot also communicates with other air vehicles to systemize movements. Communication forms an essential part of the job of an airline pilot. They not only communicate to the ground staff, but also the cabin crew, and passengers. They keep giving the necessary information the air traffic control and passengers.
System check
There are several technical activities that are done by airline pilots. They do the pre and post-flight checks and ensure that everything is in a proper working condition. From checking and calculating the fuel required during a flight (depending on the weight carried by aircraft and the distance to be covered). Also, if there is a malfunction in the aircraft, they try to fix remotely and report them to the flight engineers. Airline commanders also notify the air traffic control in emergency situations, problems, and hazards.
Types of a Airline Pilot
There are several types of airline pilots. We have provided below types of airline pilot description with varying job titles.
Commercial and Civil Pilot: Airline pilots who are working in the commercial airlines are responsible to fly an airplane for several purposes. They fly airplanes for various purposes such as rescue operations, airborne photography, putting out fires, and elevated application and for many other reasons. There are some various types of commercial and civil pilots and those are discussed below:
Career as airline pilot also involves delivering parcels and packages for small and large cargo companies and known as cargo pilots.
Corporate and Business Aviators generally get to fly smaller, corporate jets and turboprops for corporations, different types of businesses, and even for the rich and famous businessmen.
Co-Pilot: These pilots mainly are in charge of almost all the responsibilities of the flight. They take care of the flight, the team, the passengers, and also the aircraft. Co-Pilots are responsible for every single essential check that is made while or prior to flying.
Chief Pilot: The main responsibility of the chief pilots is to administrate the general operations of the aeronautics offices. This airline captain job also includes ground staff, planning support, booking flights, and other responsibilities.
Airline Pilot: The basic responsibility in the career as airline pilot is to operate the aircraft. Airline Pilots or commercial pilots who are working in this filed also check the climate and affirm flight designs before withdrawing.
Test Pilot: The responsibility of test pilots includes testing new and updated flights to ensure the airworthy. They also test the airplane's design, strength, equipment, prepare written and oral reports on their expertise, and also make suggestions for improvements. Manufacturers, private businesses, defense systems, the federal government, and other aviation-related businesses require these types of pilots.
Defense Pilot: The pilots who are working in defense as military pilots get to fly the latest state-of-the-art aircraft. Military pilots get paid to train, cumulate flight hours and get paid for the active duty based on completion of their pilot training. There are some various types of defense pilots and those are discussed below:
Drone Pilot: Drone pilots are the growing and newest type of pilot career and currently, this field of new aircraft is on the rise and it is being applied with everything from real estate to law administration to tourism.
What is the workplace/work environment of Airline Pilot like?
Career as airline pilot or commercial pilot involves working with the major airlines to transport the passengers for vacation or and goods. This is one of the reasons for the high salary of airline pilots. Every airline requires two pilots while flying and those are the captain and the co-pilot, co-pilot is also known as the first officer. Airline pilot daily job routine includes examining the aeroplane's equipment, checking every item off the checklist. The co-pilot determines the aeroplane's route and the flying time. Business pilots fly aircraft which are usually smaller jets that are owned by several private companies. Several airline captains also work as firefighters, flying over forest fires to drop chemicals that douse flames.
Does Airline Pilot require travelling?
Likely
The career as an airline pilot is a field that requires travelling and we can say that their job is only to fly, and not a desk job. They need to travel almost every day or we can also consider that aviator job is to just fly. Airline pilots do not do any kind of desk job although if we talk about the air traffic controller then we could have been told that they work in an office environment. Whether a captain or co-pilot everyone is trained to fly from the very beginning of their career. They even get the chance to travel to other countries because their nature of the job is such. A career as an airline pilot is suitable for those who are interested in travelling.
Employment Shifts
Full Time, Part Time, Hourly Basis
Career as airline pilot is one of the finest jobs in comparison to other professions. The shift timing of the airline pilot falls under a certain category. Unlike every other job, airline pilots need to do one twenty-five hours a month, which is equal to five complete days or five sets of twenty-four hours. Airline pilots need to work for five days a week and get two days off and they work for eight hours a day. The career as captain is strenuous so they do not fly continuously and take days off.
Employment Nature
Contractual, Permanent
Airline pilots or more specifically the aviation industry not only influence recreation and defense but also shipping and trade. Aviators are employed by government agencies, defense organisations, and commercial airline companies. This is not a contractual or part-time job rather it is a permanent job.
Presence in Geographical Area
Urban
The number of employees is less compared to other industries, though it is one of the finest courses in the aviation domain. People from every background can opt for an aviator career for their future prospects. Candidates from metropolitan areas as well as the many urban areas join this aviation industry and become pilots. This is not on the basis of the fees or the area; it solely depends on the zeal and the interest of the students to be an airline pilot. Although opportunity matters but an aviation captain job is not based on the geographical area.
Time Pressure
Likely
There is a lot of time pressure on airline pilots. Airline pilots are required to work under time constraints and a stressful work environment. Airline pilots spend 25 per cent of their time flying while the rest of their time preparing for flights, writing reports, and waiting for planes to arrive.
Overtime Details
The working hours of airline pilots are generally 75 hours to 100 hours per month. Airline pilot job demands work on nights, weekends, holidays, and may spend a lot of time away from their home base. However, even the odd working hours are already scheduled before so they're only required to work as per their allotted time and not overtime.
Weekly Hours of Work
Min 40 Hours
Airline pilots may need to extend their shift or working time due to many reasons. The work hour mainly depends on which sector the airline pilots are working and of course on their commitment towards their work. Airline pilots need to work at least eight hours a day. After completion of the work, aviators spend time according to themselves. A lot of mental effort is required for the work environment.
How to become a Airline Pilot?
What are the skills and qualities required to become a/an Airline Pilot?
There are several requirements to become airline pilot. The major requirements to become airline pilot include leadership quality but also have to communicate and work as part of a team. There are several skills that an aviator must possess. These skills include:
Communication Skill: Communication skill is important in almost every career but this is a skill that is much more important in an airline pilot's career. Incorrect or incomplete communication of the chief or co-pilot can be the factor for eighty per cent of flight accidents. The airline pilot and the controller communicate with each other for clearance, provide instruction, and other conditional statements.
If one wants to make a career as airline pilot he or she needs to follow the air traffic control (ATC) instructions like traffic information, radar vectors, weather, or advice in emergencies to ensure safety regarding while flying and landing. Communicating with the passengers and co-workers on a daily basis and to give attention to their complaints provides them to polish their interpersonal skills as well.
Decision-making Skills: Situation like turbulence, can test an airline pilot's critical thinking ability, a situation where it is very common to be nervous. When airline pilots encounter obstacles or emergencies, they follow one certain check-list, to make those situations under control. The checklist contains specific procedures to overcome the obstacles. However, not every solution is explained there, so in those unexplained situations, airline captain needs to think carefully about the obstacles and the way to overcome them. Chief and the co-pilot need to be calm, composed and need to keep their head cool while knowing that their one wrong decision can be a disaster. Not only making the right decision is the only thing that an aviator should do but also need to be a quick thinker.
Situational Awareness: Airline pilots should prepare themselves to appreciate everything that is going on throughout flying, controlling and maintaining an aircraft. Airline pilots need to create a picture in their mind of the flight conditions, location, configuration of their aircraft. Insufficient knowledge of the situation can end with fatal results such as loss of control, airspace infringement, loss of separation, or an encounter with adverse weather conditions.
Leadership Quality: Leadership is an inherent personal quality and as well as a learned skill. Airline pilots must be aware of the facts of effective leadership and poor leadership. Aviators need to be well versed with customer relationship management and standard operating procedure which are commonly known as CRM and SOP to manage the cockpit. In a flight, there should be one leader and that is the captain who leads the crew towards success in any crisis.
Mathematical Skill: Airline pilots must know the numbers for the aircraft, and also need the capability to perform arithmetic calculations mentally and also quickly on demand. Though they need to calculate in many situations but these calculations are not that critical, in fact, these are basic addition and subtraction most of the time. The most important or we may say the toughest job is to calculate them really fast and accurately. Airline pilots may need to think out of the box in order to solve a problem, which is not there in their checklist.
Teamwork: Many accidents while flying were caused because of the breakdown in teamwork, where the crew members work individually than as a team. Airline pilots should communicate and cross-check with each other's work throughout the team. This cross-checking and effective communication reflect a positive impact on the level of flight safety. Without proper teamwork, the operation would not be able to function properly.
Which certifications and internships can be helpful in becoming Airline Pilot?
We have mentioned below certifications that individuals may opt who want to establish a career as Airline Pilot.
Internship Availability
Yes
A lot of airline pilot internships are available in this particular field. Different companies and organisations, with appropriate abilities and competencies, employ interns. One can explore internship opportunities through the online hiring portals. The individuals get hands-on experience through aviation internships. Higher-education colleges and private airlines, therefore, provide internship opportunities. Individuals who aim at becoming an airline pilot can join a pilot school which can help them acquire an internship. After learning from an airline pilot school candidates can get an internship easily as they would fulfil the airline pilot requirements.
Career Path Progression for Airline Pilot
We have provided below the details of airline pilot career progression. One may acquire the roles mentioned below while progressing in the aviator career.
Co-Pilots: Co-Pilots check every single essential during or prior to flying. All these essential checks are done under the supervision of the chief pilot. Every co-pilot has to give a test in order to become the captain. Cargo pilots deliver parcels and packages for small and large cargo companies. Corporate pilots fly smaller and corporate jets for businessmen. The captain of an aeroplane has the overall responsibility for the safe and efficient operation of the aircraft. The captain is also responsible for the safety of the crew members and passengers. Captains give attention to the weather factors that affect the flight, flight regulations, air traffic control procedures. They are also responsible to make the air navigational aids to provide maximum safety in the air.
First Officer: The first officer is the second airline pilot of an aircraft. After the captain, the first officer is the second-in-command of the aircraft, who is the legal commander. In any event where the captain is absent then the command of the first officer will be assumed as the highest one.
Captain: The captain of an aeroplane has the overall responsibility for the safe and efficient operation of the aircraft. The captain is also responsible for the safety of the crew members and passengers. Captains give attention to the weather factors that affect the flight, flight regulations, air traffic control procedures. They are also responsible to make the air navigational aids to provide maximum safety in the air.
Airline Pilot Jobs and Salaries
Co-Pilot
Monthly Salaries
Average Salary

100000

Junior Level Salary

40000

Senior Level Salary

150000
Job Description
Both during and prior to flight, co-pilots check every single essential. Every one of these important tests is carried out according to the Chief Pilot's direction. First, each airline pilot joins as a co-pilot and then upgrades him/herself as the captain. To become a captain, each co-pilot must give a test.
Salary Description
Co-Pilots' salary might vary based on their skills, and experience. Co-Pilots' average salary structure is more than Rs. six lakhs per annum, the initial payment could be up to six lakhs per year. Several organizations are paying higher salaries to the qualified and experienced Co-Pilots, who could earn more than 15 lakhs a year or more.
What is the job outlook for Airline Pilot?
Job opportunities arise from the requirement to fill the vacant places of retired airline pilots. It also happens when airline pilots who leave the occupation permanently over the projection period organization need more new airline pilots. The requirements at the entry-level for regional airlines and non scheduled aviation services are comparatively lower and because of that, the job prospect is better in this case. Despite having nearly eight thousand airline pilots and six hundred fifty commercial aircraft the airline industry needs more than twenty-five thousand airline pilots. The Indian aviation industry has been facing some turbulence over the past few years. First, we came to know about the Kingfisher airlines, one of the biggest airline companies in India was forced to stop its business because of the debt. And then the Jet Airways also ceased all flight operations because of the bankruptcy. However, experts believe mentioned that increasing numbers of the fleet by India's airliners has kept the airline pilot in demand for more new airline pilots than the rate of supply can keep up. The number of commercial airline pilot jobs is projected to increase in several industries. One of the industries in this area is the air ambulance services where the patients are needed to be transferred for the healthcare facilities.
Frequently Asked Questions for Airline Pilot
Que. What are the working hours for a pilot?
Ans.
The career as airline pilot or commercial pilot involves flying of seventy-five hours per month and work an additional one hundred and fifty hours per month performing other duties, such as checking weather conditions and preparing flight plans.
Que. What shifts do airline pilots work?
Ans.
Rosters are usually made for an airline pilot or a commercial pilot to maintain a work schedule in alternate from week to week, for example, pilots will be on an early shift pattern one week, then switch to a late shift pattern the next.
Que. At what age do airline pilots have to retire?
Ans.
In the career as airline pilot or commercial pilot one is required to retire at age 65 and even before they reach retirement age, on international flights a pilot aged sixty or older must be paired with a pilot under sixty.
Que. How long does it take to become a pilot?
Ans.
How long is pilot school training depends on how long an aspiring aviation pilot takes to meet ATP flight school requirements. It will also answer to the question if is it hard to become a pilot?
1. How long you take to complete your 200 hours of flying.
2. Secondly, how long does it take to clear your theory exam in order to get the commercial pilot license.

The airline pilot training is not like any other degree course in a university, in commercial airline pilot school has designed the airline pilot's course differently but it depends on how early you learn the required set of skills. Therefore, if you're wondering how long does it take to be a pilot then it is totally up to the individual at the airline pilot training school. People often wonder how hard is it to become a pilot, it entirely depends on how well they can meet these requirements in order to become an airplane pilot?
Que. How long does it take to become a pilot captain?
Ans.
It depends on the airline and the individual who wants to become an airline captain.
To Captain a commercial aircraft, you must have logged at least 1,500 flight hours and hold a full Air Transport Pilots Licence (ATPL). However, in reality, most short-haul airlines require a minimum of 3,000 hours before considering any pilots for promotion.
Que. What is private pilot requirements part 141?
Ans.
Three hours of basic attitude instrument training. 5 hours solo flight time in the areas of operation listed in FAR 141.
You might also be interested in
Questions related to Airline Pilot
Showing 5 out of 5 Questions
The question have been saved in answer later, you can access it from your profile anytime.
Access now
Report Question
Select your reason of reporting