Who is a Software Engineer?
Any fool can write code that a computer can understand. Good programmers write code that humans can understand ~ Martin Fowler
In career as software engineer, individuals design business systems and applications. The products range from business applications and games to operating systems and network control systems. Software engineer job description includes: working with customers to assess the requirements for their applications. Individuals who opt for a career as a software engineer are computer science specialists who employ knowledge of the concepts of engineering and software development to build software products, design computer games and operate network control systems. Software engineer career path assesses the needs of the customer, designs, measures and constructs the computer software to meet customer needs. Students can study B. Tech in Electrical Engineering and B.Tech in Computer Engineering to opt for software engineer career path. Software engineer career path is having specialisation in computer devices, software and hardware. Here we will discuss how to become a software engineer, alternative career options for software engineers, is software engineering a good career, how to become a software engineer, what does a software engineer do, software engineer skills.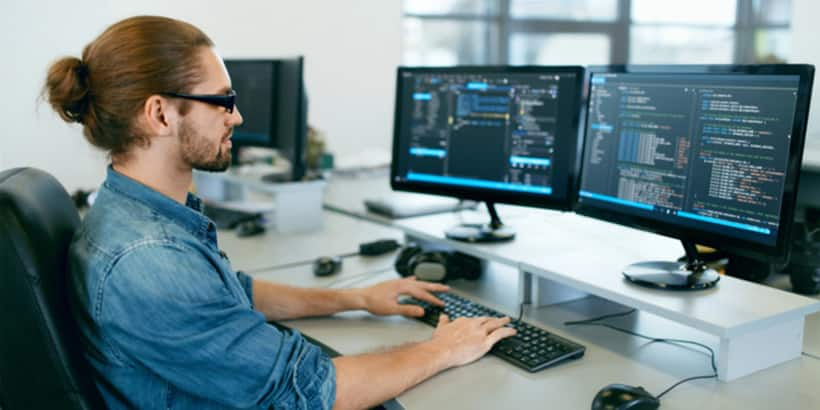 Software Engineer in a Nutshell
Individuals who opt for a career as a software engineers have comprehensive knowledge of programming languages, development of applications, and running computer systems. He or she applies the concepts of engineering for designing applications. Software engineer job description include designing customised applications for specific customers. In career as software engineer, individuals apply software engineering concepts to every level of the development process.
Quick Facts for Software Engineer
Industry

Technology

Average Salary in India

₹75000

Suitable for

Male, Female, Others

Individuals can take up a career as software engineers, it is not gender-specific. Men, women and others can choose a career as software engineers. We understand that some occupations are gender-specific as some work can only be performed by a man or woman. But, in this career, there is no gender obligation. Anyone who has the skill regardless of race or gender can become a software engineer. In this career an employee's gender is insignificant.

Any special needs

Yes

Everyone, including those with physical disabilities, is appropriate for individuals who opt for a career as software engineers. The career as software engineers is well suited to everyone, even those with special needs. Everyone, including those with physical disabilities, is appropriate for this profession. Many software engineers work on desks in office settings. Functioning as software engineers require a networking skill. Individuals with a bodily deformity can easily work in this field.
What is the role of Software Engineer?
Individuals who opt for a career as software engineers design several types of software, like operating systems, computer games, business applications and communication systems. Individuals who opt for a career as a software engineer apply mathematical analysis and computer science concepts to develop and build computer applications. Technology advancements and new fields of study keep software engineer careers growing at a rapid pace. Software engineering is the discipline of computer science that involves applications' software development and construction of computer systems. Computer systems software consists of various components comprising computer services and software applications. Software applications consist of programs that involve web browsers and database programs. Here we will discuss how to become a software engineer, what does a software engineer do, which field is best in software engineering.
System analysis
System analysis is significant because it helps for alternatives in the system through various tasks involved in doing the analysis. Individuals who opt for a career as software engineers analyse the device details to render configuration settings for the software. System analysis is an engineering technique widely used in construction projects to ensure that a solution is achieved that meets the needs of the customer. System analysis is conducted to analyse a program or its elements to understand its functional objectives.
Database maintenance
A database management system is a program for the creation and maintenance of databases. The database management system provides the users and programmers with a standardised way to construct, view, update and manage data. There are applications that can be used to handle transactional databases, such as handling human resources, finance. Individuals who opt for a career as a software engineer manage relevant information, arranges it and provides users or other systems with ways of modifying or deleting data. Some examples of the database management framework are MySQL, PostgreSQL, Microsoft Access, SQL Server, FileMaker, Oracle, RDBMS, dBASE, Clipper, and FoxPro.
Prepare reports
Reports can provide valuable information which can be used to produce future forecasts and improvements in decision making. Technical reports are key written work materials for the engineers. Individuals who opt for a career as software engineers also disclose details and conclusions concerning designs, experiments and other projects. Reports include research on scientific concepts that also provide visual design and representations of the data. It is a method of direct communication between the company and the workers it hires. A report about successful projects needs to be submitted.
Types of a Software Engineer
Python developer: Python developers are information technology (IT) experts who use the popular programming language, Python, to develop a variety of applications. The tasks of Python developers include writing and reviewing code, debugging applications and integrating applications with third party web providers. Python developers are responsible for designing web application logic on the server-side. The language of pythons is available in two variations: python 2 and python 3. This distinction is rarely needed to be made, however, since good python developers can easily adapt to the variations. Typically, python developers build backend modules, link the application to other third-party web services, and assist front-end developers by incorporating their work with the Python framework.
Systems developers: Systems developers design and code background processing systems that undergird web and mobile applications. Systems developers study, design, build and test software, compilers and systems-based software at the level of the operating system for health, automotive, military, telecommunications, aerospace, scientific and general computing applications. They set operational criteria and develop and evaluate requirements for the software. Systems developers design embedded system software and apply computer science, engineering and mathematical analytical methods and techniques. System developers build and manage software programs for financial institutions. They build and incorporate backend management systems software and services which are used in companies and organisations.
Cloud engineers: Cloud engineers are information technology (IT) professionals responsible for all cloud infrastructure-related technical activities such as design, planning, management, installation and maintenance. The research activities such as cloud infrastructure administration, planning, design and monitoring. Cloud engineers are responsible for identifying cloud hosting practices and approaches that could be useful for cloud application support. Cloud engineers devote themselves to code for serverless applications. They also oversee that all design methods are automated and are acquainted with the system lifespan and also the usage of APIs.
Software Developer: Software developers are the creative minds behind computer programmes. Software developers career allows people to do specific tasks on a computer or another device. Others develop the underlying systems that run the devices or that control networks.
Web developer: Web developers are the professionals who create a website from scratch that includes design, themes, interface, database, servers, domains, and such fields. Scroll down to know how to establish a successful career as a web developer, market insights, job growth, work environment and other related information.
Software Quality Assurance Engineer: Software quality assurance engineer is a software tester who develops various codes and test cases in order to analyse the efficiency and accuracy of a software product. As a software quality assurance engineer, he/she is responsible for handling a variety of tasks that are both technical and non-technical.
Computer Hardware Engineer: Computer hardware engineer carries out the technical exploitation and investigation of media content of the highest priority. Computer Hardware Engineer inspects and reviews technical accuracy, requirements, and design compliance.
Computer Systems Engineer: A computer systems engineer is required to integrate hardware and software programmes in the computer system to meet the requirements of clients. Here we will discuss how to become a computer systems engineer, computer systems engineer education requirements, how to become a system engineer, computer systems engineering courses, computer systems engineer degrees.
Computer Programmer: A computer programmer uses designs created by software developers and engineers and transforms them into commands that can be implemented by computers. These commands result in regular usage of social media sites, word processing applications and browsers.
What is the workplace/work environment of Software Engineer like?
Individuals who opt for a career as software engineers operate within an office setting. Individuals who opt for a career as software engineers work in information technology companies, organisations that create software for other companies or customers and other businesses that rely on computer network systems to function. Software engineers spend considerable time upgrading, installing, deploying, developing and reviewing software programs in order to make the program more effective and smooth.
Does Software Engineer require travelling?
Not Likely
The work of individuals who opt for a career as a software engineer does not require much travelling. At least not during the initial stages of the career. This emerges when software engineers choose to visit the workplace of the client. To provide guidance and supervision to other software developers, software engineers travel quite regularly both domestically and internationally.
Employment Shifts
Full Time, Part Time
People do both full time and part-time jobs. But in general software engineers prefer this profession on a full-time basis. In career as software engineer, individuals work full-time, though schedules may vary depending on duties and responsibilities and duration. Software engineers usually work 40 hours a week, with increasingly complex tasks generally requiring additional shifts. Individuals who opt for a career as software engineers involved in important projects will spend over 40 hours a week.
Employment Nature
Contractual, Permanent
The employment nature of software engineers is both permanent and contractual. Software engineers have to work as part of a team within the organisations. Individuals who opt for a career as a software engineer interact over tasks with the superiors as well as communicate with clients around the globe. Software engineers will need to be able to travel to serve consumers and employment requirements may vary depending on the company's geographical location. They may also be employed for a certain time span, but software engineers usually work as permanent employees.
Work Place
Office
Software engineers update or implement appropriate machine language or evaluate errors and develop computer software as well. In career as software engineer, individuals carry out all of those activities in the workplace environment. The job does not require too much physical labour, but intelligence and mental strength are needed.
Presence in Geographical Area
Urban
Software engineers have fewer opportunities in rural areas than in urban or semi-urban areas. In career as software engineer, individuals work primarily in urban areas since there are many multinationals located in metropolitan cities. Although, companies in remote regions continue to rise with each and every day.
Time Pressure
Likely
In a given time-span, individuals who opt for a career as a software engineer need to perform tasks for a company or individual. It takes a lot of time and mental strength to do this job because we know that nothing productive can be achieved without hard work and effort.
Overtime Details
In career as software engineer, individuals work for multinational corporations often individually and they typically work for nine hours a day. However, when they work on major projects, they have to work about fifteen hours a day. Some tasks require more attention, software engineers need to extend the length of their shifts to accomplish it in time.
Weekly Hours of Work
Min 40 Hours
Individuals who opt for a career as a software engineer work around nine hours a day, roughly 40 hours a week. The job of software engineers comes under certain shifts, while they may work more hours to solve the problem in different types of projects. Software engineers work in big projects for nine to ten hours a day to correct the errors.
How to become a Software Engineer?
What are the skills and qualities required to become a/an Software Engineer?
When it comes to how to become a software engineer, the first thing that they should know about is the software engineer skills. Some of the essential software engineer skills, which are important in the software engineer career path we have mentioned below.
Communication skills: Excellent communication skills are directly related to strong research and development skills. A great software engineer can understand problems clearly, break them down into hypotheses and find solutions in a logical manner. In career as software engineer, individuals often work independently, depending on their organisation, role and project. Individuals who opt for a career as a software engineer often work in groups and collaborate mostly with hardware engineers, technicians and partners. Communication skills save time by encouraging task decision-solving skills and other tools. Software engineers' communication skills are a must in both a written and verbal manner. To explain software programs, they need to communicate effectively with seniors. Careers in software development require the ability to translate and turn this technical material into useful knowledge for the business.
Designing skills: Engineering design is the process that engineers use to evaluate and solve issues. It has been interpreted and explained in various ways however, there are some basic characteristics in engineering designs. Engineering design describes the fundamental contrast between computer science and computer engineering. Careers in software development require design skills and reasoning techniques to construct equipment.
Organising skills: A software engineer requires several functions to execute within a short time frame. He or she is required to conduct data analysis for the interpretation and analysis of scientific and quantitative data. In career as software engineer, individuals are employed with other practitioners, including other developers, programmers and scientific workers. Hence it is important to schedule to prevent poor management.
Programming skills: A software engineer writes codes using programming languages such as SQL, Java, C++ or Python. He or she is not expected to learn every programming language but it would be beneficial to understand at least two languages so that employment opportunities can be increased. Careers in software development require a specialisation area and then learn the language of programming best suited to that field.
Popular Online Engineering Courses and Certifications
Which certifications and internships can be helpful in becoming Software Engineer?
We have mentioned below certifications that individuals may opt for who want to establish a career as Software Engineer.
Internship Availability
Yes
An internship in software engineering is an opportunity to get jobs in software engineering. Usually, interns in the software engineer career paths are graduate students and most training opportunities last range from one to six months. Often, interns are paired with other engineers who function as their mentors or guide. Software engineer career path involves activities such as coding and testing programs for applications and experimenting with design elements. In career as software engineer, individuals are often reviewing code with other developers, checking applications and fixes software and introducing improvements and upgrades where appropriate.
Career Path Progression for Software Engineer
Applications Developer: Applications developers are responsible for converting the software specifications into feasible programming code. Careers in software development require managing and developing business-use services. Many application developers specialise in a particular development area, such as mobile phone applications, accounting software, desktop applications or graphics software. Applications developers should possess in-depth knowledge of at least one programming language, depending on what they do. They also check and correct glitches before launching the product.
Cybersecurity Engineer: Cybersecurity engineers are the information gatekeepers in an organisation, liable for securing and safeguarding the systems that store data and information. Cybersecurity engineers support companies from possible hackers and cyber threats by securing their computer and networking systems. Careers in software development require securing confidential business data from hackers and cyber-criminals who regularly invent new ways to access confidential information. Cybersecurity engineers keep attackers at bay by implementing appropriate measures to protect intrusions and breaches. They conduct security measures appropriately.
Machine Learning Engineer: The responsibilities of machine learning engineers include the creation of models for machine learning and retraining systems. They understand and incorporate the fundamentals of computer science including data structures, algorithms, computational complexity and computer programming. Machine learning engineers generate project results and identify the issues that need to be improved to make programs more efficient. Careers in software development require collaborating with data engineers to build data pipelines and model pipelines.
Also read - Career as an AI Developer
Software Engineer Jobs and Salaries
Application developer
Monthly Salaries
Average Salary

70000

Junior Level Salary

40000

Senior Level Salary

90000
Job Description
Application developers produce non-web-based applications, experiments and services, including computer and smartphone applications. They can work with graphic artists, UX designers and data scientists who are all instrumental in the application's backend and front end creation.
Salary Description
Salaries in this career largely depend on the company and the role which an individual occupies. An average salary for application developers is up to Rs. seven lakhs per year. At the beginning of their career, they receive more than Rs. four lakhs a year which increases to even more than Rs. nine lakhs a year in senior positions.
Cybersecurity engineer
Monthly Salaries
Average Salary

80000

Junior Level Salary

50000

Senior Level Salary

150000
Job Description
Cybersecurity engineers create and develop secure network solutions that are designed to protect against hackers, cyber-attacks as well as other persistent threats. They also participate in monitoring and analysis of systems, ensuring that all device protection is up-to-date and functioning properly.
Salary Description
The more experience that cybersecurity engineers earn in the field, the higher the salary and opportunity they will make in the business. Cybersecurity engineers earn more at the early stage of employment which is better than most other occupations which are approximately Rs. six lakhs per year but eventually earn more than Rs. fifteen lakhs at the senior level.
What is the job outlook for Software Engineer?
It's no wonder that software engineering is a booming sector. While demand for mobile, telecommunications and security software is increasing, and IoT devices are spreading in homes and workplaces, and for these reasons, software developers career is required more than ever. The demand for software engineers has driven salaries through the roof. Any organisation that seems to have a web or mobile presence needs software engineers. Software engineers may work for a company that specialises in software engineering or other aspects of IT, like website development or application creation. Software engineers may be in-house developers for companies across a range of industries including banking, financial service, education, manufacturing and healthcare.
The employment of software engineers is expected to rise by 21 per cent between 2018 and 2028, considerably faster than the average for all occupations. Software engineers will need to respond to the growing demand. The technical career path has been highly competitive. The COVID-19 pandemic sadly impacted industries across all sectors and information technology is no exception. Software engineer career path has an advantage in a virtual recruiting process because they are used to taking tests online as part of an evaluation process.
Student Also Liked:
Frequently Asked Questions for Software Engineer
Que. Do software engineers do coding?
Ans.
Software engineers are often termed as software developers who operate closely with customers to prepare software systems. Whereas most software engineers do not typically write code, individuals should have a solid background in programming skills to interact with programmers properly.
Que. Can a software engineer become a hacker?
Ans.
Yes, but not all of them. To be a security hacker it needs an over-average amount of curiosity, imagination and perseverance. Some software engineers have certain characteristics and could become hackers.
Que. Is the software job good or bad?
Ans.
If a student wants to start a company then he or she can pursue this career, but a software engineering job is a really nice and secure gig that will fulfil your long-term needs. The job of a software engineer is to create quality products and make sure the company is using its money in the best possible way.
Que. What coding languages do software engineers use?
Ans.
There are a number of software development programming languages, software engineers would be best served by learning four important languages, such as Java, Python, C++ and Scala.
Que. Can software engineers make video games?
Ans.
A game programmer is a software developer, programmer or software engineer who explicitly designs codebases for video games or related applications, such as tools for game creation. Game programming has many specialized areas, many of which fall under the field of 'software engineers.'
You might also be interested in
The question have been saved in answer later, you can access it from your profile anytime.
Access now
Report Question
Select your reason of reporting