Who is a Pharmacist?
It is easy to get a thousand prescriptions, but hard to get one single remedy ~ Chinese Proverb
Are you looking for who is a Pharmacist or what does a Pharmacist do? then read the complete article to know about it. A career as a pharmacist is a vital profession anywhere around the world. Often pharmacist overshadows other professions in the medical field as he or she is not a doctor. Still, he or she plays an important role in developing and handing medicines to the general public. The workplace of pharmacists includes a hospital setting, and a community setting, for example, a retail drug store and pharmacy.
A Pharmacist also advises physicians about medication therapy. A career as a pharmacist involves aligning with health facilities, private doctors, clinics, and every pharmaceutical organization. A Pharmacist also reviews for safety levels of newly manufactured drugs, recommendations on drugs with proper diets, medication or no prescription medicines, and also advises the suitable type of medicines such as pills, vaccines, injections, ointments, and syrups. In the pharmacy career in India, individuals also handle the manufacturing, promotion, and supply of medicines. Interested candidates have a number of pharmacy courses such as applied pharmacology, biopharmaceutics, clinical pharmacy, industrial pharmacy, and pharmaceutics.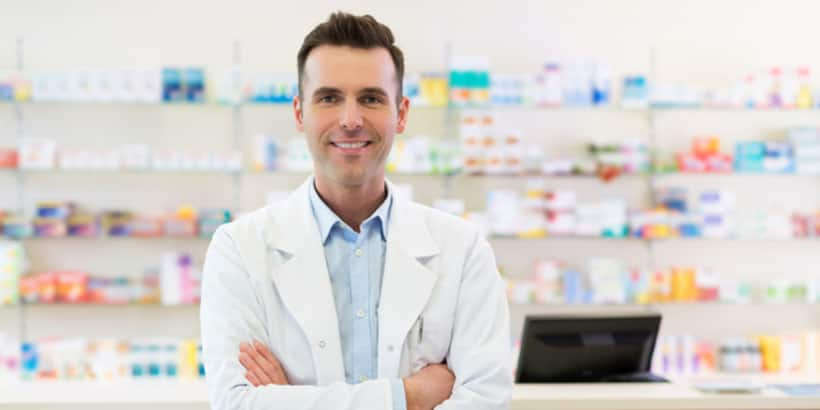 Pharmacist in a Nutshell
A pharmacy is more than just a drugstore. For some of those studying pharmacy, science and medicine development may also be preferred as a choice of career. A pharmacy curriculum enlightens the student on the procedures involved in preparing and prescribing medications in the healthcare sector. Students can study various courses related to pharmacy, such as applied pharmacology, clinical pharmacy, and pharmaceutics to become a pharmacist.
Those who are interested in pursuing a career in pharmacy in India can learn about drug formulations for synthesizing, processing, controlling, evaluating, and pharmaceutical analysis. In this entire article, we have discussed whether is pharmacy a good career in India, what is pharmacist, how to become a pharmacist, what is the work of pharmacist, types of pharmacy jobs, and pharmacist salary in India.
Quick Facts for Pharmacist
Industry

Healthcare

Average Salary in India

₹20500

Suitable for

Male, Female, Others

A career as a pharmacist is not inherently sexual orientation-specific. Men, women, and anyone else can choose it as their own occupation. In addition, it would indicate that sexuality has no impact on employment. A career as a pharmacist is a male-dominated career. Women can also opt for this career as there is not any gender-based restriction in this career.

Any special needs

Yes

A career as a pharmacist is suitable for candidates with special needs, provided, that the disability does not affect the functioning of the professional. As long as the disability is not interfering with the daily tasks that need to be performed, individuals with special needs can become pharmacists.
Table of Contents for Pharmacist
What is the role of Pharmacist?
Are you thinking about what a Pharmacist do? A medication must undergo checks and permissions before being approved by a doctor. It is tested in a laboratory, analyzed for dosage and side effects, and only then instructions for prescription are formulated. The drugs then undergo clinical trials and only then they are launched into the market after researching all the potential effects of the drug. It is all involved in the pharmacy career in India. The role of pharmacist in the treatment of a patient is as important as a doctor's role. A Pharmacist is also responsible for bringing new medication to different medical professionals.
The pharmacist job does not really end here. By interacting with medical practitioners and distributors for any adverse reactions, symptoms, and allergies, he or she researches and tracks all medications and commodities with consumer surveys. Pharmacy essentially covers everything from the food you eat to the cosmetics, lifestyle products, safety, and chemical items you use that contribute to your well-being.
Regulation
A career as a pharmacist requires regulating drugs by tracking medication therapies and by providing apt guidance on various treatments. A Pharmacist can provide medicines in rural areas, as the doctors in rural areas are in low quantity.
Coordination
Pharmacists are also responsible for coordinating and directing the workflow of the technicians, they are required to check prescriptions as well as preparation, costs, audits, and branding.
Domain understanding
A career as pharmacist requires a pharmaceutical understanding of healthcare personnel through involvement in medical programmes. A pharmacist is responsible for training pharmacy staff, graduates, apprentices, externals, and medical professionals. A Pharmacist is required to maintain databases of illegal substances and eliminate expired and defective medicines from the stock of pharmacies.
Supervision
The role of the Pharmacist is to comply with federal and state drug laws in accordance with the state pharmacy board, drug enforcement administration, and Food and drug administration by monitoring the examination of nursing units.
Patient service
The role of pharmacist is to serve patients by planning drugs, providing the multidisciplinary healthcare team with pharmaceutical information, tracking drug therapies for patients, preparing drugs by evaluating and analyzing directions from doctors, and recognizing medical discrepancies.
Types of a Pharmacist
There are several sub-disciplines or types of a pharmacist. Individuals can serve in the health and pharmaceutical industry with the job roles mentioned below.
Bio Chemist: A biochemist is a research professional involved in the study of the physical principles of living things and biological processes such as cell development, growth, heredity, and diseases. He or she conducts experiments to alter the properties of DNA, RNA, and cells to study various diseases and develop medicines to cure them.
Chemist: A chemist researches and designs processes that include oil refining, and petrochemical processes that reduce pollution and use of energy. He or she may specialize in various areas of chemistry such as analytical, physical and theoretical, macromolecular, medical, organic, medical, and material chemistry.
Medical Sales Representative: Medical sales representatives are liable for marketing a company's products to consumers, physicians, pharmacists, and nurses, including medications, prescription medication, and medical equipment.
Clinical Research Coordinator: Clinical research associates support providing plans and tracking clinical trials of experimental medications to determine their advantages and risks. A clinical research coordinator is also a related job role to a career as a pharmacist.
Drug Inspector: The drug inspector seems to be a professional in evaluating the effectiveness, reliability, and safety of medication from its manufacture until the sale. He or she audits pharmaceutical shops and collects samples to confirm if synthetic drugs actually exist. It is a senior-level role in a career as a pharmacist.
Regulatory Affairs Officer: Regulatory Affairs officer functions for clinical, pharmaceutical, testing, and other manufacturers of medicines to guarantee that the products of their organization follow legal requirements. It is one of the reputed job roles in a career as a pharmacist.
What is the workplace/work environment of Pharmacist like?
An individual with a degree in pharmacology specialization works for drugs for Pharmacy Industry research and development. A Pharmacist involves in testing examining and modifying drugs established according to Pharmacy Regulations standards. An Individual who opts for a career as a pharmacist plays a vital role in helping patients get the best outcomes from their drugs. He or she plans and dispenses medications, ensures accurate drugs and doses, avoids adverse medication reactions, and educates patients about the safe and proper use of their drugs. A Pharmacist is typically employed mainly in neighbourhood pharmacies like those in grocery stores and pharmacy stores.
Does Pharmacist require travelling?
Not Likely
A career as a pharmacist does not require travelling much, unless and until there is an emergency. He or she spends their working hours in pharmaceutical firms, hospitals, physician offices, and speciality clinics.
Employment Shifts
Full Time, Part Time
A career as a pharmacist falls in a certain shift. He or she usually works full-time in laboratories or in pharmacies. The work hour begins in the early morning and ends in mid evenings. Individuals do not require to work in rotational shifts. He or she spends their time researching and creating new medicines or dispensing medicines to the patients. Several pharmacists is employed on a part-time basis in drug stores.
Employment Nature
Permanent, Contractual
As far as the nature of employment is concerned, it is usually permanent in nature. However, in case there is an inspection to be done or some survey, that can be taken up on a contractual basis. Therefore, we can say a career as pharmacist provides both types of employment contractual as well as permanent.
Work Place
Laboratory, pharmaceutical, clinical lab, healthcare facility
Individuals who opt for a career as pharmacist work in a safe, friendly climate. The pharmacist provides several workplaces such as pharmaceutical firms, laboratories, hospitals, physicians' offices, and drug stores. He or she can be found working in nursing homes, poison control centres, intensive care units, cardiac care units, and other healthcare facilities. He or she works on weekends and in the evening hours. Some pharmacists do part-time jobs as well. Most pharmacists work about forty hours a week, while self-employed pharmacists work about 50 hours a week.
Presence in Geographical Area
Rural, Semi-urban, Urban
A career as a pharmacist is a professional who develops medicines for various diseases and disorders. For any region of the world, whether it's an urban area or rural area, a pharmacist is as important as hospitals and small clinics in any of the human-populated locations. Urban areas provide better opportunities for individuals in careers as pharmacists as compared to rural areas. New Delhi, Pune, Bengaluru, and Mumbai provide flourishing career opportunities to pharmacists.
Time Pressure
Likely
A Career as a pharmacist involves working under time pressure and tight deadlines. Apart from performing their research and work, pharmacists are also required to supervise and verify the work done by their team members.
Overtime Details
A career as pharmacists involves working extended hours on several occasions. They work usually eight to nine hours a day. During emergencies, it can go up to working 10 to 12 hours a day. Individuals who opt for a career as pharmacists also requires to work extended hours to meet deadlines for the development of drugs.
Weekly Hours of Work
Min 45 Hours
A Pharmacist requires a minimum of 45 working hours a week. This can increase if there is an emergency. Work hours often get extended depending on the deadline. An Individual who opts for a career as a pharmacist is often required to work on holidays and weekends. He or she gets weekly offs, but it is not necessary that his or her day off falls on Saturday or Sunday.
How to become a Pharmacist?
Steps to become a Pharmacist
If you are interested in studying or researching all about medicines, then a career as Pharmacist is the best career option for you. We have mentioned below the steps for how to become a Pharmacist. Read the complete article to know what is a Pharmacist and how to become Pharmacist in India or how to become Pharmacist after 12th in India.
What are the skills and qualities required to become a/an Pharmacist?
You must be wondering how to become a pharmacist. So, in this section, we will be answering the most commonly asked question that how to become a pharmacist. In order to make a career as a pharmacist one must possess some skills. Some skills required by a pharmacist are mentioned below:
Accuracy: As far as the pharmaceutical industry is concerned, an eye for detail is practically a matter of survival, so there is no scope for the mistake. Whereas human beings make errors naturally, the repercussions do not reside exclusively with the pharmacist, for example, the wrong form of insulin may be utterly devastating to a patient with diabetes. Whether reading the abysmal handwriting of the doctor, entering the information into the computer system, or correctly measuring ingredients, precision is important.
Communication Skills: These are some of the essential aspects of a career as a pharmacist. It requires strong communication skills to prescribe medicines to patients without any error, and afterwards check their knowledge of it. It might also be difficult to understand why a patient requires a particular medication and identify the adverse health effects.
Craft Knowledge: Considering the work's fast-paced nature, pharmacists could take the time to properly describe a patient's prescription to them and explain the larger impact it could have on their lives.
Multitasking: Pharmacists are busy conducting activities that may possibly have consequences of life or death, they are often responding to requests, communicating with other patients, and maintaining certain administrative protocols that are observed.
Analytical Skills: While they are experts on how drugs work with each other and with the body, it is difficult to learn completely. Pharmacists should pursue their work with an objective mind and, when possible, refer to the relevant references, and also take a rational and sensible approach to any choices they make about medication for a patient.
Mathematical Skills: Pharmacists require strong mathematical skills. It may sound strange, but sometimes people underestimate how much pharmacists depend on knowledge of science and mathematics. Numerical skills are important, starting with something as basic as measuring how many tablets a patient requires to figure out more complex variable dosages. The same holds true for scientific skills. Pharmacists need to have an in-depth knowledge of chemistry and biology, it is vital that new and complex information can be quickly assimilated as it is available.
Managerial Skills: A career as a pharmacist requires managing skills to multitask. Depending on the position of employment and the system in place, a pharmacist may be responsible for coordinating technicians and vending machines as well as handling expenditures, controlling stock levels, and ensuring accurate documentation.
Interpersonal Management: Pharmacists require figuring out how to manage doctors who really don't like being challenged, and anxious patients who are concerned regarding sitting for their prescriptions, mastering communication skills requires dedication, patience, and a great personality. An important part of making the cycle work smoothly is being able to take care of the damaged egos and hurt feelings.
Supervisory Skills: Pharmacists would have to be able to educate the junior pharmacists and also pharmacy technicians and pass their expertise and experience on. It is a necessity in the United Kingdom since aspiring pharmacists must undergo fifty-two weeks of knowledge-based professional development until completing their certification test.
Popular Online Pharmacy Courses and Certifications
Which certifications and internships can be helpful in becoming Pharmacist?
We have mentioned below various certifications that Pharmacists can opt to upgrade their skills.
Internship Availability
Yes
One can start with internships to establish a successful career as a pharmacist. A large number of internships are easily accessible in the pharmaceutical and healthcare industry. Various organizations, hospitals, and pharmacies with adequate skills and abilities employ interns. The online recruiting portals help one to discover internship opportunities. Through internships, the participants get hands-on knowledge as well as experience. Moreover, higher education institutions and private nursing homes and pharmacies offer internship opportunities.
Career Path Progression for Pharmacist
Junior Pharmacist: A Junior Pharmacist is a professional who verifies the dosage of the medication prescribed and checks the patient is not at risk due to medication. A Junior Pharmacist educates patients on how and when medicines should be taken and the side effects of medications.
Senior Pharmacist: A Senior Pharmacist is an experienced professional who reviews for safety levels of newly manufactured drugs, recommended drugs with proper diets, and not prescribed medications. A Senior Pharmacist suggests suitable types of medicines and warns against the overdosage of the medicines.
Pharmacist Jobs and Salaries
Junior Pharmacist
Job Description
The Junior Pharmacist job description includes providing medications to people as prescribed, monitoring the customer's therapies and advice interventions. A Junior Pharmacist also explains the side effects of medication and instructs how and when to consume it.
Salary Description
An entry-level Pharmacist salary in India ranges between Rs 0.2 Lakhs to Rs 3.5 Lakhs with an average annual salary of Rs 2.0 Lakhs per annum. Junior Pharmacist salary in India may vary depending on the various job factors like skills and experience of the candidates, job location, and others.
Salary Source: AmbitionBox
Senior Pharmacist
Job Description
The Senior Pharmacist job description includes reviewing medications, bringing new medication to different medical professionals and ensuring the safety levels of the medications. A Senior Pharmacist is responsible for researching and tracking all medications and commodities with consumer surveys.
Salary Description
The estimated Pharmacist salary in India ranges from Rs 1.6 Lakhs to Rs 4.5 Lakhs with an average annual salary of Rs 3.0 Lakhs per annum. Senior Pharmacist salary may vary depending on the various job factors.
Salary Source: AmbitionBox
What is the job outlook for Pharmacist?
In India, the pharmaceutical sector is rising at a faster rate, marked by a series of mergers and acquisitions and an increase in foreign direct investment. Indian pharmaceutical companies' production costs are up to sixty-five per cent lower than those of US firms and about half those of European companies. Indian pharmaceutical development has been at a faster rate. The factor behind this is related to the globalization, democratization, and modernization of the Indian economy and partly due to an increasing rate of the ageing population and modern medical and diagnostic technologies.
Chemical research may have been accomplished by identifying new medicines or by developing them. A pharmacy career in India has lots of scope in different parts of the country such as Chennai, Delhi, Pune, Bangalore, Kolkata, Hyderabad, Noida, and Gurgaon. India's pharmaceutical industry is the most mature and innovative among both developed and developing countries.
Student Also Liked:
Frequently Asked Questions for Pharmacist
Que. Where does a pharmacist work?
Ans.
Many pharmacists are working in the retail or hospital environment. Yet pharmacists may also operate in many other environments, including nursing homes, outpatient infusion facilities, hospitals, pharmaceutical firms, or in healthcare policy.
Que. Is pharmacy a dying career?
Ans.
In countries where the field of pharmacy is mismanaged, it is a dying occupation that restricts its obligations and transfers them to physicians. Patients with diseases see their pharmacists for diagnosis, as applicable to their physicians.
Que. What are the duties of a pharmacist?
Ans.
Serve patients by planning drugs, providing the multidisciplinary health care team with pharmacological knowledge, and tracking drug therapies for patients, Prepare medications by studying and reading instructions from doctors and finding medical incompatibilities.
Que. What does a pharmacy assistant require to do?
Ans.
A pharmacy assistant's job duties include running the cash register, managing money transfers, answering phone calls, and performing pharmacy clerical work. Pharmacy assistants also support licensed pharmacists in marketing and delivering medicine to customers in drug stores at speciality pharmacies.
Que. What are the hot topics of hospital pharmacy?
Ans.
Palliative care and drug information are hot topics in hospital pharmacies.
Que. What are the top pharmacy colleges in India?
Ans.
There are numerous colleges in India that offer a pharmacy-specialised programme. We have mentioned below the top pharmacy colleges.
Top Pharmacy Colleges of India
Que. What is a Pharmacist?
Ans.
A Pharmacist is a health care professional specialising in the administration of medication and its usage. He or she plays a vital role in developing and handing medicines to the general public.
Que. How to become pharmacist in government hospital?
Ans.
Candidates must complete their graduate and internship and must also have registration with the State Medical Council and Indian Medical Council after they are eligible they can visit to the government's official website and apply.
You might also be interested in
The question have been saved in answer later, you can access it from your profile anytime.
Access now
Report Question
Select your reason of reporting