Is Online MBA Worth It? As early as 2017, even when offline courses were still in vogue, Nicole Cox, chief recruitment officer at Decision Toolbox, a national recruitment firm commented, "Schools got better at the delivery models, and hiring managers, particularly in the technology industries, became much more comfortable with it". She was referring to the acceptance of online degrees by employers as the universities grow with their online offerings. So, is an online MBA course worth it? A question that is asked by many. Here are some of the answers.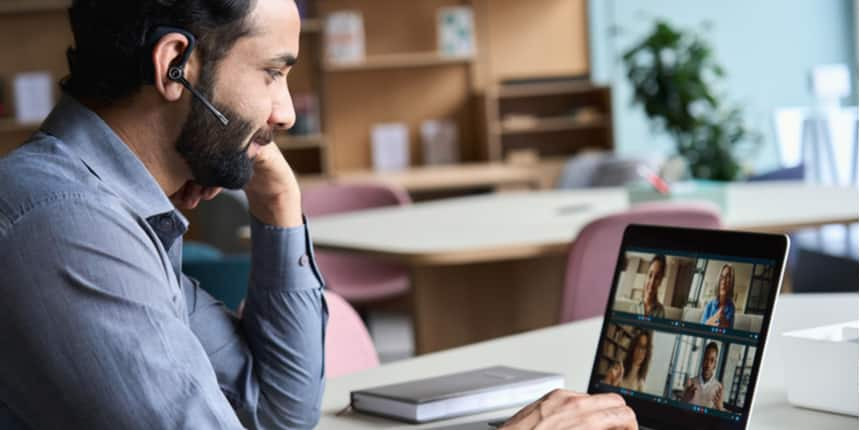 Students also Liked:
One of the end goals while pursuing any course is acceptance by employers. While offline MBA is popular and is pursued by many, a big question is whether an online MBA is worth it or not. Are these online MBA courses accepted by prospective employers? Are they considered on par with the offline regular MBA courses? Some of the many questions when it comes to checking online MBA courses are answered below.
Is online MBA worth it - Pros
Well, some good reasons to pursue an online MBA course are summarized below.
1. Industry recognition: Early last year, the Union Finance Minister Nirmala Sitharaman announced that the top 100 educational institutions in the National Institutional Ranking Framework (NIRF) will be offering full-fledged online degree programmes. While the announcement was followed by the opening of the online degree programmes, the big question remained of industry recognition for these.
Amity's online MBA programmes come with career assistance. JagSoM's PGDM(Executive) program has Corporate Mentors and Industry leaders handholding the students through their journey. An online MBA presented within your home comforts is worth every bit of your time. This is one reason why an online MBA is worth it.
Know more - 10 Most Affordable Online MBA Programs for Students in India
2. Growth in Diversity: An online MBA can be a game changer as it allows people from all walks of life to broaden their horizons through the course. For working executives and their companies, online learning is cost-effective, student-centered, and convenient. Interacting with a diverse group and from across the globe makes the enrollers culturally adaptive and respectful of diversity.
3. Technological awareness: Online MBA introduces you to learnings on a variety of platforms both for classes and examinations. For example, SIBM Pune has leveraged technology to bring innovation in its exam process. Using Artificial Intelligence and Machine Learning, each student is given a unique set of questions. Then, NMIMS uses the Lite-App, a mobile application for students. Since most new age employers look for students who are ready to learn and adapt to growing technologies, this is one more answer to if an online MBA is worth it.
4. Becoming a Self-manager: Do you see yourself struggling to manage your time? Well, one advantage of an online MBA is that it inherently puts a schedule in place, forcing you to plan your time for each day – for your sessions, assignments and submissions. This you will do without depending on a classroom or a class teacher. To be able to manage oneself and one's time is one of the keys to employability. Studying online will help you develop this skill systematically.
Download Online MBA in India ebook.
You may also Like:
Advantages of online MBA - Some statistics:
According to KPMG, India has also become the second largest market for E-learning after the US.
The India Online Education Market will be US$ 8.6 Billion by 2026 as per a report by Renub Research.
The online education market in India is poised to grow by USD 2.28 billion during 2021-2025, progressing at a CAGR of 20% during the forecast period, according to Technavio.
Nearly 48% of the population in India between 15–40 age groups with high aspirations but lower income is a good target market for online education. And, the acceptability of online channel is high in the younger demographic as per eduxpert.in/online-education-india
List of Universities Offering Online MBA
With your online MBA you join a group of enthusiasts who are preparing for the next generation companies that are looking beyond plain vanilla MBA.
As technology advances, online higher education is becoming more accessible and embraced by tech-savvy students and businesses. These groups value the ability to study on demand because it gives them new development opportunities and mobility, boosting their success as learners and earners in an ever-changing global society. An online MBA is a perfect channel for your self-discipline, career-growth and time optimization.
Browse Some of the top MBA colleges by locations:
For other locations, you may browse this page.
Now while the good about an online MBA has been discussed, it is also necessary to discuss some disadvantages of an online MBA. These can be summed up below.
Is online MBA worth it - Cons
1. Self-Management: While this can be a good thing if one is inclined to properly manage, in many cases, it becomes a disadvantage for students who procrastinate or are unable to manage various things at one time.
2. Lack of teamwork and networking: One of the disadvantages of an online MBA is the lack of a peer group, group work, networking and the usual camaraderie that is present in a physical class. Exchange of work experiences, social networking and such are generally not at the level of a regular MBA. This can make an online MBA not worthy.
3. Too much of screen time: Since online MBA requires a dedicated amount of screen time, it can be a bit of a problem health wise. Eye problems, obesity and other health problems may crop up to become a con to whether an online MBA is worth it. However, this is something that can be tackled with proper rest, exercise and diet.
4. Sense of Isolation: Unlike a classroom, online MBA is in a virtual classroom and hence the camaraderie that comes in a physical classroom will be missing. Since most students in the online classes would be virtual, reaching out or mingling on account of classwork may not work as in a physical classroom. Sometimes, it leads to a sense of isolation and disconnect; this can be termed as one of the disadvantages of an online MBA.
Some of the well Known MBA Colleges in India:
View All MBA Colleges in India, here.
However, the disadvantages are not that huge that they would make a big difference in the quality of studying an online MBA. In fact, most of them can be overcome with a bit of effort.
The COVID pandemic has brought home the fact that online MBA is one more avenue to pursue one's dreams rather than put a halt to it. Given the fact that the government has also endorsed this with the approval to many universities for online MBA degrees, it is now much easier to sit and pursue an online MBA at one's comfort and convenience. There are more advantages than disadvantages and that is why the answer is yes to whether an online MBA is worth it.
List of Universities Offering Online MBA with Specialization