B.Optom (Bachelor of Optometry) Course, Admissions, Eligibility, Syllabus
Bachelor of Optometry - Eyes are one of the most important organs in the human body and sometimes also the one taken for granted as well. In this fast paced life where technology has overtaken the humans and people of all ages are dependent upon electronic gadgets, mostly the computer and mobile screens that directly affect a person's vision. Such a lifestyle has impacted the visionary health amongst humans and that is where the need of an eye specialist arises. Optometry is one healthcare profession that deals with people's eye and vision problems, diagnose them and then suggest correction according to their needs. Bachelor of optometry (B. Optom) is the course in which the science involved and all theoretical and practical knowledge is imparted to the aspirants. The article below provides complete information on the B. Optom degree, eligibility for the course, admission process, career prospects, etc.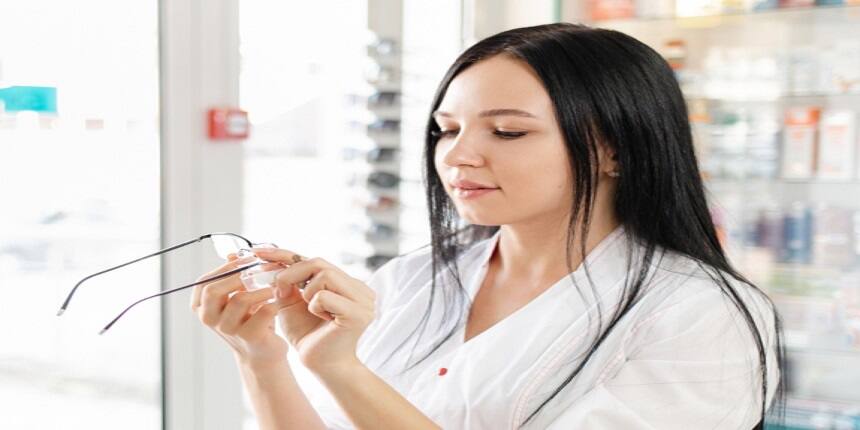 What is Bachelor of Optometry?
Optometry can be understood as the science of measuring eyesight, and dealing with all types of visual disorders. Bachelor of Optometry, commonly called as B. Optom is an undergraduate degree programme that deals with eye and vision care. The course has a minimum duration of 4 years wherein, usually the initial 3 years are invested into the learning process and the last and final year is devoted towards internship to let the aspirant experience practical knowledge as well.
B. Optom Overview
| | |
| --- | --- |
| Name of the Course | Bachelor of Optometry |
| Type of Course | Undergraduate |
| Duration of Degree | 4 years |
| Eligibility Criteria | Passed class 12 or equivalent with Physics, Chemistry and Biology as compulsory subjects |
| Type of Exam | Semester System |
| Fees | 2 to 4 lakh |
Advantages of B. Optom
A bachelor of optometry is a specialised degree programme developed for candidates who want to establish a career in the field of optometry. It provides numerous career opportunities, one can go into ocular research and explore new avenues of diagnosing, treating and curing eye conditions and diseases. There are various specialities such as pediatric eye care, low vision, contact lenses, vision rehabilitation ocular diseases, and individuals with special needs within the B.Optom. Degree programme.
Types of B. Optom
Bachelor of Optometry is an undergraduate degree in allied health sciences. After completing his/ her schooling, an aspirant can pursue B. Optom and have a career accordingly. In order to enhance qualification in the field, there is scope for postgraduate studies through Master of Optometry (M. Optom).
B. Optom Eligibility
As Bachelor of Optometry is an allied health programme, an aspirant interested in pursuing the 4 year degree course should have passed class 12 from a recognized board of education (be it state board or national board) with Physics, Chemistry and Biology as the compulsory subjects. Such an aspirant should have secured at least 50-55% marks in the qualifying examination.
It may be noted that some additional conditions of eligibility might be applicable in the institute that the aspirant might be applying for. Thus, it is better to be aware of the general eligibility criteria for Bachelor of Optometry and then take a look at that of the institute as well.
Bachelor of Optometry Admissions
Admissions under the course of B. Optom are offered at institutes based upon score obtained in the entrance exams as well as on merit basis. Thus, the admission procedure for bachelor of optometry course shall totally depend upon the specific institute. Talking about institutes of national importance, the All India Institute of Medical sciences conducts entrance exam for the course and offers admissions based on marks obtained in this exam by eligible candidates. As the number of B. Optom seats offered at AIIMS Delhi are not much, those who score the highest and get their place among top 20-30 students succeed in getting admission. Other state universities that offer this B. Optometry admissions through entrance examination include Goa and Bharati Vidya Peeth.
Top B. Optom Exams
There is not a huge list of entrance exams conducted across India for admissions into bachelor of Optometry courses. The All India Institute of Medical Sciences (AIIMS) is one such institute that students look up to that conducts entrance exam for admission into B. Optom course. The process thereafter includes preparation of merit list on the basis of score obtained in the entrance exam and compliance with rest of eligibility criteria. Then admissions are granted on the basis of counselling.
There are some institutes as well that provide admissions into Bachelor of Optometry by conducting a specific entrance exam. There are some other institutes as well that offer admissions on merit basis. The main entrance exams for B. Optometry course are as follows:
AIIMS Entrance Exam

BVP EYECET (for Bharati Vidya Peeth)

GCET (Goa Common Entrance Test)
B. Optom Course
There are various courses for pursuing optometry studies, one of which is a bachelor of optometry. Some institutions conduct the course under the name of bachelor of science with optometric specialization. However, bachelor of optometry focuses upon all aspects of eye and vision care. The course makes one understand the physiology of the eye as well as the correction equipment to be used, the science behind the materials used, concepts related to physics, chemistry, etc. that are used in the technical calculations and production of corrective apparatus.
Bachelor of Optometry Specializations
The B. Optom degree is in itself a specialization dealing with the specialized field of visual health and eye care. The profession afterwards focuses upon regular care of vision along with eye contact and glass prescriptions, etc. However, as the eye health is not a confined concept but vast because the system is much interrelated, the following specializations are offered sometimes:
Optometry- A specialist course in optometry involves training in conducting eye examinations, understanding and prescribing corrective eye lenses, diagnosing and treating the disorders, etc.

Operation Theatre Technology - Under this specialization, students are taught about handling the work and management in the operation theatre including the surgical instruments, dressing, and other arrangements required in an eye operation.

Ophthalmic Technology - A specialized course in Ophthalmic Technology specifically deals with the focus upon eye care. The various topics taught under the programme include eye examination, ocular diseases, vision defects, corrective surgery, optics etc.
With a course in specialization, the aspirant gains specialized knowledge and this adds to the futuristic career opportunities.
Bachelor of Optometry Syllabus
The B. Optom degree is vast and the curriculum is distributed among theoretical and practical knowledge so that students get a share both ways. The various topics usually included in the curriculum of B. Optom course are as follows:
Professional Communication in English

General Anatomy

General Physiology

Geometrical Optics

General and Ocular Biochemistry

Ocular Anatomy

Ocular Physiology

Physical Optics

Computers

Environment & Ecology

Visual Optics

Lighting & The Eye

Medical Pathology

General & Ocular Microbiology

Pharmacology

Ophthalmic & Optical Instrumentation & Procedure

Clinical Refraction

Ocular Disease (Anterior Segment Disease, Posterior & Neuro Eye Disease)

Ophthalmic Lens & Dispensing Optics

Binocular Vision & Ocular Motility

Contact Lens

Low Vision Aids & Visual Rehabilitation

Systemic Condition & The Eye

Public Health & Community Optometry

Biostatistics

Professional Practice Management

Practical Training on Clinical Optometry

Practical Training on Low Visual Aid

Practical Training on Dispensing Optics

Practical Training in Contact Lens
Scope of Bachelor of Optometry
When it comes to understanding the scope in the field of optometry after completing bachelors, one may proceed with employment or get into further studies with masters and doctoral education respectively. Those who do not wish to study further or want to keep the option aside for the time being can start off private practice as an optometrist or may get employed in government or private hospitals in the eye speciality wards as assistants as their experience there will add to their qualifications. There are industries as well where production of optical products takes place and there is a requirement of experts for quality testing and even machine checks, etc.
Careers Opportunities after B. Optom
Just like any other field of allied health sciences, those who have completed bachelor of optometry can be employed in the following sectors:
Government hospitals as assistants to the specialists
There is a ward for optical assistance in the government hospitals wherein there are one or more chief doctors and some other juniors assisting them. A bachelor of optometry can try for being one of those assistants which depends upon where the degree is achieved from and other qualifications.
Private hospitals as assistants to the specialists
Just like the government hospitals, there are private multispeciality or specifically eye care hospitals where B. Optom graduates can be employed as assistants to the specialists.
One can also open private eye speciality clinics offering multiple services. However, this shall require some economic investment on part of such degree holders.
There are various showrooms these days that provide optical services and products like spectacles for eye sight correction, colored lenses, contact lenses, etc. Such business also requires a specialist of the field.
For industries that are into manufacturing eye care products and sight correction products also require optical specialists.
Apart from getting into any kind of employment, one can also opt for proceeding with further studies and go for masters in a suitable specialization. After completing masters, interested aspirants can also get into research and pursue doctoral studies (PhD).
Frequently Asked Question (FAQs) - B.Optom (Bachelor of Optometry) Course, Admissions, Eligibility, Syllabus
Question: Who is an optometry specialist?
Answer:
An optometrist or optometrist specialist can be defined as the primary eye care professional.
Question: Who is qualified for pursuing B. Optom?
Answer:
A person who has completed higher secondary education (class 12) from a recognized board with minimum 50-55% marks may apply for B. Optom degree.
Question: What is the maximum duration of bachelor of optometry?
Answer:
However the minimum duration of B. Optom is 4 years with 3 years of education and 1 year of practical experience, the maximum duration shall depend upon the specific institute if they fix it to be 6 or 7 years, as the case may be.
Question: How much does a B. Optom course cost?
Answer:
The total expenses for pursuing bachelor of optometry shall vary depending upon the institute where the course is to be pursued from. The amount of fees shall be higher for private institutions as compared to the government ones.