Who is a Optician?
The face is the mirror of the mind, and eyes without speaking confess the secrets of the heart ~ St. Jerome
A person who manufactures or sells eyeglasses and contact lenses to treat eyesight problems in accordance with ophthalmologists' and optometrists' prescriptions. Opticians are professionals with specialised training in the design, testing, and fitting of eyeglass and contact lens and lenses. Despite not being an eye surgeon, an optician is a very important member of the team that provides care for the eyes. The sense of vision is among the most crucial to human survival. However, being able to see is not enough; one must also have clear vision, and there are times when our eyesight is prone to being blurry or we have a number of eye issues. Eye accessories are no more just fashion statements; they have become a necessity now. Even in cases where people have 6/6 vision, they wear glasses in order to prevent the harmful effects of the gadgets. Read the full article to get complete information. So we can say that without a licensed optician we can not get our perfect eyewear.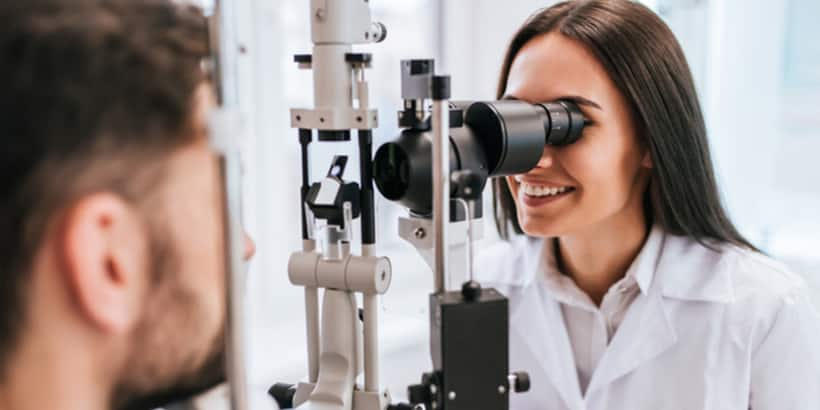 Optician in a Nutshell
Individuals who choose a career as Opticians are professionals specialised to design, test and adjust eyeglass and frames, contact lenses as well as other eye-correcting devices. Optician jobs are to use prescriptions provided by optometrists or ophthalmologists and therefore do not check the sight or prescribe visual improvement medicines. An optician is a technician qualified to design and check fit eyeglass lenses and frames, contact lenses and other eye-correcting devices. Here, in this article, we will discuss how to become an optician and other details of optician jobs.
Quick Facts for Optician
Industry

Healthcare

Average Salary in India

₹43333.33

Suitable for

Male, Female

Individuals can take up a career as Opticians, it is not gender-specific. Men, women, and others can choose a career as Opticians. In India, a male and female Optician enjoy equal benefits because gender is insignificant in this career.

Any special needs

No

People with special needs should not choose a career as Opticians. A career as Opticians is not suited to everyone, specifically those with physical disabilities. It is not suitable for candidates with special needs specifically those who have eyesight problems.
Table of Contents for Optician
What is the role of Optician?
Individuals who choose a career as Opticians, after receiving prescriptions from optometrists or ophthalmologists, assist clients with suitable frames or contact lenses. Opticians are eye care specialists who use a prescription that an optometrist or an ophthalmologist writes. Often recognised as a dispensing optician, the licensed optician recommends to clients on eyeglass designs and functionalities to best serve their purposes. Go through the entire article to know how to become an optician technician. Students can pursue B.Sc (Bachelor of Science) to become an optician.
Test analysis
Opticians perform vision tests and analyze the results. Routine eye tests are critical because attempting to correct sight will enhance the standard of everyday functioning. These should accurately identify certain disorders in the eye like vision problems, cataracts and age-related macular degeneration that could result in a loss of vision. Though they do not prescribe any medicine or provide surgery, they analyse the eyesight before providing the glasses.
Prescriptions
The optician's principal goal is to help consumers discover the eyeglasses or lenses which seem to be perfectly fit for them. This begins by making sure that the prescriptions of clients can be used appropriately to discover eyeglasses which will function them possibly the best, which provide each patient with the best eyesight. Ophthalmologists and optometrists prescribe medication and eyesight numbers that are followed by opticians when selecting eye-wear or lenses for patients.
Diagnosis
Early diagnosis is crucial in the treatment of acute and chronic eye disease. If we could somehow identify the condition earlier than usual, we can actually reduce vision loss during an eye exam, and recommend options for diagnoses and prevention. Optician adjusts the prescribed eyeglasses and contact lenses and refills them. Opticians can also answer general questions concerning eye care, but they can not examine, treat eye diseases.
Assisting customers
For most people who wear eyeglasses hold an obvious factor of fashion, and opticians help customers select through the catalogue of fashions and designs to find the spectacles they believe looks the best on them. Assisting customers to choose the frame type and shape is one of the primary duties of the opticians. Likewise, opticians help clients discover a style of eyeglasses that sits comfortably on their faces.
Facial measurements
If the slightest bit of the unit of measure goes down, this could lead to the unexpected prism and end up leaving the patient thinking they did not have good refraction and also that the employees do not really understand what they are doing. This normally takes a measurement of the facial features of a client. All aesthetics and comfort are related to each individual's preferences. Opticians need to be able to recognise the right fits for each customer's preferences and have to be careful while assisting them through the method.
Customer service
Opticians work in a position that is decidedly based on customer service. In addition to assisting clients with their prescription and style needs, opticians also perform certain customer support activities. For example, after they have been manufactured and shipped to the consumers, they change the eyeglasses to improve the fit. Opticians as well as manage tasks assigned typically for retail, including monitoring and assembling stock and finalizing sales transactions.
Types of a Optician
Orthoptist: An orthoptist is a licensed integrated healthcare specialist who works to diagnose and treat visual system conditions with a focus on binocular vision and eye movement issues under the guidance of an ophthalmologist. Orthoptists usually work in the field of pediatric ophthalmology. The objective of an orthoptist is on assessing and non-surgical care of vision defects, eye movements and eye coordination in adults and children. An orthoptist works in the evaluation of the visual function and eye neuromuscular abnormalities.
Ophthalmologist: We all are very curious about who is an ophthalmologist? Here we have discussed this. An ophthalmologist is a medical or osteopathic doctor who specializes in eye care and eye disease prevention, medical and surgical treatment. An ophthalmologist recognizes and manages eye diseases and abnormalities associated with refractive, medical, and clinical problems. Ophthalmologists are allowed to operate medicine and surgery by state regulatory boards and also generate regular eye care.
Optometrist: An optometrist is a medical care provider who focuses on eye function and conditions, eye disorder diagnosis, and other types of eye infection management. An optometrist performs eye tests, prescribing replacement eye lenses and glasses, diagnosing and treating eye conditions and disorders. Optometrists investigate, detect and manage vision information, eye and related disease, injuries and abnormalities and analyze specific systemic influences that cause the eye. Optometrist salary will be Rs forty to fifty thousand on average.
Low Vision Specialist: Many optometrists and other such ophthalmologists have additional credentials or expertise in low vision testing, care and management, and are trained to perform low vision eye tests and prescribe various optical low vision systems. Low-vision professionals are certified optometry doctors who are trained in analysing and handling partially sighted physicians.
What is the workplace/work environment of Optician like?
A career as an optician requires most of them to work in stand-alone ophthalmology headquarters or eyewear stores. In a career as an optician, they are required to conduct vision tests and analyse outcomes. Routine eye testing is essential even though trying to correct vision will improve the standard of day-to-day ability to function. Licensed optician could also work in clinics and optical products stores for physicians and some are self-employed. In a career as an optician, most work a full-time job, although some work nights and weekends to meet the needs of the patients.
Does Optician require travelling?
Likely
A career as optician requires them travel regularly, including internationally and domestically, in order and provide eyewear to different optometrists and join them to cooperate with majority investors and other related companies. A career as an optician involves making appointments and meeting with customers as well as other professionals.
Employment Shifts
Full Time, Part Time
Best opticians involve working in full-time employment. Some work evenings and weekends to cater to the needs of patients. Individuals do both full-time and part-time jobs. And therefore people elect for this profession on full-time as well as part-time working options.
Employment Nature
Contractual, Permanent
Since many opticians function independently, people in an organization might also similarly work as part of a team. Several more opticians discuss with their colleagues on assignments or communicate with customers. Best opticians could even set up their business wholly as they wish, and they will have to be prepared to head to achieve customer satisfaction and the working conditions may vary depending on the location of the customer or organisation they deal with. It varies based on the educational establishment and specific job.
Work Place
hospitals
A career as an optician involves working in a hospital environment or have their own private practices at their own clinics.
Presence in Geographical Area
Semi-urban, Urban
Opticians in India play an important role in guaranteeing the visual comfort of hundreds of thousands of people needing eye care. This service is also not available in rural areas where hospital services are unreachable, as well as in metropolitan centres where the primary eye healthcare providers approach opticians for a recommendation. A career as an optician involves providing specialized services in eyeglasses, orthoptic management, low vision, eye diagnostic imaging and several other areas in the corporate sector.
Time Pressure
Likely
A career as an optician involves working in stand-alone eye care chambers. Best opticians may also work in clinics and optical goods stores for doctors, and some are self-employed. Most work full time, and some work evenings and weekends to fulfil patients' needs. Opticians currently work 40 or more hours a week, with highly challenging activities though it does not require additional shifts.
Overtime Details
In a career as an optician, they work in a hospital environment. Though many operate 40 or more hours a week, depending on where they work and patient needs, those who could work longer hours or need to work evenings and weekends. Optician 's job comes under some variations, while they can work long hours to solve the problems in big projects.
Weekly Hours of Work
Min 54 Hours
A career as optician involves working full-time, though schedules may vary depending on responsibilities and timeframes. Opticians currently work 45 hours a week, with highly challenging activities though it does not require additional shifts.
How to become a Optician?
Steps to become a Optician
What are the skills and qualities required to become a/an Optician?
There are several requirements to become an Optician. If we want the answer to the question of how to become an optician then we can definitely say that they must possess several skills to be an optician. We have provided below major Optician skills that you may acquire during the architect training period.
Learning skills: The learning process requires understanding the value of new insights, which is an essential strength for staff working in this field to solve challenges and decision-making, whether existing and potential. Active learning and listening abilities essentially work in sequence. Active learning can increase the chance for professionals to recognize technological change and market demand.
Supervisory skill: Supervision abilities prevent future accidents as well as other workplace blunders that could result in serious injury. Supervision allows team members to work with much less pressure to complete the task and builds confidence. Monitor and control the performance of oneself, other individuals, or organizations to make major changes or deal with it accordingly. Licensed opticians need to have these skills to supervise the juniors or the other members of the shop.
Problem Solving ability: Individual and corporate structures are full of details, decisions, conversations and methodologies that have already been destroyed or are simply incapable of working the way they are required to function. Problem-solving gives us a technique for recognizing and providing solutions to such objects. Identify complex circumstances and evaluate relevant knowledge so that approaches are established and analyzed and solutions implemented. Licensed opticians need to be problem-solving ability when they work with several clients and to suit their needs.
Critical thinking: In the work environment, critical thinking skills need to be developed. Critical thinking is necessary as it implies that you should have the best solution to a situation. It may be measured as another main skill of this profession to define the strengths and disadvantages of possible alternatives, surveys or responses to difficulties utilizing logic and common sense. Critical thinking is important as it allows organizations and individuals to analyze and improve issues, and also to recognize possible approaches that are not immediately clear first.
Interpersonal management: Interpersonal skills are essential regardless of the business, as this skill helps employees to create and maintain strong working relationships with each other and with their stakeholders, helping to increase the performance of the organization and the company. Individuals who choose a career as Opticians need to be able to help their customers feel comfortable because they spend a lot of their time selecting their eyeglasses.
Popular Online Medicine Courses and Certifications
Which certifications and internships can be helpful in becoming Optician?
Internship Availability
Yes
Internships are a great way to learn and develop technical expertise in the industry and have a comprehensive understanding of the career as optician and how to become an optician in India. The main objective of the optician internship is to combine the optometric expertise acquired by the students during their undergraduate study with medical experience in a variety of clinical settings, in a way that integrates how much they have studied and helped them build and strengthen the clinical skills required to practice and serve patients in a secure and satisfactory manner. An internship is an experience somebody gets from a firm. Companies offered aspiring applicants for a specified period of time to work with them, and are called interns. The internship helps you to gain access to real-world jobs ahead of time. This also allows students to improve their skills, experience, including concepts that they often developed during the course. Practitioners are generally university or graduate students, and for a month to three or six months, most internship programmes span.
Also read - Career as Orthotist and Prosthetist
Career Path Progression for Optician
Customer Care Associate: Customer care associate collects prescriptions for making eyeglass or contact lenses for clients. They repair or replace damaged frames with contact lenses. For example, start educating customers about eyeglasses, demonstrate the others how to care about their contact lenses.
Optometry researcher: An optometry researcher is an eye care professional capable of identifying and treating specific eye disorders, administering vision aids and detecting extreme visual diseases. They also operate in clinics providing regular eye tests and may refer patients for more emergency treatment to a surgeon.
Optics Professors: Optics professors are involved with a certain degree of clinical practice and instruction in academia and lecture. Optometrist teaching options are very limited to ophthalmology colleges, but some organizations deliberately seek optometrists to teach children and employees, mainly in contact lens and visual impairments and important issues like it.
Optician Jobs and Salaries
Customer service associates
Monthly Salaries
Average Salary

30000

Junior Level Salary

15000

Senior Level Salary

70000
Job Description
Customer service associates have a variety of responsibilities, the main importance of it is to ask clients with any issues or requests for information they may have. Customer service associates often serve clients over the phone, and can also communicate with the customers individually. They use prescriptions issued by optometrists or ophthalmologists, and thus do not test the vision or suggest medications for visual improvement.
Salary Description
Customer service associate's income is based on work development, or strongly dependent on a particular sector's experience. Salaries of customer service associates actually rely on knowledge of the business. Customer service associates on average receive Rs. three to four lakhs per year. At the initial level, they earn more than two lakhs a year but eventually earn more than seven lakhs at the senior stage of their career.
Optometry researcher
Monthly Salaries
Average Salary

50000

Junior Level Salary

30000

Senior Level Salary

100000
Job Description
At college, optometry researchers perform research studies at the college and eye clinic with the patient population. Research areas involve the recovery of the eye, visual system, visualization, illness, eyeglasses, presbyopia, myopia, amblyopia, traumatic brain injury.
Salary Description
More and more experience they gain in these areas, the better wages and benefits you can do in this industry. They get more at the initial stage of their career, though better than most other occupations that are nearly Rs. five lakhs per year, but eventually earn more than twelve lakhs at senior level.
Professors
Monthly Salaries
Average Salary

50000

Junior Level Salary

40000

Senior Level Salary

100000
Job Description
The duties of the optics professors involve, and are therefore not limited to, teaching a sufficient number of college courses, helping with the production of course material, overseeing graduate students, publishing academic journals frequently, participating on committees, attending conferences, composing grant proposals.
Salary Description
Salaries in this profession are dependent on the various divisions and the position that one holds. The pay for experienced professors is growing steadily. An optics professors have an average income of up to five lakhs per year. They earn four to five lakhs a year at the start of employment and that rises at a senior level to more than fifteen lakhs a year.
What is the job outlook for Optician?
The employment opportunities in all these areas are wide and massive in demand in India and across the world. It is predicted that the need for highly experienced opticians will increase in the coming times due to an unexpected rise in recent patients with eye problems. Jobs in this fast-growing sector offer a great variety of technical work and customer interaction. In India and across the world, the room for optician practice is wide and endless. It is a challenging and exciting profession that could accomplish personal development, and respect for the community and offer flexibility in employment, profitability and unlimited options. Currently, opticians in India face most of the burden of providing detailed eye care. Seventy per cent of opticians are in urban areas where about 23 per cent of India's population exists. This disparity implies the urgent need for eye experts in the rural healthcare system.
Student Also Liked:
Frequently Asked Questions for Optician
Que. What does an optician do?
Ans.
Opticians are technicians learned to design, verify and match contact lens lenses and frames, eyeglasses as well as other eye-correcting devices. They use prescriptions offered by ophthalmologists or optometrists, but do not test vision, or write prescriptions.
Que. Is an optician a doctor?
Ans.
An optician is just not an eye doctor but an essential part of the eye care team are opticians. To suit and distribute eyeglasses and other eyewear, opticians use prescriptions written by an optometrist or an ophthalmologist. Opticians should, therefore, accomplish an opticianry development programme and be licensed.
Que. What are the 3 types of eye doctors?
Ans.
The three most popular vision care practitioners are the opticians, optometrists and ophthalmologists. In addition, nurses, nursing technologists, and technicians may specialize in eye care. Both eye disorders are diagnosed and treated by ophthalmologists.
Que. Do you go to med school for optometry?
Ans.
Optometrists are called optometry doctors though they are not required to attend medical school. Aside from prescribing contact lenses and reading glasses, optometrists can also prescribe vision aids and also various types of eye therapy.
Que. Describe optician vs optometrist.
Ans.
An optometrist is an eye doctor who could test the eyes, examine them and cure them. An ophthalmologist is a specialist who is qualified to conduct diagnostic and surgical procedures for eye disorders. An optician is a specialist who would assist to fit eyeglasses, contact lenses and many devices that improve vision.
Que. How to become an optician in India?
Ans.
The popular baccalaureate degree programmes are a path to how to become an optician:
Bachelor of Science (B.Sc.)
Bachelor's degree in Opticianry
You might also be interested in
The question have been saved in answer later, you can access it from your profile anytime.
Access now
Report Question
Select your reason of reporting