What am I going to do after Class12? More than the terror of answering your family, friends, neighbours, and random strangers, is the terror of answering this question yourself. At this age, Class 12 and what comes after it is a life-defining moment. What you pursue should be your dream. It could be science, arts, and so on. With so many paths to choose from, it can be daunting. This article hopes to make your life easier by providing you with some of the top career options you can take after 12th Science.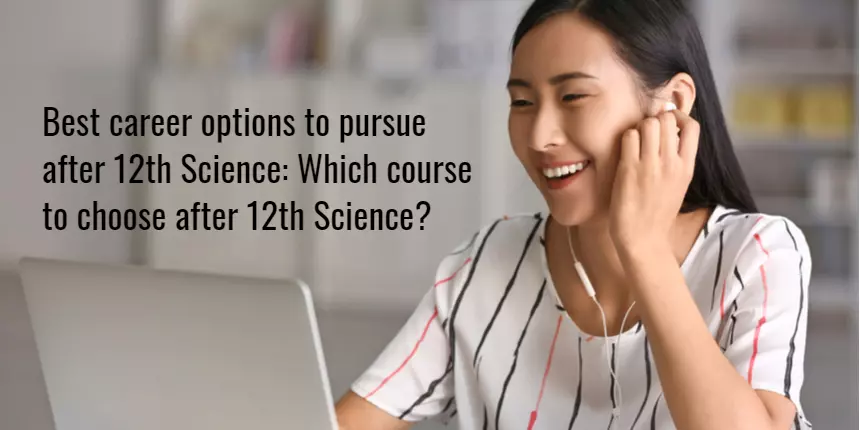 Best Career Options to pursue After 12th Science: Which course to choose after 12th Science?
Career options after 12th science do not just stop at technical fields. It does not stop at medicine or management. There is much more. Each field has its potential. You can take arts or humanities. You can go into fashion design. This paragraph itself will stretch on. So why don't we start reading what those career options after 12th Science are!
Why Pursue Science?
Every country focuses on developing education in the following STEM (Science, Technology, Engineering, and Mathematics). Scientific thoughts, methods, and inquiry have built the world. Our modern life has evolved out of myriad inventions in different spectrums of science and technology.
From enhancing our life expectancy to probing deeper into space, science has brought about era-defining changes in our lives. We can observe applications all around us. Computer applications can now move infrastructures of the world (buildings, any type of machines and the like). Research in all fields (physics, chemistry, biology, to name a few) is creating spellbound creations.
One simple activity you can do is to think about your 10 years ago. You will observe the technological changes that have happened around you. Ask your parents and grandparents about their technology from their childhood days, and then you will find yourself in a time machine. The rapid rate of advancements in science and technology is amazing. So you want to be part of it and contribute your best.
Note: We will explore fields that are not related to science. Because we all know the journey of going from science to humanities or arts or business. That is perfectly alright. So we will take a look at those courses too.
Top Career Options after 12th Science
Medicine
The field of medicine is competitive and with good reason. There are so many fields within it. Diagnostic practice, research, biotechnology, health care management, pharmaceutical and so on. So if you have taken Biology, Physics, or Chemistry in class 12 (Science), then you can branch off into any of these fields.
Top courses
Now, if one of your subjects was mathematics in class 12, then take a look at these awesome opportunities. These are some great career options to take after 12th science.
And since you have mathematics, you can turn to the IT field. These we will cover in a moment.
Engineering
The field that the world depends on for its infrastructure, and engineering is diverse. Now, this subsumes areas such as software and Information Technology, transportation, construction, space, and the like. You can choose your pick from the following best career options after 12th science.
Computer Science Engineering

Mechanical Engineering

Robotics Engineering

Civil Engineering

Electronics and Communications Engineering

Electrical and Electronics Engineering

Aerospace Engineering

Software Engineering

Chemical Engineering

Electrical Engineering

Bio-engineering

Automotive Engineering

Textile Engineering

Automobile Engineering

Geotechnical Engineering

Mining Engineering

Biomedical Engineering
The Top Entrance Exams for B.Tech are as follows:
Top Careers
Business and Management
What is the one industry that acts as a middleman for all? That would be business. Any industry imaginable requires the proper functioning of its technical work. For this, there should be proper money flow, client and customer satisfaction, resource allocation and whatnot. If you have an entrepreneurial spirit in you, if you believe that you are a great leader and team player with a penchant for communication, then business/management is a great area for you.
You can take a BBA and then an MBA. to master skills such as leadership, business administration, communication and whatnot. Or you can take bachelor's in other technical roles and then come to an MBA. Either path will work perfectly.
Top courses
International Business

Logistics and Supply chain management

Strategic Management

Retail Management

Sales and marketing

Business communication

Business Analytics

Information Technology

Entrepreneurship

Marketing

Marketing Management

Product Management

Project Management

General Management

Operations management

Financial Management

Human Resource Management

Materials management

IT Management
Top Careers
Business Manager

Logistics Manager

Financial Manager

Export Manager

Big Data Analyst
Humanities
You can take even your master's in technical degrees and then come back to humanities. Many do that. Or you can directly start your journey after class 12. There are myriad careers within humanities and arts. Think about the legal system, the government administration and so on. Humanities is an ideal, holistic field that can help you reach these sections. With great communication powers, you manage and navigate communication between the public and the government / private organization that you represent. You can also use skills in writing to become an excellent marketer. Or you could turn to photography/video production. The point is humanities can lead you to specific sections such as social sciences. But with a solid holistic foundation needed for a human being, you are ready to explore infinite options. Take note that engineering careers are not out much unless you learn the specializations needed for them. So let us look at some potential fields and diploma courses after 12th Science.
Top courses
Arts
If there is an artist in you, then unleash that spirit. You should explore, fail and learn to become the best. Taking degree courses in arts is a great opportunity to do that. Draw inspiration from cultures, history, language, philosophy, music, visual arts, and various other art forms. You will develop your creative and critical thinking with art courses.
Top career options after 12th science and arts might seem weird at first. However many successful professionals turn to the arts and humanities. Maybe it is your calling. Maybe it is your calling to become a civil servant or actor or a professor of literature. Then after 12th science, you should explore the arts.
Top courses
Interior Design

Graphic Designing

Fashion Design

Media/Journalism

Animation

Filmmaking

Photography

Video Creation and Editing

Sound Engineering

HR Training and School Teaching.
Conclusion
This article contains fields, directly and indirectly, related to science. It also explores areas such as business, journalism, and arts, to name a few. This is to show that you have the freedom to choose your path. All paths, if you put your diligence to it will lead to fruitful careers.
So we have gone through some of the best career options after 12th science and professional courses after 12th science. Now it is your turn. Where do you see yourself? What makes you truly happy? This could be a scientific inquiry, engineering and so on. But when you have too many options, it can become difficult. But here is the thing. Take one step at a time. Go through career options. Research as much as you can, so that you know what you are getting into. After that, get ready for yourself. Get ready for your future. All the best!