Who is a Manager?
Leadership is the art of getting someone else to do something you want done because he wants to do it ~ Dwight D. Eisenhower
A manager is a skilled individual who leads an organisation and oversees a group of professionals. Managers usually oversee a certain department within their organisation. There are many various types of managers, but they generally have responsibilities including making decisions and conducting performance assessments. Managers generally act as a bridge for information between lower-level executives and employees of an organisation. Manager jobs are to contribute significantly to a company's overall performance. They are in charge of motivating a group of workers to accomplish objectives and meet performance standards. Management professionals, entrusted with a leadership role, are responsible for managing a department or group of staff within a particular organisation or corporation. Managers work in every sector, and the business model depends on the leadership skills of the managers. They are a company's managerial glue, liable for many essential business operations.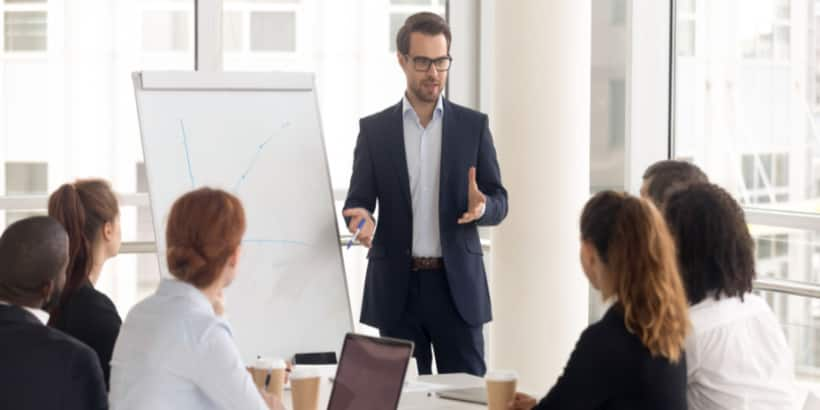 Manager in a Nutshell
An individual who chooses a career as a manager is accountable for a specific role within the company. From accounting and marketing, advertising, and customer service to engineering and in all other departments, a manager either leads his or her team or leads a group of supervisors who supervise other teams. A marketing manager is an important asset to the organisation. Individual who chooses a career as a manager is predominant role is to direct the staff and organise the company's different operations. Management professionals require outstanding communication, technological, intellectual and social abilities for performing the tasks. If you want to know about how to become a good manager, why pursue a career in management or what to study to become a manager then stay tuned as we look at the larger picture and give you more information on such topics.
Quick Facts for Manager
Average Salary in India

₹100000

Suitable for

Male, Female

Individuals can take up a career as managers, it is not gender-specific. Men, women, and others can choose a career as managers. The role of a manager is not gender-specific. Males, females and others can choose to be management professionals. In India, male and female managers receive equal benefits because gender is insignificant in this profession.

Any special needs

Yes

Everyone, including those with physical disabilities, is appropriate for individuals who opt for a career as managers. The career as managers is well suited to everyone, even those with special needs. This profession suits everybody, even those with special needs. Occasionally they may be asked to attend events and schedule meetings with clients. Individuals with bodily deformity can organise and conduct campaigns for corporations; they should have the drive to show the world that they can fulfil their goals under all the circumstances.
Table of Contents for Manager
What is the role of Manager?
Individual who chooses a career as managers develop the staff and corporate culture in innumerable ways. He or she has both an administrative and leadership part to play. And to be effective, he or she needs a range of different skills. But now the question is what does a manager do? CEO, vice president, director, and marketing manager all are part of an organisational structure of a company and all these positions are managerial. Each of these individuals performs distinct and essential roles, allowing the company to operate, fulfil its duties, and make a profit. Manager jobs are filled with operations-focused interactions with individuals and groups. To complete the reports, and update the project plan, many management professionals prefer early mornings or later evenings. In most managers' lives, there is never an idle hour as they work on the front line of a company.
Resource Links for Online MBA
Monitoring progress
Individual who chooses the career as managers tracks the development of any company and its employees. He or she analyses the data and manages industry efficiency changes. Observing a project describes the process of maintaining a track of progression, such as team success and length of operation, recognising possible issues. A manager follows the necessary steps to ensure that the project is within the context, the correct budget and the deadlines.
Mentoring
It is the responsibility of individual who chooses the career as a manager to mentor individual members and to implement incentive programmes. Mentoring is structured to support programme in which one leader offers their experience, knowledge and skills to help others to succeed in their own careers. Whenever the need arises, mentors must be ready and eager to provide assistance.
Recruitment
A manager is responsible for recruiting sales and marketing representatives. Recruitment refers to the process of identifying, evaluating, choosing, hiring, and on-boarding employees. It requires everything from recognizing the necessity to carry out a recruitment process. Recruitment is the duty of a number of staff especially a manager based on the scale of business.
Types of a Manager
Advertising Manager: Advertising managers' roles are innovative and constantly changing. For different firms, they are responsible for planning and overseeing advertising campaigns. Their primary goal is to cultivate an interest in goods and services. Individual who chooses the career as advertising managers, along with art directors, sales executives and financial staff, develop and carry out campaigns and also act as a bridge between customers and brands. It is predicted that advertising managers can influence individuals, which means they are usually good leaders who prosper in leading and influencing others.
Marketing manager: A marketing manager is one who oversees marketing for a company or product. He or she may be responsible for several programmes or products or maybe in charge of one product. In meetings, the marketing manager is positive, organised and very attentive. Individual who chooses a career as marketing managers comfort public frustration and disappointment through promotions and advertising, ensuring the organisation's reputation prevents inadequacies. In order to create promotional campaigns that are both simple and complicated, a marketing manager works with other team members.
Supply chain manager: A supply chain manager is someone responsible for managing a company's equipment and logistics department. A supply chain manager's role is to coordinate all the steps, like buying raw materials, distributing of those materials to various locations around the company, ensuring the business meets customer demand and delivering the goods on time to the relevant destinations. In developing and maintaining effective vendor and distributor relationships, he or she plays a crucial role. In order to have a good understanding of how the company works, a supply chain manager must also be well-versed in project management and development.
What is the workplace/work environment of Manager like?
Working conditions vary from location to location, and depend on several factors. The conditions of employment depend on the nature of the work and the duties assigned to the employee. For an individual who chooses the project manager jobs, the work environment is an office setting in which a manager monitors and analyses the daily operations of the company. In a business climate, a manager operates in office cubicles. He or she maintains close communication with the areas of the process of production.
Does Manager require travelling?
Likely
Individual who chooses a career as a manager occasionally requires travelling to meet with the organisation's clients. This happens when they are required to meet the client at the company. An individual who chooses the project manager jobs, travels quite frequently both internationally and domestically to provide instructions and monitoring for major marketing campaigns.
Employment Shifts
Full Time
For an individual who chooses the career as managers, work shifts are typically the full time. A manager performs full-time, but shifts differ by workload. However, in the regular shift, he or she appears to work, which does not mean that they do not have to spend additional shifts. A manager works 40 to 45 hours a week in general, with especially significant duties that often require additional shifts.
Employment Nature
Contractual, Permanent
The role of a manager may be permanent or contractual in nature as well. Individual who chooses a career as managers need to function inside organisations, as part of a collective. Individual who chooses a career as a manager talks with colleagues about projects or interacts with clients across the globe. Depending on the geographical location of the client, a manager will also need to be able to fly to reach customers. An individual who chooses the project manager jobs, may be employed for a certain period of time but is typically employed as a permanent employee by the employee.
Work Place
Office
Individual who chooses the career as a manager performs duties in the office setting. Both physical and intellectual capability are required for this job. In certain circumstances, physical strengths are often required. A manager typically operates in an office environment.
Presence in Geographical Area
Semi-urban, Urban
Individual who chooses a career as a manager has fewer possibilities in rural areas than in urban or semi-urban regions. Locations such as Chennai, Mumbai, Delhi, and Kolkata offer a range of employment opportunities in this sector. The primary job opportunities for a manager are mainly in the cities. However, this in rural areas began to expand with each day.
Time Pressure
Likely
Individual who chooses the career as managers carries out certain activities within a defined time-span for a company or individual. This career is one of India's emerging career opportunities which requires a lot of time and emotional toughness. This job takes a lot of time and mental resources.
Overtime Details
In most companies, an individual who chooses a career as a manager works for nine hours a day on a daily basis. An individual who chooses the project manager jobs, has to work harder when it comes to product launches. For many tasks that need more effort, a manager in these circumstances will stretch the duration of the shifts to complete them in time.
Weekly Hours of Work
Min 45 Hours
Individual who chooses the career as managers works about forty-five hours a week, meaning nine hours a day. The roles of a manager come under certain shifts, but he or she could be working more hours in various types of projects. Regular work is performed on a job site, as a manager is required to conduct various research and evaluation during the job performance.
What are the skills and qualities required to become a/an Manager?
When it comes to how to become a manager, the first thing that they should know about is the skills required to become a manager. Some of the essential skills we have mentioned below.
Communication skills: Aspiring management professionals must have good communication skills. Workplace communication is important for businesses, as it allows organisations to be successful and function effectively. Communication abilities are not limited to communicating ideas effectively to others, actively engaging in debates, presenting constructive feedback and making a public expression. The marketing managers should become masters of effective communication which includes one-on-one, small groups, large groups, email, and social networking. Good managers consider listening to be the primary component of communication.
Leadership: Leadership skills can help improve employee performance and encourage professional development. A manager may maintain a duty to encourage employees to have a better working environment. A manager needs to be able to set goals to keep the team members inspired. This includes self-awareness, self-control, social consciousness, and the control of relationships. The marketing manager has to radiate strength, empathy and belief. Great management professionals work regularly by offering encouraging, constructive feedback and guidance to improve team members' performance.
Critical Thinking: To recognise the strengths and disadvantages of possible solutions or approaches to problems, a manager must have the ability to use logic and reasoning. Critical thinking is important because it helps team members to evaluate problems more efficiently and to consider possible solutions that are not exactly obvious once. The marketing manager seeks to understand where and how the tasks fit into the broader picture in order to maximise productivity. In terms of broader organisational goals, the manager reviews objectives. Management professionals convert this understanding into practical priorities and expectations for members of their team who need to understand where the larger picture suits their job.
Which certifications and internships can be helpful in becoming Manager?
We have provided below certification courses that aspiring individuals may opt to upgrade their skills and knowledge for a career as manager.
Internship Availability
Yes
Internships are recognised as the perfect way to gain exposure in a career in management. Internships help to have industry experience for the candidate. Internships also provide the ability for future applicants to incorporate the theoretical principles they have learned during their college days. Advertisement interns are responsible for the introduction of advertisement and marketing assistance. Advertising interns should report to the marketing manager and assist with all marketing and advertising management needed by the organisation, including a focus on outbound digital marketing and communication.
System Center Operations Manager (SCOM) majors are usually responsible for logistics work and the manufacture of a product or service. Management professionals can be employed in a wide range of industries. Project management interns support a company with its marketing strategies and advertisements. Interns in marketing, research on business dynamics, and finding ways to strengthen the marketing strategies of the organisation. Project management interns also manage a company's social media accounts and connect with clients, and develop promotional material.
Career Path Progression for Manager
Functional Manager: A functional manager is the most common type of organizational management professional. He or she may have a lot of supervisors or first-level managers reporting to him. A functional manager is responsible for achieving efficiency, quality, cost and often sales goals and objectives. He or she manages the work of certain people and their staff. A functional manager divides his time between operations and issues related to employees and the tasks of business reporting and planning. A functional manager oversees the activities of an organisation's entire unit, ensuring that the tasks of the organisation are completed on the scheduled time and on budget. This position involves a combination of high-level preparation and guidance to ensure that team members perform tasks as necessary. These types of management professionals tend to guide the activities of project managers and team members across the lifecycles of many concurrent projects, offering guidance and advice.
Senior Manager: The senior manager is responsible, like all other managers, for organising and guiding the work of a group of individuals. He or she tracks the function of the workers and, if necessary, takes corrective measures. He or she offers instructions for first-line managers and other supervisors to prepare reports. These types of management professionals are accountable for a corporation or institution's overall activities and profitability. His or her aim is to optimise the effectiveness, competitiveness, and success of this company by making sure that all operations operate smoothly. In a wide range of industries across the public and private sectors, a senior manager can be employed. He or she typically specialises in a specified area or industry, such as finance, marketing, human resources, or sales.
General Manager: A general manager is responsible for all services and outcomes of an enterprise. The general manager is a pseudo-CEO, who is responsible for policy, organisation, talent, key decisions and operational results like sales and costs. The duties of a general manager include formulating the overall plan, handling staff and drawing up policies. He or she should be a strategic leader and a decisive decision-maker to be effective in this position, helping the employees to develop and be profitable while ensuring that the profits are on the rise. These types of management professionals work to maximise productivity and raise profit, and manages the overall operations of a business. A general manager's responsibilities include managing personnel, cost management, marketing strategy and many other aspects of the company.
Manager Jobs and Salaries
Functional Manager
Monthly Salaries
Average Salary

50000

Junior Level Salary

30000

Senior Level Salary

100000
Job Description
A functional manager oversees and owns the resources within a particular department, such as IT, engineering, public relations, or marketing, and usually directs the technical work of individuals working on the project from that functional field.
Salary Description
Functional managers' income depends on job development or is mostly dependent on knowledge and experience of the particular industry. Functional managers' salaries rely on specific industry experience and competencies. On average, functional managers earn over Rs. six lakhs per annum. At the entry-level, they earn more than Rs. three lakhs a year but eventually make more than Rs. twelve lakhs at the senior-level of their career.
Senior Manager
Monthly Salaries
Average Salary

100000

Junior Level Salary

800000

Senior Level Salary

200000
Job Description
A senior manager is responsible for a variety of groups and agencies. He or she is accountable to senior management, often reporting to the vice president of the company.
Salary Description
Within this sector, salaries are centred around the different departments and the position one holds. The salary for a professional senior manager is growing steadily. The average salary, a senior manager, receives more than twelve lakhs a year. They earn more than Rs. eight lakhs a year at the start of jobs, and that increases by more than Rs. twenty lakhs a year at the senior-level.
General Manager
Monthly Salaries
Average Salary

150000

Junior Level Salary

100000

Senior Level Salary

300000
Job Description
A general manager is responsible to a management team, often the CEO and a general manager's work is primarily focused on implementing significant strategic plans, initiating key decisions and coaching, and producing direct functional managerial reports.
Salary Description
The more skill sets you gain in such areas, the better salaries you get in this industry. General managers get a decent income in the early career phase; they can earn nearly Rs. twelve lakhs a year but ultimately get more than thirty lakhs at senior-level.
What is the job outlook for Manager?
Manager jobs are at the forefront of commerce, technology and architecture. Achievement in this field requires innovation, creative ideas and resourcefulness. Managers need to be detail-oriented and time-driven in a changing, fast-paced environment, and in different setups. The management career path is highly competitive, and a bachelor's degree could have been sufficient to enter the profession as freshers. However, employers are searching for Masters or MBA candidates. A Master's degree is required in some fields, such as a marketing manager or sales manager. Management jobs in India are highly valuable and often pursued by other professionals.
It is expected that the total employment of advertising, promotions and career opportunities in management will rise by eight per cent from 2018 to 2028, faster than the average for all professions. The U.S. Bureau of Labor Statistics (BLS) claims that from 2014 to 2024, the job growth of marketing managers will increase faster than the overall average for all professions. The United States Bureau of Labor Statistics expects employment for logisticians will increase over a decade by seven per cent or 10,300 new jobs. An average growth rate is also seen in the more senior-level role of supply chain managers. Candidates with higher qualifications and experience will have the best career opportunities in management.
Frequently Asked Questions for Manager
You might also be interested in
The question have been saved in answer later, you can access it from your profile anytime.
Access now
Report Question
Select your reason of reporting