Who is a Chief Executive Officer?
The common question that gets asked in business is, 'why?' That's a good question, but an equally valid question is, 'why not?' ~ Jeff Bezos, CEO of Amazon
The chief executive officer career is the company's top employee after the owner. We can say that a chief executive officer or CEO is the guiding star of any business. We might have heard the term c-suite positions or c-suite executives, and CEO is one of them. A chief executive role depends on the size of an organisation. For example, a small organisation's owner or manager is responsible for purchasing, recruiting, training, and quality control including day-to-day oversight duties.
On the other hand, chief executives in big companies generally focus on developing strategies and investment goals, whereas general managers and operations managers oversee daily operations. In this article, we will discuss how to become a chief executive officer in India, chief executive officer vacancy, CEO qualifications, and chief executive officer meaning or is chief executive officer a good career.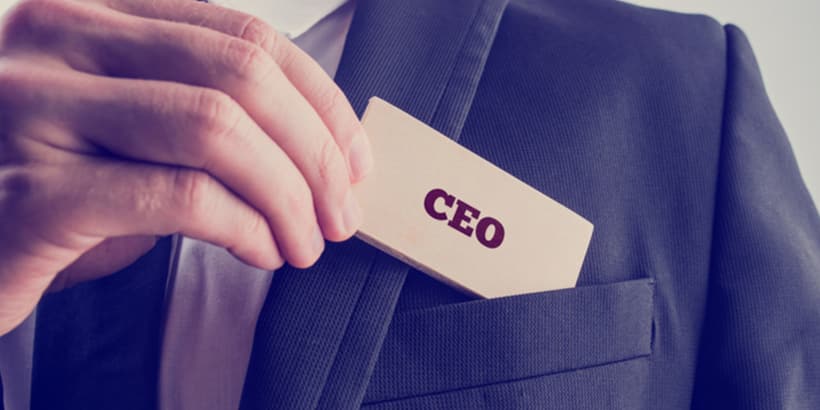 Chief Executive Officer in a Nutshell
A career as a chief executive officer requires providing instructions to companies and businesses. The role of a chief executive officer is to monitor business operations and implement policies and procedures to ensure the accomplishment of organisational goals. He or she often consults with several other senior managers and guides their work and usually reports to a management board.
Quick Facts for Chief Executive Officer
Suitable for

Male, Female

The significant characteristic of the career as chief executive officer is that the profile is not limited to a particular gender. People from different backgrounds and gender can become chief executive officer if he or she has the necessary skills. As part of the corporate world, this is one of the most desirable jobs in which an employee's gender is insignificant.

Any special needs

Yes

There seems to be no definite rule requiring a person to be physically fit to make a career as a chief executive officer.
What is the role of Chief Executive Officer?
A company's success is closely connected to its chief executive officer's work and effectiveness. He or she gives the direction, knowledge, and support that a company requires to accomplish its objectives, which is the critical role of the chief executive officer. As the head of an organisation, the chief executive officer is generally expected to represent the business in the market.
This may include certain things such as interaction in meetings with the management board and executives and shareholders, attending community events, campaigning for the company in the corporate and political spheres, and establishing partnerships with strategic partners and customers.
Creating a business network
The creation of a business network should serve a number of purposes within a company, and a CEO has a significant responsibility to act on it. This might include communicating with suppliers, discovering future opportunities for acquisition, participating in or attending relevant networking events, discussing obstacles with peers and colleagues, and beginning regional meet and greet with other business owners.
Strategic planning
A strategy is a framework tailored to cultivate organisational goals and objectives, investment, financial reporting, economic conditions, stakeholder demands, and much more. Strategic planning reflects the organisation's method of achieving its objectives. The chief executive officer sets high expectations, identifies what measures employees currently need to implement to become more productive, and inspires the organisation to achieve that goal.
Manage employees
The role of a chief executive officer is to control the organisation's human resources efficiently in accordance with the approved personnel policy and practices which deal directly with applicable laws and regulations.
Human resource management is an important approach to managing a company or an organisation efficiently so that it can assist the company to gain an advantage. The ultimate purpose of implementing human resources management is to make sure that the company is capable of achieving success through employees.
Financial planning
The chief executive officer proposes the annual budget for approval by the board of directors and regulates the resources of the company as per laws and regulations.
Strategic planning of facilities is a practice that can lead to the effective functioning of services to its customers by a facility management department. Financial and facilities management could definitely allow the execution of facility plans to operate faster and much more efficiently.
Types of a Chief Executive Officer
When it comes to chief executive officer career options or types of a chief executive officer types there are several opportunities available for an individual. Some of them are mentioned below:
Chief operating officer (COO): The chief operating officer is subordinate to a company's chief executive officer and plays a vital role in the organisational success of a business. He or she oversees other managers who instruct different activities related to human resources and marketing.
Often, individuals implement the rules and regulations of the organisation on a daily basis. The chief operating officer usually leads the implementation of a company's plan, with the assistance of the chief executive officer as well as the board members, and is responsible for its
Executive Director: In several nonprofit organisations the executive director plays the same role as a chief executive officer. Executive directors inspire and mentor employees, volunteers, and other staff, and can lead meetings. An executive director often serves a board of directors and is subordinate to the board president.
The board can provide insights and recommendations on how to strengthen the company but the executive director decides to choose whether or not to implement such proposals or how to do so.
Chief Financial Officer (CFO): A chief financial officer provides strategies and consultation to the employees. The chief financial officer is responsible for the reliability of the financial statements of a company, particularly between major corporations. The chief financial officer supervises and directs the financial objectives, targets, and expenditures of a company.
Chief Financial Officer manages financial services, evaluates funding sources, monitors potential financial risks, and identifies market strategies. At the same time, a successful chief financial officer must closely examine how other departments inside the company can affect the decisions. Read further to know more about how to become a Chief Executive Officer in India.
What is the workplace/work environment of Chief Executive Officer like?
In a career as a chief executive officer, one creates an agency that adheres to the laws and regulations in effect. He or she can translate data and facts into simple language to support businesses and organisations so that they can understand how to make better business decisions. The individual spends a lot of time in the workplace setting. It is a normal job and the employee enjoys working at an office desk, and usually in a secure environment.
Does Chief Executive Officer require travelling?
Likely
The role of chief executive officer executive involves travelling, but not very much. It happens when he or she is expected to meet with the client at some other office or another chief executive officer. A chief executive officer travels very frequently both internationally and domestically to provide instructions and supervision to other branch employees or to attend meetings and conferences.
Employment Shifts
Full Time
Job shifts are typically full-time in the career of a chief executive officer. He or she performs full-time operations but shifts vary by workload. The Chief executive officer appears to work only the daily shift, which does not mean that he or she should not have to spend additional shifts. The chief executive officer normally works 40 to 45 hours a week, with extraordinarily important responsibilities that also involve additional shifts. He or she works nearly 9-10 every day.
Employment Nature
Permanent
A chief executive officer's role always is of a permanent type. As a part of an organisation, the chief executives will operate within the organisation. They collaborate on many projects with their colleagues and board of directors or connect with other businesses around the world. The chief executive officers also need to be able to travel and reach potential clients from different geographical locations. They function only as permanent employees.
Work Place
Office
In the career of chief executive officer, individuals offer instructional support to businesses and companies. Those operations are carried out in the office environment. The work requires intellectual ability and endurance but not physical labour.
Presence in Geographical Area
Urban
In a career as a chief executive officer, one has very rare possibilities in rural areas than in urban or semi-urban regions. The rural market is emerging in India and it faces multiple challenges, such as reaching out to remote areas and providing services.
Time Pressure
Likely
In a career as a chief executive officer, one performs certain activities within a defined time span for his or her company or organisation. This career takes a lot of time and mental energy, as this is one of the top positions in a company.
Overtime Details
In a career as chief executive officer, individuals serve many industries and often work for nine hours a day on an individual basis. But he or she needs to work harder when it comes to certain crucial projects. Some tasks may require more attention and the chief executive officer should extend the length of the shifts in such circumstances. He or she will work more hours than any other staff member. Read further to know how to become a Chief Executive Officer in India.
Weekly Hours of Work
Min 40 Hours
In a career as chief executive officer, individuals operate about forty hours a week, almost nine hours a day. The job of the chief executive officer falls under some shifts, and they may also work longer hours on different types of projects to solve the problem. Although working nine to ten hours a day, at the time of a big project it can be up to fifteen hours, which also depends on the sector in which they are employed.
How to become a Chief Executive Officer?
Steps to become a Chief Executive Officer
If you have experience in a senior management position in the company, have knowledge of profit and loss. If you are interested in a company's operations such as managing company organisational structure and strategy, and communicating with the board, and have an MBA degree, then a career as a Chief Executive Officer is a suitable career option for you. If you are also looking for how to become a Chief Executive Officer in India then we have listed the steps for how to become a Chief Executive Officer in India.
What are the skills and qualities required to become a/an Chief Executive Officer?
When it comes to a career as a chief executive officer, an individual is required to possess some skill sets. An Individual must know the qualification for CEO, chief executive officer skills, and how to become a chief executive officer but before that, we will look at CEO qualifications and skills.
Risk-taking: In a career as a chief executive officer, one needs to be able to take risks but in a calculated manner during an in-depth assessment of the uncertainties associated with the benefit and losses. A person who is reluctant to take risks is typically not suitable as a candidate for the chief executive officer. A chief executive officer who is unable to take risks is inclined to push the company to lag behind many other competing companies. He or she should be able to face challenges but the risks should not adversely affect the company's sustainability or performance.
Communication skills: One should be able to communicate with colleagues, and start exploring the team's opinions and solutions. A chief executive officer should be open-minded to the concepts or methodologies that staff members put forward, instead of concentrating on techniques that he or she develops. A chief executive officer's effective communication skills are based largely on their vocabulary and incredible vocabulary skills help the chief executive officer communicate easily with team members and employees. It is mainly important for a multinational company's chief executive officer, who deals with workers of various values and beliefs.
Decision-making skills: In achieving a common target or goal, a chief executive officer should be able to engage the employees in the decision-making process and encourage the staff members to work together as a team. The chief executive officer should interact with colleagues to put their contribution to the decision-making process which is perceived to be extremely valuable.
The ultimate decision will only be undertaken after a thorough financial and strategic decision, assessment, and development of how the decision will help the organisation to reach the company's overall mission. The chief executive officer should also be an individual and unbiased decision-maker and also able to make decisions during production or time pressure.
Analytical skills: Analytical skills involve forecasting potential market trends, and recognising the various advantages and drawbacks of a particular pathway. Analytical skills can also sound bizarre as individuals also use practical life experiences and competencies. Analytical skills are helpful and also enable people to develop solutions to numerous situations and to evaluate immediately what measures must be taken. Recognising problems and analysing the conditions for possible solutions is a core competency of chief executive officers.
Which certifications and internships can be helpful in becoming Chief Executive Officer?
Internship Availability
Yes
Internships are often seen as the greatest opportunity in a person's chosen career path to gain expertise. Internships provide valuable industry experience and also an incentive for him or her to put into practice theoretical concepts. As we all know, internships are seen as the best opportunity to gain expertise in a person's chosen profession and also to obtain chief executive officer jobs.
However, this profession is different from other professions. The chief executive officer is the company's top-most employee. Internship as a chief executive is almost impossible, but students can do internships in entry-level positions with the goal of becoming chief executive after gaining several years of experience. Individuals with the CEO qualification and relevant experience will be a great fit for the career as chief executive officer.
What is the job outlook for Chief Executive Officer?
The demand for qualified and experienced chief executive officers is huge. Economic liberalisation has provided excellent conditions for new companies to be established within the country. Several international firms have developed their facilities in India. India is one of the largest emerging markets in the world, introducing events such as innovations, acquisitions, collaborations, and international operations, and there is a sudden surge as well.
All this means a constant demand for chief executive officers. An emerging business environment is predicted to contribute to the demand for chief executive officers with job prospects reflecting the level of rising in specific fields. Rapidly growing sectors like medical care might also offer new opportunities. Since these top positions are increasingly regarded, the competitive environment would be keen. Better employment opportunities will be liked by applicants with high academic qualifications, experience, and special skills. Scroll down to know how to become a chief executive officer in India.
Frequently Asked Questions for Chief Executive Officer
Que. Who is the Chief executive officer of a company?
Ans.
A Chief executive officer (CEO) is the highest-ranking employee of a business whose main duties involve implementing important strategic decisions, overseeing a company's overall resources and activities, and serving as the main contact point between the chairman and the management.
Que. Is the Chief executive officer the owner?
Ans.
The Chief executive officer may be the owner of the company though not all the time. One could be both the chief executive officer and the owner. Owner is the common term for sole proprietor whereas chief executive officer is a designation or position given to someone who has full management responsibility for the organization wherein he operates.
Que. Who is senior than a CEO?
Ans.
The Chief Executive Officer (CEO) is generally considered to be a company's highest-ranking officer and the President is second in control. However, many variations can occur in corporate governance and framework, so the role and responsibilities of both the Chief Executive Officer and President may vary, depending on the organisation.
Que. Can a small company have a CEO?
Ans.
It can be termed as Chief Executive Officer or Managing Director, Boss, Head, or something that is related to the executive. What is required to ensure for a small company is that they have someone who can push the company from the front and lead the new projects.
Que. Can a company have 2 CEOS?
Ans.
The Co-CEO structure is nothing unique, although rare. Original initiatives imply that having more than one chief executive will help a company achieve more success, framework surely was not for every business.
Que. How long does it take to become a CEO?
Ans.
Becoming a CEO will take around five to twenty years based on the company you are working for.
Que. Can 12th pass become CEO?
Ans.
No, a 12th pass can not become a CEO. To become a CEO you are required to opt for related higher studies and relevant work experience and leadership skills.
Que. What should I study to become a CEO?
Ans.
To become a CEO, you need to pursue a bachelor's degree in engineering, business management, finance, accounting, or economics. For a master's degree, you can opt for an MBA.
You might also be interested in
Questions related to Chief Executive Officer
Showing 1 out of 1 Questions
98 Views
human resources become a chief executive officer
hello there!
yes! absolutely an HR professional can become the CEO of a company. If he/she is open to learning the business and looking at things with broader perspectives.
The HR department is responsible for the following activities:
Creating development, orientation and training programs
Overseeing employee compensation and benefits
Handling the recruitment, selection, and promotion of workforce
Allocating employees and managing the human resources available
Common knowledge points to people from other major domains like marketing or sales, finance and production being the obvious choices for HRs to take CEO positions in companies.
Whereas, people from the HR domain are concerned with human management and operational work most of the time. Hence, it becomes quite difficult for them to understand the strategic viewpoint in which the CEOs need to think for taking various decisions. A decision like diversifying and selling parts of the businesses is important in any CEO's life.
i hope this helps
goodluck!
(javascript%3A;)
The question have been saved in answer later, you can access it from your profile anytime.
Access now
Report Question
Select your reason of reporting