Who is a Ethical Hacker?
To beat a hacker, you have to think like one ~ Ethical Hacking Council
In career as ethical hacker, individuals are computer experts, they work with companies to prevent cyber attacks. The cyber-world functions on the world wide web. There are numerous official, cooperative websites along with those owned by private businesses. An expert with great technical knowledge and talents who is capable of identifying and gaining a better understanding of strengths and weaknesses in products is known as an ethical hacker. An ethical hacker career path includes hacking into their company's system to find vulnerabilities and loopholes that make the system weak. It protects the system from hackers who are in the business of illegally hacking systems for their malicious intent. Ethical hackers act as a counterpart of such illegal hackers and help in building the system more secure. Students can pursue Cyber Security, Computer Science to opt for an ethical hacker career path. Here, in this article, we will discuss ethical hacker course, ethical hacker jobs, types of ethical hackers, ethical hacker certification, and how to become an ethical hacker.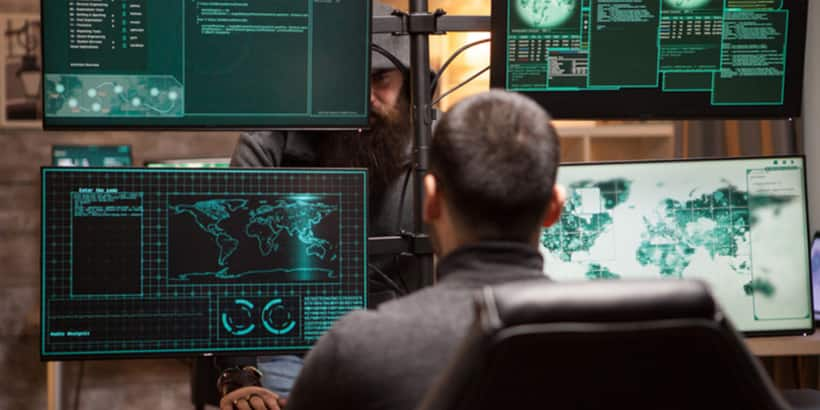 Ethical Hacker in a Nutshell
A career as ethical hacker involves various challenges and provides lucrative opportunities in the digital era where every giant business and startups own its cyberspace on the world wide web. Individuals in the ethical hacker career path try to find the vulnerabilities in the cyber system to get its authority. If he or she succeeds in it then he/she gets its illegal authority. Individuals in the ethical hacker career path then steal the information or delete the file that could affect the business, functioning, or services of the organization.
Quick Facts for Ethical Hacker
Industry

Technology

Average Salary in India

₹35000

Suitable for

Male, Female, Others

A career as ethical hacker is suitable for every gender. The candidate should have a passion for network security to establish a successful career in the industry as a computer hacker.

Any special needs

Yes

A career as ethical hacker is suitable for candidates with special needs. The candidate should have excellent intellect. He/she should be able to work on a computer system.
What is the role of Ethical Hacker?
A white-hat hacker is known as an ethical hacker. Whereas a black hat hacker is an unethical or illegal hacker who hacks for his or her malicious intents such as to gain financial profits from the organization. White hat hackers are professional hackers who hack network security systems to help the organization and counter such black hat hackers. There are also grey hat hackers. Grey hat hackers' intentions are not that malicious but cause a lot of disturbance. Grey hat ethical hackers in India hack networks and security systems to have fun. A white-hat hacker is employed by organizations to verify the vulnerabilities of a system and come up with its counter solutions. A black hat hacker may steal the information, delete the files causing some serious financial loss to the organization.
Finding vulnerabilities
An ethical hacker's job is to scan the systems using various scanning tools such as Nmap or Nessus to find open ports. They study the vulnerabilities of each port and come up with remedial solutions. Vulnerability is a weakness that may lead to the security, credibility or accessibility of an information technology being damaged. Identification of vulnerability aims at identifying vulnerabilities and analyzing them in a specified environment inventory.
Examining
Responsibilities of ethical hackers is to examine patch installations. He/she ensures patch installations are not susceptible to exploitations. Examining is a technique employers use to evaluate the hacking process and also the employee's performance. Generally, the supervisor is capable of determining the employee. A conference is often scheduled for discussing the installation's review process.
Applying social engineering concepts
An ethical hacker uses social engineering concepts such as dumpster diving that includes scouring through trash bins to crack passwords, sticky notes, charts or any other thing that contains important information required to generate an attack.
Evading
Responsibilities of ethical hackers is to make attempts to evade security systems such as IDS or Intrusion detection systems, firewalls, and honeypots. He/she sniff networks, crack and bypass wireless encryption, hijack web servers and applications.
Malware analysis
Responsibilities of ethical hackers involve analyzing security threats and developing countermeasures. Malware is software that gives an attacker maximum or restricted control over the object whenever it reaches the destination server. They could either harm or manipulate host cell configuration to support an intruder capture or damage detailed information.
Network security
An ethical hacker's job is to strengthen network systems to resist threats and vulnerabilities. Network security is the practice of capturing physical and cyber protective actions to safeguard the existing internet infrastructure for illegal disclosure, violation, breakdown, alteration, destruction or unauthorized access while providing a stable environment for machines, users and systems to operate.
Types of a Ethical Hacker
Here, in this section, we will discuss various types of ethical hackers and also other careers.
Security Architect: A security architect designs, builds, and implements computer security and networks for an organization. A security architect holds the responsibility of building up complex security structures and ensuring their effective functioning.
Security Consultant: A cybersecurity expert security expert is known as a security consultant. Security consultants are responsible for identifying cybersecurity risks, problems, and coming up with solutions. Security consultants guide ways to protect physical capital and data.
Chief Information Security Officer (CISO): A chief information security officer is a senior role. He/she is considered as more powerful in their respective department. CISOs are responsible for building security teams, overseeing all activities related to the security of an organization. CISO reports directly to the CEO or CIO.
Data Scientist: Data scientists are generally called big data wranglers, collecting and analyzing vast collections of data from multiple sources. The job of a data scientist includes computer science, mathematics, and statistics.
Computer Programmer: A computer programmer is a specialist in one computer programming field, or he or she can write code for software of several kinds. A computer programmer explains the procedure of developing, writing, reviewing, debugging and managing computer program source code. Within a programming language, this source code is composed so that the computer can understand it.
Computer Systems Engineer: A computer system engineer is a professional who updates, modifies, installs, tests software programmes and hardware devices in a computer system. He or she is also involved in designing and planning data communication systems for computer networks such as LAN, WAN and intranet.
Software Engineer: A software engineer designs several types of software, like operating systems, computer games, business applications and communication systems. A software engineer applies mathematical analysis and computer science concepts to develop and build computer applications.
Also read - Career as software developer
What is the workplace/work environment of Ethical Hacker like?
A ethical hacking career path includes jobs such as security analyst, penetration tester, cybersecurity engineer, network security investigator, and other related roles. Global service providers such as hotels, airlines, and financial well as academic services providers hire certified ethical hackers. In this digital age, people's lives have become easier but at the same time, it is exposed to cyber threats. It is not limited to individuals using the internet, but giant companies, organizations, and government departments are also exposed to the digital era's threats. As the IT industry is rapidly growing, a vast number of people are adapting to digital services. It further increases the opportunities for digital warriors who protect network security. Individuals in the ethical hacker career path can also find interesting opportunities to work independently or as a freelancer.
Does Ethical Hacker require travelling?
Not Likely
An ethical hacking career path does not require travelling to remote areas regularly. Individuals in the ethical hacker career path may require to travel occasionally to meet clients.
Employment Shifts
Full Time, Part Time, Work From Home
An ethical hacker career path is mainly full-time, in an office environment. This career does not come up with an hourly basis or on-call work opportunities. Part-time or work from home is considered in this career.
Employment Nature
Contractual, Permanent
A career as ethical hacker involves working in permanent as well as contractual terms. It depends on what kind of work they are doing and for whom they are doing it. Most government jobs for ethical hackers in India hire ethical hackers on a permanent basis, whereas, private companies usually hire them on a contractual basis.
Work Place
Office, defense department, artificial intelligence offices, corporate companies, academic institution, IT firms, private companies
A career as ethical hacker involves working in an office environment. Individuals in the ethical hacker career path are hired by defence departments, artificial intelligence offices, corporate companies, academic institutions, IT firms, and other private companies. An ethical hacker typically works 8-9 hours a day and 35-40 hours a week. Their work hours may increase amidst deadlines or security threats.
Presence in Geographical Area
Urban
Bangalore, Gurgaon, and Noida are the IT hubs of the nation. One can find varieties of employment opportunities in these rapidly developing cities. The ethical hacker receives a good amount of pay in Bangalore. But the daily expenses are higher in the city which makes it cost the same.
Time Pressure
Likely
Individuals in the ethical hacker career path are generally required to work under a lot of time pressure. The job is filled with tight schedules, the urgency to complete tasks along risk involvement. Hence, ethical hackers are required to manage all these things along with meeting their project deadlines. The work environment involves a lot of time pressure and stress.
Overtime Details
Typically, ethical hackers work for nine hours per day. But depending on the deadlines and current situation, they might be required to work overtime. During busy periods and urgency, they are required to put up some extra hours to the work.
Weekly Hours of Work
Min 50 Hours
A career as ethical hacker involves working 8-9 hours a day and 54 hours a week. Their work hours may increase amidst deadlines or security threats.
How to become a Ethical Hacker?
What are the skills and qualities required to become a/an Ethical Hacker?
If you want to know how to become an ethical hacker after the 12th then you should keep reading this article, a career as an ethical hacker. Below, we have mentioned the skills that are required for an ethical hacking career path.
Computer Skills: Business organizations depend heavily on computerized technology to perform immense quantities of tasks efficiently. Having good computer skills implies that one can complete duties that may not be entirely feasible for candidates. And if we discuss the profession of an ethical hacker then it implies that the duties of an ethical hacker can never be accomplished without using a computer system. Individuals in the ethical hacker career path also need to be allowed to use the Windows command line and edit the database and configure their own networking requirements.
Tech Savvy: The understanding of information security and also technologies is also a necessary skill. A candidate who seems to have a firm grip on security could regulate the security administrators' built hurdles. Skills such as Public Key Infrastructure, Secure Sockets Layer, Intrusion Detection Systems, Firewalls, and more are also essential for a hacker to learn. Safety involves protecting, and also safety or preventive actions are taken. Security Concepts significantly decrease the risk of falling victim to cyber-attacks and disruption by businesses. Security Concepts help guard your computers against harmful spyware. It also guarantees the safety and security of data sharing.
Programming skills: Almost all of the ethical job duties of hackers will indeed require programming skills associated with the framework. Ethical hacking is a demanding task and offers interesting jobs in the modern age, where almost every multinational corporation uses a variety of programming languages to own the virtual space on the world wide web. Individuals in the ethical hacker career path must be trained in one language and have some additional professional skills. Individuals in ethical hacking career path must know coding programming languages such as C/ C++, HTML, SQL, R, Python, Java, JSP, ASP, and other computer languages.
Technical skills: Technical skills are very important needed to perform multiple activities that require expertise. They are also most popular in information technology, mechanics, engineering, science, financial services, and maths. Often it takes technical skills to perform machinery, tools, software, and software development. An ethical hacker must have sound technical knowledge. Some of the technical skills that an ethical hacker should possess are given below.
Which certifications and internships can be helpful in becoming Ethical Hacker?
We have mentioned below various ethical hacker certification that aspiring individuals can opt to upgrade their skills for an ethical hacker's role.
Internship Availability
Yes
One can find many internship opportunities through online recruitment websites such as indeed.com, lets intern, and other online platforms. The individuals get hands-on experience through internships. Most internships are offered by institutes that charge for the training. Students practically learn the skills required for cybersecurity such as secure coding, malware analysis, cryptography, password cracking and guessing, DNS spoofing and other skills.
Career Path Progression for Ethical Hacker
Information security analyst: An information security analyst aims at securing the company's sensitive information and data from any kind of cyber theft or cyber attack. They make sure that none of the information is stolen or damaged by coming up with solutions that avoid any sort of compromise in data.
Mobile application security executive: With an increase in mobile internet usage, several tests are performed for mobile apps. The job of a mobile application security executive is to work with his or her team and conduct several tests for the applications in order to avoid any sort of data breach from the user's cell phone.
Security Consultant: A security consultant checks several software, computer systems as well as the network used for any kind of vulnerabilities which can cause a data breach. They also plan and design security solutions for the company or organisation they work for in order to avoid any sort of compromise of the company's data.
Chief Information Security Officer: A chief information security officer also known as CISO is at the senior level executive post of the company or the organisation. They have a team under them which aims at protecting the several data assets of the company from any kind of cyber theft by creating a security strategy.
Ethical Hacker Jobs and Salaries
Security consultant
Monthly Salaries
Average Salary

35000

Junior Level Salary

30000

Senior Level Salary

70000
Job Description
A security consultant is a specialist in safety catch-all. They analyze and monitor cybersecurity threats, challenges for various organisations in securing and protecting their external resources and data. The role could also be related to an information security consultant in terms of work responsibility.
Salary Description
Security consultants might start their careers by earning up to four lakhs annually. With the increase in experience, the salary can be anything around Rs. eight lakh per year and above.
What is the job outlook for Ethical Hacker?
Ethical hackers in India have vast upcoming opportunities. There is an expected 75 per cent job growth in the industry for ethical hackers. It is extremely higher as compared to all the other occupations. Any company that is connected to cyberspace or the web provides employment opportunities for ethical hackers. Academic institutions such as MIT and other private companies whether it is related to logistic services or data warehousing require an ethical hacker. The ethical hacking jobs also include defence systems such as military and intelligence agencies such as NSA, Mossad and CIA. Cybersecurity is the most important aspect of the IT industry. There is tremendous growth in jobs related to cybersecurity since 2017. According to the Bureau of Statics (functioning in the US), the period between 2012 -2017 has created whooping jobs with a seventy-five per cent growth in the industry. TAs per the data, seventy per cent of jobs are offered to candidates holding certifications, twenty-five per cent of job vacancies demand candidates having expertise in programming languages. Twenty-two per cent of job vacancies want candidates who can perform security checks.
Frequently Asked Questions for Ethical Hacker
Que. I did not have computer science in 10+2. Am I eligible to pursue a bachelor of science in information security?
Ans.
If you have passed 10+2 in physics-chemistry-maths or subjects related to science with an aggregate of 50 per cent of marks or equivalent to it. Then you are eligible for a bachelor of science or BSc in information security.
Que. I want to pursue a B.Tech in computer science. Will it help me to establish a career as an ethical hacker.
Ans.
Yes, it will help you to establish a career as an ethical hacker. You will learn the technical aspect of computer science that will further help you to verify vulnerabilities of the system and cracking passwords, DNS spoofing, and other skills.
Que. Is there any online certification course that can help me learn the skills while sitting back at home?
Ans.
Yes, there are various certification courses offered by online academies. The certifications of the EC-council are considered valuable to bag a job. Udemy and Simplilearn also offer their online certification courses of ethical hacking.
Que. Is an academic degree required to become an ethical hacker?
Ans.
No, an academic degree does not require becoming a professional ethical hacker. Ethical hacking is a skill-based career. Most hackers claim that they learned to hack on their own. But it's a fact that they accept that they have some computer science classes.
Que. How much certified ethical hacker exam cost?
Ans.
Students must pass the Certified Ethical Hacker test which is approximately Rs. 37,000. Students will pay an additional Rs. 7,500 application fee for self-study graduates, and apply a record of two years of work experience relevant to cyber security approved by the employer.
You might also be interested in
Questions related to Ethical Hacker
Showing 24 out of 24 Questions
The question have been saved in answer later, you can access it from your profile anytime.
Access now
Report Question
Select your reason of reporting