Who is a Marine Engineer?
The sea does not reward those who are too anxious, too greedy or too impatient ~ Anne Morrow Lindbergh.
Individuals in the marine engineer jobs are responsible for the functioning of the ship's internal system which comprises the propulsion, electrical, refrigeration and steering systems. It is said that marine engineers work more than a marine engine does. Marine engineers are not just responsible for creating the ship engines but also responsible for the harbour installation or the maintenance of a dock.
Marine engineers focus on maintaining the engines and propulsion systems when ships are in dry dock. Some marine engineers spend their major time on designing complex machinery using computer-aided design (CAD) software. Students can B. Tech in Marine Engineering, B.Tech in Naval Architecture & Ocean Engineering to become a Marine Engineer. Here, we will discuss marine engineering course, marine engineer jobs, alternative career options for marine engineers, is marine engineering a good career, marine engineer job description.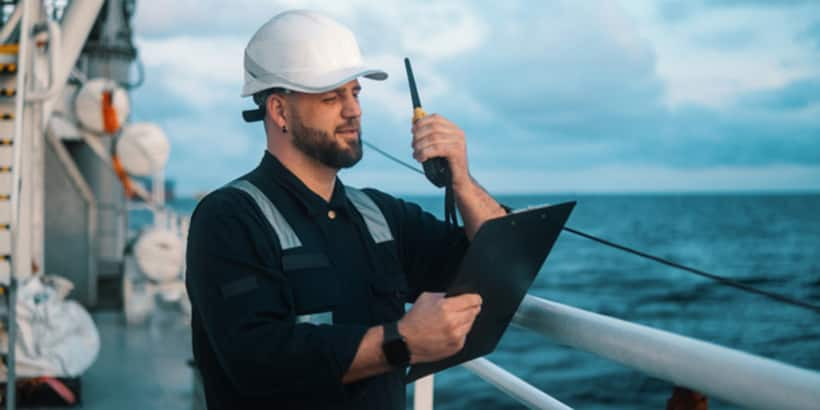 Marine Engineer in a Nutshell
Marine engineer jobs deal with the construction, operation and management of mechanical equipment used in the seagoing craft, dock or harbour installations and also maintain vehicles used on or around water. To know more about marine engineering, a career as marine engineer, how to become a marine engineer or marine engineering colleges in India, continue reading this article.
Quick Facts for Marine Engineer
Average Salary in India

₹40000

Suitable for

Male, Female, Others

The career as marine engineer is not gender-specific. As long as the person has the right aptitude for the work and all the necessary skillsets, people of all genders can land in the position of a marine engineer.

Any special needs

No

A career as a marine engineer requires travel to off-shore and stay there for months. A person with special needs might not be comfortable with traveling and a prolonged stay at sea. It also requires doing physically exhaustive work that may adversely affect candidates with special needs. A career as marine engineer requires good mental and physical health and free from any kind of bodily deformity to fulfill every performance which is necessary.
What is the role of Marine Engineer?
Individuals who opt for a career as a marine engineer design, build, test and repair ships, boats, underwater or deep-sea vessels, oil rigs, and drilling platforms and drilling equipment. At times marine engineers are also required to work closely with naval architects, oceanographic engineering or ocean engineering. Marine engineer job description includes designing, developing, installing, and maintaining the propulsion systems, engines, pumps, and other pieces of technical equipment that make boats and other maritime vessels function effectively. Marine engineers work on all kinds of ships, from ferries, cargo ships, and hovercraft to cruise liners and military vessels and submarines.
Supervising and tests of equipment
A marine engineer conducts environmental, operational or performance tests on marine machinery and equipment. Marine engineers conduct tests on both industrial machinery and instruments and this is described as the main job duty of this profession. Therefore, the variety of inquiries and observations of the equipment is extremely broad.
Repair
Components of marine engines will have to be regularly checked to reduce confusion or massive harm caused by vessels leaving charter. Marine engine maintenance is performed by the marine engineer according to his good understanding of the machine, sound knowledge of repairing and appropriate methodologies that used to evaluate and redesign. Marine engineer job description includes maintaining and repairing marine machinery and equipment for installation.
Preparing reports:
Marine engineers publish information and observations regarding prototypes, experiments as well as other projects. The object of a technical report is for an engineer to convey knowledge obtained through some kind of technological or experimental manufacturing process. They prepare technical reports for management or sales personnel.
Supervision
Successful managers can communicate excellently, encourage their team, manage and delegate responsibilities, pay much attention to reviews and then have the adaptability to solve these problems in a changing work environment. They maintain marine facilities and vessel preventive maintenance programs. The marine engineers should supervise other engineers and crewmembers and also train them for routine and emergency duties.
Preparing plans
Marine engineers focus on improving methodically, and contribute to completing the projects in a very little period. A simple strategy gives them a sense of objective and helps them fulfil both the short-term goal and long-term goals as well. Preparing plans, designing and constructing schedules is one of the basic jobs of a marine engineer.
Types of a Marine Engineer
There are several alternative career options for marine engineers available for a candidate. Different types of marine engineering jobs are mentioned below:
Naval Architect: A Naval Architect is a professional engineer responsible for the design, construction, and repair of both civilian and military ships, boats, other marine vessels, and offshore structures. Marine architects plan, build and operate vessels from naval vessels to submarines, from sailing vessels to tankers. Mechanical systems like propulsion and steering are being used by marine engineers. Naval architects focus on the basic layout like hull form and stabilization.
Mechanical Engineer: Mechanical engineers design the primary propulsion system, the moving and mechanizing components of the ship's functions like steering, anchoring, cargo handling, heating, ventilation, air conditioning indoor and outdoor communication and other similar concerns. Mechanical engineers build energy production equipment, like electrical generators, internal combustion engines, and gas and steam turbines, and also resource-using equipment.
Oceanographic Engineer: Oceanographic engineer is concerned with mechanical, electrical, and electronic, and computing technology deployed to support oceanography. Ocean engineering is the implementation of an ocean system of engineering concepts. Its environment's complexity and the ocean frontier challenge make it a fascinating profession for aspiring ocean engineers. Ocean engineering trains people to develop coastal environmental control systems.
Offshore Engineer: Offshore engineer or civil engineer for an offshore environment is concerned with the design and construction of fixed and floating marine structures, such as oil platforms and offshore wind farms. Offshore Engineering is the scientific discipline that focuses on the design and upgrading of existing designs to function in an ocean environmentally fixed position. Many offshore facilities are used in the oil and gas sector.
Merchant Navy: The merchant navy is the non-combatant fleet that handles the movement of passengers and products. T he merchant navy fleet is made up of a variety of ships, including passenger ships, cargo carriers, oil tankers, gas tankers. A merchant navy officer is in charge of ensuring the steady flow of both passengers and cargo.
What is the workplace/work environment of Marine Engineer like?
Individuals who opt for a career as a marine engineer typically work in offices, where they have access to computer software and other tools necessary for analysing projects and designing solutions. In their career as marine engineers, they need to research new ships and also construct and develop new vessels and other component parts. Sometimes, they must go to the sea to test or maintain the ships that they have designed or built. The workspace of a marine engineer is specifically based on their work type.
Does Marine Engineer require travelling?
Likely
In career as marine engineer, individuals require candidates to travel occasionally to shore. Much of the work can be done in the office but sometimes they need to go offshore depending on different types of marine engineering jobs. Marine engineers may travel abroad for a long time to inspect how the vessel is working or to gather information or maybe to maintain the oil rigs. Engineers who are specialised in offshoring might spend much of their time on the oil rigs to check the performance or the mechanical systems of the rigs.
Employment Shifts
Full Time
This job does not fall under any specific shift timing. marine engineers might have to do overtime to fulfil the needs of the job. They need to work whenever their job requires it. Like every other job, this job needs a specific commitment regarding work culture or shift timing. This job can't be done from home and this needs seriousness. It is a full-time job and it does not come with the leisure of working from home or part-time. Individuals who opt for a career as marine engineers need to work whenever the job requires it. This job of a marine engineer can be both contractual and also permanent. On the basis of commitment and capability, the nature of the employment is based.
Employment Nature
Contractual, Permanent
Depending on the different types of marine engineering jobs, it can be both permanent as well as contractual. The nature of employment depends on a number of factors such as capability and the availability of the person and the demand by the company. There are shipping companies that hire marine engineers on a full-time basis, while others hire them on a contractual basis. Therefore, when it comes to the career as a marine engineer there are several types of marine engineering jobs available, and not just in the private sector, there are many govt jobs for marine engineers as well.
Work Place
On-Field
Individuals in the marine engineer jobs typically work in offices, where they have access to computer software and other tools necessary for analyzing projects and designing solutions. They need to research new ships and also construct and develop new vessels and other component parts.
Presence in Geographical Area
Semi-urban, Urban
Marine engineering jobs involve work in an office environment that is located in urban areas or semi-urban areas. Individuals who opt for a career as a marine engineer may require to travel to shore and stay on deck for weeks.
Time Pressure
Likely
Time pressure is quite high in the career of marine engineers, as they are required to work for long hours occasionally. In some cases, engineers must have spent nine to ten hours a day. Generally, this is not the actual work time but during bunkering, engine maintenance they have to extend their shift timing. In career as marine engineer, individuals need to spend a sleepless night in alternative three weeks when it comes to marine engineering jobs. The officers get a day off following that night.
Overtime Details
Generally, the working hours for marine engineering jobs are eight to nine hours per day. Individuals who opt for a career as a marine engineer are required to work up to twenty hours per day when involved in bunkering, engine maintenance.
Weekly Hours of Work
Min 40 Hours
Individuals in the marine engineer jobs may need to extend their shift or working time due to many reasons. They may work for more than forty hours a week. There are many circumstances where the job may get extended. One of the most important criteria of extension is the age of the ship and how many times it faces breakdowns and also on maintenance. The second reason may be the maintenance and lubrication of the spare parts and machinery. Sometimes the industries which are looking at the maintenance of the vessels might not spend that much attention on those and this also leads the engineers in torment.
How to become a Marine Engineer?
Steps to become a Marine Engineer
Becoming a marine engineer involves a fascinating journey into the world of ships and boats. These engineers are the ones who ensure that the engines and mechanical systems of marine vessels run smoothly. If you're intrigued by the idea of working on the high seas and have a passion for mechanics, here are a few steps you need to take to become a marine engineer.
What are the skills and qualities required to become a/an Marine Engineer?
Alternative career options for marine engineers are many, but one must possess the important skill sets. In this section, we will be discussing how to become a marine engineer. Some of the important skills in the marine engineering career are:
Science Skills: Individuals in the marine engineer jobs should possess strong science skills. The candidate needs to understand the minute details of the subjects, whether it is chemistry or physics. Physics is one of the core subjects of this profession. The main aim of science skills is to allow the person to use the expertise of scientific methods; in other words, it is being able of comprehending the problems related to them, analyzing, evaluating, making the inference, testing, forming the conclusion, making generalizations and processing the information with the skills and experience.
Attention to Safety: In career as marine engineer, individuals must know how to manage extreme conditions and make everyone feel safe on the deck. A marine engineer should not have anxiety issues and should be calm and composed during emergencies.
Problem-Solving Ability: A marine engineer must possess problem-solving ability. Individuals who opt for a career as a marine engineer should stay with the spirit of finding a solution to every problem. Not only his problems but also he must be able to solve others' problems on the work floor. A marine engineer might get triggered by several problems at the time of boarding. Problem-solving is beneficial for both employees and companies as it encourages us to exercise control of our environment. Problem-solving provides us with a framework to define these small details, start figuring out why they are damaged and define a plan of action to rectify them.
Time Management: Like every other profession, a marine engineer should also manage his own time and the time of others. Time management is something every professional should follow. It's one of the critical things for a marine engineer to do mainly at the time of sailing. Even to maintain the professional and personal life one should have this quality within themselves. Time management is essential to get greater productivity in the organization. Time management is necessary to reduce stress in the workplace. Time management skills in the workplace are significant for individuals and businesses.
Critical Thinking: Critical thinking is useful because it allows individuals and groups to analyze issues more effectively and to recognize reasonable solutions which at times are not necessarily understandable. Critical thinking allows for resolving workplace problems. Individuals who opt for a career as a marine engineer should use logic and reasoning to identify the strengths and weaknesses of alternative solutions, conclusions or approaches to various problems. Marine engineers may face various problems during sailing and for that crucial time they should think out of the box to do the work without any interruption.
Listening: Listening helps to increase an employee's performance. Staff should feel more energized, concentrated, and less inclined to distract if they are good at listening to participants. In career as marine engineer, individuals should give full attention to what people are saying, understand the points being made by people, ask questions and not interrupt at inappropriate times. In any field first, you have to be a good listener, observer and secondly a good orator or worker. The same goes for a marine engineer. One should listen to his higher authority to maintain a good work culture.
Supervisory Skill: A professional should monitor the performance of himself, other individuals, or organizations to make improvements. Monitoring also helps to correct the action plans. Monitoring can give a clear picture so that one must understand what is required in the job or maintain the proper workflow. When employees know that management evaluates their attitude and effectiveness and that managers keep a record of what they're doing with their time, employees prefer to concentrate and be less confused in their work, thus enhancing the quality of business efficiency.
Decision-Making Skill: Individuals in the marine engineer jobs evaluate the relative costs and benefits of opting for the most suitable step. Decision-making is an essential management skill and is particularly relevant for leaders. This is also vital in your personal and professional life. Judgment-making is a vital strength in successful leadership styles. Some individuals also do not qualify for leadership positions mainly due to a lack of decision-making ability.
Numerical ability: A marine engineer should be good with numbers as it requires a lot of calculations and measurements for the construction of projects. Individuals who opt for a career as a marine engineer should be good in mathematics and calculus. They might have to solve several problems related to calculations. Numeracy is vital to the individual people in their daily tasks to develop logical thinking and problem-solving strategies. Competencies in labour numeracy, literacy, and employment opportunities are frequently used in combination with each other.
Leadership: In career as marine engineer, individuals should possess leadership skills to supervise the whole team and coordinate with them effectively. Managing quality is what a marine engineer is needed. He should manage tough situations in the absence of higher authority. Team-work creates an environment that encourages commitment and relationships. Such close-knit partnerships inspire workers and motivate the employees, collaborate and support each other. People possess various skills, limitations, ability to communicate, attitudes and behaviours.
Popular Online Engineering Courses and Certifications
Which certifications and internships can be helpful in becoming Marine Engineer?
Some of the marine engineering course and certifications are mentioned in the table below.
Internship Availability
Yes
Before entering entry level marine engineering jobs, it is advised to do an internship, Internships give a student the exposure of working in the real world. An internship is a time when a student is trained for a particular profession. In the case of a marine engineer during the time of internship, he or she gets the opportunity to polish the skills and apply his or her theoretical knowledge practically. In the field of engineering, a six months internship is compulsory.
In order to complete a degree, one must do an internship in a marine engineering career. Candidates can find an internship for themselves either through their college, or online portals, or they could even contact the organisation of their choice directly.
Career Path Progression for Marine Engineer
Junior Marine Engineer: Start your career as a junior engineer, assisting senior engineers in maintenance, repair, and operation of ship systems.
Senior Marine Engineer: Progress to a senior role, responsible for supervising junior engineers, managing complex repairs, and implementing preventive maintenance strategies.
Chief Engineer: As a chief engineer, you'll lead the entire engineering team, manage vessel operations, and ensure compliance with safety regulations.
Marine Engineer Jobs and Salaries
Chief Engineer
Monthly Salaries
Average Salary

40000

Starting Salary

30000

Senior Level Salary

150000
Job Description
The Chief Engineers in this profession are commonly referred to as Chief, are also the higher position in the hierarchy. They are liable for all activities and services performed throughout the ship, including all industrial machinery. ⠀
Salary Description
Chiefs get the highest off of them all. Entry level salary for the Chief Engineers may be six to seven lakhs per year, and may even go up to sixty lakhs per year depending on their skills and experience. The Chief Engineers' career depends on efficiency, or is largely dependent on the required business skills and experience.
What is the job outlook for Marine Engineer?
There is a wide range of job opportunities for marine engineers in India depending on the specialisation. Marine engineers not just oversee construction and maintenance but at senior positions, they are responsible for entire project management and control. Marine engineers work for the public as well as private shipping companies. In the career as marine engineer, individuals are offered various roles such as sales engineer, engineering manager, dock engineer, submarine designer, structural engineer, onshore marine coordinator, and marine equipment designer.
The four key areas which are being operated by marine industries are commercial, naval, leisure and offshore renewable energy. The transport business is almost based on the marine industries. The marine industry aims to expand the current capabilities, research on wave energy devices and also in expanding the national and international customer base in leisure craft and the commercial shipping markets.
Marine industries have an exciting future based on the capability of the candidate or may be based on the courses they have done. In this profession, engineers might get opportunities for international travel during work. The people with a mind to explore can get the best opportunity during the work itself. This profession has a perfect scope to make a positive difference in the environment, economy, and safety.
Student Also Liked:
Frequently Asked Questions for Marine Engineer
Que. What exactly does a marine engineer do?
Ans.
A marine engineer is someone who designs, builds, tests and repairs ships, yachts, underwater craft, offshore platforms, and drilling equipment. Marine engineers often work closely with naval architects to design everything from small yachts and fishing boats to submarines and aircraft carriers.
Que. What is the salary of marine engineers?
Ans.
The salary of marine engineers can range from Rs. 64,000 to Rs. 96,000 depending on experience and domain knowledge. Marine Engineers receive salaries of Eighty-Five thousand dollars per annum.
Que. Who was the first marine engineer?
Ans.
Archimedes is regarded as the first marine engineer, having developed a number of marine engineering systems. Modern marine engineering dates back to the beginning of the Industrial Revolution (the early 1700s).
Que. Are marine engineers in demand?
Ans.
Marine Engineers are expected to continue growing as fast as the national average for all careers. As oil companies continue to move offshore to drill, marine engineers will also be needed to design and service these rigs.
Que. How many years to study marine engineering
Ans.
The duration of studying marine engineering varies depending on the educational path you choose. A typical Bachelor's degree in marine engineering takes around 4 years to complete. Alternatively, you can opt for a diploma or associate degree program, which usually takes 2 to 3 years. After completing the initial education, gaining practical experience through onboard training and obtaining necessary certifications can add another 1 to 2 years. Overall, it may take anywhere from 4 to 6 years or more to become a qualified marine engineer.
Que. Is it hard to become a marine engineer?
Ans.
Becoming a marine engineer involves a combination of academic learning, hands-on training, and obtaining certifications. The field demands a solid understanding of engineering principles, mechanical systems, and maritime regulations. The rigorous nature of the work, including being away from home for extended periods, can be challenging. However, if you have a passion for engineering, enjoy working with machinery, and are determined to navigate through technical challenges, the rewarding opportunities and experiences of being a marine engineer can make the journey worthwhile.
You might also be interested in
Questions related to Marine Engineer
Showing 8 out of 8 Questions
The question have been saved in answer later, you can access it from your profile anytime.
Access now
Report Question
Select your reason of reporting