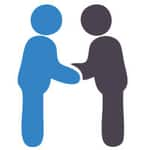 Sales
Degrees offered: B.A., B.A.(Hons), B.B.A, B.Com, B.Sc., B.Voc., Diploma
Q&A : 124 Question
What is Sales
Every company and every industry needs marketing and sales. This means that candidates who study sales can work for pretty much any organisation they wish to, be it in retail, food and beverage, technology, or government. The study of sales gives students an understanding of what causes a company's success and failure, as well a deep insight into consumer behaviour and marketer-consumer relationships.


There will be sales as long as there are customers. As production of existing goods continues to increase and new products constantly get introduced to the market, there is increasing demand for sales experts to regulate consumers' interests and have them met accordingly.
Eligibility Criteria (UG & PG) of Sales
At different levels of study, the eligibility criteria for studying Sales are:
Entrance Exams for Course in Sales
Students interested in studying Sales have two options at the Bachelor's level. They can either study a Bachelor of Commerce with a Sales and Marketing specialisation, or they can opt for a Bachelor of Business Administration with specialisation in Sales and Marketing. The former is a Commerce-focused degree which covers the fundamentals of Commerce such as Finance, Economics, and Accounting.
Admission into the B.Com course requires Mathematics as an important eligibility criterion. BBA, on the other hand, is a course focusing on business and management and is a professional course which equips students with necessary management skills such as operational and managerial skills as well as marketing knowledge.
Entrance Exams for B.Com/BBA in Sales and Marketing
Admissions to this course are mostly conducted based on the students' marks in the 10+2 examination. Certain colleges, however, conduct their entrance exams such as-
Entrance Exams for M.Com in Sales and Marketing
Students who have completed their Bachelor degree in B.Com can further opt to pursue a Master degree in M.Com Sales and Marketing. Some of the entrance examinations conducted for admission into the top colleges for M.Com include:
Entrance Exams for MBA
MBA entrance exams are conducted both at the national level and the university level, with high demand for the course meaning high competition in these exams. Some of the top examinations which grant students admission into the best colleges for MBA include:
Scope of Sales in India and Abroad
A sales manager is in charge of coming up with sales strategies and plans for a company, setting goals and deciding the direction in which the team should head, all along the way. The pay for sales professionals is largely dependent on the targets achieved and level of performance that they display.
These professionals are needed in every field, in varying sizes of businesses for managing sales operations. As candidates gain more and more experience handling the sales for different kinds of businesses, their opportunities become more myriad and plentiful, and their careers can take any direction they'd like.
The scope, both in India and abroad, is enormous, considering the number of businesses large and small, some already operational whilst others keep cropping up every day. The need for sales experts cannot possibly diminish with the market growing and thriving at the rate it is.
Course Fees Sales
Minimum Fees
Maximum Fees
Private
Government
Private
Government
UG

27.00 K

B.Com in Sales at Devi Ahilya Arts and Commerce Jagdale College, Indore

---

Data not available

2.37 Lakhs

B.B.A in Sales at Geeta University, Panipat

---

Data not available

PG

6.80 K

P.G.D in Sales at All India Institute of Management Studies, Chennai

6.00 K

P.G.D in Sales at Gauhati University, Guwahati

49.45 K

P.G.D in Sales at Bharatiya Vidya Bhavan S P College of Communication and Management, Delhi

59.56 K

M.Com in Sales at Mangalore University, Mangalore

DIPLOMA

15.00 K

Diploma in Sales at CMJ University, Shillong

8.00 K

Diploma in Sales at Institute for Excellence in Higher Education, Bhopal

60.00 K

Diploma in Sales at Indian Institute of Business Management, Patna

8.00 K

Diploma in Sales at Institute for Excellence in Higher Education, Bhopal
Course Subjects
While many different courses are available for studying sales, there are some common important topics which are covered in each, for instance:
Business Organization and Management

Financial Accounting

Indirect Tax Laws

Company Law

Auditing and Corporate Governance

Fundamentals of Financial Management

Corporate Tax Planning

Management Concepts

International Finance

e-Commerce

Strategic Management

Accounting for Managerial Decisions

Statistical Analysis

Investment Management

Research methodology in Commerce

Corporate Financial Accounting

Economics of Global Trade and Finance

Commercial Bank Management

Organisation Behaviour
Careers in Sales
The field of sales is a performance-driven career. Highly competitive and challenging, this field of work keeps professionals constantly on their toes and can be highly rewarding when positive outcomes are found. Anyone who has a competitive streak and enjoys being rewarded for honest hard work is suitable for a sales career. While movies can give off the impression that sales are something of a combat sport, the truth is quite the opposite: the best salespeople work with their customers, not against them.


The primary focus at all times is to improve a client's business, and sometimes the stakes may be pretty high, making it all the more essential for sales professionals to be the best at what they do. A career in sales is highly lucrative, and when significant experience has been gained, the pay for the jobs in this field, too, is quite generous and can be comfortably lived on. For those who thrive in the adrenaline rush of competition, a career in sales is an absolute go-to.
Students also liked
Upcoming trends
A primary characteristic that sets apart the top-class and highly successful sales professionals from the others is their ability to identify sales trends and growth opportunities before their competitors.


This ability comes from spending time thinking about what is new in demographics, regulations, technology, economics, and how these changes can affect sales now and in the future. Some of the emerging trends in this area are:
1. Investing in Future Growth: The leaders in the Sales profession, when planning, make trend analysis an essential part of the process and identify forward-thinking as a mandatory part of the job. This helps them make sure to always grab the opportunities that result from sudden changes in the environment.
2. Capturing Value from Big Data and Analytics: Big Data and Analytics has been rapidly gaining popularity in the worlds of technology and business, with its enormous potential in applications requiring insights and drawing conclusions and possible predictions for trends in data.
3. Outsourcing the Sales Function: Outsourcing of the sales value chain has, for some time, been emerging as a popular trend. What's new is the automation of sales functions which enables third-party companies to assist with a business' end-to-end sales procedure.
4. Closer Collaboration with Marketing: Although seemingly inextricably linked, sales and marketing can have a lopsided relationship, each dominating where the other doesn't. In recent trends, sales experts have been aligning marketing with sales to enhance understanding of the target buyers and the journey they are making.
Job Profiles and Top Recruiters
Some job positions that are highly sought after in the Sales world are:


Job Profile

Description

Sales Specialist

Selling insurance, certificates of deposits, or other financial instruments. Evaluating costs and revenue, making financial presentations, contacting prospective customers, and reviewing business trends.

Marketing Executive

Creating strategies that help a company meet its objectives, conducting research, evaluating product demand, identifying a target audience, establishing pricing strategies.

Participating in package design, developing advertising campaigns, choosing media outlets, promoting the company's products.

Assistant Manager

Responsible for interviewing and recruiting quality people, helping employees who have difficulty picking up new skills, making sure new employees transitions run smoothly, keeping the staff in high spirits.

Business Development Manager

Facilitating business growth, developing training plans for educating and motivating employees to perform to their best. Planning for future development.

Planning Executive

Constantly communicating with team leaders, letting distribution supervisors know when an order will be ready, informing procurement officers how many supplies will be needed, attending meetings frequently to discuss the production.
Top recruiters in Sales
Canara Bank

Railway Recruitment Board

Nestle India

Cadbury India

YES Bank

Asian Paints India

Snapdeal

ICICI Bank

Bajaj Allianz

Kotak Life

State Bank of India
Average Salary
| | |
| --- | --- |
| Job Profile | Average Annual Salary |
| Marketing Executive | Rs. 2.47 lakhs p.a. (Approx.) |
| Assistant Manager | Rs. 5.81 lakhs p.a. (Approx.) |
| Business Development Manager | Rs. 5.63 lakhs p.a. (Approx.) |
| Planning Executive | Rs. 3.97 lakhs p.a. (Approx.) |
Required Skillset for Sales
A career in sales means a hectic lifestyle of planning, estimating, strategising and communicating. This line of work, although a little tiring, can be seamless if the professionals possess certain key skills such as:
Communication: Strong communication skills form the foundation of a successful sales career because it helps facilitate smooth relationships with clients and ensures that one can tactfully put across plans, ideas, and buyers' pain points.

Business Acumen: Sales experts should have strong business acumen so that they may use business-level information to communicate ROI and relevant pain points.

Negotiation: A critical skill in the business world, sales professionals, must follow a disciplined process of negotiation to avoid high-stake negotiations that may result in a loss.

Buyer Research: Sales professionals should always try to be on top of buyer-related information, for instance, market trends, types of buyers, the competitive landscape, etc. They should have strong research skills to keep track of buyers' companies and possible triggers for sales.

Time Management and Planning: Sales professionals often land with too much on their plates, and without effective time management and planning skills, it may be very difficult for them to tactfully deal with each of the pieces of work while ensuring there has been no oversight.

Storytelling: While storytelling may be considered a component of communication skills, this is a distinct requirement because sales experts must be clear and concise, authentic and engaging when pitching ideas to customers.

Judgement: Sometimes, sales reps need to make decisions very quickly without any time to weigh out the pros and cons. In such cases, they must be savvy enough in their judgement to make the right call.

Collaboration: When managing a group of people or a bunch of resources, sales reps must know how to orchestrate them well together.

Presentation: When making a presentation for a client, sales professionals must have the skills to keep it concise, to the point, and focusing only on what is important. A mistake as simple as wasting an impatient customer's time can cost the sales dearly.

Territory Management: Territory management is all about a sales expert's ability to analyse market factors and their target accounts because a high-potential territory which hasn't been maximised is the last thing anybody wants.

Social Selling: Social media being an integral platform for advertisement and sales today, sales professionals should know their way around social media networks, if not gain expertise in them.
Course Curriculum for Sales
The course curriculum for most sales courses offers enhanced knowledge and understanding of business operations and management. With an extensive curriculum covering topics in commerce, banking, management, finance, marketing, so on and so forth, the courses pave paths for future sales professionals or teachers, researchers, and professors.


The unique blend of core and elective courses that students are offered during these courses ensures unique training of all graduates, allowing them to decide the areas on which they would like to focus. Also, this unique training for every student makes them more useful to recruiters as well.
Popular Sales Colleges in India VIEW ALL
Frequently Asked Questions (FAQs)
Question: Which sales jobs pay the most?
Answer :
Some of the most high-paid, lucrative jobs in sales are the Sales Consultant, Pharmaceutical Sales Representative, Sales Assistant, and Business Development Representative, among others.
Question: What is the future of Sales?
Answer :
In the future, certain changes will come about in sales, for instance:
General Trade will continue to prosper for many years because 70% of the Indian population still lives in the lakhs of villages in the country. Ongoing trade with this faction will continue undisturbed.

Modern Trade will start to grow in the future once it reaches maturity. New stores are cropping up every other day, and with them, the contribution of modern trade in our overall sales are increasing steadily.

e-Commerce, while still relatively new, has already grown rapidly mostly in categories like grocery and personal care. In the future, it is expected to become a much larger and much more reliable source of electronics, fashion, accessories, and other high-end items.
Question: What are the durations of the B.Com and M.Com courses?
Answer :
The B.Com course is three years long, and M.Com is a two-year course.
Question: What are the career options immediately after B.Com?
Answer :
A plethora of options are available to fresh BCom graduates, including Business Consultant, Accounts Manager, Tax Consultant, Financial Consultant, Financial Analyst, Chartered Accountant, etc.
Question: Which are the specialisations available under B.Com course?
Answer :
Yes. Candidates have the option to choose B.Com, the general course also called B.Com pass, or they can go for specialisations like B.Com LLB and B.Com (Hons).
Questions related to Sales
Showing 87 out of 87 Questions
Interested in Sales? Find information around eligibility, career scope, jobs , colleges and exams and much more for free.