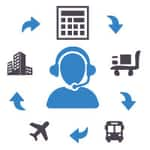 Materials Management
Degrees offered: B.A., B.E /B.Tech, Diploma, Executive MBA, M.E /M.Tech., M.Phil., M.Sc.
Q&A : 6.7 K Question
What is Materials Management
Materials Management is the grouping of management functions that support the flow of materials from purchase and production of materials to the planning and control of work in process to the warehousing, shipping and distribution of the finished product. Materials Management involves inventory management, value analysis, storekeeping, maintenance and upkeep of the inventories in hand and process.
The goal of materials management is to supply a continuous chain of production-related components so that things may be produced and delivered to clients on time. Materials management aims to guarantee seamless outflow and inflow of materials while reducing warehouse stock levels. Materials management also refers to making optimum use of the available resources. It is a specialisation in MBA offered by some of the selected institutes in India. The course has the greatest demand in the manufacturing industry right now as it forms the mainstay of the business in the Materials Management field.
Eligibility Criteria (UG & PG) of Materials Management
Undergraduate level
Candidates must have passed class 12th from a recognised board.

Candidates from all streams are eligible to apply for admission in this course.

A candidate must score at least 50% marks during their 12th with the minimum limit varying from college to college.

Admission is made based on the 12th marks in various colleges that offer BBA management courses.

Some colleges conduct their entrance exams for admission.

Students are then shortlisted and called for an interview and allocated colleges after the counselling process.
Postgraduate level
Bachelor's degree in BBA or degree in any other stream recognised by the University Grants Commission is the minimum requirement.

Candidates must have scored at least 60 per cent marks in the last qualifying examination.

CAT, GMAT and other national MBA entrance exam scores are accepted in many colleges and universities across India.

Eligibility criteria vary from college to college.
Entrance Exams for Materials Management
CMAT- Common Management Admission Test is an online National level entrance examination conducted annually by the National Test Agency of India. It is conducted to select students into all management courses approved by AICTE.
DU JAT- Delhi University Joint Admission Test is conducted to grant admission for the bachelor of management studies course. The DU JAT is two hours long and has a total of 400 marks which one can achieve. DU JAT consists of 100 questions with 4 marks allotted to each question.
IPMAT- Integrated Program in Management Aptitude Test is an online entrance exam organised by the Indian Institute of Management, Indore. This national-level test is conducted for a five-year integrated program in management. Quantitative ability and verbal ability of the candidates are tested in IPMAT. Candidates with a minimum of 60% or equivalent CGPA from a recognised board in class 12 are eligible to apply. IPMAT is conducted only once in a year.
XAT- Xavier Aptitude Test is an online admission test conducted to grant admission to MBA/PGDM courses in XLRI and other top colleges in India. XAT has four sections, namely verbal and logical, decision making, quantitative aptitude, data interpretation and general knowledge. There are a total of 100 multiple choice questions to be answered within three hours.
Scope of Materials Management in India and Abroad
Students having experience in the field of production can learn the techniques of materials and logistics management and implement them in daily operations. The previous point is for postgraduate studies. Undergraduate courses require basic knowledge on materials management and candidates who are interested in manufacturing as well as shipping, retailing fields are best suited for this course.
The administration of materials is one of the most common job paths with a bright future. The ultimate goal of a career is to safeguard the environment, make sure we only use what is necessary, and leave the remainder for a future that is sustainable. Both the public and commercial sectors provide a wide range of job options. People like them are needed in the corporate sector. Materials managers enable the supply chain to function successfully. Materials planning and control, purchasing, warehouses, and inventory management are the key topics covered by materials management.
An average salary for a Materials Management professional ranges at around Rs. 8-9 lakh p.a. (Approx.). It is a promising career option, as a range of job opportunities are available in materials management. The cost component of the total product cost must be least. To control this Materials Management professional strives to establish and ensure this control Materials Management professionals are hired tremendously.
Course Fees Materials Management
Minimum Fees
Maximum Fees
Private
Government
Private
Government
UG

1.53 Lakhs

B.B.A in Materials Management at RIMT University, Gobindgarh

30.45 K

B.A. in Materials Management at College of Vocational Studies, New Delhi

2.25 Lakhs

B.B.A in Materials Management at Jagannath University, Jaipur

30.45 K

B.A. in Materials Management at College of Vocational Studies, New Delhi

PG

9.00 K

P.G.D in Materials Management at All India Institute of Management Studies, Chennai

33.12 K

MBA in Materials Management at Madhya Pradesh Bhoj Open University, Bhopal

1.80 Lakhs

M.E /M.Tech. in Materials Management at University of Technology, Jaipur

45.00 K

P.G.D in Materials Management at Indian Institute of Materials Management, Bangalore

DIPLOMA

10.00 K

Diploma in Materials Management at CMJ University, Shillong

---

Data not available

34.00 K

Diploma in Materials Management at Indian Institute of Materials Management, Pune

---

Data not available
Course Subjects
Undergraduate courses in materials management cover a variety of subjects, including finance, business ideas, and other management themes. There are several mentions of BBA materials management topics.
Financial Accounting

Microeconomics

Business Statistics

Personality Development

Research Methodology

Consumer Behavior

International Business

Transport Management

Shipping and Transport Logistics
Materials management postgraduate programmes are three years long and cover a wide range of subjects. Among the topics covered in an MBA in materials management are:
Principles of Management and Organizational Behavior

Packing Distribution Management

Quantitative Techniques for Management

Total Quality Management

Managerial Economics

Corporate Communication
Careers in Materials Management
Materials Management is quite an interesting field with diverse career options. Jobs in private as well as public sectors are open to graduates of Materials Management course. Departments of purchasing, supplying and storing, public storing, and supply chain industries recruit materials managers.
An effective and efficient Materials Management technique is the key to achieve success in this domain. Proper management of resources and planned way of working is the way to safeguard the career in materials management. As the population of the country is getting large, resources are getting scarce. Thus, the requirement of a Materials Manager to maintain the smooth scaling up of the supply chain and import and export.
Students also liked
Upcoming trends
Big Data and Analytics- With the consistent digitisation of information and processes, the application of big data and the analytics and modelling I enable has become such a powerful trend. The main aim of big data is to discover useful information, suggest conclusions and support decision making. Especially in materials management, big data drives improvement in material handling to aggregate supply chain data across businesses.
Internet of Things- Internet of things and data communication built into physical objects that help them to be tracked, coordinated or controlled across data networks or via the internet. The Internet of Things supports communication and coordination across conveyors, automated storage and retrieval systems.
Mobile Technology- Use of tablets and smartphones and other gadgets constitute mobile technology. The business regime is ruled by mobile technology these days. Mobile technology is the primary platform for displaying data now and the future.
Advanced Robotics- Robotics has been used in material handling for some time. But a new generation of advanced robots has replaced those and implemented enhanced levels of sensing capabilities and algorithms that allow them to better sense their environment.
Job Profiles and Top Recruiters
Job Profiles Offered to Materials Management Graduates
Candidates can better understand their career goals and aspirations with the aid of job descriptions and profiles. A excellent job description outlines the requirements and responsibilities of the position for potential candidates. Below are some significant job roles and profiles.
| | |
| --- | --- |
| Job Profile | Job Description |
| Strategic Planner | A Strategic Planner works to shape the company's business strategy. They plan and assess a company's performance. Research and data analysis to inform business decisions is conducted by a strategic planner. |
| | A Purchasing manager seeks quality vendors or suppliers to provide quality goods at a reasonable price. They are responsible for negotiating prices and contracts, reviewing technical specifications for raw materials, components and equipment are also a purchase manager's responsibilities. |
| | A Supply Chain Manager manages every stage of production flow, from purchasing raw materials to the delivery of the final product. |
| Materials Analyst | A Materials Analyst performs various duties for a firm. He/she has to ensure that the company's inventory is up to date. And also, those materials are distributed on behalf of the company for smooth flow goods in the supply chain by materials analysts. |
| | A Procurement Manager is a supply chain and logistics professional specialised in ensuring cost-effective purchasing of all materials and services. |
| Sourcing Manager | A Sourcing Manager is responsible for analysing strategic sourcing and directing procurement expenditure. He/she also develops sourcing policies and creates cost estimates and forecasts. |
| Warehousing Manager | A Warehousing Manager is responsible for overseeing the warehousing and distribution operations. Implementing operational policies and procedures, ensuring the effective and safe use of warehouse equipment. |
Top Recruiters in Materials Management
Top recruiters for Materials Management are leading global firms, manufacturing industries, shipping, corporate companies and many more. Names of a few top recruiters are as follows,
ACC Limited

Accenture

CTS

Global services

Infosys

ITC

Pepsi

Reliance

R Systems

Infocomm

Stagen

Whirlpool

Wipro

Zenith computers

ANI

IFC
Average Salary
Below is a list of the common job descriptions that are available, along with an estimate of their respective annual salary levels. The amount below is an approximation; actual packages vary based on a range of factors, including the candidate's qualifications and work experience.
| | |
| --- | --- |
| Job Profile | Salary |
| Strategic Planner | Rs. 7-10 lakh p.a. (Approx.) |
| Purchase Manager | Rs. 3-7 lakh p.a. (Approx.) |
| Supply Chain Manager | Rs. 6-8 lakh p.a. (Approx.) |
| Materials Analyst | Rs. 4-7 lakh p.a. (Approx.) |
| Procurement Manager | Rs. 6-8 lakh p.a. (Approx.) |
| Sourcing Manager | Rs. 8-10 lakh p.a. (Approx.) |
| Warehousing Manager | Rs. 5-7 lakh p.a. (Approx.) |
Required Skillset for Materials Management
Analytical and Problem-solving Skills- Materials managers must possess great analytical skills to know when supply level needs to be fuelled. Basic math skills will help materials managers compare prices and track budgetary goals. Materials management demands skills like problem-solving, ability to work as a team, leadership and organisation skills.
Negotiation and Communication- Good negotiation skills play a vital role as material managers need to settle upon plausible terms of a contract with suppliers. Also, Clinical knowledge about healthcare products is a must. Strong communication skills for effectively conveying purchasing information to vendors, staff and executives are essential.
Technical Skills- Computer knowledge is necessary since most of the healthcare services have digitised their inventory. Proficiency in MS Office and working knowledge of SAP MM are specific requirements.
Other Skills- Excellent organisational and leadership skills are mandatory for material managers. Knowledge about supply chain and inventory management system is needed. Understanding of forecasting and budgeting is a requirement. Experience in shipping and receiving is expected in recruitment.
Course Curriculum for Materials Management
Materials Management course deals with a thorough study of material related activities and how to carry them out in a cost-effective manner. Communication and negotiation skills required for the material industry is imparted through the course to the students. The main goal of the material manager is to reduce the cost without compromising the quality, the hank to do that is taught in materials management course. Understanding of the function that increases the profitability of a business organisation is inculcated into the students. The importance of the materials department in an organisation is understood well by the end of the course and candidates develop themselves as able managers in the evolving materials industry.
Popular Materials Management Entrance Exams in India
Exam Date: 11 Feb, 2023 - 12 Feb, 2023
Popular Materials Management Colleges in India VIEW ALL
Frequently Asked Questions (FAQs)
Question: What is the role of the materials management graduate?
Answer :
A materials management graduate is responsible for managing inventory and purchasing procedures of raw materials and other supplies within a country. Successful material managers possess excellent organisational skills and must possess a deep understanding of forecasting and budgeting.
Question: What are the key responsibilities of a materials manager?
Answer :
Managers just don't go and haphazardly perform their responsibilities. Managers discover how to master the following five skills, which are, namely, planning, organising, staffing, leading and controlling. Under these come the other responsibilities of a materials manager.
Question: What are the skills required to be an effective materials management graduate?
Answer :
Excellent organisational skills and planning skills, verbal and written communication skills are a basic requirement. Interpersonal skills and the ability to work well are very necessary. Proficient with inventory reporting systems and familiarity with supply chain and inventory management systems. Planning, control and performance improvement, and operations strategy are the gateway to get a career in materials manager.
Question: What are the benefits of materials management?
Answer :
Materials Management is useful in the areas of bulk materials surplus, manpower management, labour productivity, and more. Management also deals with an adequate supply of materials as and when required for the smooth production process and prevents overstocking and understocking of materials.
Question: What is the scope of materials management?
Answer :
Materials Management is the way to ensure that the material cost component of the total product cost is least. Materials handling is responsible for supplying materials to various departments. Logistics is an important part of supply chain management that deals with planning, scheduling, and control of the supply chain, which is a sequence of organisations and functions that mine. It is a vast department for pursuing a career.
After knowing the numerous and distinct job roles in materials management, one can choose one according to his/her interest and start working for an organisation.
Questions related to Materials Management
Showing 4237 out of 4237 Questions
Courses Similar to Materials Management
Interested in Materials Management? Find information around eligibility, career scope, jobs , colleges and exams and much more for free.