MBA in Agri-business Management Course, Eligibility, Admission, Syllabus, Subjects, Career Growth
An MBA in Agriculture Business Management is a full-time management program. It focuses on agriculture and related activities. An MBA in Agri-Business is one of the fastest-growing fields of entrepreneurship and professionalism. The course is related to the business of food production, crop cultivation, and the various related business concepts in agriculture.

The MBA Agriculture Business Management syllabus explores the full range of agricultural products grown in India and their importance and requirements. The course seeks to understand and innovate ways and means of protection and conserving agricultural resources, and conducts ongoing research in farm maintenance, and focuses on their relevant objectives and performance in business operations.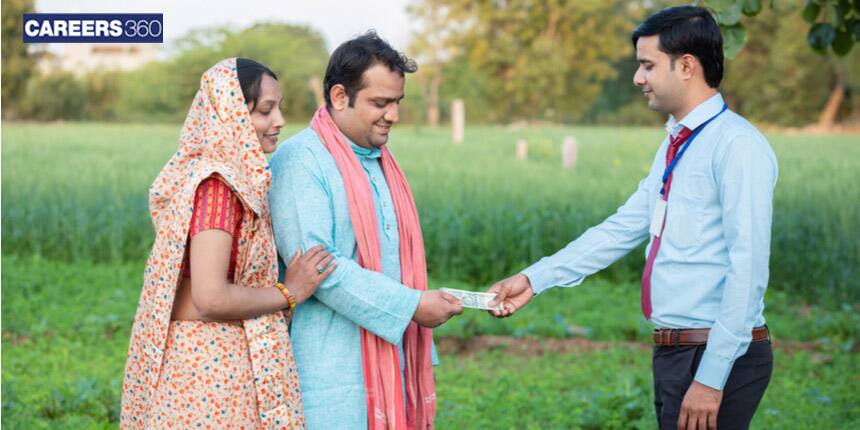 What is Agri-Business Management?
As India ranks second in the world in agricultural and farm production, this course ensures a good career opportunity for those who follow the discipline. Agri-Business Management course has all the kinds of links with the area like agriculture processing, agriculture input, agriculture production, manufacture, and agriculture marketing.
This MBA in Agri-Business Management course also covers a range of aspects of economics besides broader sectors of management like Finance, including commodity training, lending, microfinance, taxation, marketing, and essentially, supply chain management, rural marketing.
The course involves concepts of production, marketing, and trading of agriculture-related products. Let's discover the career opportunities and scope of the MBA in Agri-Business Management programme.
MBA in Agri-Business Management Eligibility
Candidates interested in pursuing an MBA in Agri-Business Management can look at the eligibility criteria given below:
A minimum of 50% aggregated marks in graduation (BA, B.Com, B.Sc, BBA, BCA, B.Tech etc.) from a recognized institute.

Graduation in Agriculture/ allied farming as the main subject.

Students who are in their final year of graduation are also eligible to apply for this course.
Popular Colleges in India offering MBA
MBA in Agri-Business Management Skills Required
Candidates interested in exploring and resolving agriculture and farmer-related grievances in the Indian farm landscape as an educational field for all farmers can opt for an MBA in Agri Business Management. This course is most suitable for candidates who are making positive changes in the agricultural scenario of the country through research and practical application.
Ability to work with clients with diverse interests.

Problem-solving skills.

Leadership skills.

Good communication skills.

Knowledge of local languages.

Analytical reasoning.

Willingness to work in rural areas.

Ability to handle masses.

Interest in farming, planning, etc.
Browse MBA in Agri-Business Management Colleges by states
MBA in Agri-Business Management Syllabus
Candidates wishing to pursue an MBA in Agricultural Business Management should have an understanding of the curriculum and the key subjects taught to them in this course. Below is a list of subjects that are part of the MBA in the Agricultural Business Management syllabus.
| | |
| --- | --- |
| Managerial Economics | |
| Communication Skills | Principles of Management |
| Marketing | |
| Computer application | |
| Finance management | Operations research |
| Rural marketing | Agribusiness environment and policy |
| | Supply chain management (agricultural) |
| Risk management | Agribusiness cooperatives |
| Banking and insurance management | |
| Commodity markets and trading | Business law and ethics |
| Project work | - |
Browse MBA Colleges By Cites
Browse MBA Colleges By States
MBA in Agri-Business Management Admission
To get MBA admission in Agri-Business Administration, students have to appear for one of the popular entrance exams conducted for management combinations like CAT, XAT, CMAT, ATMA, or some company-specific exams.
Students are not selected on the basis of wiping the entrance test after clearing the entrance, candidates should also appear for group discussion and personal interview rounds for enrolling in MBA in Agri Business Management.
MBA in Agri-Business Management Top Colleges & Fees
The table below has the list of the colleges along with the eligibility, duration, and the exam and selection process for MBA in Agri-business Management:
MBA in Agri-Business Management Job Opportunity & Salary
As India is an agricultural economy, there are a lot of job opportunities for graduates and postgraduates in the field of agriculture. After studying MBA in Agri-business Management, students can apply for management-level jobs in this field where they will be responsible for planning and making important decisions.
Jobs after MBA in Agri-business Management are available in government as well as private sectors. Candidates can apply for positions such as Agri-business Marketing Coordinator, Farm Manager, Agri-business Office Assistant, Farm Auditor, Agricultural Analyst, Market Analyst, Crop Producer, Quality Controller, Agri-business Food Manager, etc.
Companies that hire graduates in Managers in this field include government organizations such as PepsiCo, NABARD, NBHC, Parle, Bayer Crop Science, Eicher, Britannia, NCML, etc.
Below are the most popular job positions offered after MBA in Agri-Business. Related job descriptions and salaries for each character are listed.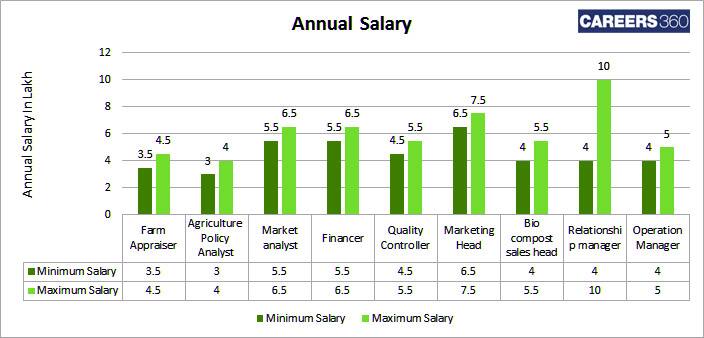 | | | |
| --- | --- | --- |
| Job Profile | Description | Average Annual Salary |
| Agriculture Policy Analyst | Responsible for formulating and analyzing policies affecting agribusiness | Rs 3-4 LPA |
| Bio compost sales head | Responsible for raising awareness among local customers and directing sales promotion activities. | Rs 5 LPA |
| Financer | Responsibility for providing financial assistance to agribusinesses such as matching crop suppliers with farms. | Rs 6 LPA |
| Quality Controller | Responsibility for focusing on improving the output and quality of a farm product. | Rs 5 LPA |
| Marketing Head | Responsible for a company's leading marketing strategy, creating awareness and buzz. | Rs 7 LPA |
| Farm Appraiser | Responsibility for valuing a farm, its staff, and its facilities. They operate when the farm is mortgaged, sold, insured, and developed. | Rs 4 LPA |
| Market analyst | Responsibility for analyzing the financial position of the agribusiness economic market | Rs 6 LPA |
| Operation Manager | Responsible for improving operational systems, processes, and policies in support of organizational work- especially better management reporting, management information flow, business process, and organizational planning. | Rs 4-5 LPA |
| Relationship manager | Responsible for dealing with individual retail clients, advising on various banking and financial products and services offered by the bank, and serving corporate clients such as SMEs or large companies. | Rs 4-10 LPA |
Know more about other MBA courses
Frequently Asked Question (FAQs) - MBA in Agri-business Management Course, Eligibility, Admission, Syllabus, Subjects, Career Growth
Question: What should I choose between XLRI Jamshedpur HRM and IIM Ahmedabad PGP-FABM provided that I am an agricultural engineering student?
Answer:
If one has completed a degree in agricultural engineering, it would make more sense to pursue agribusiness management. Both HRM and FABM are widely differentiated and specialize in management, IIMA, and XLRI topping these specified courses, respectively.
Question: What is the placement scenario and scope of the IIM PGP Agri-Business Management (ABM) program in general and with special reference to IIM Lucknow?
Answer:
IIM Lucknow, with details for the Agri-Business Management (ABM) course, can study additional subjects related to agribusiness every three months. In the final year, there is a restriction on the selection of core subjects. In terms of placements, you will be given the same opportunities as any other PGP student.
Question: Which college is better for an MBA in Agribusiness Management, SIIB Pune, or Manage Hyderabad?
Answer:
Founded in 1992, the Symbiosis Institute of International Business (SIIB) in Pune is part of the well-known Symbiosis Institute of Management (SIM). The National Agricultural Extension Management Agency (NAEMA), also known as Manage, was established in 1987 by the Ministry of Agriculture.
Question: How is an MBA in Agribusiness Management at KIIT School of Rural Management (KSRM)?
Answer:
The MBA is a new subject in the agri-business management program offered at KIIT School. It was launched in 2019 and the first batch will graduate in 2021.
Question: I am interested in the PGP-FABM of IIM Ahmedabad. I am 25. X-86.7%, XII-70.3%, B.Tech-62.5%. AR-17. 1+years of work-ex in Accenture. What are my chances?
Answer:
PGP-FABM does not specify a strict limit on the marks to be obtained, except for at least 50% of the degree at a university recognized by the UGC. Furthermore, any candidate from any background can apply for the application except that they are not students belonging to the fields of Agricultural or Agriculture Science.
MBA in Agri-business Management Course, Eligibility, Admission, Syllabus, Subjects, Career Growth