B.Tech in Production Engineering: Course, Eligibility, Syllabus, Scope, Fees
B. Tech in Production Engineering is a branch of engineering closely related to mechanical engineering wherein the production engineers are trained to improve the efficiency and effectiveness of manufacturing and service sector industries. Production engineering is a combination of manufacturing technology which is a part of mechanical engineering with management science, whereas a production engineer deals with engineering practices and management challenges related to production in diverse industries. Candidates opting for the course B.Tech in Production Engineering has wide applications in casting, joining processes, metal cutting and tool design, metrology, machine tools, machining systems, operation research, quality control, mechatronics, etc.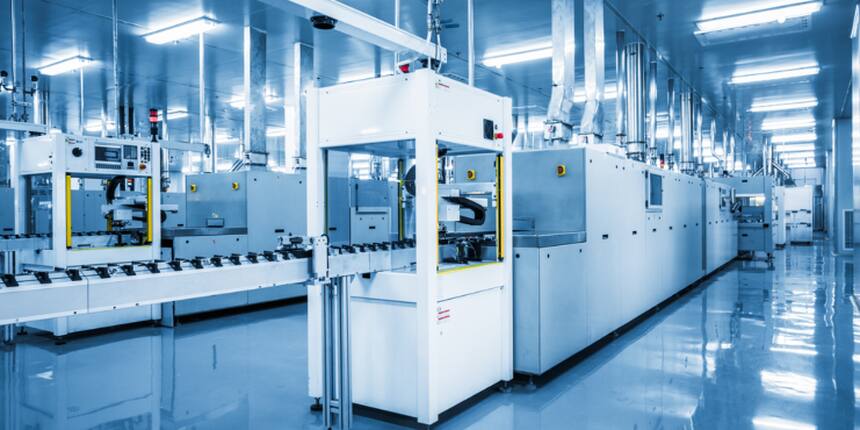 In brief, it can be said that the production engineering deals with the integrated design and efficient planning of the entire manufacturing system.
Production engineering, also known as manufacturing engineering, deals in planning, designing, developing and managing various processes to produce high-quality products. From Industrial engineer to production manager and from production B.Tech in Production Engineering assistant to manufacturing engineers, production engineers work in various fields and hold different titles.
In India, many reputed colleges like IITs and NITs offer this course and after completing this course it opens up a lot of career opportunities.
B. Tech in Production Engineering: Overview
| | |
| --- | --- |
| Course Name | B.Tech in Production Engineering |
| Duration | 4 years |
| Eligibility | 10+2 or equivalent from a recognized school board (Science stream is mandatory) |
| Admission Process | Entrance test/ Cut-off |
| Fees | Up to INR 7 lakhs |
In India, most of the technical institutes offer B.Tech in Production Engineering as a full-time program at the undergraduate or postgraduate level. Students also have the option of further pursuing a Ph.D. in the same field.
Besides a full-time degree, some institutes also offer a diploma in Production Engineering. However, the number of such colleges is less. Take a look at the type of production engineering programs offered in India:
Simply it can be said that production engineering is the design, development, implementation, operation, maintenance, and control of all the processes in the manufacturing of a product.
Production Engineering is also known as manufacturing engineering. As the name suggests, this discipline deals with multiple aspects that are directly and indirectly related to the manufacturing process.
B.Tech in Production Engineering is a multidisciplinary field. It consists of elements belonging to the following domains –
Manufacturing Technology

Engineering Sciences

Management Science
Production management is very important in manufacturing firms. It helps keep costs under control, it helps improve productivity, it helps maintain the quality of the product without increasing the cost of production. In short, production engineering offers monetary benefits as well as an advantage in terms of productivity and quality of the product! This is the main reason why manufacturing firms have a core production engineering team and system!
Production is not a simple process. A production process can easily run into obstacles and a wide variety of problems. A skilled production engineer is capable of applying management science to production processes and solving these problems.
Some of the key factors which are mandatory for a Production Engineering engineer to be successful are:
Strong theory foundation which will help in programming and eventually help in updating their skills and learning new skills.

Hands-on training in technical details & information

Practice-oriented approach with completely equipped laboratories where students can get a strong foundation of industrial aspects of Production Engineering.
How to get admission in B. Tech Production Engineering? (Admission Process)
Bachelors of Technology in Production Engineering is one of the most sought after B. Tech courses by students who prefer to be innovative and create something new in the field of Production Engineering. The admission process to B.Tech in Production Engineering has some stages to it which need to be cleared to take admission. It is generally through an entrance based examination which students need to take to make a career start in Production Engineering.
There are several documents a candidate must keep ready when trying to take admission in B.Tech in Production Engineering.
Marksheets for 10th & 12th standard

Passport size photographs

Passing certificates for 10th & 12th standard

Character certificate

Transfer certificate (in case of going outside hometown to study)
Top Exams for B.tech in Production Engineering
Below is a list of exams that aspiring candidates can take for making a career in the field of Production Engineering.
JEE Main - Joint Entrance Examinations Main is a test conducted at a national level for admission to top tier engineering colleges within India. Popularly known as the first phase to get admission in the top engineering institutes across India. A cut-off list is released by NTA (National Test Agency) after the successful conduction of the exam and those candidates who are deemed eligible on the basis of this cut-off list can appear for the second phase of this exam.


JEE Advanced - Joint Entrance Examinations (JEE) Advanced level refers to an entrance test viable for students who have cleared their 10+2. JEE is an exam that checks for quality among candidates rather than quantity. Therefore, a student needs to be thorough with their topics before attempting the JEE advanced examination.

BITSAT- It is a national level exam conducted by BITS Pilani for admission to Integrated First Degree programs like B.tech and 5 years integrated courses with B.tech and M.tech offered at BITS campuses in Pilani, Goa, and Hyderabad. BITSAT is most sought after examination after JEE mains and Advanced. Students who do not happen to clear JEE mains and advanced, BITSAT comes as a new opportunity for them which is at par with some good NITs and few newer IIT.
Also Read: B.E /B.Tech Colleges in India
Eligibility Criteria for B.Tech in Production Engineering
Things which every candidate needs to keep in mind are:
Students should pass 10+2 (Science stream a must) or its equivalent from any recognized board.

The qualifying examination should be with Physics, Chemistry, Maths and an extra subject of the students' choice

Students should secure at least 50% in their aggregate percentage
There are various institutes which provide a variety of courses for a variety of streams. It is vital for candidates to choose the best institute to kick start their career in the right direction. B.Tech in Production Engineering is a course which if done from a reputed college can create wonders for students' future. Some of the top institutes which offer this program are:
There are other institutes that also provide the same course, however, candidates need to check thoroughly the accreditations and university affiliations before taking a plunge in the deep waters.
Other Engineering Institutes in India are
Career Prospects/Job Opportunities for B.Tech in Production Engineering
The scope of production engineers in India and abroad is tremendous and it is rising with time and demand. With a degree in production engineering, these individuals are hired across various industries including Pharmaceuticals, Research Labs, Manufacturing sector, Communication sector, Travel, Sports, Health, and Information Technology, etc. The career prospects in these industries at various posts are very good. One can reach a higher position in these industries if starts at a young age.
Here are the types of jobs production engineers can get after pursuing a course in the field:
Production Engineer

Engineering Plant Production Manager

Process Engineer

Industrial Managers

Quality Engineers

Management Engineer

Operations Analyst

Manufacturing Engineer

Architectural and Engineering Managers

Cost Estimators

Health and Safety Engineers

Industrial Engineering Technicians

Industrial Production Managers

Management Analysts

Occupational Health and Safety Specialists and Technicians
Production Engineers are hired by both public as well as private sector companies. Below is the list of some reputed firms which employ production engineers and hire mostly from the campus placements for the industries.
NTPC (National Thermal Power Corporation)

Hyundai

ONGC (Oil and Natural Gas Corporation)

L & T

SAIL (Steel Authority of India Limited)

Mahindra & Mahindra

Geometric

Ashok Leyland

Suzuki

Tata power

Godrej

Bharath Heavy Electrical Limited (BHEL)

Indian Oil Corporation Limited (IOCL)

Hindustan Petroleum Limited

National Thermal Power Corporation

Aditya Birla

Larsen & Toubro

Indraprastha Gas Limited

Cairn India

Reliance Industries

Sterlite Industries
These companies are very reputed in India as well as abroad. Hence one can get a chance to work out of India if he performs well in his domain. Hence it can help one to get International exposure as well.
B.Tech in Production Engineering: Salary Trends
For a Production Engineering engineer, pay scale depends on various factors such as:
Highest educational qualification obtained and college reputation

Work experience

Expertise in the field

Location of work

Skills set etc.
The initial pay scale is average in this new field of Production Engineering as compared to other popular branches of engineering, and with a gradual increase in work experience, it can go up to INR 60,000 - 70,000 per month. People at the management level can earn up to or more than 1 lakh INR per month. Graduates in B.Tech in Production Engineering, if going for higher studies, then in teaching as a lecturer or a professor the starting salary is 50,000 INR, however, a doctorate degree can increase the pay scale. In abroad, the annual salary for Production Engineering engineers is $60K to $80K. So all in all from the perspective of salary, Production Engineering engineering can be considered for a student who has an interest in the field of Production Engineering.
| | | |
| --- | --- | --- |
| Domain: Production Engineer | Years of Experience | Salary Figures |
| Entry/Junior Level Salary | 3 yrs. - 5 yrs. | INR 7 lakhs p.a. - INR 14 lakhs p.a. |
| Middle-Level Salary | 12 yrs. - 15 yrs. | INR 15 lakhs p.a. - INR 30 lakhs p.a. |
| Senior Level Salary | 18 yrs. - 25 yrs. | INR 30 lakhs p.a. - INR 55 lakhs p.a. |
Conclusion
B.Tech in Production Engineering as discussed above is an emerging field where it is being famous and being offered by various colleges to increase the efficiency and effectiveness of the industrial process. Hence prospects of future in Production engineering are bright and one can go for it if they have an interest in devising strategies to improve the efficiency of an industry by closely monitoring the various stakeholders involved, the process and supply chain. There is a rise in demand for production engineers in the industries and hence it is as lucrative as other core branches of engineering. Students aspiring for this job in which they get a chance to work in diverse roles, then Production engineering can be a good option for such students.
Other Relevant Links
Frequently Asked Question (FAQs) - B.Tech in Production Engineering: Course, Eligibility, Syllabus, Scope, Fees
Question: What is B.Tech production engineering eligibility?
Answer:
Candidates willing to pursue BTech in production engineering should have passed class 12 or other equivalent examination. They must clear the entrance examination or apply for admission on the basis of merit, as the case may be.
Question: What does a production engineer do?
Answer:
A production engineer is responsible for dealing with the production machinery, maintenance, repairs, etc.
Question: What can I do after production engineering?
Answer:
Candidates may pursue higher studies or go for a job. Private as well as public job sectors require production engineers for various industries.
Mechanical Production Engineering Updates and Articles