Who is a Logistician?
The line between disorder and order lies in logistics ~ M. Cox
In career as logistician, individuals are those who analyse and coordinate an organisation's supply chain. Are you searching for a logistic job description? Do you ever wonder how a raw material reaches the factory or how something you ordered online reaches your doorstep? It is the job of a logistician to take care of it. Individuals who opt for a career as a logistician are the part of the system that moves a product from supplier to consumer. He or she manages the entire life cycle of a product, which includes how a product is acquired, distributed, allocated and delivered. Logisticians work in nearly every industry. It is a job filled with responsibilities as a delay in delivery of any product or service can cause huge damage to the company or organisation that a logistician is working for. Students can pursue Logistics and Supply Chain Management courses to opt for a career in logistics in India. Here, in this article, we will discuss a career in logistics in India, a logistician career path, how to become a logistician, types of logistics jobs, is logistics a good career, logistics degree.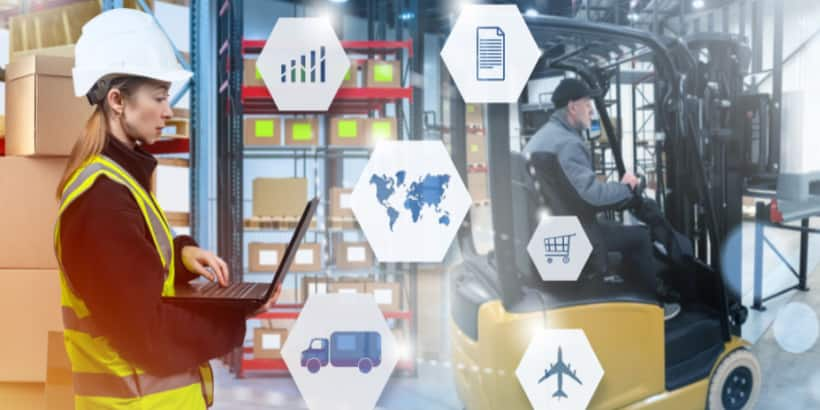 Logistician in a Nutshell
A career in logistics in India can be challenging at times but every company or business requires a logistician. It is up to the organisation if it wants to outsource the logistics work, which is to hire a company that has expertise in the field of logistics or the organisation could have a logistics department of its own. Individuals who opt for a career as a logistician cannot afford to miss out on the deadlines as the client's work is dependent on it. If you are also thinking of making a logistic career, then continue reading the article, it will answer all your questions related to the field.
Quick Facts for Logistician
Average Salary in India

₹32500

Suitable for

Male, Female

If an individual wish to become a logistician then there are no restrictions based on his or her gender. It does not matter which gender he or she belongs to when it comes to opting for a career as a logistician. Although it is a field dominated by men, there are no restrictions imposed on anyone whether a man or a woman if he or she wishes to become a logistician.

Any special needs

Yes

When it comes to taking up a career as logistician it is better to be physically fit for a better and efficient way of working. There is a lot of field work involved in the field of logistics. But, there are several people who manage the work in office surroundings as well in order to enable the supply chain of a company or organisation to run smoothly. Therefore, if an individual is differently abled then he or she has the choice to choose a desk job.
Table of Contents for Logistician
What is the role of Logistician?
Individuals who opt for a career as a logistician oversees activities including purchasing, shipping and transportation, inventory, warehousing, and delivery. He or she is responsible for directing the movement of a range of goods, people, or supplies, starting from common consumer goods to military supplies. Individuals who opt for a career as a logistician use sophisticated software systems to plan and track the movement of goods as it automates a major part of the process. He or she operates software programmes that are specifically designed to manage logistical functions, such as procurement, inventory management, and other supply chain planning and management systems.
Manage product
As a logistician it is an individual's job to manage the entire product cycle right from the beginning. He or she takes care of each and every step that occurs in between the designing of the product till the time it is fit to be dispatched. One needs to make sure that the product is packed well and would not break or damage while in transit.
Allocation
A logistician has several job functions to carry out, one of which includes allocation of materials like supplies and products. There are times when a logistician needs to store products for a certain period of time due to several possible reasons therefore, he or she must allocate a space for them. Before, he or she allocates a space one must keep in mind that the quality of the product should not be hampered due to the place of storage.
Understand Client
A logistician must be able to understand his or her customers in order to be successful. He or she must develop business relationships with all the suppliers and clients one is working for. By establishing a good understanding a logistician can deliver his or her work in a better manner which would increase one's credibility. Being credible in this field helps an individual gain more and more clients.
Improvement of system
A logistician constantly works towards improving his or her service. It is an essential step in order to increase one's client base. Therefore, he or she reviews all the logistical functions and identifies the areas for improvement. A logistician proposes strategies in order to cut down the cost or time required in transporting the goods.
Types of a Logistician
If you want to establish a logistic career. We have several other options for you that you might like such as warehouse executive, supply chain manager, operations executive and numerous others. We understand that you have other questions in your mind such as 'how to become a logistician' or 'education requirements of a logistician.' No need to worry, we have all answers to your questions. Keep scrolling and reading the article to know more about the types of logistics jobs.
Warehouse Executive: Every logistics company has a warehouse in order to store the goods or supplies for the required period of time. Someone has to take charge of the warehouse and make sure that everything is in place and the product stored does not damage. A warehouse executive is hired in order to carry out these functions. He or she also keeps a record of all the products that go in and out of the warehouse for future reference.
Supply Chain Manager: As a supply chain manager, an individual oversees and manages each and every stage involved in the production flow of a product, from purchasing the raw materials to the delivery of the final product. He or she is required to ensure the right amount of product is made at the right time, as well as coordinate the storage of the product with his or her team members. As a supply chain manager, it is an individual's job to deliver the final product from its point of origin to its point of consumption.
Operations Executive: An operations executive is responsible for keeping track of the entire logistics process. It is an important role as it helps him or her to communicate with the higher management authorities involved in the supply chain circle in order to come up with better strategies. It helps the organisation in saving time as well as money, ultimately increasing the profit.
What is the workplace/work environment of Logistician like?
Individuals who opt for a career as a logistician spend some of his or her time in the office environment but most of the time is spent in outdoor locations managing the delivery of the product. Having said that, there are several production logistician job positions in the supply chain department that require an individual to work in the office itself. These are managerial positions.
Does Logistician require travelling?
Not Likely
It is not a full-time travel-based logistician job but there are several occasions where a logistician may have to travel to locations such as the warehouse or in order to meet a client. The travel dependency of this job is applicable to people generally working in the field.
Employment Shifts
Full Time
The employment shift in a career as logistician is full-time in nature. The duration is generally not fixed but it ranges roughly between 40-45 hours a week. It often stretches depending on the workload on the individual.
Employment Nature
Contractual, Permanent
Logistician job work hours are not fixed. One may have to work during the weekends as well. Individuals who opt for a career as a logistician are hired either by a company or an organisation on a full-time basis but a client may hire a logistics company on a contractual basis.
Work Place
On-Field, Office
In career as logistician, individuals demand to spend more time in travelling outer locations than spending work hours in the office.
Presence in Geographical Area
Semi-urban, Urban
Individuals who opt for a career as a logistician mostly functions in urban or semi-urban locations.
Time Pressure
Likely
A logistician job is hectic at times. One works under a lot of pressure especially when a big client is involved. He or she has a lot of work to do till the time a product is dispatched.
Overtime Details
A career in logistics in India may involve working overtime in order to meet the client's need or deadline.
Weekly Hours of Work
Min 45 Hours
In career as logistician, individuals work around eight to nine hours on a daily basis. Depending on the number of clients and workload it may stretch.
How to become a Logistician?
What are the skills and qualities required to become a/an Logistician?
If you wish to establish a career in logistics in India, then you must develop the logistician skills to enhance your CV and acquire interesting roles. We have mentioned below major logistic skills that will support you throughout your career.
Decision-making skills: It is essential that a logistician is decisive in nature. There are several instances where a logistician is supposed to make decisions for the betterment of the strategy or approach used in the company. He or she needs to be calculative as well as selective about the process involved in order to deliver a product from its origin to the place of consumption. One needs to make decisions with the thought of what is best for the company he or she is working with at the moment.
Communication skills: In career as logistician, individuals demand good command of the language. It is important for a logistician job position to be able to explain the message to the client or recipient clearly and precisely. Being able to communicate well eliminates the probability of errors as well as ambiguity in the mind of the receiver. Being able to understand the problem and clearly explain the solution to the logistics team is required in this job and one must be good in his or her communication skills in order to be able to carry out these functions properly.
Passion: A logistician should be passionate about his or her work. A successful logistician should be passionate enough to learn all the ins and outs of the supply chain department. He or she should be aware of the competitors as well in order to have a better approach towards work. Not only that, when it comes to a logistician's work it tends to get stressful many time therefore, one needs to be driven and motivated to do well.
Negotiation skills: A logistician of wider experience who is working for a firm may have to negotiate with his or her clients or customers. Individuals who opt for a career as a logistician are responsible for making an appropriate deal with the employer which can benefit both his company as well as the client who is involved. It helps in maximising the company's profit.
Which certifications and internships can be helpful in becoming Logistician?
Internship Availability
Yes
The logistician career path can become hectic at times therefore if an individual is planning to join it professionally he or she must do an internship. An internship helps a student in gaining knowledge about his or her desired profession. Not only that as an intern in the profession of a logistician one gets to learn a lot while working in the field rather than knowing the theoretical aspects about it. There are plenty of logistical jobs for individuals with adequate training and skills.
An internship also enables the candidate to make connections in the field for future use. If he or she performs well during the internship several logistics companies or organisations which provide assistance in the hiring process could also hire the candidate on a full-time basis. The candidate can get an internship either through an online medium or he or she could also contact any sports agency or firm.
Career Path Progression for Logistician
A career as a logistician comes up with various progressive roles with experience in the field. There are various types of logistics jobs. Candidates can find various logistical jobs based on their degrees in logistics and work experience.
Logistics Account Executive: A logistics account executive is an individual who is responsible for generating leads, building relationships and producing sales with potential and current customers while providing better or superior customer service. Much of his or her time is spent communicating with customers and carriers in matters relating to freight shipments and maintaining records of a shipment.
Logistics Coordinator: As the name suggests a logistics coordinator facilitates communication between production, sales and distribution stages to promote a seamless and efficient supply chain. His or her responsibilities often include coordinating with transportation providers to ensure prompt and proper movement of shipments.
Logistics Manager: A logistics manager's responsibilities include organising and monitoring the storage and distribution of goods without any trouble. The goal is to manage the entire order cycle so as to enhance business development and ensure sustainability and customer satisfaction.
Logistician Jobs and Salaries
Logistics Account Executive
Monthly Salaries
Average Salary

25000

Junior Level Salary

23000

Senior Level Salary

30000
Job Description
As a logistics account executive it is the responsibility of an individual to provide the best possible customer care to the existing client. Not only that he or she also works behind getting more client leads for an organisation.
Salary Description
The salary of a logistics account executive majorly depends on the scale of operation of his or her company. Large scale companies pay more than small-scale ones.
Logistics coordinator
Monthly Salaries
Average Salary

40000

Junior Level Salary

38000

Senior Level Salary

50000
Job Description
A logistics coordinator is one point of contact between the production, sales and distribution department. It is an important designation in a logistics company as coordination between these three fields enables the logistics team to deliver a client on time.
Salary Description
The salary of a logistics coordinator is decent. One needs to acquire an experience of minimum three years in this field in order to reach this designation. Therefore, the salary is quite decent.
What is the job outlook for Logistician?
Candidates who wish to become logisticians experience quite significant job growth. As and when the student gains knowledge and experience he or she steps up the ladder of designation in this field. Since the logistician career path is vast and it continues to grow, there are plenty of growth opportunities. Ever since the concept of e-commerce boomed across the globe the logistics field started to gain more and more business. The manufacturing and retail companies comprise the maximum number of logisticians as compared to any other industry. While the market for logisticians is expected to grow faster than the average of most of the careers, at a rate of 18 per cent by the end of 2025. It is one of those branches of a company that includes positions ranging from a delivery boy to a strategy executive. There may be a high level of competition for the top supply-chain field's positions, according to the Bureau of Labor Statistics. It is mainly due to an increase in people shifting to e-commerce websites as well as companies outsourcing their logistics to a company specialised in logistician career path.
Frequently Asked Questions for Logistician
Que. What is the scope of logistics in India?
Ans.
Logistics industry in India is growing rapidly. It is a huge field with several opportunities for talented and energetic future managers both in India as well as abroad. The scope of BBA Logistic supply chain Management & logistics is flourishing every day, as the numbers of e-commerce websites, retail and FMCG companies are increasing in India.
Que. Are logisticians well paid?
Ans.
A logistician can be paid an average amount of money. But after working for a few years one can climb up the managerial positions and he or she can be paid well. A supply chain manager of a renowned company can be paid as much as Rs. 1,00,000 per month.
Que. How many years does it take to become a logistician?
Ans.
In order to become a logistician one needs to complete his or her graduation preferably in the field of business management. It is three years long. After that one can apply and become a logistician. So, it takes around three to four years of education in order to become a logistician.
Que. Can you get a logistician job with no experience?
Ans.
It is not necessary to have job experience before becoming a logistician. But, one must have some knowledge of the field therefore, it is advisable to do an internship before joining the field professionally.
You might also be interested in
The question have been saved in answer later, you can access it from your profile anytime.
Access now
Report Question
Select your reason of reporting