Gone are the days of considering a degree as the only thing you need to get better career opportunities. Now, you have to have extra skills to keep up with the pace of the job market. So diplomas and post-graduate diplomas are quite beneficial to you. In this article, we will take a look at the top online diploma courses that you can take.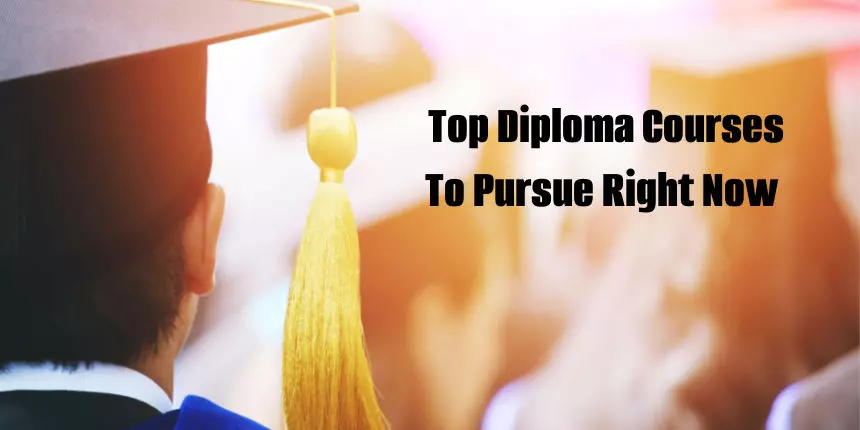 Top Diploma Courses To Pursue Right Now
Explore more: Postgraduate (PG) Diploma Courses
Why Take Diploma Courses?
Why should use consider offline/online diploma courses when you have your good old degrees? There are great online degree courses available as well. Then why? Let's see what are the advantages of online diploma courses right below.
1) You become job-ready, faster
University degrees focus on theory which may not guarantee a job because you still lack the technical skills. Vocational education such as diploma courses builds your technical expertise.
2) Better chances of getting hired
The shortage of vocational skills is apparent in all industries. So along with or after your degree consider post-graduate diploma courses to boost your chances.
3) Higher earning potential
On average, people who have degrees and highly technical diploma courses can earn more in their first year of study.
4) Flexible Learning
Diploma courses offer you better flexible learning options as compared to degrees because these diploma courses usually do not follow a higher education calendar.
So you can take online diploma courses and part time diploma courses and complete them full-time or part-time.
With degrees, you have to apply in the right academic schedule and you might lose the spot. Thus diploma courses and post-graduate diploma courses are smarter.
5) Fewer rigid pre-requisites
University degrees look for different scores. Depending upon the high school curriculum these metrics may vary. So the environment of highly specialised degrees as well as degrees in top institutes has high competition. With diploma courses, you face less competition, still get quality education and you can always consider a degree later.
6) Time efficient that Degrees
You can also consider taking diploma courses right out of school and looking for jobs because you can complete diploma courses within a year or two, compared to University degrees which take 3 to 4 years. So diploma courses offer you this practical aspect of time efficiency. Thus you can enter the workforce sooner.
7) Less Expensive and better value for money
UG degrees and PG degrees can cost heavily compared to diploma courses. Also, you can consider diploma courses that are offered by the government will have financial aid.
Take a Look: Diploma Certificate Courses
Eligibility Criteria for Pursuing a Diploma
The requirements for diploma courses are straightforward. All you need is a minimal passing percentage on your graduation from a reputable university. It depends on whether you want to do diploma courses in India or abroad.
Diploma Programme Pattern
The diploma curriculum has been meticulously developed to fit the needs of the student. Those who wish to enrol on diploma courses are working professionals, trainees, apprentices or freshers. Their aim is to land industry-relevant technical roles and boost their career.
Hence these diploma courses are divided into semesters. They can last 1-2 years for undergraduate diploma courses and PG diploma courses. In some cases, you can also see four-year diploma courses, where there will be three years for theory and one year for internship.
Difference Between Diploma Courses and Professional Certifications
Certification courses are extremely useful for professionals who want to upskill themselves. These certification courses, are more technical than diploma courses (2-4 years) and are much shorter, in most cases (from a few months to 1 -2 years maximum). They emphasise building skills on top of your diploma/degree courses. So it is better to take them along or after diploma courses.
After taking top diploma courses, you can directly take these certification courses or build your work experience and along the way take them. So both diploma courses and professional certifications have their differences but are extremely beneficial for you.
Top Diploma Courses
While taking the diploma courses, you need to be aware of the one you take including the syllabus, the components they have and the like. Here are some of the diploma courses list after graduation.
PGDM (Post Graduate Diploma in Management)
Consider taking a Post Graduate Diploma in Management, if you have already taken the following: Diploma courses or degree courses. PGDM is equivalent to an MBA. A PGDM CAN offer you realistic, industry-relevant skills. You will develop a pragmatic approach to management.
Top institutes design and develop advanced diploma courses such as PGDM based on the latest market trends. PGDM thus covers myriad topics on management. Completing PGDM opens doors to top careers such as relationship manager, field manager, operations manager and the like.
Top Careers after PGDM
Post Graduate Diploma Courses in Hotel Management
If you want to advance your career in the food service industry, the Post Graduate Diploma courses in Hotel Management are an excellent PGDM to look into. It is, as you are aware, the market's most active.
Why should you take advanced diploma courses in Hotel Management? You could be running your own business. Or you could be an aspiring professional working in a top hotel. So learn about the technical aspects of running and managing a hotel with advanced diploma courses. You will gain practical insights.
Top careers: Post Graduate Diploma Courses in Hotel Management
Post Graduate Diploma Courses in Software Engineering
If you want to advance your software abilities, the Graduate Diploma courses in Software Engineering are a must. Although the IT industry has its ups and downs, in today's competitive software market, software skills are constantly required.
You will get a better understanding of web and software design in these advanced diploma courses. You will, of course, learn more advanced programming techniques. Software training is available immediately upon the completion of your degree, depending on the institute you attend.
Top Careers: Post Graduate Diploma courses in Software Engineering
Diploma Courses in Food and Beverage Services Management
For those who want to develop their cooking skills, diploma courses in Food and Beverage Services Management are a good option. It acts as a springboard for you to improve your culinary abilities. Chefs are in high demand all across the globe.
Essential school prerequisites are not necessary because your basic skills and ability to deal with pressure will rapidly land you a job.
These diploma courses will teach you how to tackle the food and beverage industry with the appropriate knowledge. You will learn everything there is to know about food storage and safety. You will also get knowledge of the nutritional values of various foods. After completing these diploma courses, candidates might pursue a career in the hotel business as a manager.
Top Careers after Diploma Courses in Food and Beverage Services Management
Diploma Courses in Human Resource Management
For those who want to build a career in Human Resources Management, then a diploma is a great option. A Human Resource Management diploma is a great alternative to a degree. As Human Resource Management is integral for every organisation, you can expect a plethora of opportunities.
For these diploma courses, your educational background is irrelevant because learners from all walks of life are welcome to participate.
Top Careers after Diploma courses in Human Resource Management
Diploma Courses in Graphic Designing
Students with outstanding drawing and creative skills may benefit from a Graphic Designing diploma. A skilled graphic artist is sought out by today's competitive industry. Self-employed visual artists are common.
Not to mention, web portals necessitate the graphic artist's originality. This field of study can help you achieve tremendous heights by utilising social media and other techniques used to market enterprises. The diploma programme will teach you the intricacies of software animations and tools.
Whether you are someone looking for diploma courses after 10th or diploma courses after 12th, you are in luck. You can start early with graphic designing! And you can level up with PG diploma courses in digital marketing. But that is in the long run. But your journey can start even after 10th.
Top Careers after Diploma Courses in Graphic Designing
Diploma Courses in Digital Marketing
Digital Marketing diplomas are in high demand because digital marketing and internet marketing are widely used in practically every sector of the industry, this is the case. The course will teach you how to construct digital platforms for your online presence using various modalities of digital technology.
The best thing about digital marketing is that if you have basic soft skills, you can start this journey. So there are diploma courses after 10th when it comes to digital marketing. But we highly recommend taking diploma courses after 12th. Also, you can always go back take advanced diploma courses such as PG diploma courses in digital marketing later.
Top Careers after Diploma courses in Digital Marketing
Top Online Diploma Courses
Check out these top online diploma courses that can lead you to awesome careers.
Conclusion
So that wraps it up. You can always take a degree. But diploma courses offer you a time and budget-friendly environment with critical vocational skills. Hence the popularity of these diploma courses.
There are more niches to explore. You can continue your journey further with PG diploma courses as well. So the options are infinite. So if you want to explore further diploma courses, degree and certification courses then check out our lists right below. There will be something for everyone! We have made lists for free courses as well!