Who is a Animator?
Animation can explain whatever the mind of man can conceive. This facility makes it the most versatile and explicit means of communication yet devised for quick mass appreciation ~ Walt Disney
In career as animator, individuals are artists who use sequential images of drawings, puppets, and models to produce films for commercials, computer games, music videos, and websites. We have all grown up watching cartoon characters like Tom and Jerry or Scooby-Doo. But, how often do we think about the work that goes behind bringing these art sketches to life, which can move, speak, and be a source of entertainment? It is an Animator that makes it possible. Those interested in becoming an animator must pursue an animation course for a better understanding of the field and excel in it. Some of the popular degrees to do in order to become an animator are B.Des., M.Des. in the animation field. Here, we will discuss the details of animation careers, such as an animator career path, how to get a job in animation, is animation a good career in India, how to become an animator, what does an animator do, animator job description.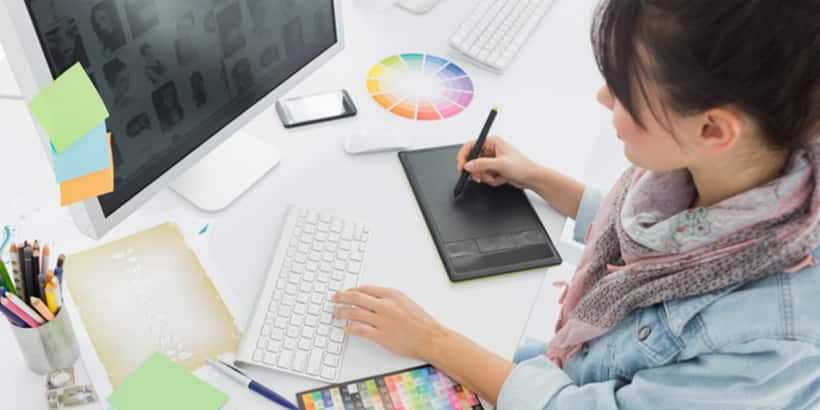 Animator in a Nutshell
An animation career is one of the most interesting career options in the creative field. The primary job of careers in animation is to create multiple images, known as frames, that results in an illusion of movement called animation when displayed in a quick sequence. Students should pursue Bachelor of Fine Arts, Bachelor of Visual Arts to opt for an animator career path. Individuals who opt for a career as an animator typically specialize in one of the media and may further concentrate on a specific area, such as characters, scenery, or background design. Animators typically use computer software to do such work.
Quick Facts for Animator
Industry

Design

Average Salary in India

₹18333.5

Suitable for

Male, Female, Others

A career as animator is ideal for anybody who wants to pursue his or her career in animation. Both men and women can work as animators, it is suitable for all gender types. If a person has the required skillset and the right attitude and skill sets, then they are eligible for this career option.

Any special needs

Yes

Career as animator fits everybody, including those with disabilities. Animation does not really demand relocation to distant places. Anyone with an interest in art and sketching can become an animator.
Table of Contents for Animator
What is the role of Animator?
If we define an animator job description then we can definitely say that animators create or design graphics, motion pictures, commercials, online advertisements, films, video games. In career as animator, individuals create, edit animations and visual effects as per the director's or clients' requirements. These illustrators create animations and graphics for television, video games, internet marketing, online advertising, website development, and more. Any person who is pursuing an animator career path amalgamates creativity and technology, using digital tools to make designs for commercials, movies, cartoons, online media and more. They plan, create and script animated narrative sequences and assist with background design and production coordination. Individuals who opt for a career as an animator are the people who decide how a model will move, what a scene looks like, and also what software and tools will be used for production.
Management
Management is an essential part of an animator's job profile. An animator is required to manage a number of people across different teams in order to bring out a great product. From vendors to fellow team-members to clients and everyone else involved in the process of creation everyone involved in a particular project is managed by the animator. Those who are freelancers also promote and run the business that they own and are expected to work effectively with other designers and production staff.
Showcase creativity
It goes without saying that an animator is required to showcase creativity in his or her work. This can be shown in the form of digital art, animated videos, and illustrations. Showing life's mundane things in extra-ordinary light is something that an animator needs to do on a regular basis. An animator who is not creative is not a good animator and won't go far in the profession.
Technical work
There is a lot of technical work involved in animation and an animator is required to do it. Animators should have in-depth knowledge regarding the specialist computer generation software such as Autodesk Maya (Maya), Adobe Flash, Adobe After Effects, and many others. They should know which software to use and for what purposes, only then the final output will have the desired result.
Communicating to customers
An animator is also responsible for presenting designs to customers for evaluation, negotiating contracts that require good communication capabilities. Communicating the right idea to the intended audience is an essential part of an animator's job description. After all, art means to communicate the idea in the correct manner in order to create the desired effect.
Types of a Animator
There are several career opportunities when it comes to careers in animation, they are mentioned below:
3D Modeler: 3D Modeler's duties are to design and create 3D models based on customers' preferences. They do much of the 3D modelling work on a device using ZBrush, Mudbox, and Polypainting tools.
Cartoonist: A cartoon animator job description is to translate thoughts and express them with words to teach, direct, tell stories as well as provide articles on news by developing hand-drawn or computerized images. Their goal is to describe situations in a comprehensible way for people, like satirical cartoons or comic strips.
Film and Video Editor: The main duty of video editors is to edit and assemble captured raw material into an appropriate, final product ready for broadcast. Camera footage, narration, background music, illustrations, and visual effects could be included.
Key Animator: Key animators instruct members of the junior crew during pre-production. Through working with riggers and model makers to ensure that models and puppets are designed correctly for action scenes, they control pre-production by deciding how animation should be performed.
Graphic Designer: Multimedia graphic designers develop graphical artwork for effective, and even manually, communication by using various software. The core graphic design objective is to fascinate the public. They create the overall layout for ads, magazines, brochures and business reports. Graphic designers generate concepts through photographs and drawings and for this purpose they merge art and technologies.
What is the workplace/work environment of Animator like?
In career as animator, individuals usually work in a tech-equipped office or a studio. The workspace will depend on the particular form of company, under which the animators function. An animator is considered to be part of the entertainment industry, and typically has a modern approach to office space. It may be convenient to work from home, and flexible working hours may often be offered in an illustrator job.
Does Animator require travelling?
Not Likely
Traveling is not necessary when it comes to a career as an animator. Animators do not need to fly. From their offices or studios, they may simply accomplish their assignment. Individuals who opt for a career as an animator that participate in initial planning, need to meet with the client to discuss ideas for the work layout. This preference in terms of working hours and location provides considerable versatility and is a good choice.
Employment Shifts
Full Time, Part Time, Hourly Basis, Work From Home
In career as animator, individuals are usually required to work full time during office hours. There are exceptions where freelance/part-time animators work according to their own work hours.
Employment Nature
Contractual, Permanent
The animation industry accommodates both full-time and part-time jobs. Although, a full-time job is a preference for most individuals when it comes to a career as an animator.
Work Place
Private Offices Factory
In career as animator, individuals usually work in production companies, animation houses, gaming companies and advertising companies. He or she works in day shift business hours.
Presence in Geographical Area
Urban
There are less or no prospects for a career as animator in the rural areas. Most of the animator jobs are in urban areas, they can find jobs in cities like Gurgaon, New Delhi, Mumbai and Bengaluru. In career as animator, individuals usually work for media industries like entertainment, news, business communications that are situated in Tier-1 cities. Hence, most of the animators work in an urban setup.
Time Pressure
Likely
Animation is more of a creative profession. Individuals who opt for a career as an animator working on a permanent basis hardly face any time pressure. However, one who works as a freelancer for big animation organisations is more likely to face time pressure. Also, in situations such as reaching deadlines or project completion, these illustrators might be required to handle time pressure and work for long hours in order to manage their work.
Overtime Details
A career as animator demands creativity which sometimes works as a hindrance in accomplishing the projects. Working overtime is quite normal in the profession. In career as animator, individuals are generally required to work more than their scheduled time. Work hours often get extended for illustrators to meet deadlines and demand for creativity.
Weekly Hours of Work
Min 45 Hours
Individuals who opt for a career as an animator work about seven-eight hours per day and up to 12 hours in case of a major project. The working hours vary from organization to organization. Jobs shift of an illustrator is both full-time as well as part-time and there are more part-time workers than full-time employees according to a study.
How to become a Animator?
Steps to become a Animator
Discovering the art of bringing drawings to life through animation is an exciting journey. If you are curious about how to become an animator, this article will guide you with straightforward steps. From learning essential techniques to using modern software, you will be on your way to creating captivating animations in no time.
What are the skills and qualities required to become a/an Animator?
In order to opt for animation careers, individuals must possess several skills and techniques to master the art of animation. We have mentioned below the major animator skills required in everyday animator jobs.
Creativity: Creative thinking is the capability to think freshly or significantly different about an assignment or a major issue, or the skill to use the intellect to come up with innovative ideas. Creativity helps to solve complicated challenges and to find creative solutions to activities when it comes to a career as an animator. They look at stuff from some kind of completely different angle. Individuals who opt for a career as an animator are expected to work creatively and produce original, aesthetic, and pleasing designs and animation.
An Eye for Detail: A career as an animator is related to visuals and displays, and hence even a slight mistake will reflect a huge loophole in the result. Detailing is something that is very much needed in the field of visual arts, and when it comes to animation, then it definitely can be one of the major skills which can not be worked on but possess naturally.
Technical Skills: In a career as an animator, one needs to mix technical abilities with realistic abilities to give the characters life. Having good drawing skills is essential, as it is easier to sketch the ideas on the tablet for animation. An animator also needs to acknowledge how and why the character moves, and be mindful of the animation rules. One should have in-depth knowledge regarding the specialist computer generation software such as Maya, Flash, and After Effects.
Drawing Skills: Drawing skills in the career as an animator is a must. It is a necessary skill to have in the animators, aspiring candidates who are interested in storyboarding and characterization in animation, or merely in 2D animation. Candidates with more interest in the computer and digitally creating things, without drawing, would not survive in this career. The very first phase in creating animation is the development of a plan and a storyline. Individuals who opt for a career as an animator require strong drawing skills to give a design team or client a visual interpretation of the animation idea. The animator generates a storyline in certain situations or helps the client in the formation of the storyline.
Colour theory: If colours are used adequately, they can direct the viewer's gaze to whatever is meaningful in the picture. In the career as an illustrator, one employ colours to write the story or fully transform the mood and tone of the scenes to have the attention of the viewers and also to make every scene significant. To be a good animator aspiring students ought to learn the colour theories first because every animation requires colours. They also need to realize how to use colours and what shade they will be using to convey various thoughts and emotions.
Transform your Career with Popular Online Design Courses and Certifications
Which certifications and internships can be helpful in becoming Animator?
We have mentioned below certifications that individuals may opt who want to establish a career as Animator.
Internship Availability
Yes
There are plenty of internships available in the career as animator. Various companies and organizations hire interns with relevant skills and interests. Through online recruiting portals, one should discover numerous internship openings. Through animation internships, the individuals get hands-on experience. The majority of internships are provided by higher education animator colleges paying for the preparation.
Career Path Progression for Animator
Junior Animator/Trainee: Start as an entry-level animator, working under the guidance of experienced professionals. Focus on improving skills and grasping animation principles.
Senior Animator/Lead Animator: With experience, take on more complex projects and possibly lead a team of animators. Your expertise will be vital in maintaining quality and guiding junior team members.
Animator Jobs and Salaries
Junior animator
Job Description
Junior animator responsible for assisting in the creation of visual animations and graphics under the guidance of senior animators and creative directors.
Salary Description
Starting annual salary averaging INR 2.0 lakhs, with potential for growth based on skills and experience. Entry-level position contributing to animation projects and collaborating with senior team members.
Senior Animator
Job Description
Experienced senior animator responsible for leading and executing high-quality animation projects while mentoring and guiding junior animators.
Salary Description
Annual salary for Junior Animator position is INR 2.4 lakhs, offering an average monthly compensation of INR 20,000. Benefits may vary based on experience and company policies.
Salary credit Ambibition Box
What is the job outlook for Animator?
Opportunities in the career as animator exists both with the government as well as private sector enterprises. The animation career itself is an industry, and it's on the boom. There exist numerous animation houses both in India and abroad that work for clienteles. An animator and multimedia professional can also work as a freelancer or start his / her own enterprise given he/she has entrepreneurial skills and funds for investments. Animators work in various fields like advertising, online and print news media, film and television, cartoon production, theatre, and video gaming. In India, careers in animation is still at a nascent stage. However, if a person is interested in making a career in animation then there are plenty of opportunities abroad in countries such as The United States of America, Canada, and The United Kingdom. Some of the world's top animation companies are situated in these countries, hence moving to these places for illustrator career sake would be a good decision.
Student Also Liked:
Frequently Asked Questions for Animator
Que. What do animators do?
Ans.
In the career as animator, candidates create or design graphics, motion pictures, commercials, online advertisements, films, video games. They create, edit animations and visual effects as per the director's or clients' requirements. Animators design animations and graphics for television, video games, internet marketing, online advertising, website development, and more
Que. What kind of education is required to be an animator?
Ans.
Generally, a bachelor's degree is required in order to make a career as animator. But there are many animators who hold only a certificate or a diploma. Ideally one should have a degree in design like B.Des or M.Des.
Que. Do I need to study science to be an animator?
Ans.
No, you can take up any stream after class 10. Science is not compulsory but it would definitely help you if you have a technical bend of mind and a knack to learn new software in order to make a career as animator.
Que. Can someone be a good animator without having a good understanding of colours?
Ans.
Knowing to play with colors will definitely be an advantage but even if your sense of colours is not that strong you will not lose too much.
Que. What is the clean-up artist job description?
Ans.
Clean-up is a part of the process in hand-drawn animation development. The first sketches are called "roughs" or 'draft animation' in traditional animation, as they are mostly done in a really informal manner. The artist who does the clean-ups is in charge of the final line and completed the shot look.
Que. How long does it take to become an animator?
Ans.
This solely depends on the course and also on the animator college. If a student opts for any degree course then it generally takes three years but if any student choos diploma course they will study for one or two years. There are some short term certificate courses that take only six months to complete.
Que. What does an animator do on a daily basis?
Ans.
Animators and multimedia designers produce simple sketches, paintings, and animations on a regular basis for product labels, cartons, advertising, or TV. They design complex graphics and animation using computer hardware, individual decision, innovation
Que. What is the stop motion animator job description?
Ans.
Stop motion animator job description is to incorporate the art of film, storytelling abilities, and the power to control framing and measure angles without digitally altering the animation to stop motion. The animator creates images of objects, characters or scenes which display them in different positions
You might also be interested in
Questions related to Animator
Showing 2 out of 2 Questions
315 Views
what kind of salary I will expect as a 3d animator in abroad ??
Hello,
3D animation isn't going anywhere. We see it daily in films, games, TV shows, and also in the forensic and medical fields. It's a growing industry projected to hit $270 billion (USD) in 2020* and as an animator, you could be part of that growth.
Animation Courses have a wide scope in the market, and it is an apt field for those who want to create magic and turn their imagination into a reality. Despite the global economic crisis in recent times, the scope for animation courses has been increasing rapidly.
Average annual salary of 3D Artists and Animators in America is around $72200. The numbers also say that beginners in the field rarely earn more than 40 thousand dollars per year.
It totally depends on the basis of skills and requirements of the company.
The main reason that a low-level animator's salary is so low is because they don't actually receive an hourly salary. Most studios pay out per frame, so that the pay is dependent on how much the animator is able to get done and also on how complicated the frame might be. Since it's based on how many frame you draw. The more skills you have the more time you give the more successful you become.
Hope this helps!!!
The question have been saved in answer later, you can access it from your profile anytime.
Access now
Report Question
Select your reason of reporting