Who is a Food Inspector?
Food inspector ensures good food not just for the body but also for the soul ~ Anonymous
There are several packaged products that we consume from the market. Have you ever noticed the 'FSSAI' logo on the packet? Well, you must check for one because if the packaging says, 'FSSAI approved', it means your food is safe to consume. But, who does this safety check? The answer is a food inspector conducts various tests related to the safety of the product like the ingredients, their proportions used, cleanliness of machinery, safe packaging, and the overall hygiene of the product is checked.
If you wish to be someone who inspects places of food production for ensuring the health and safety of others then you can have a career as a food inspector. It is not only FSSAI that can hire you there are several companies in the private sector that can hire you.
A food Inspector is an official that analyses the safety and quality of food products, the ingredients that are used for the production of the food products as well as the hygiene of equipment used, and the place where these products are produced. Read the complete article to know more about how to become a food inspector in India or how to become a food inspector after 12th.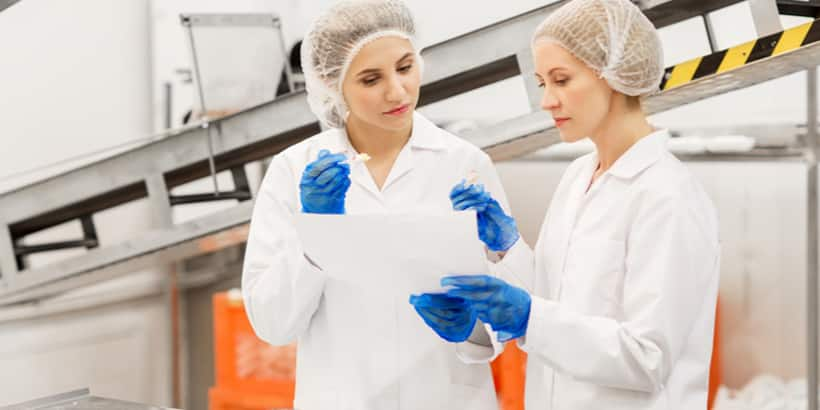 Food Inspector in a Nutshell
A career as a food inspector comes with the responsibility to ensure the food is healthy for human consumption. A food inspector inspects the food processing entities, manufacturing companies, restaurants, and dairy farms to collect samples for investigating the quality of food ingredients and preservatives being used in the food product to be sold in the market. Continue reading to learn everything you need to know about how to become a food inspector.
Quick Facts for Food Inspector
Industry

Food and Beverage

Average Salary in India

₹36759

Suitable for

Male, Female

Both men and women can have a career as Food Inspectors. This job is not gender-specific. Being a food inspector is one of the most exciting professions where an individual's gender is insignificant.

Any special needs

No

When it comes to a career as a food inspector it is better to be physically fit for a better and more efficient way of working. A food inspector has to go to many kinds of locations. It might get difficult for an individual with physical disabilities to manage. A food inspector must have a strong vision for detecting minor characteristic changes in food items during the inspection.

Not only that they should have a strong stomach, and experienced tasting skills as there may be a wide variety of food sources offered for tasting and testing. A food inspector should be able to work standing or sitting for long hours. They should be comfortable with travelling to various sites for work.
What is the role of Food Inspector?
A food inspector is a professional who is responsible for certifying health codes in companies engaged in producing various consumables, falling under any category ranging from restaurants to food manufacturing plants. A career as a food inspector demands inspecting the food processing and manufacturing companies to supervise the production process and collect samples. He or she further sends the samples for research and ensures the food ingredients and preservatives used in the production for human consumption meet the quality standards. A food inspector makes sure the food is hygienic and processed in clean surroundings.
A career as a food inspector has the right to cancel the license of food processing and manufacturing entities if found violating the standard regulations under the food safety and standards act. 2006.
Analysis
The main role of food inspector is to ensure the safety and the quality of ingredients used for producing food items. A food inspector also keeps an eye on what the company buys, what food products it produces, the processes, and the equipment used to make the products.
Inspection
It is the core responsibility of a food inspector to inspect food products and accept or reject them according to their quality. They also examine the food ingredients and determine the safety requirements, regulatory and industry standards, and several other aspects.
Ensuring safety
A career as a food inspector requires them to ensure food safety and security. He or she also ensures that the sanitation systems are kept and maintained according to the guidelines of the authority.
Types of a Food Inspector
There are several types of a food inspector and relevant careers. We have provided the major ones below with their varying responsibilities.
Quality Inspector: A Quality Inspector should inspect the quality of a company's incoming and outgoing materials and components. He or she is also known as Quality Assurance Supervisor and is responsible for performing checks, reviewing samples, and supervising manufacturing processes. Quality Inspector works in production departments or production lines. He or she makes sure you should not get sick from the food or medication you consume. For almost all manufactured goods, like food and other products, these staffs control the standards of quality.
Food Technician: Under the guidance of food scientists, food technicians perform studies and assist with tests on refined food products, chemicals, and containers. A great deal of the work is spent researching food to make sure it meets human consumption standards and regulations. Food technician prepares and clear tools and equipment, as well as aids teachers with demonstration lectures and procedures, and also help to schedule, develop, and coordinate processes, practices, and guidelines.
Food Quality Assurance Manager: Food quality control managers are liable for making sure that food ingredients meet requirements set by the industries as well as regulators. They will create and review policies on quality and health, and conduct audits by third-party investigators. They also work to improve the efficiency and profitability of an organization by cutting waste.
Agricultural Inspector: The Agriculture Inspector is someone who works to prevent food-borne diseases and provide healthy food to everyone. Anything that we eat does not come directly to us, especially in the cities. The food goes through numerous departments before finally coming to the consumer. The food crops in the field often get infected by pests and insects. To avoid this, the farmers spray pesticides and insecticides on crops.
Food Scientist: Food scientists utilize their knowledge in the subjects of chemistry, biology, food production, and processing. They also apply their knowledge in the functioning of techniques and equipment used in food processing and product.
Dairy Technologist: Dairy technologists are food scientists who work primarily with dairy and dairy products. Dairy technologists study the chemical makeup and properties of milk, yoghurt, butter, ice cream, and cheese. These scientists might work for private businesses or universities, and sometimes they are self-employed.
What is the workplace/work environment of Food Inspector like?
As the work of a food inspector must be done away from a government office, food inspectors have a high degree of flexibility in their scheduling. For those people who cannot sit at a desk all day, a food inspector job offers frequent physical activity. It is a field-based job that requires travelling to various places where food inspection is supposed to be conducted. Are you looking for information about how to become a food inspector? To clear your questions, scroll and read.
Does Food Inspector require travelling?
Likely
Yes, since a career as a food inspector is a field-based job it does require traveling from one place to another in order to do food checks. The travelling may be intercity or on the outskirts as well depending on the requirement.
Employment Shifts
Full Time
A career as a food inspector is a full-time based job. There is no way one can work from home or do this work on a part-time basis.
Employment Nature
Permanent
The nature of the employment in a career as a food inspector is permanent in nature, not a contractual one.
Work Place
Restaurants, Office, Food Processing Industries
A career as a food inspector demands staying on the field inspecting food processing and manufacturing entities. He or she also performs several duties in the office such as documentation.
Presence in Geographical Area
Rural, Semi-urban, Urban
In a career as a food inspector, one may have to work in an urban, semi-urban as well as rural geographic location. It depends on where he or she is going to do a food inspection on that particular day. A food inspector does not really have a fixed work location. He or she might have to go and inspect a high-end restaurant located in a nice urban location. But, might go for an inspection in a food godown located in a semi-urban or a rural location on the other.
Time Pressure
Not Likely
In a career as a food inspector, there is hardly any time pressure for food inspectors. He or she is required to work as per their schedule which includes the responsibilities and inspections assigned to them. The time pressure is almost negligible on the job except for inspection days when the supervisors cross-verify the work of food inspectors.
Overtime Details
Typically, in a career as a food inspector, he or she is required to work for 9 hours per day. A food inspector usually works in indoor settings going through the files and documents of various food projects. However, during inspection days a food inspector might be required to work overtime because of travelling inconveniences.
Weekly Hours of Work
Min 40 Hours
A food inspector job is based on a minimum 40-hour workweek and occasional travel to other food processing plants. His or her work hours often get extended due to inspection duties which involve dealing with those who violate the law and interrupting during the inspection and monitoring the processes involved in food manufacturing.
How to become a Food Inspector?
Steps to become a Food Inspector
If you are someone interested in inspecting the food or the organisation that prepares the food. If you are interested to ensure food safety protocols and government regulations are followed then a career as a Food Inspector is the best option for you. We have mentioned below some of the steps for you to know how to become a Food Inspector in India or how to become a Food Inspector after 12th.
What are the skills and qualities required to become a/an Food Inspector?
When it comes to how to become a food inspector, the first thing he or she should know about is the skills required to become a food inspector. Some of the essential skills we have mentioned are below.
Technical Skills: A food inspector needs to be strong in instrument handling. He or she should have the ability to handle a variety of instruments based on the requirement. food inspector must have computer proficiency and be able to handle software like Microsoft software. For example Word, Excel or PowerPoint for compiling reports. A food inspector must have report writing ability. He or she must be able to defend one's reports in case of legal proceedings.
Communication Skills: An aspiring food inspector must possess strong communication skills. Communication in the workplace is crucial to businesses as it helps organizations to be profitable and run properly. Workers can experience a rise in motivation, performance, and involvement if they would collaborate in a company. Communication skills help you to get everyone else to consider and appreciate. This may involve and is therefore not limited to expressing ideas effectively to others, participating actively in discussions, providing and obtaining meaningful suggestions, and public speaking.
Critical Thinking: A food inspector must possess the ability to use logic and reasoning to identify the strengths and weaknesses of alternative solutions, conclusions or approaches to problems. Critical thinking is crucial because it enables members of the team to analyze issues more effectively and to recognize potential solutions that once will not look exactly noticeable. The ability to think logically and rationally about what to do and how to conclude is critical thinking. It generates a strategy for independent and reflective thinking. Anybody with critical thinking skills will grasp the connections between ideas.
Decision-Making Skills: Considering the relative costs and benefits of selecting the most suitable of possible acts. The capacity to make a decision and stick to that is the foundation of strong leadership competencies. Decision-making is a process that helps to continue in any business. Decision-making is an essential management skill and is particularly relevant for leaders. It is crucial in personal and professional life even daily. Possessing critical thinking abilities helps one to assess the issue and find a solution that helps the employees and the organization.
Attention to Safety: Scientific background in food safety which includes preparation, handling, and storage of food to minimize the risk of foodborne illness and other health hazards. Laboratory-based sciences such as biology, chemistry, physics, integrated science, or advanced laboratory science are essential to follow the principles to keep food items safe. Food safety regulations are a scientific concept specifying how food is treated, processed, and preserved in order to avoid or reduce food poisoning. It involves a lot of procedures to be practised to prevent potentially dangerous risks.
Which certifications and internships can be helpful in becoming Food Inspector?
We have mentioned below several certifications in food science that individuals who aspire to become a food inspector can opt for.
Internship Availability
Yes
In order to have a better understanding of a career as a food inspector, it is always important to go for an internship. No matter how much practical learning experience your college or university provides, you will get real-world experience by working with a company or an organization. An internship gives you insights into the industry and answers several questions relevant to how to become a food inspector. When it comes to a career as a food inspector, internships are very important since they provide an individual with practical knowledge about the field.
In order to be successful in the field, one must have an understanding of the career from a practical point of view rather than learning about it in theory. Internships also enable candidates to make relevant contacts in the field. It can help one in finding a permanent job in the future. Not only that, but an internship also adds value to the person's resume. Therefore, it always helps during the time of recruitment. An individual can look for a 'food inspector near me' on the internet and can forward his or her resume in order to get an internship.
Career Path Progression for Food Inspector
Junior Food Inspector: A Junior Food Inspector is a professional who provides health codes to the companies that are producing food. A Junior Food Inspector ensures the food is produced as per the rules and safety regulations of the government.
Senior Food Inspector: A Senior Food Inspector is an experienced professional who makes sure the food is producing is healthy and safe for the people. A Senior Food Inspector inspects the food production and analyses the safety and quality of the food products.
Food Inspector Jobs and Salaries
Junior Food Inspector
Job Description
The Junior Food Inspector job description includes analysing the safety and quality of the food products and ensuring the food is healthy for human consumption. He or she inspects food processing and manufacturing companies and supervises the production process and collects the samples and researches it.
Salary Description
An entry-level Food Inspector salary in India ranges between Rs 1.2 Lakhs to Rs 12.7 Lakhs with an average annual salary of Rs 3.2 Lakhs per annum. Junior Food Inspector salary in India may vary depending on the various job factors like skills and experience of the candidates, job location, and others.
Senior Food Inspector
Job Description
The Food Inspector job description includes sending the samples for research and inspecting the food ingredients and preservatives are meeting the quality and standards and are safe for human consumption. A Senior Food Inspector ensures the company and manufacturing factories are maintaining the quality standard and sanitation systems are kept and maintained according to the guidelines of the government.
Salary Description
The estimated national average salary for a Senior Food Inspector is Rs 48,518 in India.
What is the job outlook for Food Inspector?
With every passing day food outlets, and processing units, of them, are increasing. From small eating hubs to large-scale procurement of government undertakings. The demand for a food safety inspector is supposed to increase in the future and is increasing in the current scenario as well. The number of food inspector jobs currently in India is not that huge provided the country has such a huge population. Although most of the jobs are in the government sector only still their demand is increasing due to an increase in food joints or production units and other food-related undertakings.
A career as a food inspector is required to keep a check on not only government undertakings but private bodies as well. Now if one is assertive that they own all those qualities which may turn them into a proficient Food Inspector, it is time to decide whether they want to offer their duties at a state level or national level.
With the intertwining of the global food chain auditing process, increasing pressure to enhance food safety, and more and more emphasis on food safety regulations by various national and international regulatory agencies, the streamlining of the inspections has emerged as one of the concerns among establishments involved in food processing. To strengthen it, the demand for food inspectors is vigorously growing in India. Although presently the government sector is liable for employing food inspectors, both state and federal agencies recruit food inspectors. However one may explore opportunities with private companies as well.
Food inspectors are employed in inspecting both government-owned units as well as privately owned food processing establishments. To rationalize the audits and ensure compliance with food regulatory guidelines, the requirement for food inspectors is rising proportionally. The food industry is one of those industries where there can never be a recession. People will never stop eating. That is the basis of life. Hence, many companies have started to focus their business on food production, manufacturing, and delivery. Hence, it has become important that whatever food material is being sent out is of good quality.
Therefore, it is necessary to ensure that the standard is maintained and this is where a food inspector comes in. Ever since Foreign Direct Investment came to India the demand for food inspectors has also increased. The demand is still increasing due to more and more food chains being opened. A career in food inspection is where one can find that ideal endeavour of job advancement potential and a sense of ensuring the safety of the community.
Students also liked
Frequently Asked Questions for Food Inspector
Que. Which exam is conducted for a food inspector?
Ans.
The most popular exam conducted for the recruitment of food inspectors is the All India Food Inspector exam conducted by Union Service Public Service Commission. There will be designated examination centres in every district of each state.
Que. Is pharmacy eligible for food safety officer?
Ans.
The graduates from Food Technology, Biochemistry, Agriculture, Biotechnology, Microbiology, Veterinary Science and a few other courses are eligible for the post of food safety officer, whereas pharmacy is removed from the same. By studying all these subjects pharmacy graduates cover all the related aspects of food and drug.
Que. What do you do as a food inspector?
Ans.
A career as a food inspector comes with the responsibility of inspecting live animals and carcasses at a slaughterhouse or examining food imports at a port for mislabeling or other food safety issues. Inspectors report violations to the appropriate regulatory agency and are responsible for ensuring that foods are suitable for human consumption.
Que. Which exam is conducted for a food inspector?
Ans.
The most popular exam conducted for the recruitment of food inspectors is the All India Food Inspector exam conducted by Union Public Service Commission. There will be designated examination centres in every district of each state.
Que. What are the top institutes in India to study food science?
Ans.
Top Food Science Colleges
You might also be interested in
Questions related to Food Inspector
Showing 1 out of 1 Questions
710 Views
what is the syllabus for exam for the food inspector post conducted by govt of India.
Detailed Syllabus:
General Studies:
The paper of General Studies will include question on the following topics:
1. General Science
Question on General Science will cover general appreciation and understanding of Science, including matters of everyday observation and experience, as may be expected of a well educated person who has not made a special study of any scientific discipline.
2. Current Events of National and International Importance.
Happening around the world.
3. History of India.
In History of India emphasis should be on broad understanding of economic, Social, Cultural and Political aspects of Indian History.
4. Indian National Movement.
In Indian National Movement, the candidates are expected to have a synoptic view of the nature and character of the Indian freedom movement, growth of nationalism and attainment of independence.
5. Indian Polity and Economy.
In Indian Polity and Economy questions will test knowledge of the candidate pertaining to Indian Polity including the Indian Constitution, Panchayati Raj and community Development, broad features of Indian economy and planning.
6. World Geography and Population.
In world Geography and population, only General understanding of the subject will be expected with emphasis on physical/ecological, economic and socio-demographic aspects of Geography of India. Candidates are expected to have general awareness about the above topics with special reference to Uttar Pradesh.
Main Subject:
1. Definition and standards of Food quality
Proximate analysis of Foods, Fat, Protein, Carbohydrate, Vitamins, Minerals Fibres and Water, Human Nutrition, Major and Minor Nutrients and their role, Deficiency Diseases.
2. Fruits, Vegetables and Plantation products:
Definition, Classification, Juices, Pulps, Powder & Extracts, Squash, Cordials, RTS_Beverages etc., Jam, Jellies & Marmalades, Puree, Paste and Concentrates. Ketchups, Sauce & Pickles, Still & Carbonated Beverages. Tea, Coffee and Chocolates, Spices, Quality tests of above food products.
3. Cereals, Pulses and Oil-Seed products:
Definition and Classification of wheat, Rice, Pulses & Oil seed products. Flour, Bread, Biscuits, Cake and other Baked Items. Dehulled legume-Pulses. Vegetable Oil- Refined & Hydrogenerated etc.
4. Animal Food Products:
Fluid Milk and its various kinds. Concentrated and dried milk Products, Fermented Milk Foods, Cream, Ice-Cream, Butter, Chees, Milk Adulterants and its detection. Meat, Fish, Poultry and Egg Products and their quality Control.
5. Food Additives:
Chemical Preservation and assessment of excess use of preservatives & Chemicals, Food Colours, Poisonous metals, Anti Oxidants, Food Flavors, Insecticides & Pesticides, Irradiated Foods. Fierobiological quality of Foods, Food safety, Food Sanitation and Hygeine. PFA, FPO, BIS and AGMARK Specifications of various types of Food and Food Products.
The question have been saved in answer later, you can access it from your profile anytime.
Access now
Report Question
Select your reason of reporting