Who is a Food Scientist?
A dead cow or sheep lying in a pasture is recognised as carrion. The same sort of a carcass dressed and hung up in a butcher's stall passes as food ~ John Harvey Kellogg
Have you ever picked up any packaged food item to check its nutrition value? Do you wonder who calculates it? The answer is a food scientist. A food scientist is responsible for studying all the basic elements of food. Not only that, but a food scientist also looks for ways to make processed food healthy and increase the shelf life of various packaged foods. Along with that, food scientists discover new food sources fit for human consumption. If all this work interests you and even if you want to be involved in these processes then being a food scientist is the right career choice for you.
The individuals who are in the profession of research to ensure the safety of food are known as food scientists. The work responsibility of food scientists includes checking the stability and maturity in raw ingredients. They ensure that the food ingredients meet the required standards in terms of quality, safety, and nutrition value. They also hold the responsibility to inspect safety compliance as per government regulations concerning quality, sanitation conditions, and waste management. They ensure the improvement in the quality of food such as its texture, color, composition, convenience, and nutrient value. They assist to develop programmes related to ensuring food quality and safety for food processing and storage operations. A food scientist stays updated with new regulations and events. Food scientists are also involved in resolving the problems arising in product development. They consult with other professionals of the industry such as plant operators, process engineers, marketing and packaging specialists, flavor experts, and other related professionals. Food scientists utilise their knowledge in the subjects of chemistry, biology, food production, and processing. They also apply their knowledge in the functioning of techniques and equipment used in food processing and production.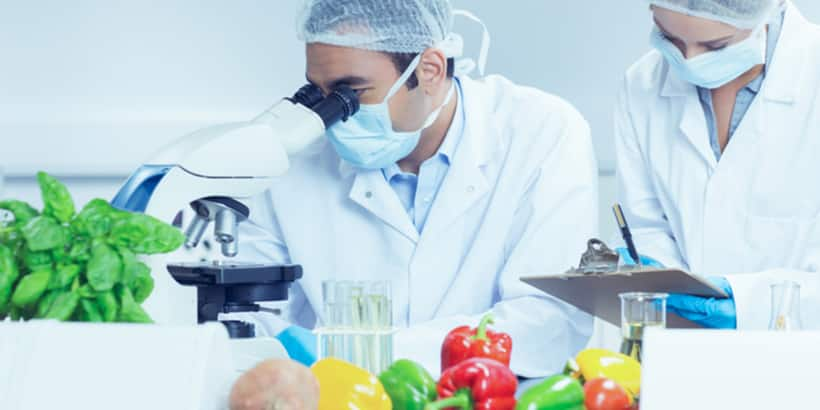 Food Scientist in a Nutshell
A food scientist works full time in the laboratory. He or she analyses data, works on computer programmes, monitors the processors involved in food production. He or she examines raw materials and surroundings to detect the problems. A food scientist is employed in research universities, government agencies, departments, and private entities such as food production facilities in order to do research work in terms of studying food production, storage and transportation facilities.
Quick Facts for Food Scientist
Industry

Food and Beverage

Average Salary in India

₹32500

Suitable for

Male, Female, Others

It is suitable for every gender. The career-best suits the person having an in-built curiosity about food and agriculture resources. The individuals who like to spend time alone while conducting research and study should opt for this career. It does not matter which gender the candidate belongs to.

Any special needs

No

This career does not suit the candidates with special needs. The candidates need to fit into the conduct of research and study. He or she may require to travel to fields and other food processing entities to examine the surrounding or environment conditions.
What is the role of Food Scientist?
While swallowing every bite of food, one should keep in mind that there is a food chain involved in nature that serves every creature plenty of meals. The world population has been steadily increasing in the last few decades with a decrease in the mortality rate. There is an enormous number of humans on the planet to feed. Maintaining the food supply system of the nation is not an easy task. Agriculture and food scientists research to find ways to improvise agricultural and food production. Their work responsibility involves the duties to ensure healthy and sustainable conditions on the farms and production facilities. Animal scientists who are involved in food production are also considered as food scientists. Their work responsibility involves researching ways to improve productivity and quality of animals. They research ways to increase animals' growth rates, decrease death rates, and upgrade the environment. There are several food scientists' jobs available in India. Food scientists are involved in the study of basic elements of food. They research and analyse the nutritional content, discover food sources, and develop ways and techniques to ensure processed food is healthy and safe. Many food scientists are involved in the research of ideas of preservation and packaging of food products. Some food scientists research to create new food products.
Optimising
A food scientist requires to optimise field practices such as crop modelling, soil mapping, and weather mapping. Optimization assesses the ability and limits of meal processing optimization methods, including classical approaches, artificial intelligence-genetic algorithms, multi-goal optimization techniques, and computational techniques. A rising aspect of the food processor's operation is optimizing structures to extract more greenbacks out of the overtime to cover through utility and transportation charges. Scientifically integrating techniques for optimization from several properties into one quantity based on approaches of the food processing industry.
Collaboration
In the field, a food scientist enhances analysis and collaboration. To promote and disseminate the evidence-based nutritional analysis, they collaborate with a wide variety of institutions and individuals like universities, parliamentarians, business leaders, educational researchers, and other community organisations. A food scientist requires collaboration with agriculture engineers, food technicians, and- personals to achieve goals.
Planning
Planning is a creative approach to the execution of the work in a corporation and the management of the workers who were doing the job. It is essential for all employees in the organisation to also have a clear overview of the complete strategic direction of the organization in order to function effectively. Food designer designs and implements food experiments. He or she approaches agriculture holistically.
Collection
A food scientist has to collect soil samples and determine its chemical and physical properties. A soil collection and test may evaluate biodiversity, or the soil's predicted potential for growth that shows a nutritional deficiency, possible toxicity from insufficient fertility, and inhibitions from irrelevant mineral elements. The experiment is being used to simulate the assimilation of minerals by core mechanism.
Research work
A food scientist has to conduct research and experiments to improve the productivity of the field crops and farm animals. In the manufacturing and research settings, food scientists do research work and also apply technological principles to the study of food production processes. The consumer-led market for healthy, nutritious, and accessible processed foods has created opportunities for experienced food scientists to enhance their careers..
Communication
As it is a nonverbal process of transferring significance with others, we can consider food as a medium of communication. In an increasingly complex communications environment, a food scientist provides important health and nutrition information for this study to an ever-hungry community for science-based supervision and others have faced complex pressure. A food scientist has to communicate the results of his or her research to other colleagues, farmers, and the general public.
Study
A food scientist has to carry out a study to explore animal genetics, nutrition, growth, reproduction, and diseases. They spend much of their time in laboratories where they would be performing studies and research or in the field where they would be collecting samples or analyzing overall conditions. Other agricultural and food scientists operate for the pharmaceutical industry, where they manufacture products or other health supplies using biotechnology procedures.
Consultation
A food scientist is also responsible for advising farmers to lower the cattle mortality rate, manage waste, and increase productivity. They establish ways to protect soil and water and focus on improving farm produce processing. Food scientists maintain, develop, and implement these and other environmental assets and help to protect people. They develop innovative food products and services to meet expectations and inspect food manufacturing facilities to ensure they meet requirements for hygiene, sustainability, safety, and waste management.
Types of a Food Scientist
Quality Control Technicians: The plant and quality control technicians are required to examine and test the samples of raw material and products to ensure it meets all the standards regularised by a government body. Expertise in lab skills helps the technicians to bag a good amount of salary. No doubt, the experience is necessary to work in senior positions.
Meat Inspectors: As the name suggests, meat inspectors examine the meat and meat products such as beef, pork, seafood, poultry, and other items. It is required to ensure that the meat processing follows standard quality assurance regulations. Meat inspectors also examine livestock to ensure that it is not infected with any disease before getting slaughtered. They make sure that the unfit meat gets destroyed.
Animal Health Technicians: Animal health technicians work for animals' health and ensure that the animal is fit. In other words, the animal health technician is similar to a nurse to humans. They also work with veterinarians, scientists, and science students. They conduct surgeries on prepping animals, administer medications and carry out lab tests and record medical history
Meat scientist: A meat scientist's job responsibilities involve applying the principles of biology, physiology, and nutrition. They conduct research and study to find out new ideas to make animals grow frequently and improve meat quality. They conduct research in meat science ranges such as animal growth, and development through fresh meats processed and manufactured meat products.
Bakery scientist: Bakery scientists research the complexity of various types of bread such as simple pastries and cakes. Bakery scientists use chemistry principles to research the bakery practices such as what ingredients should be used, and what techniques are involved.
What is the workplace/work environment of Food Scientist like?
Food scientists often work in food processing plants in the quality control department. Their work duties involve inspection of raw ingredients. They ensure that the food processing operation is carried out according to government regulations. Food scientists are also responsible for making production schedules, monitoring sanitation conditions, and supervising processing. They utilise their knowledge to improve the methods of food processing and storage that also involves canning, freezing, and distributing. Most food scientists also get employed in the research and development department. While some food scientists serve as quality control inspectors or production supervisors in processing plants. Few enter the profession of teaching and offer their services in colleges and universities. While few opt to work as food graders or inspectors for government departments. Food scientists also work in sales and advertising. Food scientists are also known as food technologists, dairy technologists.
Does Food Scientist require travelling?
Likely
Yes, a food scientist career requires traveling. They are required to inspect the food processing plants on an everyday basis. They oversee the sanitation conditions of the food processing plants. They conduct research and study to develop new ways to increase nutrient values in processed food. They develop ways to increase the productivity of farmlands such as crop production and plant growth. They are also involved in increasing the productivity of farm animals as well.
Employment Shifts
Full Time, Part Time
The food scientists usually work full time. They are hired on a full-time basis by food-producing, storage or transportation companies. Here they try to find new ways to produce, store and transport food. In case there is a survey to be done, and the company is short on hands, it might hire food scientists on part-time basis as well.
Employment Nature
Contractual, Permanent
Food inspectors work full time on permanent terms. Some private entities might hire food inspectors on contractual terms.
Work Place
Laboratory, Office
Agricultural and food scientists pay their services in scientific research and development, colleges and universities, and food production companies. They manage their work hours between laboratories and offices. They occasionally are required to inspect farmlands and food processing plants.
Presence in Geographical Area
Rural, Urban
The food processing industry flourished in urban areas. There are more alluring opportunities in urban land such as Bangalore, Noida, Delhi and Mumbai.
Time Pressure
Not Likely
Food scientists usually don't face any time pressure. They're required to work in laboratories having air conditioning for most of the time. For quite a few instances, they might be required to visit agricultural land in order to collect samples and equipment which might lead to some time pressure. Apart from this, time pressure is rare in the profession.
Overtime Details
Typically, food scientists are required to work 9 hours per day. Food scientists hardly face any overtime working problems. However, occasionally during project deadlines, they might be required to work for long hours under stress.
Weekly Hours of Work
Min 45 Hours
Working hours sometimes may get stretched due to travel. They usually work 8-9 hours a day and on average 45 hours a week. However, these hours can increase if activities such as surveying or research work needs to be completed.
How to become a Food Scientist?
What are the skills and qualities required to become a/an Food Scientist?
Communication skills: Communication skills are important that one uses when you expect to receive different perspectives. Several instances involve sharing the project with new ideas, thoughts, or perhaps an update. Communication skills include listening, speaking, interpretation, and understanding. Food scientists must be able to understand written and spoken information. They should be able to write effectively.
Problem-solving ability: Problem-solving is beneficial for both employees and companies because it encourages to exercise control of the surroundings. Problem-solving provides one with a method to identify these problems, find out why they are dysfunctional, and develop a plan of action to repair them. A food scientist should be able to understand the problems. He or she should be able to combine pieces of information and draw conclusions from it. He or she must be able to analyse ideas and determine their strengths and weaknesses. They should be able to recognise the new developments or changes that are likely to take place in a system.
Mathematical skills: Mathematical skills are essential to many occupations and can increase personal performance. Enhancing them can help you boost efficiency, reduce dependency on relevant individuals, prevent potential inaccuracy, and create new market opportunities. A food scientist must possess strong maths skills. He or she must be able to add, subtract, multiply, and divide accurately on fingers. He or she must be able to use mathematical formulas to solve problems. He or she should also be able to conclude using various mathematical methods.
Time Management: Effective time management enables you to do more in a shorter amount of time, leading to more leisure time, enabling you to take advantage of learning opportunities, reduce the stress, and help you concentrate, leading to increased professional success. Every time-management benefit enhances another part of life. Time management is an important aspect of this job. A food scientist must be able to figure out how well one is learning or performing. He or she must be able to manage time while being involved in multiple activities.
People skills: He or she must be able to solve problems by bringing others into the effective discussion. He or she must have excellent persuasive skills. He or she must be able to understand others' reactions and know the possible reasons.
Which certifications and internships can be helpful in becoming Food Scientist?
Internship Availability
Yes
The candidate can intern in food processing entities and other departments. The internship may require candidates to visit farms for crop and field scouting. The candidates may also require to perform tasks such as seed delivery and pick up. He or she may be required to perform and test maturity sampling. The intern assists in planting and harvest operations. He or she may also be required to keep a record of pesticides used in crops. Effective communication skills are required for this role. The candidate has to communicate with so many people.
Career Path Progression for Food Scientist
Food Science Technician: A food science technician is also known as a food analyst. A food science technician is responsible for assisting food technologists and food scientists. Food science technicians perform tests and record their findings. They also prepare reports that include documentation. Food science technicians are responsible for cleaning and maintaining laboratory equipment.
Food Technologist: A food technologist's work responsibilities include finding the content of food through various methods. Food technologists find ways to develop new food products, improve the quality of existing food products.
Food Policy Analyst: A food policy analyst works with the government department. He or she is responsible for the formulation and evaluation of government policies related to food safety and production, and nutrition assistance.
Extension Specialist: An extension specialist researches in their area of specialisation and uses their findings within educational programmes. They prepare educational resources such as booklets, and videos for the general public.
Consumer Safety Officer: A consumer safety officer is responsible for conducting assessments in production plants. They make sure production plants follow the standard safety measures regularised by the state government body. A consumer safety officer collects evidence to support enforcement actions.
Food Scientist: A food scientist works in a laboratory or the field. A food scientist uses methods for evaluation of food quality. A food scientist ensures the food safety standards are met and the food is processed in a hygienic environment for consumption.
Food Inspector: A food inspector is responsible for ensuring food safety measures are followed in the food processing, food manufacturing, and food packaging entities. They inspect such entities and restaurants, poultry farms, meat processing plants, and other related entities.
Food Scientist Jobs and Salaries
Food inspector
Monthly Salaries
Average Salary

40000

Junior Level Salary

30000

Senior Level Salary

200000
Job Description
Food Inspector examines and analyses the efficiency and durability of products manufactured by industry, and the manufacturing processes used to turn resources into food products.
Salary Description
Salaries depend on the skills and knowledge of the profession of food Inspector. The entry-level pay is up to five lakhs per year, which will eventually increase twenty-four lakhs per year.
Food technologist
Monthly Salaries
Average Salary

25000

Junior Level Salary

20000

Senior Level Salary

80000
Job Description
Food technologists organize the food and beverage manufacturing process and can work in a wide range of settings including kitchens, factories, laboratories, and offices. They create additional suggestions and recipes for the product and also customize and improve existing recipes. They are also responsible for strict food safety hygiene standards.
Salary Description
A food technologist's salary is based on the skills and knowledge and experience. The entry-level income is up to Rs. three lakhs per annum. At the senior-most level, the salary increases up to Rs. 10 lakhs per year.
What is the job outlook for Food Scientist?
The job growth in this profession is less as compared to other professions. There are lesser hirings in government departments. No doubt, there will always be requirements for food scientists to develop new ways to increase the productivity of the food processing industry. The jobs are limited in this area of the profession with the projected job growth of 2 percent. The growth in population and education may increase the demand for food scientists' role in the market. The starting salary of a food scientist is also quite decent and a person has the potential to earn more as and when he or she gains experience.
There is an expected 16 per cent growth in the jobs in the food processing industry for food scientists. The human population is rapidly growing that increases the concern towards diet, health and food safety. It will be required to increase production concerning quality and quantity to meet everyone's needs. Research opportunities will continuously increase due to rising awareness about certain types of food and its effects on the food cycle and environment. A food scientist may reach a senior position of production manager or research manager after gaining experience in the industry.
Frequently Asked Questions for Food Scientist
Que. I have completed level 10 education. Am I eligible for pursuing a diploma in food science?
Ans.
No, you must complete 10+2 in physics-chemistry-maths or physics-chemistry-biology with aggregate marks of 50 percent or equivalent.
After that, you can consider opting for a diploma in food science or related subjects.
Que. I have completed 10+2 in sociology. Which course should I pursue to establish a career in food science?
Ans.
You can consider pursuing a diploma in food science or related subjects with a duration of 6 months or 1 year. After that, you can apply for internships in food processing entities.
Que. I have completed B.Tech in food technology. Which city provides the most employment opportunities in food technology?
Ans.
Since the food processing and manufacturing industry is more established in urban areas. You can find lucrative opportunities in Bangalore, Delhi, Noida, and Mumbai.
Que. I'm pursuing a bachelor of science in specialisation in horticulture. Am I still eligible to establish a career in food science?
Ans.
Yes, you are eligible for pursuing a career in food science. You need to enter the industry through an internship to gain learning and exposure. You can find internship opportunities through various recruitment websites such as indeed, naukri.com, Internshala, and lets intern. You need to update your CV and show it there so that recruiters can see it.
Que. I have completed my 10+2 in physics-chemistry-biology with 49 percent of aggregate marks. Am I eligible for pursuing B.Tech in food technology?
Ans.
The minimum requirement to pursue B.Tech is passing 10+2 in physics-chemistry-maths or physics-chemistry-biology with an aggregate of 50 percent of marks or equivalent to it. The relaxation of 5 percent is provided to candidates of reserved categories. If you belong to a reserved category, then you are eligible to get admission in the B.Tech programme.
You might also be interested in
The question have been saved in answer later, you can access it from your profile anytime.
Access now
Report Question
Select your reason of reporting