B.Tech in Gas and Applied Petroleum Engineering: Course, Eligibility, Fees ,Scope & Salary
What is B.Tech in Gas and Applied Petroleum Engineering
Bachelor of Technology in Gas and Applied Petroleum Engineering is a 4 year full time undergraduate course. The program intends to create technical professionals who are fit to take on engineering responsibilities across the entire value chain in the Gas industry- a specialization that has seen growing demand in recent years. The program (B.Tech in Gas and Applied Petroleum Engineering) is designed to help you understand and apply the best global practices in the fields of natural gas processing, gas transportation and gas utilization techniques. You will also learn about specific upstream activities that encompass exploration, reservoir and production.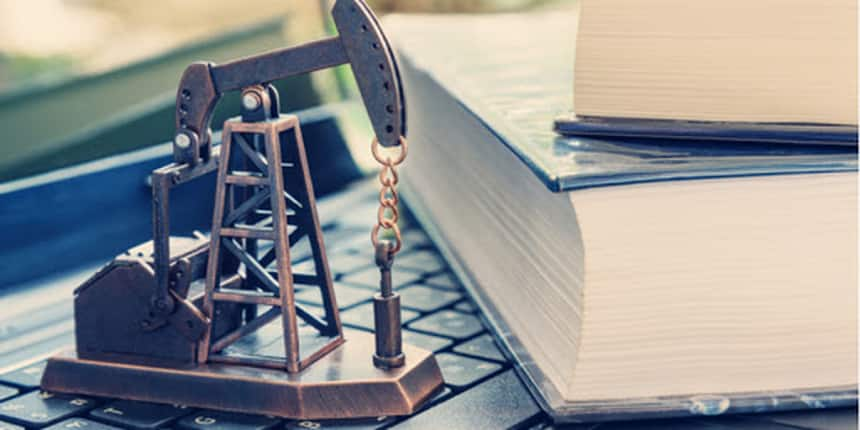 Overview: B.Tech in Gas and Applied Petroleum Engineering
| | |
| --- | --- |
| Course Name | B.Tech in Gas and Applied Petroleum Engineering |
| Duration | 4 Years |
| Eligibility | 10+2(with physics, chemistry and mathematics with minimum 60% marks) |
| Admission Process | Entrance Exam |
| Fees | INR 4 to 10 lakhs |
Mentioned below is the list of various subject B.tech courses which are studied under b tech gas and applied petroleum engineering:
| | |
| --- | --- |
| | |
| | |
| | |
| | |
| | Elements of rig component design |
| Basic electrical and electronics | Introduction to petroleum operation |
| | Thermodynamics & heat engine |
| | |
| Applied numerical methods | |
| Sedimentary & petroleum geology | |
| Drilling engineering & well completion | |
| | |
| Well log analysis & well testing | |
| | Offshore drilling & production operations |
| | Reservoir modelling & simulation |
| Health safety environment management | - |
How to get admission to b tech in gas and applied petroleum engineering
Bachelor of Technology (B.Tech) in Petroleum Engineering is an undergraduate Engineering Degree. B.Tech Petroleum Engineering course mainly focuses on the extraction and processing of HydroCarbon deposits of oil and Natural Gas from the earth's crust. The aspirants of the course get to learn the process in which the extraction and processing of crude oil is made through various engineering technologies. The tremendous development in the field of Petroleum Engineering is in need of skilled and professional graduates, therefore, the requirement of graduates of this particular course is high in demand.
Admission to the course is based on university-level counselling which is based on the candidate's performance in UPES Engineering Aptitude Test (UPESEAT). Candidates must qualify the relevant entrance examination followed by the Group Discussion round. After qualifying the GD, candidates need to go through the round of Personal Interview for admission to the course.
Top Entrance Exam for B.Tech in Gas and Applied Petroleum Engineering
Entrance exams are conducted for the admission of b tech petroleum engineering by various colleges/universities and state and central examination authorities. Following are the entrance examination for b tech in gas and petroleum engineering:
JEE Main: JEE Main has two papers, paper 1 and paper 2. Candidates may opt for either or both of them. Paper-1 is for admission to B.E./B.Tech courses are conducted only online. Paper-2 is for admission in B.Arch and B. Planning courses and is conducted only offline. The similarity between the two of them is that the question contains only multiple choice questions.JEE Main has a fixed exam structure and is not subject to change every year.
Some of the key changes in JEE Main (2020) are mentioned below
From 2020 onwards, JEE Main will have three papers, one for B.Tech, second for B.Arch, and third examination will be separately conducted for B.Planning.

The number of questions has been reduced from 90 to 75 for each paper. It means that the students have to attempt 5 less questions from each section of the paper.

Each section of the exam will have 25 questions carrying equal weightage to all. Though from this time onwards, 20 questions will be multiple choice questions and 5 questions will be numerical based.

There will be negative marking for MCQs but numerical questions will not follow the negative mark scheme.

The B.Planning paper will have three parts, Mathematics(like B.Arch), Aptitude(like B.Arch), and planning based objective questions.

The newly introduced B.Planning exam will be of 400 marks with a total of 100 questions.

The drawing part of the B.Arch examination which carried 3 questions up until 2019 will now have 2 questions carrying 100 marks.

From this year onwards, candidates having a smaller number of negative responses will get an advantage in case there is a tie score.

From this year onwards, NTA has set up more than 3400 practice centres in the country for the preparation of the exam.
JEE Advanced: Joint Entrance Examination(JEE) Advanced is viable for the students who qualify the JEE Main examination. Therefore, a student needs to be thorough with their topics before attempting the JEE Advanced examination.
Some key changes in JEE Advanced (2020) are mentioned below
A total of 2.24 lakhs Aspirants will qualify for writing JEE Advanced. Last year, 2 lakhs students qualified for writing JEE Advanced (2020).

As per the new format types of questions will be more descriptive.

For the first time reservation for the PwD category has been raised from 3% to 5%.
UPESEAT Entrance Exam For admission into b tech programs, University of Petroleum and Energy Studies(UPES), Dehradun conducts its own aptitude based entrance examination. The last date for the submission of the online applications is May 3,2020.
Highlights about UPESEAT
The mode of exam is online

The paper contains multiple choice questions only

There will be five sections in the exam, candidates will be allotted 1 mark for each correct answer

There is no negative marking

The total number of marks are 200

The time allotted is 3 hours
BITSAT: BITSAT 2020 Application Form has been released. The exam will be held by Birla Institute of Technology and Science. This is a university level entrance exam held every year to offer admissions into various Integrated First Degree Programmes. Admission will be offered to the candidates into B.E, B.Pharm and M.Sc programmes after qualifying this admission test. Candidates will get admission in the BITS campuses located in Pilani, Goa and Hyderabad. Candidates interested for admission can register for the test by online mode.
Highlights about BITSAT
The BITSAT paper has different sections like, logical reasoning, mathematics/biology, physics, chemistry, English proficiency.

The mode of exam is online.

The paper contains multiple choice questions only.

The total number of marks are 450.

The duration of the paper is 3 hours.

Incase, there are extra questions than it will only be from- Mathematics/Biology, Chemistry and Physics

In case students have attempted 150 questions then they can also attempt 12 questions more but without skipping the first 150 questions.

Results are always displayed on the BITSAT website.
KCET: The Exam will be conducted by Karnataka Examination Authority. The exam is conducted every year by state level. It is organized for providing admission into B.Tech and other professional courses in the state of Karnataka. Through, thus exam candidates can get admission to the various offered courses in the state government and private institutions.
Highlights about KCET
Application forms are available from 5th February till 2nd March 2020.

Exams will be held on 22nd April (for Biology & Maths) and on 23rd April for (Physics & Chemistry).

The mode of exam is offline.

For each paper 80 minutes will be given.

Each paper will be of 60 marks i.e. total 180 marks.

Multiple choice questions will be asked in the exam.

Each question will carry 1 mark.

There will be no negative marking for unanswered or incorrect questions.
Eligibility Criteria for B.Tech in Gas and Applied Petroleum Engineering
Admissions to the course is done with two pathways, eligibility criteria for both is given below:
Entrance examination pathway: For admissions through UPESEAT (for up to 80% of Seats), candidates are required to have scored a minimum aggregate score of 60% in class X examination; and a minimum aggregate score of 60% in class XII examination with Physics, Chemistry & Mathematics as the main subjects.
Non- Examination Pathway: For admissions based on Board Merit / JEE Mains Score (for up to 20% of Seats), candidates need to have scored a minimum aggregate score of 80% in classes X and XII with Physics, Chemistry & Mathematics as main subjects.
Through JEE Main Merit: candidates need to have scored a minimum aggregate score of 60% in classes X and XII Physics, Chemistry & Mathematics as main subjects. JEE Mains cut off is announced after the declaration of JEE Mains results.
Top institutes for B.Tech in Gas and Applied Petroleum Engineering
B.Tech in Gas and Applied Petroleum Engineering Career Prospects
Successful graduates of B. Tech in Gas and Applied Petroleum Engineering are always in demand at a variety of levels in both public and private sector organizations. Organizations like Gulf Technologies Pvt Ltd recruit these professionals for the job positions such as Lead Design Engineer, whose main responsibility is to design various machineries and structures related to petroleum refinery processes. Some of the most popular job positions offered by are Petroleum Engineer, Drilling Engineer, Reservoir Engineer, among others. Some of the established organizations in India that recruit successful B. Tech in Gas and Applied Petroleum Engineering graduates are listed below for reference:
Oil and Natural Gas Corporation Limited (ONGC)

Hindustan Petroleum Corporation Limited (HPCL)

Bharat Petroleum Corporation Limited (BPCL)

Indian Oil Corporation Limited (IOCL

Chennai Petroleum Corporation Limited (CPCL)

GAIL

Hindustan Oil Exploration Company Ltd (HOEC)

Essar Oil
Salary Trends for B. Tech in Gas and Applied Petroleum Engineering
A Petroleum Engineer is involved in nearly all stages of oil and gas field evaluation, development and production. The objective of their work is to maximise hydrocarbon recovery at minimum costs while maintaining a strong emphasis on reducing environmental impact. Petroleum Engineers are divided into several groups and the average annual salaries offered to them in India fall in the ranges specified in the following table:
| | | |
| --- | --- | --- |
| Job Profile | Job Description | Salary Per Annum |
| Drilling engineer | A Drilling Engineer develops, plans, evaluates and supervises the operations necessary for drilling oil and gas wells. They are involved from the initial well design to testing, execution and completion of the project. | INR 11,50,659 |
| Production engineer | A Production Engineer possesses a wide set of skills, competences and attitudes based on market and scientific knowledge. These abilities are fundamental for coordination and integration of professionals from multidisciplinary teams. | INR 2,75, 258 |
| Chief petroleum engineer | A Chief Petroleum Engineer plans and directs engineering activities of a petroleum company. They develop oil fields and produce oil and gas, formulates programs for developing oil fields, plans schedules for drilling wells and for constructing pumping units, crude-oil treating units, and other production facilities. | INR 1,40, 730 |
| Offshore drilling engineer | An Offshore Drilling Engineer is responsible for the timely design and preparation of each well drilling program in order to drill the wells right, and for preparing a complete drilling program. Responsibilities also include working closely with other groups to assure the program is based on all available geological, reservoir and drilling information from nearby wells. | INR 1,25,000 |
| Reservoir engineer | Reservoir Engineers utilize their knowledge of geology and fluid mechanics to locate fuel in underground reservoirs. | INR 1,15,800 |
| Completion engineer | A Completion Engineer effectively selects equipment that shall best suit the subsurface environment in order to best produce the hydrocarbon reserves. Once the completion hardware has been selected, a Completion Engineer installs, monitors and adjusts the involved equipment to ensure that the well and reservoirs operate under ideal circumstances and produce optimum outputs. | INR 8,00,000 |
Conclusion
B.Tech in Gas and Applied Petroleum Engineering is a 4- year undergraduate course in engineering. Students with a 10+2 or equivalent qualification with an appropriate minimum aggregate score attained from a recognized educational Board are eligible to take admission to the course. Petroleum Engineering is the branch of engineering concerned with activities related to and processes involved in the production of hydrocarbons, which can be either crude oil or natural gas.
Exploration and production thereof generally fall within the purview of the oil and gas industry. Average starting monthly salaries offered to successful graduates of the course lie between INR 25, 000 to 40, 000, excluding other perks and benefits. The figures go up with an increase in candidates' skill sets and experience.
Other Relevant Links
B.Tech in Petroleum Refining and Petrochemicals Engineering
B.Tech in Gas & Applied Petroleum Engineering
Petroleum Engineering Updates and Articles