Who is a Petroleum Engineer?
Oil is like time, once gone will never come back...and it's going at fast rate ~ Anonymous
Petroleum is required by almost every industry in order to fulfill their travel needs, or to run their machineries, in generating electricity, manufacturing chemicals, plastic so on and so forth. But do you know petroleum is not as easily available to us as water. Petroleum needs to be extracted from rocks and deep sea reservoirs. Therefore, it is similar to oil and gas onshore jobs. It is not humanly possible to extract that amount of petroleum as it is required by the world. Therefore, if you wish to be someone who can make this process easier then, you can become a petroleum engineer. You can create machinery which can help in the extraction of petroleum from the reservoirs which are hidden deep inside the earth's surface. The job of a petroleum engineer is very important for the efficient functioning of not only several industries but it is also important for meeting common man's daily needs.
Petroleum engineers design equipment that extracts oil from reservoirs, which are deep pockets of rock that contain oil and gas deposits. To do this, they spend a lot of time gathering and analysing data to extract the oil in the safest and most cost-effective ways possible. They also do a lot of evaluating and refining systems to make them better. A career as petroleum engineer involves use of supercomputers, not only in the analysis of exploration data and simulation of reservoir behavior but also in automation of oilfield production and drilling operations. In a layman's term, a petroleum engineer is a person who finds the best way to drill and extract the oil from the oil wells. A petroleum engineer also tries to find new ways to extract oil in an efficient manner.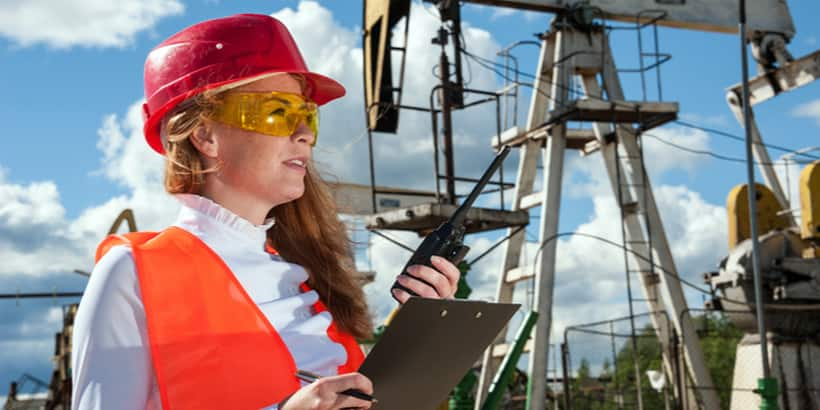 Petroleum Engineer in a Nutshell
Petroleum engineering is concerned with activities related to producing petroleum. These products can be in the form of either crude oil or natural gas. Petroleum engineering also requires exploration and refinement of petroleum resources. Therefore, a career as a petroleum engineer comes up with oil and gas onshore jobs. There are also desk jobs in the petroleum industry.
Quick Facts for Petroleum Engineer
Industry

Energy

Average Salary in India

₹31000

Suitable for

Male, Female

A petroleum engineering career is suitable for both the genders (male and female). However, the oil field remains one of those few careers which still has a significantly fewer number of women than men when compared to other professions. This is mostly due to the nature of the petroleum engineer job, where top-level management is not comfortable in hiring women in harsh working conditions. This does not mean that there is an absence of women in the oil field, it is just that the number of women working is quite low. And can be stated that the petroleum engineering career is still largely a male-dominated profession.

Any special needs

Yes

This jobs for petroleum engineer is suitable for candidates with special needs only if the job role includes office work (Desk Job). However, fieldwork is not suitable for people with special needs as being active physically and mentally is very demanding for the job profile.
What is the role of Petroleum Engineer?
A petroleum engineer has to explore remote places for oil. A career as petroleum engineer not only involve exploring new oil reserves, but they also conduct various research activities for inventing new technologies and methods that will help in increasing the efficiency and reducing the mining cost. In some cases, petroleum engineers also design the equipment and mining processes to achieve the maximum profitable extraction of oil and gas. Petroleum engineering career comes with varying roles and responsibilities.
Decision making
In a given situation, decision-making is the process of selecting the right solution available. This also needs you to make rational decisions: acknowledge several different decisions. As there is a lot of money involved and even a tiniest of judgment error can cost millions of dollars. The same goes for decision making as well. A delay in making a decision can cost a lot in terms of opportunity lost. Hence a petroleum engineer needs to have sound judgment and decision-making ability.
Production Development
Product development refers specifically to all phases of bringing a product from a single idea, to market launch and even beyond. Basically product development involves the complete process of finding a business need. Petroleum Engineers analyze the detailed information with a perspective to recommending the installation of wells and additional development to achieve production and manufacturing.
Monitoring
Petroleum engineers spend a lot of time on the field, analysing and monitoring system equipment such as keeping an eye on the gauges, dials, and other indicators, to ensure that the machine is performing at an optimal level. Employee monitoring involves the use of different workplace surveillance techniques to collect data about staff members' actions and locations. Companies track them and their performance to boost efficiency and different departments of the organization resources.
Quality control
Petroleum engineers regularly conduct quality control analysis to prevent any mishaps or do a diagnosis of an anomaly. Quality control helps in maintaining the optimal level of performance. Quality control allows the company to create a culture in which workers and managers develop and improve. This is accomplished by educating workers, establishing manufacturing quality standards and reviewing products to test for statistically meaningful variations.
Documentation
Petroleum engineers prepare scientific documents for research and management employees. Individuals analyze developments for the production, design, or maintenance of equipment or systems. One of the aspects of some official work that gives importance is the processes and work connected to all of it. Documentation can contribute to enhancing potential share price by promoting an appreciation of business performance and assessing its worth.
Types of a Petroleum Engineer
There are various careers similar to petroleum engineer jobs. We have mentioned below major job roles as as alternative option to petroleum engineering careers.
Natural Gas Engineer: A natural gas engineer is one of the sub-disciplines of petroleum engineering. Natural gas engineers are the ones who have the know-how to develop a natural gas resource. A crude oil engineer has the responsibility of producing as most of the earth's resources as possible. Based on factors such as geological formations and the amount of gas available at the site, they decide the best approach. They also establish guidelines to efficiently extract materials, utilizing drilling, chemicals, as well as other gases in the atmosphere and equipment.
Drilling Engineer: There is a usual understanding that a drilling engineer looks after the drilling of the oil well. A drilling engineer is also responsible for developing, planning and supervising a majority of the operations related to drilling. Drilling engineers plan and execute well drilling techniques in the safest and most economical way possible. They worked very closely with the drilling operator, service providers, and enforcement staff, and also geologists and other professional experts.
Production Engineer: A production engineer is in charge of all the equipment used for drilling the oil well. It is the duty of the production engineer to coordinate and maintain the drilling equipment. They also select surface equipment that separates the produced fluids (oil, natural gas, and water). Production Engineers are accountable for overseeing and optimizing production at manufacturing plants. They help development teams, implement safety procedures, report problems to the manager and implement performance and income enhancement strategies.
Reservoir Engineer: A reservoir engineer is responsible for the evaluation of oil and gas pockets. It is the responsibility of the reservoir engineer to determine the amount of oil and gas that is available and whether the site is suitable for drilling a well. Reservoir engineers employ their geological and fluid skill and knowledge to assess the position and volume of fuel in underground sources. In certain cases, engineers are involved with specialized technology to find oil and natural gas reserves, like computational modelling and imaging programmes.
Also read - Career as a geothermal engineer
What is the workplace/work environment of Petroleum Engineer like?
How to become a petroleum engineer? What does petroleum engineer do? What is the scope of petroleum engineering? If you are looking for answers to such questions, then you are required to keep scrolling to get all the information about job in oil and gas industry. Petroleum engineers require working in offices or at drilling and job sites, depending on whether they are in the planning or operational phase. A career as petroleum engineer provides varying work places such as office buildings, laboratories, or industrial plants. Several petroleum engineers may spend time outdoors at construction sites. While other petroleum engineers get job oil and gas exploration and production sites, where they monitor or direct operations or solve onsite problems. Some petroleum engineer jobs require travel extensively to plants or worksites here and abroad. They may work in the offices of petroleum mining companies, or they may work on petroleum mining rigs. Weather conditions on the rig may be harsh.
Does Petroleum Engineer require travelling?
Likely
Due to remote locations of oil fields, travel is frequently required by petrochemical engineers to visit these sites as well as to meet with other engineers, team members, and customers. Further, your travel may even span across the globe depending on the scale of operations of the companies.
Employment Shifts
Full Time
Petroleum engineers typically work full time, overtime and compensatory leaves are more prevalent due to extended work in remote locations. A petroleum career only provides full-time work opportunities. There is no option for work from home as the complete work depends on the gadgets or machines which are only present in offices and labs. A petroleum engineering job requires a site visit on a regular basis so a person needs to be physically present for the assessment of the smooth functioning of the work at different sites.
There are no fixed shifts as they need to work in both offices and have to visit sites. A career as a petroleum engineer requires being flexible with timings as the work requires a 24x7 presence of an engineer on a site. So rotational shifts and overtime shifts is a regular phase in this career.
Employment Nature
Permanent
A petrochemical engineering company hires petroleum engineers on permanent basis. A job in oil and gas sector on contractual basis is least likely to happen in this career. The nature of the work of career as petroleum engineer demands an employee to take the responsibility in all different stages to complete a work at a site or in offices or labs.
Work Place
Office, Laboratory, On-Field
Petroleum engineers work in office buildings, laboratories, or industrial plants which are mostly situated in cities(urban areas). Also, they spend time outdoors at construction sites and oil and gas exploration and production sites which are mostly in the countryside (rural areas).
Presence in Geographical Area
Rural, Urban
Most of the offices are in urban areas however the petroleum engineers spend time outdoors at construction sites and oil and gas exploration and production sites which are mostly in the countryside (rural areas).
Time Pressure
Likely
Time pressure is considered moderate for petroleum engineers. Petroleum engineers typically work full time, overtime and compensatory leaves are more prevalent due to extended work in remote locations. Being employed in full-time jobs, petroleum engineer requires a site visit regularly so a person needs to be physically present for the assessment of the smooth functioning of the work at different sites.
Overtime Details
Petroleum engineers working in offices usually work regular hours but may be expected to work longer hours when necessary. Those employed in jobs in oil and gas rigs usually stay on the rig for extended periods. There are no fixed shifts as a career as a petroleum engineer requires to work in both offices and on-site. Many engineers work a standard 40-hour week. At times, deadlines or design standards may bring extra pressure to a job in oil and gas industry, requiring engineers to work longer hours. In most cases, petroleum engineers are paid for overtime.
Weekly Hours of Work
Min 40 Hours
Petroleum engineers working in offices usually work regular hours but may be expected to work longer hours when necessary. Those assigned with job in oil and gas rigs usually stay on the rig for extended periods. There are no fixed shifts as they need to work in both offices and have to visit sites. Many engineers work a standard 40-hour week. At times, deadlines or design standards may bring extra pressure to a job, requiring engineers to work longer hours. In most cases, petroleum engineers are paid overtime.
How to become a Petroleum Engineer?
What are the skills and qualities required to become a/an Petroleum Engineer?
There are various skillsets required in the petroleum jobs. We have mentioned below major skills for a career as a Petroleum Engineer.
Analytical Skills: Petroleum Engineers are required to collect and make logical sense of significant amounts of technical knowledge and data to ensure secure and efficient operation of the facilities. Analytical skills involve the ability to gather and evaluate knowledge, resolve problems or make judgments. Workers who have these unique qualities can assist fix complex issues facing a company and boost the overall performance and effectiveness.
Creativity: Creativity motivates workers to operate cooperatively. The creative strategy enables collaborative work by design, this is the most important aspect of providing a working environment in which creativity can actually happen. Since each new drill site is special and therefore poses new challenges, petroleum engineers need to be smart enough to come up with innovative designs for oil and gas extraction.
Interpersonal Management: Petroleum engineers must work with others on projects that require highly complex machinery, equipment, and infrastructure. Communicating and functioning with other technicians and oil and gas staff is important in ensuring that projects meet customer requirements and are operating safely and effectively. Interpersonal skills are the qualities and strategies that an individual uses to effectively communicate with each other. In the commercial world, intelligence involves the ability of an employee to function well with each other.
Mathematical Skills: Petroleum Engineers use principles of calculus and other advanced topics in math for analysis, design, and troubleshooting in their work. Mathematical skills are particularly important to several occupations and therefore can increase individual's work efficiency and performance. Enhancing them could help you improve productivity, reduce dependency on key employees, minimise expensive losses and recognize new growth opportunities.
Problem-Solving Ability: Identifying problems in drilling plans is critical for petroleum career because these problems can be costly. Petroleum engineers must be cautious not to neglect any possible issues and must fix those that arise quickly. Problem-solving is beneficial for both customers and companies because it helps us to exercise control of the setting. Problem-solving provides us with a framework to recognise these things, try figuring out why they are damaged and describe a plan of action to resolve them.
Decision-Making Skills: Petroleum engineers need to be good at making decisions based on their studies and analysis. Major decisions regarding exploration, continuing extraction or abandonment are made on the basis of surveys and studies done by the petroleum engineers, who on the basis of their findings often need to take or recommend an informed decision.
Communication Skills: The profession requires working closely with top leadership as well as different departments and teams. They are, therefore, involved in maintaining a high level of communication and coordination. Communication in the workplace is very essential especially to businesses as it helps organizations to be efficient and run properly. Workers will experience a rise in productivity, efficiency and engagement if they can interact within an agency.
Knowledge of Science: Petroleum engineers must adapt in the practical application of science, technology, and engineering knowledge. Apart from an educational background, the job of a petroleum engineer requires regular use of these subjects and is therefore highly relevant for the day to day operations. Science is regarded by the community and help to meet certain basic human needs and enhance working conditions by applying scientific understanding.
Mechanical Knowledge: Mechanical skills are something that contributes to the ability or the use of machines and equipment. Simple mechanical awareness is the willingness to grasp basic concepts of physics and implement them to diverse circumstances. Petroleum engineers should be comfortable with machinery and equipment. All aspects of petroleum production involve machinery and the petroleum engineer plays a key role in their requirement estimation, designing and efficient usage.
Patience: A career in oil and gas industry demands ability to work under pressure. As a Petroleum Engineer, it is very important to keep calm among all the chaos happening around you. Patience is a basic component of success in the workplace. You have to experience those scenarios several times which really takes patience. That because when you need to work such additional hours.
Teamwork: Petroleum Engineering positions may vary depending on the experience and job role. But each position demands a spirit of working in team. Petroleum Engineers have to work closely with other technical departments and co-ordinate with teams. On the ground, it is important that petroleum engineers have a strong collaboration with other professionals. Since they are practically the part of all levels of industrial extraction of oil and gas, including research, evaluation, development, and production, team-working skills have a crucial role to play in determining the impact of their work.
Also read - Skills required to become a geothermal engineer
Which certifications and internships can be helpful in becoming Petroleum Engineer?
We have provided below some of the related certification courses to petroleum engineering that may help you to upgrade your skills and knowledge for the respective career.
Internship Availability
Yes
There are various internship opportunities one can grab in the field of petroleum engineering. It not only helps in getting knowledge about the field practically but also improves skills of an individual. An internship is an option that an organization or any individual provides to aspiring workers who are designated as interns, to function for a specific duration at a company. Practitioners are generally students of colleges, schools offering petroleum engineering courses. Most of the internships vary from a month to three or maybe up to six months. An internship may be either paid or on a voluntary basis. Institutions might need a detailed application, resume, transcripts, or sometimes maybe recommendation letters, and also a dissertation where it is mentioned how the applicants are willing to take part in working as an intern for the organization. The very same requirements may not appear to all internships opportunities. One will explore through internship opportunities through online recruiting portals. The students get hands-on experience mostly through internships. If you want to become Petroleum Engineer, you have to start from internships to soon to get progress to acquire senior roles in petroleum industry.
Career Path Progression for Petroleum Engineer
Petroleum engineering positions vary depending on the career progression. We have mentioned below the hierarchy of a career as a petroleum engineer with the progression in job roles.
Junior Engineer: At the entry-level, petroleum engineers join as junior engineers. They are usually under the supervision of senior engineers or engineering managers. At this level, an engineer understands the difference between theoretical knowledge and practical knowledge. This is the initial learning phase where the engineer understands the actual duties which he/she needs to perform to interrelate theoretical knowledge with the practical work that is continuing in the industry. Certain large companies also provide formal training to junior engineers so that they have a better understanding of their role and what is expected from them. In this phase, the engineer is dependent on the supervising or senior engineer.
Senior Engineer: After gaining some practical knowledge and enhancing the theoretical experience, junior engineers are promoted to senior engineers. They are usually given independent projects that have more freedom. This gives them the ability to develop designs, come up with solutions and make important decisions.
Engineering Managers: Eventually with the amount of time spent and enhanced experience senior engineers might advance to become engineering managers and supervise a team of technicians, engineers and handle big projects in playing a very important role in leading a team to achieve the organisation goal or needs.
Sales Engineers: Certain engineers can also move into the sales team after gaining some considerable amount of experience required for the position. They use their engineering background to pitch the technicality of the product to clients and help in product planning, installation and use of the product.
To know more about the career as a petroleum engineer, how to become a petroleum engineer and colleges of petroleum engineering, you are required to keep reading the article.
Also read - Career as a wind energy engineer
Petroleum Engineer Jobs and Salaries
Analytical Chemist
Monthly Salaries
Average Salary

31000

Junior Level Salary

24000

Senior Level Salary

59000
Job Description
Analytical chemists are researched professionals. Their work responsibilities involve determining chemical properties or make up of a variety of substances, both organic and inorganic. Analytical chemists determine chemical compounds and molecules in a matter along with the quantities of chemicals with respect to other to discover impurities. They analyse unknown samples, maintain quality control of specific substances and medicines.
Salary Description
The salary varies depending on skills and experience of analytical chemist. An entry-level analytical chemist could earn more than Rs. 300,000 per annum. A senior-level analytical chemist could earn more than Rs. 700,000 per annum.
What is the job outlook for Petroleum Engineer?
In this section, we will discuss about the scope for petroleum career. If you are planning to enrol in the schools offering petroleum engineering courses, then you must get aware about the job market of this sector.
Opportunities for job in oil and gas sector are ample in the Middle East with very high annual income packages. Higher education opportunities are good all over America and Europe too. In countries with fast-growing energy needs, the appeal of energy engineering jobs also tends to be higher. Jobs in this career would rise at a slower rate compared to other engineering careers but it is the course amongst all other engineers which is highly paid in India and across the globe. India is an emerging or still developing country in the field of energy sector which adds a plus point to the candidates who are looking to build a career in this field. Jobs opportunities are not only in the private sectors you are also offered jobs in the government sector for a career as a Petroleum Engineer. Even with people switching to alternative fuel and energy, there is still a huge demand for petroleum engineers. Companies are trying to find more efficient ways to use petroleum products, without harming the environment.
Employment of petroleum engineers is projected to grow three per cent from 2018 to 2028, slower than the average for all occupations. Oil prices will be a major determinant of employment growth. Higher prices can cause oil and gas companies to increase capital investment in new facilities and expand existing production operations, along with exploration. The Petrochemical Engineering company in which the graduates are absorbed are Reliance Industries Ltd., ONGC, Schlumberger, Shell, OIL, Gas Authority of India Ltd., British Gas, Halliburton Services, Essar Oil, GSPC, Cairn Energy, IOCL, Essar Oil Ltd., Baker Hughes, Reliance Energy, NIKO Resources, GEOENPRO, MECOM Ltd.and many more. Oil and gas has always increased in demand due to rising population. The rate of growth has been slowing down due to various factors, though. Petroleum engineers will be busy meeting the growing demand from developing countries, particularly in Asia, where rising standards of living will drive more consumption. Oil production will remain high, but could peak in 2030, and gas demand will rise over the next 20 years, according to recent research and surveys.
Frequently Asked Questions for Petroleum Engineer
Que. What do petroleum engineers do?
Ans.
Once oil and gas are discovered, petroleum engineers work with geoscientists and other specialists to understand the geologic formation of the rock containing the reservoir. They then determine the drilling methods, design the drilling equipment, implement the drilling plan, and monitor operations.
Que. Do petroleum engineers travel a lot?
Ans.
Petroleum engineers generally work in offices or at drilling and well sites. Travel is frequently required to visit these sites or to meet with other engineers, oilfield workers, and customers.
Que. How many years does it take to be a petroleum engineer?
Ans.
A bachelor's degree in petroleum engineering typically takes four years and includes classwork, labs, and fieldwork. The program normally requires basic sciences such as chemistry, calculus, differential equations, and physics.
Que. What qualifications do you need to become a petroleum engineer?
Ans.
Petroleum engineers must have a bachelor's degree in engineering, preferably in petroleum engineering. Petroleum engineers must have a bachelor's degree in engineering, preferably petroleum engineering. However, a bachelor's degree in mechanical, civil, or chemical engineering may meet employer requirements.
Que. What is the average starting salary for petroleum engineers?
Ans.
The salary varies depending on skills and experience. The average starting salary for petroleum engineers is Rs. 760,000 per annum, according to payscale.
Que. What are the top petroleum engineering colleges?
Ans.
There are numerous schools offering petroleum engineering in India. We have mentioned below top petroleum engineering colleges.
Top Petroleum Engineering Colleges
You might also be interested in
Career after Polytechnic - Get complete details about career options after polytechnic...
Questions related to Petroleum Engineer
Showing 11 out of 11 Questions
The question have been saved in answer later, you can access it from your profile anytime.
Access now
Report Question
Select your reason of reporting