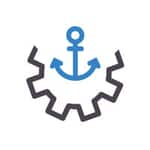 Naval Architecture
Degrees offered: B.E /B.Tech, B.Tech M.Tech, Diploma, M.E /M.Tech., P.G.D, Ph.D
Q&A : 8 Question
What is Naval Architecture
What is Naval Architecture?
Naval Architecture (NA) involves the design, development, design evaluation, and calculation that helps bring all marine machines to life. Marine vehicles will always be in demand, for travel, for work, and for the protection of our country, which makes Naval Architecture a favourable course. Ever wondered who makes the cruise ships that help travelers tour different cities of the world? Who makes the submarines and warships that help us keep our borders safe? Importantly, have you ever thought about the profession of the man that designed the Titanic? The answer to all those questions lies in Naval Architecture.
Naval architecture involves the planning, design, development, construction, trial, maintenance, and launching of marine vehicles, among other activities. A naval architect must know about several branches of engineering, such as mechanical engineering and automation engineering, to build ships, submarines, and boats, etc.
Naval architecture is instrumental in the evolution of a new marine machine era, with some of the most complex and high-valued pieces of architecture under its wing.
Eligibility Criteria (UG & PG) of Naval Architecture
Eligibility Criteria for Naval Architecture Course
Eligibility Criteria For Bachelor's in Naval Architecture
Must have passed 10+2 from a recognized educational board with primary subjects of Physics, Chemistry, and Mathematics.

A minimum of 50% aggregate percentage is mandatory.
Eligibility Criteria For Master's in Naval Architecture
Entrance Exams for Naval Architecture
To qualify for an undergraduate seat in a Naval Architecture course, one must qualify for the traditional engineering entrance exams. Some of these entrance exams for Naval Architecture include:


For Bachelor's Course in Naval Architecture:
IMU-CET: The Indian Maritime University Common Entrance Test, is conducted by the Indian Maritime University for entry into their undergraduate, postgraduate, and doctorate programmes.


JEE Main: The Joint Entrance Examination is conducted by the National Testing Agency. It is a yearly competitive test for entrance into any engineering course offered by the IITs, NITs, IIITs, and GFTIs.


AICET: All India Combined Entrance Test is a national level test offered for entry into several different fields, including engineering courses in different institutions of study.


The question paper follows the QMR format. It tests the student's general aptitude and logical reasoning. Additionally, some colleges offer lateral entry which means that instead of completing a 4-year undergraduate course, candidates can directly be admitted to the 2nd year. For this, candidates must have completed a 3-year diploma course after 10th, or 1-year diploma course after 12th.
For Master's Course in Naval Architecture
Depending on the institution of study, either they will have their specific entrance examination or a GATE qualification will be required. A candidate can sit for the Master's course only after they have completed the Bachelor's course in Naval Architecture.
GATE: The Graduate Aptitude Test in Engineering tests the understanding of the various theories and skills learned at the undergraduate level. This exam helps for entrance into Master's programmes as well as jobs in the public sector.
Scope of Naval Architecture in India and Abroad
Scope of Naval Architecture in India and Abroad
There will always be a demand for shipbuilders and architects for building different types of marine machines, thus making the scope of Naval Architecture graduate vast in India as well as abroad. Several professions come under naval architecture, making it a useful course of study.

Naval Architecture course is not as mainstream as some other engineering courses, which makes it a good choice as the job opportunities in the realm are not saturated. Students of the Naval Architecture course can work in various fields such as maritime officers, port managers, marine engineers, chief designers, and others.
While the Naval Architecture scope in India is not completely developed, the scope abroad is much better, both in terms of technical exposure and salary, especially in certain EU and Asian countries. There are several opportunities within ship-repair docks and sub-sea oil exploration in Middle Eastern countries as well as some design and shipping companies.
With good technical knowledge and skills, most Naval Architecture graduates can land a suitable job with a good pay package.
Course Fees Naval Architecture
Minimum Fees
Maximum Fees
Private
Government
Private
Government
UG

3.40 Lakhs

B.E /B.Tech in Naval Architecture at Christ Knowledge City, Ernakulam

56.87 K

B.E /B.Tech in Naval Architecture at Cochin University of Science and Technology, Kochi

7.76 Lakhs

B.E /B.Tech in Naval Architecture at Mahakaushal University, Jabalpur

10.05 Lakhs

B.Tech M.Tech in Naval Architecture at Indian Institute of Technology Madras

PG

1.28 Lakhs

M.E /M.Tech. in Naval Architecture at Mahakaushal University, Jabalpur

---

Data not available

4.58 Lakhs

B.E /B.Tech in Naval Architecture at Vel's Institute of Science Technology and Advanced Studies, Chennai

---

Data not available

DIPLOMA

1.24 Lakhs

Diploma in Naval Architecture at Vel's Institute of Science Technology and Advanced Studies, Chennai

---

Data not available

1.24 Lakhs

Diploma in Naval Architecture at Vel's Institute of Science Technology and Advanced Studies, Chennai

---

Data not available
Course Subjects
Subjects Covered Under Naval Architecture Course
The subjects taught during Naval Architecture course vary with different colleges, but it mainly revolves around machine design, marine structures, and ocean engineering. Mentioned below is the subjects taught during the Naval Architecture course for reference:
● Electrical Technology
● Engineering Drawing and Graphics
● Introduction to Naval Architecture
● Programming and Data Structure
● Thermodynamics
● Marine Hydrodynamics
● Resistance and Propulsion
● Marine Design
● Physical Oceanography
● Hydrostatics and Stability
● Workshop Practice
● Marine Structure Computations
● Marine System Lab
● Vibration and Noise Lab
● Computer-Aided Design and Production Lab etc.
Careers in Naval Architecture
Careers in Naval Architecture
Candidates can also opt for below given career option in Naval Architecture, apart from the above given:
Lecturer

Naval Researcher

Marine Surveyor

Ship Operator

Second Marine Engineer

Coast Guard
Upcoming trends
Upcoming Trends in Naval Architecture
Like any industry, the Naval Architecture industry also has several unique developments and trends. With the advancement of technology, there is also a rapid change in the shipbuilding industry. Some of the most important arising trends in Naval Architecture include:
3D Printing Technology: 3D Printing technology makes it possible to build real-life models and equipment from virtual printed objects. This technology aids highly in the production of scientific structures and small models and equipment for various purposes.

Ballast Free Ships: Ballast free ship designs are the new trend among ships. This concept has the power to solve the problem of ballast water disposal, which often leads to the disposal of contaminated water of the ship into the local seawater, causing ecological issues.

LNG Fuel: Liquified Natural Gas is rapidly becoming a popular choice of fuel for ship engines as opposed to other sources of fuel due to its eco-friendliness. Thus, the LNG market fueled engines is also growing quickly and with high prospects.
Job Profiles and Top Recruiters
Job Profiles Offered to Naval Architecture Graduates
Mentioned below are a few job profiles and their description which a Naval Architecture can opt for:
| | |
| --- | --- |
| Job Profile | Job Description |
| Port Manager | A port manager facilitates all port activities such as the movement of ships, cargo, and other containers and equipment. They are also responsible for all activities related to customs. |
| | Marine engineers work on the ship itself and look after all marine engineering equipment. They are also responsible for the maintenance of this equipment and operations on board. |
| Technical Supervisor | Technical supervisors are responsible for overseeing technical equipment on board. This involves daily operation, surveying, repair, and maintenance of all machines. They must also look after docking schedules, budgeting, and other issues pertaining to machinery. |
| Navy Officer | They must specialize in warship and submarine building. They are involved in the design, planning, construction, and maintenance of naval vessels. Thes officers are mostly employed by the government of the country. |
| Manufacturing Engineer | Manufacturing engineers develop manufacturing processes by understanding product requirements, design, and other technicalities. They must oversee the manufacturing process and test the product after completion. |
Naval Architecture: Top Recruiters
Naval Architecture graduates have many recruiters, both in government jobs as well as the private sector. With adequate knowledge and skill set, it is possible to score good jobs in this sector.
● Navy
● Cochin Shipyard Ltd
● Goa Shipyard Ltd
● Larsen and Toubro Shipbuilding
● Reliance Defence Industries Ltd
● Aries Marine Consultant
● Buoyancy Consultants
● Indian Register of Shipping
● Hindustan Shipyard Ltd
Average Salary
Average Salary Offered in Naval Architecture Field
Salaries of a Naval Architecture graduate vary with the level of skill and experience. However, on an average scale, a Naval Architecture graduate can expect the following starting salaries for different careers:
| | |
| --- | --- |
| Job Profile | Average Salary |
| Port Manager | Rs. 1-2 lakhs p.a. (Approx.) |
| Marine Engineer | Rs. 10-11 lakhs p.a. (Approx.) |
| Technical Supervisor | Rs. 7-8 lakhs p.a. (Approx.) |
| Navy Officer | Rs. 1-2 lakhs p.a. (Approx.) |
| Manufacturing Engineer | Rs. 4 lakhs p.a. (Approx.) |
Required Skillset for Naval Architecture
Skillsets Required for Naval Architecture
There are certainly important skills that a student must possess to naval architecture and shipbuilding as a career option. A few skills, apart from a wide knowledge about the theoretical and practical skills of the course, that are required are:
Critical Thinking: The student should be able to think critically and apply logical reasoning for a better understanding of issues and design. It is not possible to complete the construction of a naval machine without critical thinking.



Troubleshooting: A good naval architect must be able to quickly identify problems in planning and design and implement solutions for them. They must be able to make quick decisions to tackle issues.



Communication and Coordination: One of the most important skills a student must possess is good interpersonal skills. Communication skills are important as teamwork is an important facet of naval work. Coordination has to be maintained in teamwork as people adjust their actions following others. Good interpersonal skills are also required for leadership.



Holistic Understanding: Naval architects must know various branches of engineering to build effective machinery and vehicles.
Course Curriculum for Naval Architecture
Naval Architecture- Course Curriculum
The undergraduate programme covers an overview of naval architecture and its skills. The curriculum emphasizes marine engineering, marine design and structure design, meteorology, calculus, engineering physics, and chemistry, among others. The curriculum of Naval Architecture itself differs across different institutes, but the main aim of the course is to provide the students with adequate technical knowledge and skills to be able to design and produce maritime structures as well as get well-paying jobs.
Popular Naval Architecture Entrance Exams in India
Popular Naval Architecture Colleges in India VIEW ALL
Frequently Asked Questions (FAQs)
Question: What is Naval Architecture?
Answer :
It is the science of design, engineering, and manufacturing of maritime machines like ships, yachts, powerboats, warships, fishing boats, steamers, etc. This sector also deals with the design and manufacture of offshore structures, whether military or commercial. Other than manufacture, they are also responsible for the maintenance and repair of equipment and machinery.
Question: What are the main software and design tools employed by naval architects?
Answer :
At the beginner stage, software like NAPA and Rhino are used. This is mainly for surface modelling. Aveva Marine Initial Design, Autohydro, and Maxsurf Modeller are used for stability and hydrodynamic analysis. Calculations can be carried out using Shipflow, ANSYS Fluent, and Star CCM. These are just a few of the software the students of the course will be taught.
Question: Which are the most popular colleges for naval architecture courses?
Answer :
Some of the most famous colleges for NA courses include Indian Maritime University (Visakhapatnam), Indian Institute of Technology (Kharagpur, Chennai), AMET University (Chennai), Osaka University (Japan), University of Southampton (UK), University of Strathclyde (UK), etc.
Question: What are some of the highest paying jobs in naval architecture?
Answer :
Some of the highest paying jobs in naval architecture are maritime officer, secondary marine engineer, research officer, chief designer, production manager, etc. The salary for employees will be increased following an increase in the experience in the sector.
Question: What does a Naval Architect's job entail?
Answer :
Naval architects help in repairing, designing, and developing safe sea-based vessels.
Questions related to Naval Architecture
Showing 7 out of 7 Questions
Courses Similar to Naval Architecture
Interested in Naval Architecture? Find information around eligibility, career scope, jobs , colleges and exams and much more for free.