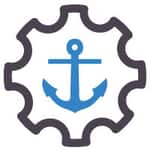 Marine Engineering
Degrees offered: B.E /B.Tech, B.Sc., Diploma, Dual Degree, M.E /M.Tech., M.Phil., M.Sc.
Q&A : 664 Question
What is Marine Engineering
Marine engineering is a branch of engineering that expertise in the operation and construction of machine equipment for sea craft, dock, harbour installations and all sea related operations.


They design, maintain, build machines used in and around the sea. One can pursue this marine engineering course degree in BE/B.Tech in Marine engineering, BE/B.Tech in Mechanical Engineering, and Masters and the Ph.D. degree in marine engineering.


The course subjects are concentrated on the study of concepts and understanding of machines and designing and building different kinds of sea equipment, from building boats, ships to harbour machines in seaports.


Today, the demand for marine engineers has increased with the rise in transport and emerging trade systems that take place between many countries, thereby the need for marine engineers to check, maintain, construct new machines for water ports has been in demand.


Indian Institute of Technology, Madras, Chennai and Indian Maritime University, Kolkata and Birla Institute of Technology and Science are some of the top universities that provide marine engineering courses.
Eligibility Criteria (UG & PG) of Marine Engineering
Certain eligibility criteria are required by different universities for admissions into engineering courses in their university. The basic eligibility criteria are given below.


For Undergraduate Degree
An individual must have secured minimum marks of 60% in class 12.

Candidates must have completed their previous course study in science stream with mathematics, physics and chemistry subjects.

For SC/ST and handicapped category, individuals are given relaxed minimum marks criteria of 55%.

Either entrance test or merit-based admission is made as per the need of the university guidelines.

For Postgraduate Degree
For postgraduate admissions, the individuals must score minimum marks of 60% when averaged during their previous course degree.

For the category of SC/ST and handicapped, the candidate should have scored a minimum of 55% during their previous degree course.

Entrance test exams or merit based admission process as per the need of the institution.
Entrance Exams for Marine Engineering
Various entrance exams are conducted by universities at national and university level for undergraduate and postgraduate degree courses in marine engineering. Some of the top entrance exams for admissions to marine engineering course are given below.
JEE Advanced- Joint Entrance Exam Advanced is conducted every year by one of the IITs under the guidance of the Joint Admission Board. It is a national level entrance exam for undergraduate engineering courses for admissions to IITs. It is an online mode of the exam with 3 hours exam duration.
IMU CET- Indian Maritime University Common Entrance Test, also known as IMU CET is a national level entrance exam conducted by IMU for admissions to all the courses offered in the university which includes engineering and precisely marine engineering.
It is an entrance test to grant admissions to all undergraduate, postgraduate and PhD courses in the university. It is a computer-based exam (online) and is 3 hours-long.
BITSAT- Birla Institution of Technology and Science Admission Test which is commonly known as BITSAT is an entrance exam for admissions of engineering and technology courses by the university. It is an online university level entrance exam conducted by the university and is 3 hours-long.
Scope of Marine Engineering in India and Abroad
After completion of the marine engineering degree course, individuals can opt for lucrative career options in private and government shipping companies, seacraft designing and building, and engine production firms. They have a wide scope of career opportunities in shipping companies in India and abroad. Candidates even get job offers from the navy submarine department to build and check the safety measures as per the need.


Once an individual completes a bachelor's degree in marine engineering he/she can start working in various sectors, but for individuals seeking to work at prestigious companies can further pursue master's degree in marine engineering. With the rise in trade activities among different countries, ships and planes are the most crucial system of the transport network, thereby the demand for experts in this field are highly in demand.
Course Fees Marine Engineering
Minimum Fees
Maximum Fees
Private
Government
Private
Government
UG

1.30 Lakhs

B.E /B.Tech in Marine Engineering at SAMS College of Engineering and Technology, Chennai

11.20 K

B.E /B.Tech in Marine Engineering at Shantilal Shah Engineering College, Bhavnagar

22.12 Lakhs

B.E /B.Tech in Marine Engineering at Tolani Maritime Institute, Induri

9.00 Lakhs

B.E /B.Tech in Marine Engineering at Indian Maritime University, Chennai

PG

1.85 Lakhs

M.E /M.Tech. in Marine Engineering at Cochin University of Science and Technology, Kunjali Marakkar School of Marine Engineering, Ernakulam

50.00 K

M.E /M.Tech. in Marine Engineering at Andhra University, Visakhapatnam

3.04 Lakhs

B.E /B.Tech in Marine Engineering at Institute of Technology Marine Engineering, South 24 Parganas

5.00 Lakhs

M.E /M.Tech. in Marine Engineering at Indian Maritime University, Kolkata Campus

DOCTORAL

8.70 Lakhs

Ph.D in Marine Engineering at Seacom Skills University, Birbhum

42.00 K

Ph.D in Marine Engineering at Kerala University of Fisheries and Ocean Studies, Kochi

8.70 Lakhs

Ph.D in Marine Engineering at Seacom Skills University, Birbhum

2.02 Lakhs

Ph.D in Marine Engineering at Kerala University of Fisheries and Ocean Studies, Kochi

DIPLOMA

60.00 K

Diploma in Marine Engineering at St Mariam Polytechnic College, Tirunelveli

---

Data not available

1.90 Lakhs

Diploma in Marine Engineering at School of Maritime Studies, Vel's Institute of Science Technology and Advanced Studies, Chennai

---

Data not available
Course Subjects
Various subjects are covered in a marine engineering course, from theory to practical subjects and topics while pursuing undergraduate and graduate degree courses.


For Undergraduate Degree in Marine Engineering
Engine watchkeeping

Analytic and solid geometry

Marine pollution and prevention

Ship construction and suitability

Fuel oils and lubricant

Marine power plant

Electro engineering

Machine shop

Auxiliary machinery

Integral calculus

For Postgraduate Degree in Marine Engineering
Advanced engineering mathematics

Principles of material handling devices

Advanced solid mechanics

Marine engineering

Marine instrumentation and analysis

Naval architect

Wave engineering

Mechanic engineering and management

Computer science

Geometrical drawing
Careers in Marine Engineering
The course study of marine engineering offers a wide range of future scope in the field of seaports and seacraft sector job profiles. Today, with the rising importance of preserving marine life and the need to mitigate marine pollution, employment opportunities for individuals with the marine-related course are valued for helping them in the sustainable balancing of the marine ecosystem and by building ships and sea crafts by using non-toxic ship oils and resorting to solar energy as their source of power generation, which are friendly to the sea.


Marine engineering professionals have a good scope in this field of work with their skills in machinery management, manufacturing and monitoring. They can also work in navy ships as navy personnel or officers, mechanical ship generators, ship managers, port manager, maintenance engineers and much more at government and private shipping and ports.


Marine engineering course usually offer a high pay starting salary since they deal with high in-depth knowledge of technology and engineering.
Upcoming trends
New trends and topics are introduced from time to time with the rise in technology and needs of machine making, in the study of marine engineering. Since this course deals with seacrafts and all the related mechanical works of seaports, up to date topics are introduced now and then in the subjects and practices of the course.


The main focus and upcoming trends or topics related to marine engineering focus on the involvement of robots and the use of solar and wind power in the manufacturing of ships and management of ports. For taking care of heavy machines in the engineering work, support machines in the form of robots are needed to fulfil the work requirements and management of ships and ports construction or installation of machines.


Therefore, the goal is to include concepts and the use of robotic technologies in the management of seaports and sea crafts.
Job Profiles and Top Recruiters
Many job profiles are offered in the marine engineering sector by recruiting companies of various sectors about machine and technology at seaports and seacraft manufacturing and management industries.
Job Profile

Job Description

A Marine Engineer is responsible for the maintenance, repairing, management and monitoring of all major mechanical and engineering equipment of ships and seaports.

They also design and give all the needed services in the field of seacraft and seaport.

Port Manager

The Port Operations Manager takes responsibility for the smooth transition of cargo so that it reaches its destination promptly.

They plan, administer and review the operations on port terminals to optimize resource use, and maintain quality standards.

Ship Manager

Ship Managers are responsible for various tasks such as packaging, shipping, receiving packages, supplies, leading as well as managing staff.

They ensure timely, accurate, shipping and distribution. They play an important role in transport and trading relations.

Maintenance Engineer

A Maintenance Engineer works on repairing, checking and servicing machinery, systems, equipment, and infrastructures.

Maintenance engineer ensures that industrial machinery and equipment runs smoothly and reliably. They plan and undertake scheduled maintenance.

Marine Surveyor

Responsibilities of a Marine Surveyor include conducting thorough and extensive surveys of a ship and testing their engines before taking off to the sea.

They ensure that the machines won't face any problems and issues during travel. They carry out a complete analysis of the entire vessel.

Navy Personnel

A Navy Personnel maintains and operates ships and their systems while directing their crew.

Navy are the national seafaring officers who protect our country's sea-borders.

They also manage and launch shipboard systems by using advanced technology and machines in a ship and battle defence.
Top Recruiters of Marine Engineering Professionals
Indian Navy

Bharati Shipyard

Indian Coast Guard

ABG Shipyard

Sea Ports

Orinoco Marine Consultancy

Mobil Shipping Co.
Average Salary
The average salary of individuals with a degree in marine engineering differs with skills and experience acquired by the companies. Most companies prefer a master's degree for high-level jobs profiles along with higher pay.


| | |
| --- | --- |
| Job Profile | Average Annual Salary |
| Marine engineer | Rs. 7 to 13 lakhs p.a. (Approx.) |
| Marine environmentalist | Rs. 6 to 12 lakhs p.a. (Approx.) |
| Navy personnel | Rs. 6 to 12 lakhs p.a. (Approx.) |
| Port manager | Rs. 7 to 11 lakhs p.a. (Approx.) |
| Ship manager | Rs. 7 to 12 lakhs p.a. (Approx.) |
| Maintenance engineer | Rs. 7 to 14 lakhs p.a. (Approx.) |
Required Skillset for Marine Engineering
An individual is needed to have certain skills to complete the degree course pursued in marine engineering. The most important skills include skills in math, physics, and knowledge of science and technology to understand the course subjects, which are all based on these skills.


Designing skills, excellent verbal communications, paying attention to details and risk manager in times of stress and decision-making situations are the skills needed for pursuing marine engineering course study.


Overall, an interest in the subject course and willingness to learn new skills are required from candidates since the course may be a little tough to understand and thereby require enthusiastic individuals with a science stream background.
Course Curriculum for Marine Engineering
The curriculum of marine engineering focuses on the construction, manufacturing, designing and gaining in-depth knowledge on machines of sea-related engines. The course teaches its students on all the insights of ships, how they function, the types of machines used, the process of manufacturing, all engines associated with the ship making, installation of the harbour and much more.


This course is more practical oriented, and students participate in creating small micro machines for different machine making projects. Marine engineering course makes an individual capable of performing in the local and international shipping industry.


The goal of marine engineering course is to ensure that the subjects studied develop all of the related concepts, processes, research, and practicals which is required to develop a better scope for the future.
Popular Marine Engineering Entrance Exams in India
Popular Marine Engineering Colleges in India VIEW ALL
Frequently Asked Questions (FAQs)
Question: What is the salary of a marine engineer per month in India?
Answer :
The average salary of a marine engineer is normally between Rs. 30,000 to 40,000 per month in India.
However, the salary ranges differ from person to person and mostly depend on the degree achieved, skills, knowledge and experience of the individual.
Question: Is marine engineering an ideal career option?
Answer :
One can work in lucrative private and government industries after completion of degree courses in marine engineering. They can also get employment in different foreign and Indian shipping companies or any other seacraft and ports related field of work.
Question: Which college is best for pursuing marine engineering?
Answer :
Many colleges and universities provide a course in marine engineering. However, some of the best colleges to pursue marine engineering include Indian Maritime University, Chennai, Maharashtra Academy of Naval Education and Training, Pune, IITs in India.
Question: What is the study of marine engineering?
Answer :
The study of marine engineering focuses on the in-depth concepts of manufacturing, managing, constructing seacrafts and ports related machine equipment as a whole.
The subjects in this course cover a wide range of subjects, from mechanical engineering to marine machine engineering, which is all essential for future career scope in the field related work.
Question: How do I become a Marine Engineer?
Answer :
Pursue an undergraduate and postgraduate degree in marine engineering in BE/B.Tech. and ME/M.Tech. in Marine Engineering for expertise in the course.
One can even opt to study till Bachelor's degree to become a marine engineer; however, a Master's degree is considered to be prestigious for marine engineering jobs with high-income structures.
Questions related to Marine Engineering
Showing 654 out of 654 Questions
Courses Similar to Marine Engineering
Interested in Marine Engineering? Find information around eligibility, career scope, jobs , colleges and exams and much more for free.