B.Tech in Communication Engineering: Course, Syllabus, Scope and Salary
What is B.Tech in Communication Engineering?
B.Tech in communication engineering focuses on concepts and designs of underlying hardware systems which are used in areas such as telecommunication, energy and electronic sectors. It is based on research, design, development and testing of electronics in various systems.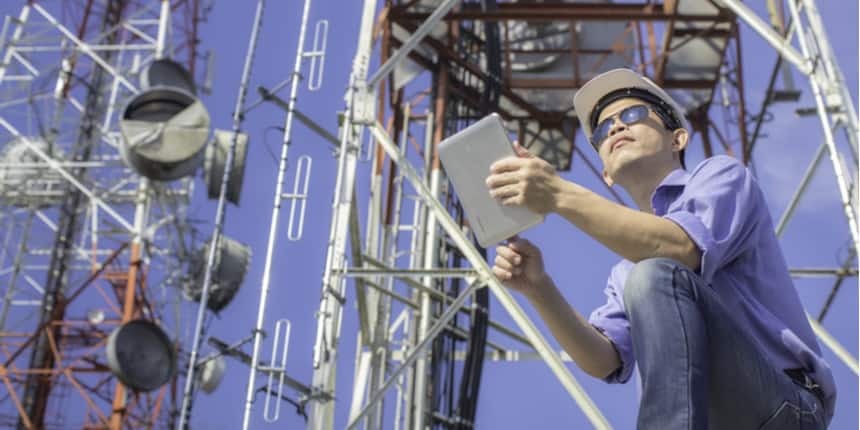 The core topics of study in B.Tech in Communication Engineering include an understanding of analog transmission, basic electronics, solid state devices, microprocessors, digital and analog communication, analog integrated circuits, satellite communication, microwave engineering, antennae and wave progression. Course Structure of B.Tech. ECE is an introductory course for electrical engineering students where students study a series of core courses along with elective subjects which cover the concepts of telecommunications, energy and electronics sectors.
The delivery method includes an integrated study of topics through classroom lectures, practical, laboratory works, workshops, research programs and internships. The course is intended to impart knowledge of principles underlying communication systems. Subjects included in B.Tech in Communication Engineering course covers all the arenas of all electrical and communication study educating students with different topics like Integrated Electronics, fields and waves etc.
B.Tech in Communication Engineering: Overview
| | |
| --- | --- |
| Course Name | B.Tech in Communication Engineering |
| Duration | 4 Years |
| Eligibility | 10+2 (with physics, chemistry and mathematics with minimum 50% marks) |
| Admission Process | Entrance Exam |
| Fees | INR 2.5 to 10 lakhs |
Those who have an inquisitive mind, will power and good verbal and non-verbal communication skills can choose B. Tech Communication Engineering. Students with an instinct to develop designs for complex problems can opt for this course as well. Some of the subjects in the syllabus of B. Tech in Communication Engineering is as follows:
| | |
| --- | --- |
| Mathematics | Computational Techniques |
| Physics | Computer Hardware Design |
| Network Analysis & Synthesis | Antenna and Wave Propagations |
| Electromechanical Energy Conversion | Fields & Waves |
| Data Structures | Signal and Systems |
| Analog Communication | Digital Electronics |
| Semiconductor Devices and Circuits | Electronics Instrumentation & Measurements |
| Basics of Industrial Sociology, Economics and Management | - |
Eligibility Criteria for B.Tech in Communication Engineering
Students who have minimum 50% marks in 10+2 with Physics, Chemistry, and Mathematics as main subjects are eligible for B.Tech. ECE course. For Lateral Entry admission, students who have cleared 1st year in the same course can apply for admission to 2nd year in a different college and those who have a diploma in Electronics and Communication are also eligible for B.Tech. ECE program.
Admission Process for B.Tech in Communication Engineering
For seeking admission to B.Tech. ECE, students need to clear the entrance exam, group discussion and personal interview round.Some universities like Sharda University Noida, Amity University Noida and many other private universities take direct admission to the course and students with Diploma in Electronics and Communication can take admission to 2nd year as B.tech Lateral Entry in many colleges.
JEE Main:- JEE Main has two papers, paper 1 and paper 2. Candidates may opt for either or both of them. Paper-1 is for admission to B.E./B.Tech courses are conducted only online. Paper-2 is for admission in B.Arch and B. Planning courses and is conducted only offline. The similarity between the two of them is that the question contains only multiple choice questions.JEE Main has a fixed exam structure and is not subject to change every year.
Some of the key changes in JEE Main (2020) are mentioned below
From 2020 onwards, JEE Main will have three papers, one for B.Tech, second for B.Arch, and third examination will be separately conducted for B.Planning.

The number of questions has been reduced from 90 to 75 for each paper. It means that the students have to attempt 5 less questions from each section of the paper.

Each section of the exam will have 25 questions carrying equal weightage to all. Though from this time onwards, 20 questions will be multiple choice questions and 5 questions will be numerical based.

There will be negative marking for mcq's but numerical questions will not follow the negative mark scheme.

The B.Planning paper will have three parts, Mathematics, Aptitude and planning based objective questions.

The newly introduced B.Planning exam will be of 400 marks with a total of 100 questions.

The drawing part of the B.Arch examination which carried 3 questions up until 2019 will now have 2 questions carrying 100 marks.

From this year onwards, candidates having a smaller number of negative responses will get an advantage in case there is a tie score.

From this year onwards, NTA has set up more than 3400 practice centres in the country for the preparation of the exam.
JEE Advanced: Joint Entrance Examination(JEE) Advanced is viable for the students who qualify the JEE Main examination. Therefore, a student needs to be thorough with their topics before attempting the JEE Advanced examination.
Some key changes in JEE Advanced (2020) are mentioned below
A total of 2.5 lakhs Aspirants will qualify for writing JEE Advanced. Last year, 2.24 lakhs students qualified for writing JEE Advanced (2020).

As per the new format types of questions will be more descriptive.

For the first time reservation for the PwD category has been raised from 3% to 5%.
BITSAT: BITSAT 2020 Application Form has been released. The exam will be held by Birla Institute of Technology and Science. This is a university level entrance exam held every year to offer admissions into various Integrated First Degree Programmes. Admission will be offered to the candidates into B.E, B.Pharm and M.Sc programmes after qualifying this admission test. Candidates will get admission in the BITS campuses located in Pilani, Goa and Hyderabad. Candidates interested for admission can register for the test by online mode.
Highlights about BITSAT
The BITSAT paper has different sections like, logical reasoning, mathematics/biology, physics, chemistry, English proficiency.

The mode of exam is online.

The paper contains multiple choice questions only.

The total number of marks is 450.

The duration of the paper is 3 hours.

Incase, there are extra questions than it will only be from- Mathematics/Biology, Chemistry and Physics

In case students have attempted 150 questions then they can also attempt 12 questions more but without skipping the first 150 questions.

Results are always displayed on the BITSAT website.
SRMJEEE: SRMJEEE is a university level exam which is conducted by SRM University for admission in various specializations of B.Tech programme. SRMJEEE is a common entrance examination for all SRM Group Universities.The exam is conducted in computer-based mode by SRM University.
There are some key points for SRMJEEE paper
Candidates who are the top rank holders of their respective state or central board exams can seek direct admission to SRM University by applying directly.

SRM allows candidates to book their preferred exam slot.

SRM University provides an SMS facility to candidates to check their result.

Candidates must fill in their mobile number correctly so that their result for SRMJEEE 2020 can be sent to the correct mobile number.
Changes introduced in SRMJEEE 2020
SRM University has revised exam pattern for SRMJEEE, Previously, The exam had three sections – Physics, Chemistry and Mathematics/Biology. But now, two new sections have been added in the Question Paper – English and Aptitude.

SRM authorities have also increased the number of questions in the Mathematics Section of the SRMJEEE 2020 question paper. Now, there will be 40 questions in the Mathematics section.

SRM University has increased the number of questions, earlier the exam had 105 questions now increased to 125 questions.

Marking Scheme has also been changed in the SRMJEEE 2020 question paper, now 1 mark has been awarded instead of 3 for each correct answer.

SRM institute has also increased the number of exam centres for SRMJEEE 2020 to 132 which were 123 last year.

SRM Ghaziabad (NCR) campus has also been reduced to an aggregate of 50% in PCM. Last year, the minimum qualifying marks was 55%.

The application fee to apply for SRMJEEE 2020 has been raised to INR 1100. Earlier, it was INR 900.

By this time, Aadhaar Card has to be scanned and uploaded by the candidates during SRMJEEE Registration.
Top Institutes for B.Tech in Communication Engineering
Some other colleges for b tech in communication engineering are as follows
B.Tech in Communication Engineering Career Prospects
There is no dearth of good opportunities for an Electronics and Communication Engineer as they can avail job opportunities in a multitude of industries upon successful completion of their degrees. Indian Telephone Industries, Civil Aviation, Development Centers in various States, Defense, A.I.R, Railways, Bharat Electronics Limited, D.R.D.O, Telecommunication, Software Engineering/IT, Power sector, Hardware Manufacturing, Home Appliance and VLSI design, Television Industry and Research & Development etc are some of the popular sectors where the services of an Electronics and Communication engineer are required.
Popular Job Profiles for Electronics and Communication Engineers
Broadcasting, consulting, data communication, entertainment, research and development, system support etc, students can work in many such manufacturing and service sector organizations. Some popular job profiles for an electronics and communication engineer are:
Electronics Engineer

Field Test Engineer

Network Planning Engineer

Electronics and Communication Engineer

Customer Support Engineer

Electronics Technician

Associate Firstline Technician

Research and Development Software Engineer

Service Engineer

Senior Sales Manager

Technical Director
Popular Recruiters for Electronics and Communication Engineer
Some popular recruiters that offer good work opportunities to electronics and communication engineer are as follows:
Government Sector Companies
Delhi Metro Rail Corporation (DMRC)

Defence Research and Development Organization (DRDO)

Indian Space Research Organisation (ISRO)
Private Sector Companies
Accenture Solutions Private Limited

Cognizant Technology Solutions

HCL Technologies

Hewlett Packard

Honeywell Automation India Ltd

Infosys Technologies Ltd

LG Electronics Inc.

Tata Consultancy Services (TCS)

Wipro Limited

Siemens

Tech Mahindra

Nvidia
Salary Trends for B.Tech in Communication Engineering
| | | |
| --- | --- | --- |
| Job Position | Job Description | Salary (Per annum) |
| Production Manager | Production Manager is responsible for organizing production schedules and planning, assessing projects and resources needs, negotiating, estimating and agreeing in desired budgets and time frames with managers and clients. | INR 7.5 to 8.5 lakhs |
| Professor | Professor instructs courses in their branch of knowledge. They often enjoy reading and research, and are able to explain tough concepts to students. | INR 6.5 to 7.5 lakhs |
| Programmer Analyst | Programmer Analyst is in charge of designing and analyzing information systems and writes or designs the application program for a system. | INR 3.5 to 4.5 lakhs |
| Electronics Engineer | Electronics Engineer is responsible for working on the system which controls the flow of data such as communication and broadcasting, mp3 player, mobile phones, computers and different electronic gadgets. | INR 3.5 to 4.5 lakhs |
| Electronics Technician | Electronic Technician is in charge for help in development, design, installation, manufacture and reparation of electronic and electrical equipment like communication equipment, navigational equipment, medical monitoring devices and computers. | INR 1.5 to 2.5 lakhs |
Conclusion
B.Tech in Communication Engineering is a 4-year graduate degree program in the domain of Electrical and Communication Engineering. The minimum eligibility is 10+2 with maths, physics, and chemistry from a recognized school board or its equivalent exam.The average tuition fee charged for the course in India ranges between INR 10,000 to 10 Lacs, for a span of 4 years.
Admission to B.E. CE course depends on the basis of the candidate's performance in a relevant entrance test and subsequent round of counseling. B.E. Communication Engineering (CE) graduate has a variety of career openings in State Governments, Central Government and numerous development centres which deal in sales, manufacture, and services of electronics & communication customer appliances and products. A fresh graduate in this field can earn an average salary between INR 2 to 10 Lacs in a year.
Communication Updates and Articles