Who is a Electronics Engineer?
We, in the semiconductor industry, know that only the paranoid survive ~ Andy Grove
Are you searching for Electronics Engineer job description? or You must be thinking what is electronics engineering? or how to become an Electronics Engineer in India? Well, we are writing about the electronics engineering job opportunities just to ensure that you get an easy Electronics Engineer career path. An Electronics Engineer is someone who has completed his or her graduation in electronics engineering or a related field. He or she finds numerous opportunities in telecommunications, manufacturing, aerospace, or robotics engineering. An Electronics Engineer stays involved in designing, developing, and testing components and device systems such as capacitors, diodes, resistors, and transistors.
A career as an Electronics Engineer requires contributing to any stage of the project. It includes the initial brief for the concept, design, and development stage, prototype testing, and final stage manufacturing and implementation of the new product or system. In this article, we will discuss Electronics Engineer role and responsibilities, Electronics Engineer Engineer skills, Electronics Engineer qualifications, Electronics Engineer eligibility and Electronics Engineering scope in India or electronics engineering career path.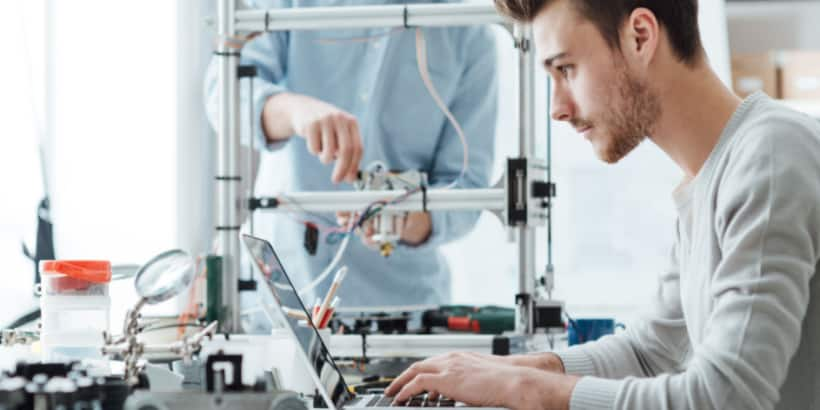 Electronics Engineer in a Nutshell
Electronics Engineers are engineering professionals who have completed their graduation in Electronics Engineering or a related sub-discipline. They stay involved in designing, developing, adapting, installing, testing, and maintenance of electronic components, circuits, and systems such as computer systems, entertainment, communications systems, telecommunications, transport, and industrial applications.
Quick Facts for Electronics Engineer
Industry

Manufacturing

Suitable for

Male, Female, Others

A career as an Electronics Engineer is suitable for everyone regardless of gender. Whether a person is male, female, or belongs to any other gender, he or she can become an electronics engineer. A career as an Electronics Engineer is dominated by the male population. There is not any gender-based restriction in the Electronics Engineer career in India.

Any special needs

No

A career as an electronics engineer is not suitable for candidates with special needs. The Electronics Engineer career in India demands multitasking and time management. A career as an Electronics Engineer in India requires frequent movement.
What is the role of Electronics Engineer?
Now you know what is Electronics Engineer and must be thinking about how to become an Electronics Engineer How do Electronics Engineers help the community is such a common question asked by aspiring students. An Electronics Engineer career in India comes with numerous opportunities as well as challenges. There are types of Electronics Engineer. The role of the Electronics Engineer in society is crucial. Electronics Engineers are professionals who design and develop electronic products that we use in our everyday life such as smartphones, music devices, and computers.
Electronic engineering brings new innovations and developments in telecommunications, robotics, computing hardware, power, and electrical equipment. If someone ever asks you how electronics engineers help the community. Then, you can say they contribute enormously with their wisdom and efforts to help the community. Hence, the role of electronics engineers in society is significant. The Electronics Engineer careers list is so exaggerated. There are plenty of jobs for Electronics Engineers in India.
Evaluation
An electronics engineer roles and responsibilties are to evaluate operations systems. In order to eliminate design malfunctions, he or she recommends design modifications.
Planning
The electronics engineer is to do effective planning before executing a project. He or she manages the budget and writes technical reports to keep up to date with the developments.
Types of a Electronics Engineer
There are various types of electronics engineer or electronics engineer career options. You can opt for the careers mentioned below in the field of electronics engineering after successfully completing the undergraduate Electronics Engineering degree programme.
Control Engineer: Control Engineers are engineering professionals involved in the designing and supervision of the production of various complex systems and equipment. They are responsible for researching, testing, and analysing design usage in relation to the function of elements in the system.
Instrumentation Engineer: The work responsibilities of control and instrumentation engineers are quite the same. They both stay involved in designing, developing, installing, managing, and maintaining equipment required for monitoring and controlling engineers' systems, processes, and machinery.
Signal Processing Engineer: A Signal Processing Engineer is known as an IT expert. He or she effectively analyses and alters digital signals to ensure their accuracy and reliability. A signal processing engineer is responsible for developing, managing, and updating digital signals. He or she creates algorithms for efficient processing.
Telecommunications Engineer: A Telecommunications Engineer is an engineering professional who is involved in installing, testing, and repairing communications systems. Such communications systems include fixed-line, mobile telephone networks, copper wire, fibre-optic cabling, and digital satellite systems.
What is the workplace/work environment of Electronics Engineer like?
How many electronic goods can you count? If you start counting, you may reach a level of infinity. Hence, the Electronics Engineer careers list is infinite. Whether it is a toaster, radio, cellular phone, or GPS satellite, every item that runs on electricity energy is designed and developed by an electronics engineer. We could say electronics engineers have made enormous contributions to the developed world.
Electronics engineers usually work in indoor office settings, laboratories, and factories. He or she may also be required to work outdoors which involves frequent travel. In a career in electronics engineering, he or she may often be required to visit clients due to the complexities of the product and repair it. An Electronics Engineer's daily routine involves designing, redesigning, maintaining, and comprehending electronic devices.
Does Electronics Engineer require travelling?
Likely
An Electronics Engineer may often be required to travel to clients' places to see the complexities of the product and repair it, in case it is required.
Employment Shifts
Full Time
An Electronics Engineer works full-time. Work from home, hourly-basis, on-call work does not exist in the career as Electronics Engineer.
Employment Nature
Contractual, Permanent
An Electronics Engineer career options are vast as he or she is associated with numerous other engineering disciplines. Hence, Electronic engineering personnel find numerous career opportunities in both contractual as well as permanent positions.
Work Place
Laboratory, Office, Factory
An Electronics Engineer daily routine involves creating, planning, designing, and developing electronic items. He or she works in an office environment. An Electronics Engineer may often be required to travel due to the complexities of the product.
Presence in Geographical Area
Semi-urban, Urban
Semi-urban and urban areas provide numerous opportunities for a career as an electronics engineer. There are negligible opportunities in rural areas. Individuals get 72 per cent higher pay than the national average salary of electronics engineers. Chennai, Bengaluru, and Mumbai also provide alluring opportunities to electronics engineers.
Time Pressure
Likely
Yes, an Electronics Engineer is required to work under frequent time pressure in order to meet deadlines.
Overtime Details
An electronics engineer may often be required to work overtime due to excess work pressure.
Weekly Hours of Work
Min 45 Hours
An Electronics Engineer works a minimum of 45 hours per week. The working hours often extend due to work pressure.
How to become a Electronics Engineer?
Steps to become a Electronics Engineer
If you are someone who is always interested in dealing with power cuts at home or any other electric repairs then a career as an Electrical Power Engineer is the best option for you. If you are looking for how to become an Electrical power engineer in India then below we have provided the steps for how to become an Electrical power engineer in India in India.
What are the skills and qualities required to become a/an Electronics Engineer?
In the How to become an Electronics Engineer in India process there are other things that need to be considered such as Electronics Engineer qualification, Electronics Engineer vacancy, and Electronics Engineer skills. We have provided here details of our Electronics Engineer skills. Aspirants who want to become Electronics engineers must acquire these skills to function in a fast-paced work environment.
Problem-Solving Skills: A career as an electronics engineer requires solving complex problems in order to troubleshoot faulty devices, fix materials, manufacture devices, fix materials, and troubleshoot devices. He or she is required to think logically and apply principles of math, science, and engineering to solve various problems.
Critical Thinking Skills: Critical thinking is a common skill that can be applied to a large number of circumstances and in electronics engineering, it is just as an essential skill set. Engineers try to reach a certain objective for their project, and having the ability to do things creatively or take a different view of the standard makes a big difference. This includes analysing the project's strengths and weaknesses or the issues and offering alternative solutions, strategies, and theories–all of the key components of critical thinking.
Basic Circuit Knowledge: The electronic device designs could become very complicated particularly when it comes to large installations or even highly advanced pieces of small hardware, which are often used in smartphones. So if students are going to take this stream as their career then they need to have a clear understanding of basic circuit design first.
Communication Skills: Sometimes, electronics engineers need to clarify principles and projects to people who have no professional knowledge of them. Electronics engineers are required to record details of specimens. They are also involved in writing documents and sharing details orally. Whether it is knowing a customer's requirements and expectations, working within project teams to create or upgrade a piece of equipment, or communicating with other teams and stakeholders, communication skills are an important factor to consider.
Organising Skills: It is important for an electronics engineer to be able to organise and manage time while performing multi-tasking. Electronics engineers are often involved in multiple projects at the same time. Being organised is crucial to avoid mismanagement in a career as an electronics engineer.
Popular Online Engineering Courses and Certifications
Which certifications and internships can be helpful in becoming Electronics Engineer?
Internship Availability
Yes
After successful completion of an electronic engineering course or in between the semester break of an electronics engineer course, candidates are required to undergo internships. Internships are crucial to obtaining practical knowledge to work in the industry. Electronics engineering interns are required to perform soldering and testing of devices. They are provided with the responsibilities of making circuits as per design and giving solutions to various related problems.
Career Path Progression for Electronics Engineer
We have provided here details of the Electronics Engineer career progression. Aspirants who want to become Electronics Engineer are required to first opt for internships. An intern increases the chances of acquiring an entry-level Electronics Engineer job. Further, after acquiring experience in the industry they get to progress to senior-level roles.
Electronics Design Automation Engineer: An electronics design automation engineer is a professional responsible for using various tools to design and verify integrated circuits, printed circuit boards, and electronic systems. Nowadays, computer-aided tools are used to perform integrated circuit layouts.
Engineering Manager: An engineering manager is a senior-level job role. He or she is responsible for planning, coordinating, and directing activities in engineering such as research and development. An engineering manager leads a whole team of engineers to specify, design and analyse various new components and systems.
Computer Hardware Engineer: A computer hardware engineer is an engineering professional who is involved in manufacturing, installing, and testing computer systems, servers, chips, and circuit boards. He or she works with peripherals such as keyboards, routers, and printers.
Physicist: A physicist is a senior-level research-based job role. An electronic engineer with a Ph.D. degree can opt for the role of Physicist. A physicist stays involved in the discovery and study of the way matter and energy interact in the universe. He or she is responsible for conducting, investigating, and concluding solutions or theories in science. A physicist may also design scientific equipment such as electron microscopes, particle accelerators, and lasers.
What is the job outlook for Electronics Engineer?
There is an expected seven per cent job growth for electronic engineering in the upcoming years. There are numerous electronics engineer career options in manufacturing and research-based industries. Electronics engineers typically work in offices, laboratories, and factory settings. They may often be required to work outdoors. Career as electronics engineer is more dominated by male. Aspiring candidates may find numerous opportunities to work abroad. Read further to learn how to become an Electronics Engineer in India.
Student Also Liked:
Frequently Asked Questions for Electronics Engineer
Que. What is the average fee of B.Tech. electronics engineering?
Ans.
The fee varies depending on the institution. Government electronics engineering colleges charge economic fees while private electronics engineering colleges charge hefty fees. The average electronics engineering fee ranges from Rs. 50,000 to Rs. 100,000.
Que. What is the average salary offered to freshly graduates of B.Tech. electronics engineering?
Ans.
The average salary offered to fresh graduates of B.Tech. graduates range from Rs. 350,000 to Rs. 400,000 per annum.
Que. What does air force electronics engineer do?
Ans.
An aeronautical engineer in the electronics stream in the Indian Air Force possesses several responsibilities. It includes maintenance of the communication and signals required on the Air Force Station. He or she is in charge of the execution of preventive maintenance and servicing of aircraft. An Air Force electronics engineer can also repair and overhaul divisions.
Que. How long does it take to become an electronics engineer?
Ans.
It will take three years to complete the bachelor's degree B. Eng in electronic engineering. If you are opting for a master's course it will take again two years.
Que. Is electronic engineering a good career?
Ans.
Yes, Electronics Engineering is a rewarding and highly demanded career. You will get to work in manufacturing and research-based industries.
Que. What do electronic engineers do?
Ans.
Electronic engineer roles and responsibilities are to design and develop electronic equipment such as broadcast and communications systems like portable music players and Global Positioning System (GPS) devices.
You might also be interested in
Questions related to Electronics Engineer
Showing 2 out of 2 Questions
The question have been saved in answer later, you can access it from your profile anytime.
Access now
Report Question
Select your reason of reporting