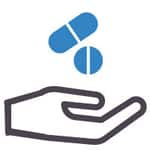 Pharmaceutical Management
Degrees offered: B.B.A, B.M.S, B.Pharma MBA, B.Voc., Diploma, Dual Degree, Executive MBA
Q&A : 352 Question
What is Pharmaceutical Management
Pharmaceutical Management is an MBA course that is picking momentum among Pharma enthusiasts. It is one of the most popular Master's pharmaceutical courses that are offered by Universities and Colleges in India.


The reason behind this course's popularity is that it is an interesting cross between two very different disciplines. During the MBA Course in Pharmaceutical Management, a student learns Pharmaceutical concepts that are skillfully integrated with Management fields.


Moreover, with the current situation, COVID pandemic and medical emergencies, the pharmaceutical industry of India has come under the limelight. The pharma sector was one of the constantly growing and developing industries, and these dynamics have only improved in the current situations.


A candidate, after his/her completion of the MBA in Pharmaceutical Management, is expertly crafted and is qualified to take up almost every job in the pharmaceutical sector.
Eligibility Criteria (UG & PG) of Pharmaceutical Management
The Eligibility Criteria for students interested in pursuing a Masters of Business Administration in Pharmaceutical Management are as follows:
● The interested candidate must have an undergraduate degree that is a minimum of 3 years with at least 50 per cent marks in aggregation, from a recognised educational institution.
● The candidate must have studied any of the following subjects: Botany, Chemistry, Physics, Biology, Zoology, Biotechnology, Biochemistry, Pharmacy, Medical Sciences, Agriculture, Ayurveda, Applied Sciences, and B.Sc., Management, among others.
● Work experience is preferred by a few institutions but is not compulsory.
Entrance Exams for Pharmaceutical Management
The entrance exams for MBA in Pharmaceutical Management are as follows:
CAT - Aspirants must clear the CAT or the Common Admission Test examination to attain admission in any Indian Institute of Management (IIM) in India.

MAT - Management Aptitude Test or MAT is yet another entrance examination that is conducted across India and is a popular criterion for many Management Institutions.

Apart from these two examinations, there are several other examinations that a prospective MBA Pharmaceutical Management student can appear for.
These examinations are often conducted by private management institutions or state governments as a part of their selection process. The following are other popular entrance exams conducted in India: CMAT, SNAP, and NMAT.
Scope of Pharmaceutical Management in India and Abroad
The Pharmaceutical Industry, globally, has seen a vast improvement in terms of sales as well as medical developments. According to a report, pharmaceutical sales are expected to hit a whopping amount of 1.5 trillion USD by 2020.
Consequently, the Indian Pharmaceutical Industry has seen rapid growth over the years and is predicted to grow both in terms of sales volumes as well as market sizes by 2020.
The advent of the COVID Pandemic changed things for the Pharma Industry across the globe. Now, there is tremendous scope in this field, both for existing market players as well as the newly developing forces.
Yet another development in this field is that several MNCs are looking to expand in the Indian markets and vice versa.
Indian Pharma companies are taking lead in several medical developments and are looking to expand overseas. We all know this means more employment opportunities!
Therefore, it is safe to say that there are exponential growth opportunities in the field of Pharmaceutical Management both in India as well as abroad.
Course Fees Pharmaceutical Management
Minimum Fees
Maximum Fees
Private
Government
Private
Government
UG

90.00 K

B.Voc. in Pharmaceutical Management at SRM University, Sikkim

---

Data not available

10.07 Lakhs

B.Pharma MBA in Pharmaceutical Management at Narsee Monjee Institute of Management Studies, Hyderabad

---

Data not available

PG

30.00 K

P.G.D in Pharmaceutical Management at JS University, Shikohabad

8.40 K

P.G.D in Pharmaceutical Management at Indira Gandhi National Open University, New Delhi

12.64 Lakhs

MBA in Pharmaceutical Management at School of Business Management SVKM's Narsee Monjee Institute of Management Studies, Mumbai

5.05 Lakhs

MBA in Pharmaceutical Management at University Institute of Applied Management Sciences, Chandigarh

DIPLOMA

50.00 K

Diploma in Pharmaceutical Management at NIMS University, Jaipur

---

Data not available

50.00 K

Diploma in Pharmaceutical Management at NIMS University, Jaipur

---

Data not available
Course Subjects
Here are the course subjects that students are required to study as a part of the Pharmaceutical Management Course. This list may vary depending on the University or College's Course Requirements. Students are to study both theoretical and practical concepts.
Marketing

Healthcare economics

Pharmacology

Anatomy and physiology
Careers in Pharmaceutical Management
Pharmaceutical Management graduates are in great demand not just for conventional job roles but also in several other sectors like the education industry.


Unlike M. Pharmacy graduates, MBA Pharmaceutical Management graduates are a great fit for jobs with a management background.

The candidates get trained in various business aspects such as marketing, sales and financing, making them very desirable to top companies in the Pharmaceutical Industry.


This field not only has requirements for positions such as pharmacists, researchers, market analysts, chemists and other technicians but also managerial positions such as store management, sales and marketing professionals, financial analysts, and supervisors.


India's Pharmaceutical Management field has openings in both government-run organisations and well as private-based organisations. Some other institutions that can offer PM graduates solid careers are educational institutions, research institutions, government departments, hospitals, pharmaceutical companies, and Pharma development companies.
Upcoming trends
The Pharmaceutical Industry in our country is one of the most growth-oriented sectors, in terms of size, volume and technological advancements. Several trends are shaping up in this field that is worth mentioning. Here are some major upcoming trends that have been observed in Pharmaceutical Management.


Technological advancements are rapidly being made not only in the core area of Pharma but also in the Management department. The current trend in Pharmaceutical Management is the distribution of new technology among all operational processes.


Technology is being introduced in the supply-chain division of Pharma. AI and Machine Learning Technologies are being used to integrate all the logistical processes. Data Analytical tools are being used for integration processes.


Pharma companies are slowly shifting ERP Systems for smooth management and administration. Pharma Candidates with strong technical backgrounds are finding these developments extremely beneficial.
Job Profiles and Top Recruiters
Pharmaceutical Management Job Profiles
The basic criterion for a mining enthusiast to become a mining engineer is to attain a legitimate degree from a legally recognised academic institution. Upon successfully attaining the degree certificate, various kinds of mining engineer job profiles in several experience levels will be available to the freshly graduated engineers. The following are major job profiles available in the Indian Mining sector currently.
Job Profile

Description

Market Research Analyst

This job profile's responsibilities include collecting clientele information as well as information of competitors and well as other market forces.

As the title suggests, the job holder must collect data and process it into business insights that would aid in achieving business targets and organisational goals.

He/She is the backbone of any Pharma Company as the company's operations depend on the research conducted by him/her.

Quality Assurance Manager

Importance of Quality Assurance has picked up pace in the present Indian market, given to the increase in the number of faux drugs and pharmacies.

Quality Control and timely examination of a pharma company's drugs and products are some of the many responsibilities a quality assurance manager has.

He handles permission controls during the time of manufacturing, to ensure approved and healthy production is practised.

Drug/Pharmaceutical Store Supervisor

A drug store supervisor is a drug specialist who needs to manage the everyday operations of the drug store. He deals with the orders and looks after records.

He is in charge of administering solutions by following standard functioning systems for accepting, filling, dispensing, logging, and keeping up the loss check controls.

Drug Inspector

The drug inspectors work to guarantee that items are secure for human utilisation. Their fundamental duty is to inspect sustenance or pharmaceuticals at different phases of the assembling procedure to guarantee quality norms are being met.

The experts likewise promote, taking advanced positions as consumer safety officers who usually are in-charge of enacting the security methodology and outlining examination systems for pharmaceutical items.
Top Recruiters in Pharmaceutical Management
Here are a few top organisations that recruit professionally honed Pharma Graduates regularly. Most of them have their screening processes and allocate the recruited employees with tasks that suit their skill sets the most.
● Directorate of Industries and Commerce, Nagaland
● Ranbaxy Laboratories
● Dabur India Ltd.
● ACG Worldwide
● Abbott Laboratories
● Laurus Laboratories Ltd
● Regeneron Pharmaceuticals
● Bayer
● Biocon
● Pfizer
● Novartis
● Zydus Cadila
● Allergan
● Genzyme
● USV Limited
● Sun Pharma
● Vergo Pharma
Average Salary
A student, before deciding which course to pursue, weighs in the salary he/she may get after attaining the course. Prospective students need to have an idea of how much they will earn if they take up a course. A Pharma Management graduate's salary is ascertained after considering several factors. Experience, skills, and qualifications are a few of these factors. Find the average salaries of Pharmaceutical Management jobs according to their profiles:
| | |
| --- | --- |
| Job Profile | Average Salary per annum |
| Market Research Analyst | Rs. 5-6 Lakhs p.a. (Approx.) |
| Quality Assurance Manager | Rs. 5-7 Lakhs p.a. (Approx.) |
| Drug Store Supervisor | Rs. 4-5 Lakhs p.a. (Approx.) |
| Drug Inspector | Rs. 4-5 Lakhs p.a. (Approx.) |
Note: The above figures are a mere estimation of salaries and may vary from organisation to organisation, depending on their criteria.
Required Skillset for Pharmaceutical Management
Apart from the given technical skills, recruiters also look for a set of skills among aspiring candidates. For you to stand out and grab a recruiter's attention, you must be thoroughly skilled in the following areas:
Communication and Presentation - Since Pharma processes run from developing and producing drugs to selling them, people working in this sector must be excellent communicators. To communicate and coordinate well with colleagues as well as consumers, candidates should have good communication skills.
Stress Management - The candidate should be able to think critically and logically. He/She must work well under pressure and be solution-oriented.
Project Management - The Pharmaceutical Industry is a vast field, and a professional here is often made to be a part of several medical projects. A skilful candidate must be able to manage projects and administer roles and responsibilities effectively.
Confidence and People Skills - A Pharma job involves constant contact and communication with people. This requires the candidate to have the appropriate people skills. He/She must be confident about his/her abilities and skills.
Management Skills - An MBA Pharma Graduate would be thoroughly trained in all managerial aspects such as sales, marketing. Apart from these fundamental skills, a candidate must also be able to effectively manage time, plan and prioritise his/her work.
Creative, Innovative and Technical Skills
Course Curriculum for Pharmaceutical Management
Pharmaceutical Management has a unique course curriculum in comparison to other regular MBA courses. The Course Curriculum of this program is an integration of both Pharmaceutical Sciences and Management Sciences.


This course covers subjects that are a cross of the Pharmaceutical and management disciplines such as Pharma Technology, Pharmaco-economics, Strategic Pharma Management, Pharmaceutical Regulatory Affairs, and Pharmaceutical Financial Management.


The curriculum for Pharmaceutical Management also covers generic management concepts such as project management, supply chain management, and sales and marketing. Being a Master's Program, the course curriculum sometimes also includes live capstone projects and fellowships.
Popular Pharmaceutical Management Entrance Exams in India
Popular Pharmaceutical Management Colleges in India VIEW ALL
Frequently Asked Questions (FAQs)
Question: What kind of course background or interests do I need to take up Pharmaceutical Management?
Answer :
As it is a master's course, a candidate must have a degree relevant to the Pharma Management Course. He/she should have a certain amount of experience in the Pharmaceutical Industry before taking up an MBA in PM. The course is also management-oriented; a candidate who has the previously mentioned background and who also is interested in administration and management would be a perfect fit for this course.
Question: M Pharmacy or MBA in PM, which is better?
Answer :
Both the courses are great in terms of curriculum and skill development. However, choosing the right Master's course depends on what the candidate's career objectives are. If he/she is looking to work as an administrator or a general manager in the Pharmaceutical Industry, an MBA in PM would be the right choice, since the course covers aspects of sales, marketing and finances along with fundamental Pharma concepts.
If the candidate prefers a mainstream career in the Pharmaceutical Industry and would want to research and develop products, he/she can go for M Pharmacy.
Question: How long does it take to complete Pharmaceutical Management?
Answer :
The MBA course in Pharmaceutical Management is 2 years of duration. After the completion of the Master's course and receiving the certificate, the candidate can seek jobs.
Question: How many colleges in India offer MBA in Pharmaceutical Management?
Answer :
According to online sources, there are around 50 Universities/Colleges that offer MBA Pharmaceutical Management courses. There are, however, very few government institutions offering this course.
Question: What are some specialisations offered in MBA Pharmaceutical Management?
Answer :
Since it is a Master's course, several colleges and universities offer specialisations in Pharmaceutical Management, a few of which are:
Pharmaceutical Policy, Laws & Regulations
Pharma Sales & Marketing Management
Pharma Production and Product Management
Financing Pharmaceuticals
Questions related to Pharmaceutical Management
Showing 338 out of 338 Questions
Courses Similar to Pharmaceutical Management
Interested in Pharmaceutical Management? Find information around eligibility, career scope, jobs , colleges and exams and much more for free.