The sixth batch of Indian Institute of Management, Sirmaur graduated with 100 percent placement at the highest salary package being INR 26.5 lakhs per annum. With more than 140 recruiters and about 183 job offers accepted out of 240 offers made, the average salary in 2022 placement was 12.74 lakhs per annum.
IIM Sirmaur was also ranked in the 76–100 band among management institutes by the National Institute of Ranking Framework (NIRF) in 2021. It is a young and developing IIM which offers two full-time Masters in Business Administration programmes.
In this article, Careers360 compares the 2020-22 with the 2017-19 batch data of IIM Sirmaur to track the changes in batch size, placement, and salary. However, one must note that IIM Sirmaur is still too young in terms of salary package received by its students, compared to the older IIMs.
Batch of 2022 VS 2019: Gender Ratio
IIM Sirmaur started its first batch of postgraduate programme in management in 2015. Mentored by IIM Lucknow, the young IIM Sirmaur, in four years has almost tripled its batch strength.
While the number of female candidates has increased from 15 to 35 students, in the same period of four years, the percentage of seats filled by female candidates shows a decrease.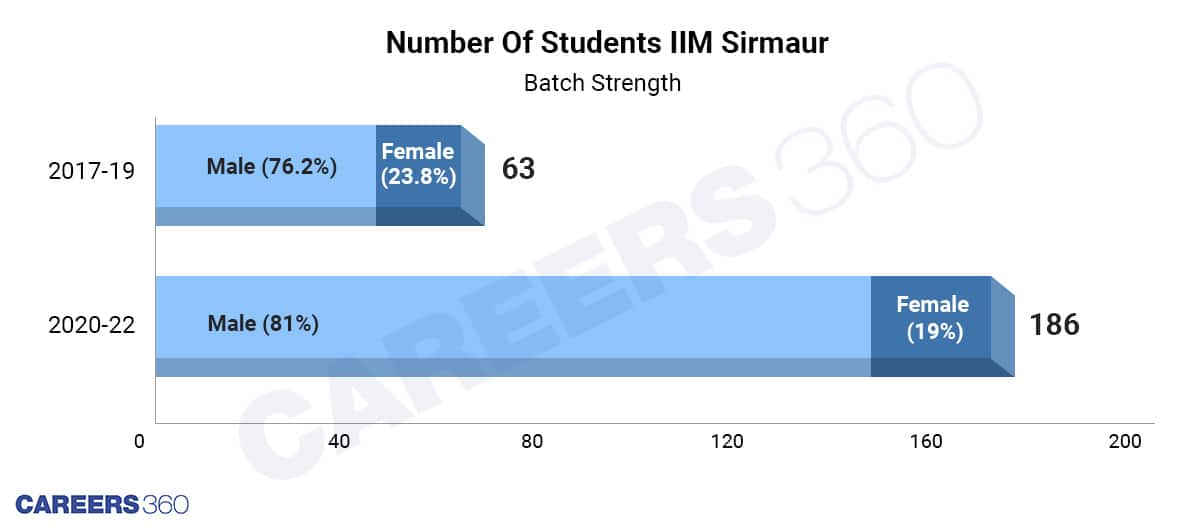 Batch Strength at IIM Sirmaur
Batch of 2022 VS 2019: Placement
About 52 per cent of students of IIM Sirmaur, 2020-2022 batch were freshers, while the rest of the students had an average of 26 months of work experience before joining the programme.
Most students of 2020-22 batch were from engineering background (67 per cent). About 15 from commerce, and four per cent each from management and arts and the rest from other educational backgrounds.
Placement Report of 2022 and 2019
| | | |
| --- | --- | --- |
| Number Of Students | 2020-22 | 2017-19 |
| No. of students participating in Final Placements | 183 | 58 |
| No. of students Placed | 179 | 58 |
| No. of students Opt Outs | 3 | 5 |
| No. of student Pursuing Entrepreneurship | 1 | - |
Batch 2019 to 2022: Salary
IIM Sirmaur had a median salary package of 12.23 lakh per annum in 2022 placement. While the median salary for IIM Bangalore, one of India's top IIM, was around 31 lakh per annum.
So to compare the average salary, IIM Bangalore had an average of 33 lakh per annum, which is almost thrice that of IIM Sirmaur.
The salaries for the 2021 placement year showed a dip compared to the rising trend of previous years. The reason could be the Covid-19 pandemic but the increasing trend of salary was recovered the very next year.
Also Read: IIM Bangalore Placement 2020-21 Report: Salary, Recruiters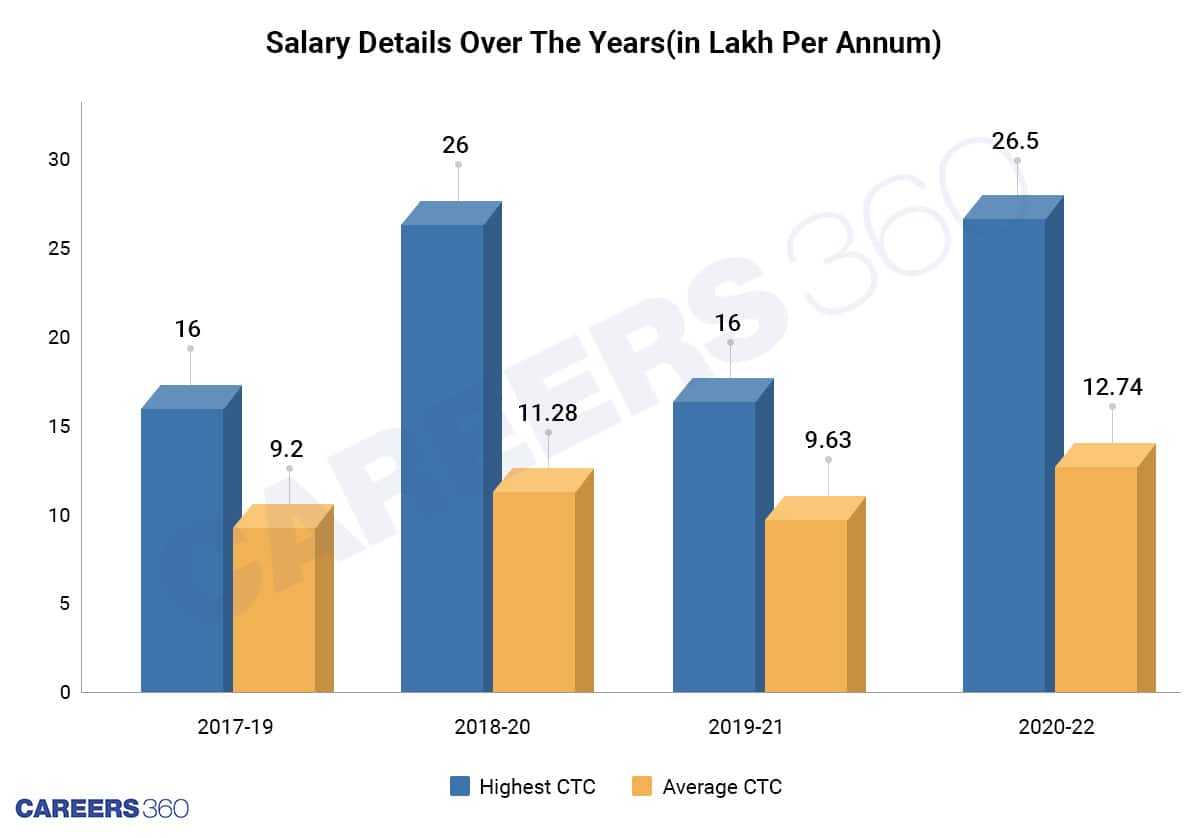 Salary details (In Lakh per annum)
Average Of Top Salaries: IIM Sirmaur
Firstly, the average of the top 10 (or 25 or 50) percentile means that for every 100 students, the average of the top 10 (25 or 50) salary package received by the students.
So for an average of top 50 percentile, it simply means that out of 179 placed students, the average of the top 90 salary package of students is 15.38 lakh per annum.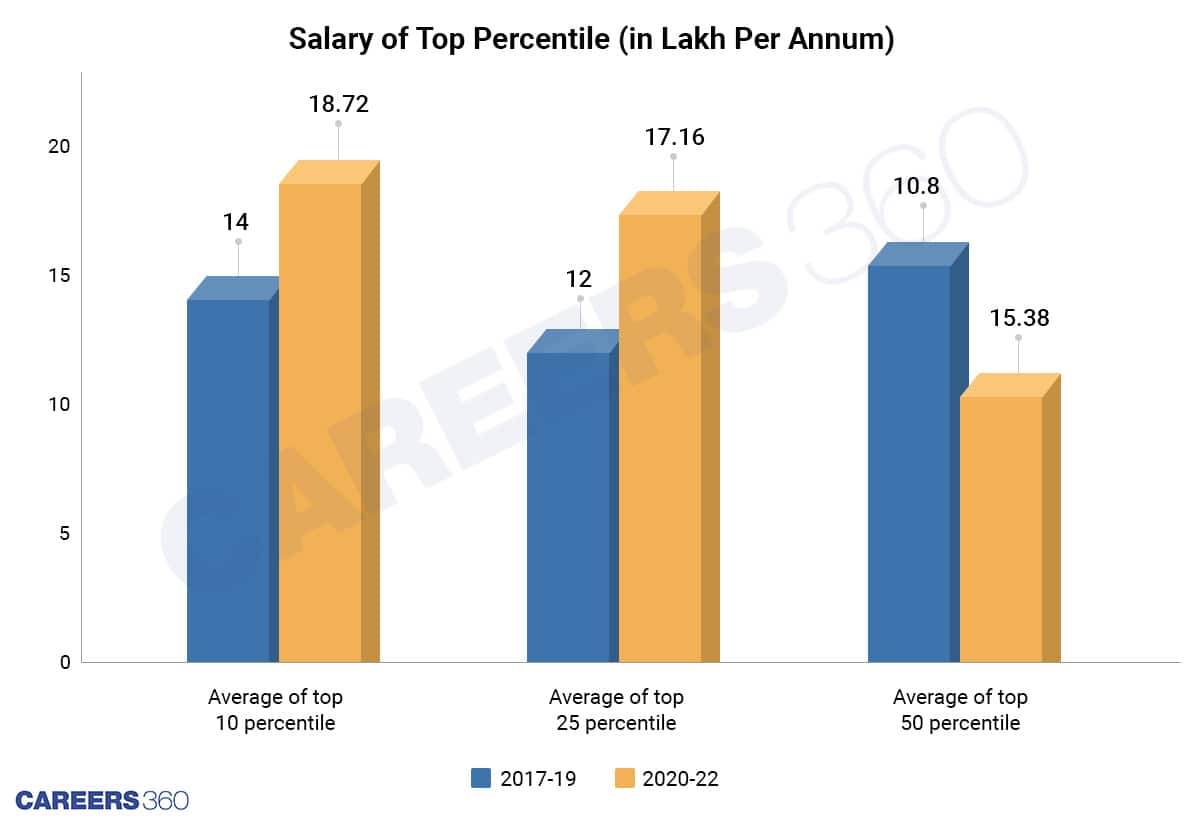 Salary details of Top percentile
Recruiters
About 65 per cent of the recruiters were first timers in IIM Sirmaur placement. This included- Accenture, Cognizant, Deloitte, Hero Motors, IBM, IDBI Capital, L&T, Schneider Electric, Tata Power, etc. Eicher, EY, DCM Shriram, HDFC, ICICI, Tech Mahindra, Volvo, ZS Associates, etc. are few of the companies who were part of IIM Sirmaur's placement drive, prior to 2022.
In 2019, more than 63 companies participated in the placement program of IIM Sirmaur. And by 2022 the numbers more than doubled.
IIM Sirmaur: Recruiters Detail
| | |
| --- | --- |
| Total no. of companies participated | 140+ |
| New Recruiters | 90+ |
| No. of offers through the institute | 183 |
| PPOs | 2 |