Who is a Paediatrician?
The child supplies the power but the parents have to do the steering ~ Benjamin Spock
A basic query that comes to our mind is who is a paediatrician? A person who is pursuing a career as a paediatrician is a medical professional who provides specialised medical care to children. The word paediatrician is derived from the Greek words pais, meaning boy, and iatros, which means doctor or healer. There are preserved manuscripts from ancient times dedicated to paediatrics, it was not until the middle of the nineteenth century that it was recognised as an advanced medical discipline.
Abraham Jacobi, known for his many contributions to this field, is regarded as the father of paediatrics. He was born and raised in Germany where he received his medical training and later he went to practise in the United States. He established a clinic for children in New York. If you are encouraged or motivated by him and want to take up a Paediatrician career then in this article, we will discuss and guide you on how to become a Paediatrician in India, what are his or her roles and responsibilities, skills and eligibility.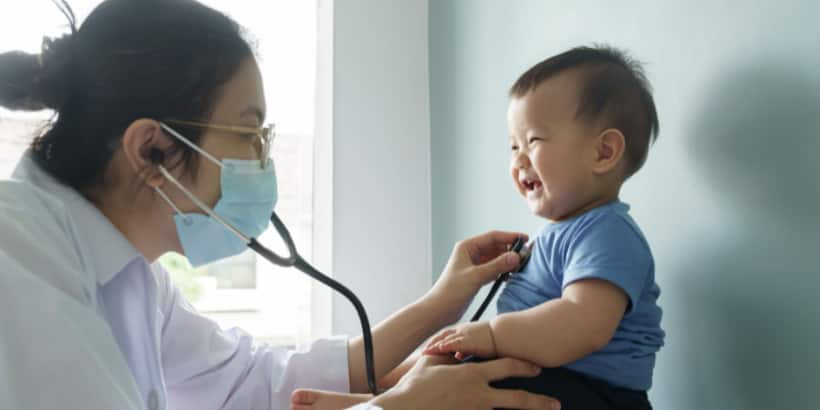 Paediatrician in a Nutshell
A career as a paediatrician has emerged as one of India's most popular career choices. By choosing a career as a paediatrician, not only in India but also overseas, one can find lucrative work profiles as demand for talented and professional paediatricians is increasing day by day. If you are passionate about children and have the patience to evaluate and diagnose their issues, you may have a good career as a paediatrician. Paediatricians take care of children's physical, mental and emotional health from infancy to adolescence.
Quick Facts for Paediatrician
Industry

Healthcare

Suitable for

Male, Female, Others

A career as a paediatrician is not gender-specific. Men, women, and others can choose a career as a paediatrician. In India, male and female paediatrician enjoys equal benefits because gender is insignificant in this career.

Any special needs

Yes

Everyone, including those with physical disabilities, is appropriate for a career as a paediatrician. A career as a paediatrician is well suited to everyone, even those with special needs. He or she should have the desire to show the world that in all conditions, he or she can accomplish his or her goals.
Table of Contents for Paediatrician
What is the role of Paediatrician?
Paediatricians also termed as general physician paediatricians, are concerned with the health of kids, children and adolescents by offering physical, mental and emotional treatment for them. To collect details regarding the patient's medical condition, they conduct diagnostic tests and prescribe procedures, therapies, medicines and vaccines to manage diseases, disabilities or accidents. Children who suffer from minor injuries, acute and chronic health conditions, and physiological and psychological growth and developmental disorders are also handled.
Children and their parents are instructed and directed by general physician paediatricians regarding diet, hygiene and preventive care. The field of paediatrics is collaborative, primary care paediatricians may refer patients to specialists if symptoms of a critical health condition are detected. Paediatrics is an exciting and demanding field to be in. It is also an amazingly wide area and can provide doctors with many options to choose from.
Surgery
This is the most important work attribute of paediatricians and also for other doctors. The Paediatrician roles and responsibilities are to carry out different problems for children and conduct other operations that involve recovering the health of the children. He or she is required to perform proper checks before any operation starts.
Team management
In collaboration with the support team, the role of a paediatrician or general physician paediatrician is to ensure that diagnosis, medication, and service needs are met. He or she is also expected to make sure the operational team has the most productive solution to the child's operation. The team should be led by a paediatrician so that everyone can strive to achieve a particular objective.
Communication
The Paediatrician roles and responsibilities also include communicating, in order to engage with children, communication in the workplace is important. If a paediatrician communicates with children in a pleasant way, he or she may get interested in expressing the problems. Communication skills help children to open up in front of the paediatrician. This profession requires strong communication skills.
Types of a Paediatrician
Adolescent Health Specialists: Adolescent health specialists are professionally trained to assist with mental, behavioural, and physical care for teenagers and young adults, including life-threatening diseases. One of the types of paediatricians is adolescent health specialists are physicians who have completed at least four years of medical schooling and 3 years of general paediatric. Adolescent health specialists work around the country in a number of medical schools, university-based medical centres, community hospitals, clinics, private medical offices, juvenile detention facilities, and school-based health services.
Adolescents have particular and substantial needs in terms of health care. Adolescent health specialists are specially qualified to help teens transition from paediatric to adult healthcare facilities. These types of paediatricians know how teenagers should be evaluated and handled in a way that makes them feel at ease. Their waiting rooms and testing rooms are friendly and age-appropriate; nurses and other medical professionals know how to interact with teenagers and young adults. Adolescent health specialists are highly trained in mediating and helping to enhance engagement between children and families.
Paediatric Allergists/Immunologists: Other types of paediatricians are pediatric allergists or immunologists who treat kids from birth to adolescence. They specialise in paediatric allergy and immunology which enables them to have the most knowledge in treating the particular medical needs of children with allergies and problems with the immune system. The main purpose of these types of paediatricians is to provide the child with relief. This is done by using advanced tests to identify the disorder and then decide on the medication that is necessary. Treatment can include the detection and avoidance of items that cause allergic symptoms, administering allergy, or prescribing medication.
Pediatric allergists or immunologist work in a number of clinical environments. This includes hospitals for children, medical centres for colleges, major community hospitals, and private offices. Paediatric allergists or immunologists carefully evaluate and treat kids in a comfortable manner. Their aim is to understand the causes of such conditions and to provide solutions to minimise symptoms.
Paediatric Cardiologists: Paediatric cardiologists are types of paediatricians, who are specialists in heart disease and heart disease prevention and care for children. In order to appropriate diagnosis, they work closely with other experts. Pediatric cardiologists work around the country in a number of medical environments, including children's hospitals, academic medical centres, major community hospitals, and private offices. It is not just small people, girls. Kids have different heart problems from adults.
Children are more likely to be infected with heart problems, some are born with heart disease, although there are rare heart attack rates in children. Pediatric cardiologists are qualified to look specifically for cardiac problems that affect children. In order to provide organised and thorough care, paediatric cardiologists work closely with primary care paediatricians. Since heart issues may often be complicated and cause other issues for children, these types of paediatricians also work with other healthcare professionals in teams. Pediatric heart surgeons, cardiac anesthesiologists, neonatologists, cardiac paediatric intensivists, paediatric radiologists, paediatric nurses, nutritionists and physical therapists are among others.
Also Read: Career as Doctor
What is the workplace/work environment of Paediatrician like?
A paediatrician operates either in a hospital or in a consulting company. In both cases, he or she is employed in a safe, closed environment. In order to protect oneself from any kind of disease, one must also wear clinical clothing to be part of the medical profession. This is a regular job, and the employee likes to work in a clinic and, in general, in a healthy setting.
Also Read: Career as Audiologist
Does Paediatrician require travelling?
Not Likely
A paediatrician or general physician paediatrician does not travel much. When an individual gains experience and makes a strong name on the market, he or she needs to travel to various places to treat critical patients.
Employment Shifts
Full Time, Work From Home
Work shifts are normally full-time for paediatricians. Paediatricians or general physician paediatricians do full-time, but the workload in shifts varies. But they prefer to be employed in the daily shift, which does not mean they do not have to spend extra shifts. Overall, paediatrician works 40 to 45 hours a week, with tasks of particular significance which often require additional shifts. Paediatricians were also allowed to operate on their own. In that case, the hours of work would depend entirely on their choice and the requirements of the patient.
Employment Nature
Contractual, Permanent
The work of paediatricians can be permanent in nature and contractual. Paediatricians have to work as part of a community within hospitals. Often, they can work individually. Paediatricians would also have to travel to meet patients according to their geographical location.
Work Place
hospitals
The nature of employment of paediatrician career in India is permanent in nature. Any hospital or clinic employs them full-time. Paediatricians may also work for themselves or by setting up a clinic of their own. Intellect and mental strength, as well as physical labour, are needed for the job.
Presence in Geographical Area
Semi-urban, Urban
A significant number of paediatricians work in urban or semi-urban locations. If any situation occurs in rural areas, paediatricians from the closest town may be requested for a consultation.
Time Pressure
Likely
Paediatricians perform operations that take a certain amount of time. The career demands considerable time and mental stamina. Working hours come under normal rules for office hours but are common for longer hours and weekends. Paediatricians are expected to give sufficient attention to their patients.
Overtime Details
A person who is pursuing a career as a paediatrician usually works nine hours a day. Although they have to work harder when it comes to serious medical situations. In many circumstances that need more effort, paediatricians will increase the duration of the shifts in these situations to complete it in time.
Weekly Hours of Work
Min 40 Hours
Paediatricians work about forty to forty-five hours a week, approximately nine hours every day. There are several shifts in the practice of paediatricians, and paediatricians will also work longer hours in many cases when patients are in serious conditions.
How to become a Paediatrician?
Steps to become a Paediatrician
If you love children and love being around them all the time and want to become a Doctor, you can opt for a career as a Paediatrician. If you are someone interested in learning about reducing mortality and infection, motivating for a healthy lifestyle, screening, diagnosing and providing preventative medical treatment to newborns, adolescents, and children and looking for information on how to become a Paediatrician in India then below we have provided step-by-step guidance.
What are the skills and qualities required to become a/an Paediatrician?
Attention to Detail: Eye for detail is the ability to perform a task with attention and accuracy. Attention to detail is helpful because it makes it easier to avoid mistakes and to make the work environment extremely easy. A career as a paediatrician is expected to make critical decisions during and throughout the treatment of a child's ailment. Therefore, when under pressure, he or she is expected to pay careful attention to detail to highly accurate work. It is important during the treatment to pay attention to the small details.
Science Skills: Without a deep understanding and interest in the subject, nothing can be accomplished. It is necessary for the applicant to have a deep interest in science and technology to become a paediatrician along with achieving excellence in the career. A strong academic background in the field is a prerequisite that can only be attained through experience and a keen interest in science and technology.
Patience: Patience is not the key to success, but a path to achieving your objectives. Patience also enables one to maintain a positive attitude through constructive actions. It makes the job simpler and much more profitable as well. Patience is the way an employee makes the effort because they need to reach their goal. A career as a paediatrician faces critical circumstances in which he or she is expected to remain calm and make decisions that may be an essential factor in the life of a patient.
Popular Online Medicine Courses and Certifications
Which certifications and internships can be helpful in becoming Paediatrician?
Individuals may opt for certification courses listed below to upgrade their skills and knowledge for a career as a paediatrician.
Internship Availability
Yes
Majorly students want to know about how to become a successful paediatrician, we will be providing you with the answer to this particular question. The best way to gain visibility is through the internship. Internships allow the candidate to have experience in the industry. Moreover, internships provide potential applicants with the ability to apply the theoretical principles they learned during their college days.
The area of medicine is very crucial because one has to go through a compulsory internship before he or she can practise as a paediatrician professionally as it deals with human lives. A paediatrician career path requires an internship programme in any hospital or clinic.
Also Read: Career as general physician
What is the job outlook for Paediatrician?
Paediatricians are among the fields of medicine in which the paediatrician solves diagnosis and health-related issues. It is one of the most exciting professions in medical education. There are wide paediatrician career options available in India. Candidates for this career will find lucrative job profiles in India or abroad. As hospitals and health care centres expand in large numbers, paediatric demand is also growing with each day. Aspirants may find employment as lecturers or research scholars in medical colleges or training institutions.
Another career choice for paediatricians is that they work in hospitals, medical centres and research labs. Candidates can be regularly employed in both private and government hospitals. Paediatrician career in India offers a multitude of paediatrician career options for shaping a candidate's future, from taking care of the general needs of a child to specialising in a certain environment. It takes a lot of experience, time and resources to become a paediatrician, making the employment outlook of utmost consideration.
Student Also Liked:
Frequently Asked Questions for Paediatrician
Que. What is the role of a Paediatrician?
Ans.
Paediatrician is physicians who monitor the child's health including physical, behavioural and mental health problems. From mild health conditions to severe diseases, they are qualified to diagnose and treat childhood diseases.
Que. What is a better paediatrician or family doctor?
Ans.
Many people opt for a family doctor who sees people of all ages, while others exclusively prefer their little one to a paediatrician. All paediatricians and family physicians are medical professionals, so when it comes to your child's health care, a paediatrician is able to provide a greater level of experience and expertise.
Que. What happens at a Paediatrician appointment?
Ans.
At the first consultation, the doctor will ask you for clarification on the following: the key problems of your child or others. The past medical and health details of your child, including their birth, and development. Admissions or disorders to clinics, medicines, allergies and immunisations.
Que. What qualities make a good paediatrician?
Ans.
When diagnosing and treating diseases and injuries, paediatricians should be observant, knowledgeable, persistent, level-headed, open-minded and resourceful. Observant paediatricians will note, and respond accordingly when subtle changes in the condition of a patient occur.
Que. Should a 15-year-old see a paediatrician?
Ans.
Pediatricians are qualified to treat teenagers so it is fine to keep seeing the paediatrician as long as parents feel relaxed. However, some people find it more difficult to communicate with their physicians in their infancy as they grow older.
Que. Is paediatrics a good career in India?
Ans.
Yes, a career as a Paediatrician is a good and emerging career. It is said to be one of the most popular career choices in India and overall the world.
Que. What should I do after 12th to become a paediatrician?
Ans.
To become a paediatrician after the 12th you are required to opt for an MBBS (Bachelor of Medicine and Bachelor of Surgery) and then complete an M.D.(Doctor of Medicine) in Paediatrics and Child Health.
You might also be interested in
The question have been saved in answer later, you can access it from your profile anytime.
Access now
Report Question
Select your reason of reporting