B.Tech in Industrial Engineering and Management: Course Eligibility, Fees, Scope
B.Tech in Industrial Engineering and Management course is related to understanding, development, and implementation of integrated systems involving material equipment and people. Under this specialization of B.Tech, students are taught various skills to manage engineering and resource projects. These include men, material and equipment for production and manufacturing by applying mathematical and engineering tools. The objective of B.Tech in Industrial Engineering and Management is to perform in the fields of design, R&D section, manufacturing, operations and services. Industrial engineers are there to reduce waste and improve performance. B.Tech in Industrial Engineering and Management makes students learn to achieve the end product with no errors and study the product requirement more carefully to give the best results.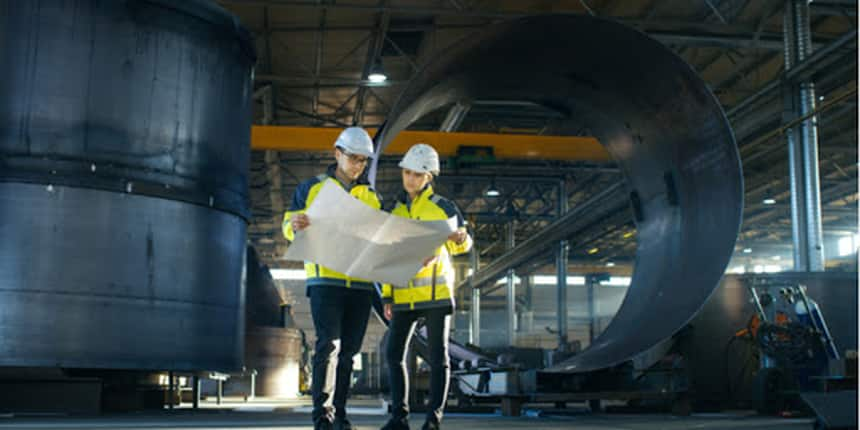 B.Tech in Industrial Engineering and Management: Overview
| | |
| --- | --- |
| Course Name | B tech in Industrial Engineering and Management |
| Duration | 4 years |
| Eligibility | 10+2 with 60% marks in Physics, Chemistry and Mathematics |
| Admission process | Engineering entrance exam or direct admission |
| Fees | INR 2.5 to 6 lakhs or above |
Admission process for B.Tech in Industrial Engineering and Management
For admission into B.Tech in Industrial Engineering, various entrance exams are conducted by the authorities, be it national level entrance exam like JEE Main or state and university level exams. After clearing the entrance exam students have to go through the counseling process, where according to the score in entrance students will get admission into the respective fields. For the admissions in the B. Tech various national level & state level tests are conducted in the country. Some of the private Institutes like SRM University, BITS Pilani, VIT University etc. conduct their tests for taking admission in their institutes.
Some of the universities give direct admission to the students based on merit. Selection will be made based on class XII, XI and class X marks, ranking in JEE or equivalent, performance in academic and extracurricular activities, essay and performance in a personal interview. Applicants with a minimum aggregate marks in Physics, Chemistry and Mathematics in class XII and a JEE score will be eligible for admission to the B. Tech program.
Entrance Exam: In the entrance exam for B.Tech, questions are asked from the industrial engineering subjects mainly from physics, chemistry & maths. However, the exam pattern shall vary for each exam.
Direct Admission: Some of the engineering institutes offer direct admission on the basis of the merit in the 10+2 exams or equivalent exams. Some private colleges also offer direct admission in the B. Tech on the management seats. Fees structure of management quota seats are higher than the normal admissions. Thapar Inst of Engineering & Technology, Patiala, BITS Pilani, Vellore Institute of Technology, Vellore, SSN College of Engineering, Chennai are some of the colleges which give direct admission in Bachelor of Technology industrial engineering course.
Lateral Entry: Various colleges in India offer direct admission in second year to the students to apply for lateral entry B. Tech after completion of their diploma course. Some colleges take entrance exams for the diploma holder students for their admission directly in the second year of the B. Tech course. Such lateral entry for the diploma holders students will be in the third semester. Candidates should comply with the eligibility criteria for lateral admissions to B.tech industrial engineering and management.
Distance Mode of Admission: Students who are willing to do engineering courses but do not have enough time to attend regular classes can do B. Tech, course through distance education.
Top Entrance Exams for B.Tech in Industrial Engineering and Management
Following are the entrance tests which need to be given for seeking admission in B.Tech industrial engineering management.
JEE Main: JEE Main has two papers, paper 1 and paper 2. Candidates may opt for either or both of them. Paper-1 is for admission to B.E./B.Tech courses are conducted only online. Paper-2 is for admission in B.Arch and B. Planning courses. The similarity between the two of them is that the question contains only multiple choice questions. JEE Main has a fixed exam structure and is not industrial engineering subjects to change every year.
JEE Advanced:
Joint Entrance Examination(JEE) Advanced is viable for the students who qualify the JEE Main examination. Therefore, a student needs to be thorough with their topics before attempting the JEE Advanced examination. Top 2,50,000 rank holders of JEE Main are eligible for participating in JEE Advanced exam. The exam is conducted once a year and qualified candidates are eligible for admissions into Indian Institutes of Technology.
SRMJEEE: SRM University conducts SRMJEEE as a university level exam for admission in various specializations of the B.Tech program. SRMJEEE is a common entrance examination for all SRM Group Universities. The exam is conducted in computer-based mode by SRM University.
There are some key points for SRMJEEE paper
| | |
| --- | --- |
| S.No. | Key Points |
| 1. | Candidates who are the top rank holders of their respective state or central board exams can seek direct admission to SRM University by applying directly. |
| 2. | SRM allows candidates to book their preferred exam slot. |
| 3. | SRM University provides an SMS facility to candidates to check their result. |
| 4. | Candidates must fill in their mobile number correctly so that their result for SRMJEEE 2020 can be sent to the correct mobile number. |
COMEDK UGET: The Karnataka Professional Colleges Foundation, in their endeavour to offer an effective, fair and objective testing procedure to determine merit of students seeking admission to the member institutions, have formed "Consortium of Medical, Engineering and Dental Colleges of Karnataka" (COMEDK). It is a state-level exam conducted by the Consortium of Medical, Engineering and Dental Colleges of Karnataka (COMEDK) for admission to undergraduate engineering courses at around 190 engineering colleges in the state of Karnataka. Around 20,000 seats are offered through COMEDK UGET, with the number of applicants standing at more than 72 thousand. The exam is open to all candidates of Indian nationality.
BITSAT: BITS Pilani conducts BITSAT exam as a university-level entrance exam held every year to offer admissions into various Integrated First Degree Programmes. Admission will be offered to the candidates into B.E, B.Pharm and M.Sc programs after qualifying this admission test. Candidates will get admission in the BITS campuses located in Pilani, Goa and Hyderabad. Candidates interested for admission can register for the test by online mode.
Top Institutes for B.Tech in Industrial Engineering and Management
Following is the list of top 10 b tech industrial engineering colleges in India.
Some other colleges are as follows
B.Tech Industrial Engineering Career Prospects
Industrial Engineering and Management students can work as managers, industrial production managers or management consultants. Students who are interested in doing research programs need a postgraduate degree which also provides good employment opportunities. Industrial engineering and management combine the study of engineering, business and management altogether. In this B.Tech course, a student's efficiency in business operations increases. One needs to analyze the production process, supervise the engineers, and analyze data to get maximum output with the efficient use of available resources.
Salary Trends for B.Tech in Industrial Engineering and Management
Those engineers, who choose to work in the private sector, negotiate their terms and conditions with the management themselves. Most fresh engineers start at Rs 10,000 to Rs 15,000 per month, with allowances. Those that go on to add a management degree in addition to engineering can command salaries of Rs 20,000 to Rs 50,000 per month.
In the government sector, the salary scale for engineers starts at Rs 2,900-Rs 3,500 for Junior Engineers. The basic scale for Assistant Engineers is Rs 4,000-Rs 5,000. Assistant Executive Engineers draw salaries in the range of Rs 3,000-Rs 5,000. Executive Engineers get Rs 4,000-Rs 5,500, while Superintendent Engineers receive salaries in the range of Rs 5,000-Rs 7,000.
Conclusion
B.Tech in Industrial Engineering and Management is a 4-year undergraduate course having 8 semesters out of which 7 semesters are on theoretical subjects and workshops. One semester is for practical experience through industrial training.
A candidate needs to acquire an average of 60% marks in 12th boards from any recognized board/university. One also needs to clear national-level/state-level entrance exams or individual entrance exams conducted by universities. The tuition fee for undertaking this course ranges from INR 3 to 5 LPA depending upon the university in which the student takes admission.
After completion of this course, students can do Master of Science or M.Tech courses from India & abroad as well. Industrial engineering and management students can get jobs in diverse fields. Students who pursue Industrial Engineering and Management courses can work in manufacturing, transportation, government sector, banking sector, IT sector, food processing industries.
Other Relevant Links
Frequently Asked Question (FAQs) - B.Tech in Industrial Engineering and Management: Course Eligibility, Fees, Scope
Question: What technology do industrial engineers use?
Answer:
Industrial engineers use computational fluid dynamics (CFD) and chemistry solvers to develop the next generation of various machine engines. ANSYS' Combustion portfolio helps industrial engineers design engines. Ansys' Combustion portfolio is well suited to these multiphysics simulations.
Question: Is JEE required for industrial engineering and management Engineering?
Answer:
Various engineering institutes in India offer admission to industrial engineering and management engineering BTech degree programmes. In order to take admission in any of these courses, it is compulsory for students to take JEE Main and JEE Advanced.
Question: Does ISRO hire industrial engineers?
Answer:
Yes, ISRO hires industrial engineers. However, students should note that it is not compulsory for students to pursue industrial engineering since ISRO hires candidates from several branches of engineering such as CSE , ECE , CIVIL , MECHANICAL and others based on their job vacancies.
Question: What is the salary of an industrial Engineer?
Answer:
The average pay for an industrial engineering and management Engineer in India ranges between Rs. 5, 000 to Rs. 1 lakh per month. The maximum salary offered to an industrial engineering and management Engineer graduated from IITs is INR 30 lakhs per annum( in software field).
Mechanical and Industrial Engineering Updates and Articles
Mechanical and Industrial Engineering