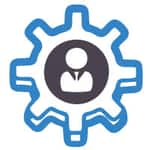 Systems Management
Degrees offered: B.B.A, B.Com, B.Voc., Diploma, Dual Degree, Executive MBA, M.Sc.
Q&A : 7 Question
What is Systems Management
Systems Management course mainly involves understanding both technical processes and information management to incorporate these technologies into the business industry.


Systems Management course prepares students according to the present requirements of the market. They are provided with a thorough understanding of multiple software and hardware systems which help them to identify the exact requirements of the client's company based on their manual systems.


Candidates learn the practical implications of technology in business organisations. The course covers subjects like marketing, human resources, IT systems, network administration, and finance.


As the course directly focuses on the business and IT sector, students are equipped with technical expertise and system development skills required by the current market. With all the available domains, students can easily climb up the ladder in global businesses.
Eligibility Criteria (UG & PG) of Systems Management
The requirements for admission in systems management courses are very similar to other management courses. Other than the below-mentioned points, students need to clear the relevant entrance test regarding management courses.


For Undergraduate Systems Management Courses
I. Candidate must have a 10+2 education qualification from a recognised institute and education board.
II. The percentile obtained in 10+2 class must cross at a minimum of 50%.
III. Additional criteria such as entrance tests and personal interviews are demanded by the institute.

For Postgraduate Systems Management Courses
I. A mandatory 10+2 education from a recognised board with a minimum of 50% marks.
II. Candidate must have a bachelor's degree in systems management or another related field
III. Candidates can be asked to give entrance tests or personal interviews depending on the university.
Systems Management Entrance Exams
For admission in any management course in India, students can give national and state level entrance exams recognised by universities. But depending on the institute, students might be required to give additional exams conducted by the institute itself.


Some of the most important and preferred entrance exams are –
I. Common Admission Test (CAT)
CAT is a national level examination conducted in November. Students can take admission only in postgraduate management courses through this exam. The exam is computer-based and having a graduation degree is mandatory to give CAT.
II. Graduate Aptitude Test in Engineering (GATE)
The exam is conducted for students with a graduation degree in any management related course. The mode of conduction is online and held in February.
III. Common Management Admission Test (CMAT)
The exam is conducted by the National Testing Agency (NTA) for all management courses for post graduation degree. Students can give the exam in January by online means.
IV. Graduate Management Aptitude Test (GMAT)
Students wanting to get admission in a graduate course in management field can apply. It is a national level computer-based exam conducted 5 times in a year.
Scope of Systems Management in India and Abroad
With the major involvement of the private sector, now government organisations are also interested in this sector. The field provides professionals who can cater to all system-related needs of companies such as IT security, consulting firms, financial firms, and e-business.


Aspirants with innovative skills and creative thinking can work in the vast research and development sector. The sector is a hub for emerging technologies and business systems for better functioning of the corporate sector.


The course not only has a good scope in India, but students can also apply for jobs to international programs in multiple other countries. The sector provides employment opportunities by giving managerial positions rather than restricting career choices.


In the field of Systems Management, aspirants can not only get good jobs with high packages but also have a chance to open their firm. The job profile offered not only provides them with a handsome salary but also gives an in-depth knowledge of the global market and business.


Candidates having an MBA in systems management with a sound application of business concepts are seen as ideal for the work of a project manager in software development activities. They are responsible for creating an online network with company distributors across the country. They can even be recruited within the IT firms in capacities like project managers, systems analyst and supporting expert.


Database administrators manage organizations' data storage systems. They apply their knowledge of database systems to spot storage needs, upgrade outdated systems and solve troubleshooting issues. They also coordinate with network architects and other technology specialists to ensure that their organizations have data security and support.
Course Fees Systems Management
Minimum Fees
Maximum Fees
Private
Government
Private
Government
UG

1.20 Lakhs

B.Voc. in Systems Management at KU School of Engineering Technology and Management, Jorhat

54.00 K

B.Voc. in Systems Management at Pub Kamrup College, Kamrup

6.20 Lakhs

Dual Degree in Systems Management at University of Engineering and Management, Kolkata

54.00 K

B.Voc. in Systems Management at Pub Kamrup College, Kamrup

PG

1.07 Lakhs

MBA in Systems Management at Alpine Institute of Technology, Ujjain

26.95 K

MBA in Systems Management at Directorate of Distance and Continuing Education, Manonmaniam Sundaranar University, Tirunelveli

5.20 Lakhs

Executive MBA in Systems Management at University of Engineering and Management, Kolkata

10.26 Lakhs

MBA in Systems Management at Indian Institute of Technology Delhi

DOCTORAL

3.56 Lakhs

Ph.D in Systems Management at Chinmaya Vishwavidyapeeth, Ernakulam

---

Data not available

7.11 Lakhs

Ph.D in Systems Management at Chinmaya Vishwavidyapeeth, Ernakulam

---

Data not available
Course Subjects
The field of Systems Management offers a course in both graduation and postgraduation levels. The undergraduate degree like BBA, B.Sc. or B.A. is for 3-4 years duration. The major subjects covered in undergraduate programmes are -
International Business Management
e-Business Strategy
Principles of Macroeconomics
Language Programming
Principles of Financial Management
System Analysis and Specification
Marketing management
E-commerce
Managerial economics

The degrees available at postgraduate level are M.A., M.Sc., Ph.D., and MBA. The course duration is 2 years divided into 4 semesters. The subjects included in the course are –
Indian business environment
Principles of Microeconomics
Financial management
Architecture and Design
Database management system
Analytical Decision Making
Enterprise resource planning
International business environment
Business Law
Careers in Systems Management
Candidates with proper qualifications and an MBA degree with a thorough understanding of marketing concepts are considered for high package jobs even if they lack experience.


With the increasing attention from both the private and public sectors, candidates can get a very rewarding job with incentives, including job security.


The globalisation and concept of MNCs have highly contributed to a rise in employment rate over the years, and demand for professionals exhibiting required skills has spiked.


Overall, the Systems Management field is not very competitive and provides ample career opportunities for freshers as well as experienced professionals.
Students also liked
Upcoming trends
Systems Management is a relatively less examined field in India due to which there is less competition among freshers. The industry is the backbone of all national and international companies responsible for their smooth functioning.


The major part of the sector is governed by private organisations; thus, the research and development area is highly funded. Innovative technological developments can be observed over a regular period.


Some of the most interesting and creative trends prevailing in the industry include–
Device Agnosticism
Automation Data Collection
Content Personalisation
Cross functional integration
Centralised Archiving
Job Profiles and Top Recruiters
Systems Management Job Profile
The main focus of students while choosing their career domain is to find what sort of job profiles are available in the field and what are the average salary packages offered to freshers. These are the key factors that determine the scope of any field.


The Systems Management sector is relatively new, thus less examined by the Indian youth, which makes the sector less competitive, not to mention increases the demand for trained professionals.


Aspirants who are critical thinkers and have an analytical mindset are preferred by companies as they can transform their brand. Though the sector is majorly governed by private organisations, aspirants can also find employment in government agencies.


The qualification factor plays an important role in recruitment as professionals with a suitable degree are preferred over skills and experience.


The job profiles offered are diverse, and even if the job availability is high candidates need to show eminent skills for the recruitment process. Some of the most common job profiles in the sector with their description are mentioned below. Students can easily take reference and decide their career domain.
| | |
| --- | --- |
| Job Profile | Job Description |
| System Administrator | System Administrator focuses on maintaining the systems along with installation and smooth operation. They improvise the systems according to the company's demand. |
| Solution Architect | A Solution Architect follows up the market demands and finds new business opportunities for the employer. They develop plans and communicate new product development in the market to increase sales. |
| E-commerce Manager | The E-commerce Manager makes the online website of the company appealing to the customers. They ensure smooth navigation and check the standard of the content uploaded. |
| Network System Manager | A Network System Manager Controls the functioning of the system through a team of programmers and other specialists. They ensure that the system generated completes the project requirement within the budget. |
| | A Sales Manager's job is to design marketing strategies and evaluate the gross profit chart of products. They analyse the market trends and accordingly create sales objectives and monitor the sale volume based on the cost and supply of the products. |
| | A Computer Programmer designs new software and code programs according to the requirement. They test the software functionality and recode the program if required. The domains of their job include app programming, software coding, and search engine. |
| System Analyst | A System Analyst is responsible for smooth system operation and overriding any application or processing issues related to the system. They also develop alternative solutions and supervise the production requested by the client. |
Systems Management Top Recruiters
Due to the high demand for professionals in Systems Management and the interlinking of multiple sectors under this field, the employment opportunities steadily increase. Most of the recruiting is done by private companies, but aspirants can also find jobs in the government sector.


A list of the most popular companies and organisations across the world that recruit systems management degree holders is given below. The recruiting process is done multiple times a year.
Amazon
Infosys
Cognizant
Oracle
Tata Motors
Tech Mahindra
Adobe
Bajaj
HCL Technologies
Average Salary
The annual income offered in the job profiles of Systems Management depends on factors like job experience, and job regarding skills. Aspirants can easily climb up the ladder in a short duration.


The job profiles and the approximated values of annual income are mentioned below. The amount might differ from the actual package as it is statistical data.
| | |
| --- | --- |
| Job Profile | Annual Income (in Rs.) |
| System Administrator | Rs. 4-6 lakhs p.a. (approx.) |
| Solution Architect | Rs. 6-8 lakhs p.a. (approx.) |
| E-commerce Manager | Rs. 7.5-10 lakhs p.a. (approx.) |
| Network System Manager | Rs. 2-4 lakhs p.a. (approx.) |
| Sales Manager | Rs. 10-12 lakhs p.a. (approx.) |
| Computer Programmer | Rs. 5.45-7 lakhs p.a. (approx.) |
| System Analyst | Rs. 6-10 lakhs p.a. (approx.) |
Required Skillset for Systems Management
Students with a background in IT or a related field are more suitable for the course. But only having the academic knowledge is not enough; students are required to have some field-specific skills to excel in Systems Management. The most preferred skills for jobs in Systems Management is given below –
Analytical Mindset - It is crucial to analyse the present situation and work accordingly. The candidates should be able to think critically and respond in an orderly fashion.
Communication Tactics - Communication skills are the key factor for the smooth functioning of a team; candidates are required to develop a productive bond among the team members.
Appetite for learning - As the advancements and technologies introduced in the sector are very regular, candidates should be eager to learn and keep up with the market developments.
Course Curriculum for Systems Management
The curriculum imparts technical and analytical knowledge through the course subjects along with the skills required for the field of Systems Management. The chief focus of the curriculum is to provide expertise regarding the IT and Business sectors.


Students get a sense of business background and strengthen their career chances in fields like web development, software programming, and web data analysis.


The curriculum interlinks the basic concepts of many major subjects, such as software and hardware systems, system programming, finance, and tech management.


Due to the technical and administrative nature of the course, students are provided with a thorough knowledge and skills in IT software and engineering domains.
Popular Systems Management Entrance Exams in India
Popular Systems Management Colleges in India VIEW ALL
Frequently Asked Questions (FAQs)
Question: What are the available education paths for the Systems Management field?
Answer :
To enter the field of Systems Management students with an IT or computer as a major subject in 10+2 education are preferred. For a bachelor's degree, there are multiple options like Bachelors of Art (B.A.), Bachelors in Business Administration (BBA), and Bachelors in Technology (B.Tech).
After a Bachelor's degree, students are required to have a postgraduate degree that can be in the field of Masters of Art (M.A.), Masters in Business Administration (MBA), Masters in Technology (MTech).
After a post graduation degree, students can apply for jobs, but they can also further advance their qualifications by pursuing a Ph. D course to go in the research domain.
Question: Why is Systems Management preferred even after majorly governed by private organisations?
Answer :
As the Systems Management sector is very vast, and several global industries come under it, the major involvement is of the private sector. Even after less involvement of the government sector, it is a preferred field because candidates get numerous opportunities for both personal and professional growth. Some might debate about no job security, but the job profiles of the private sector have very high packages and include job incentives.
Question: What is the main difference between Systems Management and Information Management?
Answer :
The field of Systems Management focuses on designing system programmes and software for the smooth functioning of organisations, whereas the Information Management sector revolves around creating effective information detecting programmes. Both sectors have very distinct purposes.
Question: What is the highest paying job is Systems Management, and what is the starting salary?
Answer :
The major job profiles with high salary packages in the sector of Systems Management covers IT analyst, computer programmer, IT consultant, Sales Manager, and E-commerce Manager. The starting salary for freshers ranges in Rs. 4-6 lakhs per annum and from experienced professionals the salary packages lie in the range of Rs. 15-25 lakhs per annum.
Question: Why is systems management important?
Answer :
In an exceedingly digital world, maintenance, development and management of systems is a necessity making the course not only highly sought after but also the graduates getting recruited rather frequently.
Questions related to Systems Management
Showing 7 out of 7 Questions
Courses Similar to Systems Management
Interested in Systems Management? Find information around eligibility, career scope, jobs , colleges and exams and much more for free.