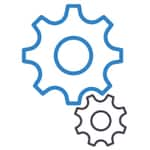 Technology Management
Degrees offered: B.B.A, Dual Degree, Executive MBA, M.Com, M.E /M.Tech., MBA, MTM
Q&A : 19 Question
What is Technology Management
Technology Management is a course offered to the students at the Masters level. It is referred to as an MBA in Technology Management. This course teaches the students about the innovations and its values, how innovation should be managed and promoted to achieve maximum profits and the benefits innovation offers.


It focuses on the development of such leaders in the business world who can manage the current technologies and also make the environment adapt to the new technologies being invented. They have to adapt quickly in this dynamic world. It's a combination of two courses which are technology and Business Administration. On the completion of Technology Management course, students can go for M.Phil and PhD.
Eligibility Criteria (UG & PG) of Technology Management
Each college gives a list of criteria to be met by the students. On fulfilling these criteria, the students would be granted admission to that college. Here is the list of some criteria for technology management course mentioned by colleges –
Aspirants should have a bachelor's degree or any other equivalent degree from a recognised university or institution.

Aspirants should have scored at least 60% marks.

In the case of SC/ST students, a 5% relaxation is offered to them.

Aspirants should also possess good communication as well as writing skills; they should have the ability to express themselves both verbally and in writing.
Entrance Exams for Technology Management
The admission process for technology management course is usually done with entrance exams. On qualifying for the entrance exams, the students would have to appear for personal interviews at their college/institute of choice. Here is the list of some entrance exams conducted for Technology Management–
CAT (Common Admission Test)- Conducted for graduate management program admission. It's a gateway to seek admission into the famous 20 IIMs in India and many other colleges. It is conducted once a year for 3 hours. The paper is divided into three sections comprising Verbal Ability and Reading Comprehension, Data Interpretation and Logical Reasoning and Quantitative Ability.
MAT (Management Aptitude Test)- It is an examination which screens students who apply for MBA and other programs. Conducted by the Ministry of HRD, Government of India on a national level basis. It is conducted four times a year for two and a half hours. The paper comprises 200 multiple choice questions which are divided into five sections comprising Language Comprehension, Indian and Global Environment, Intelligence and Critical Reasoning, Data Analysis and Sufficiency, and Mathematical Skills.
XAT (Xavier's Aptitude Test)- It is a national level examination conducted on behalf of Xavier Association of Management Institutes. This exam offers admission to various Xavier's institutes all over India. The paper is 3 hours long, with over 100 multiple choice questions comprising the following four sections General knowledge, Decision making, Quantitative Ability and Data Interpretation and Verbal and Logical Ability.
NMAT – It is conducted by the Graduate Management Aptitude Council. The MBA program of various colleges accepts this score. This exam is 2 hours long with 108 multiple choice questions consisting of three sections Quantitative Aptitude, English language and Reasoning.
CMAT (Common Management Admission Test)- It is a national level exam conducted online by The National Testing Agency. It is conducted once a year with many institutes accepting this score. The paper is 3 hours long, with 100 multiple choice questions comprising four sections. Logical Reasoning, general awareness, English and Quantitative Aptitude.
Scope of Technology Management in India and Abroad
The MBA degree is like a cherry on the cake for the graduates, which will help them to improve the working scenarios, an increase in salary and much more. It would benefit the student as the technology increases the demand for such graduates, and this demand would never decrease because of the rapidly moving world and new technologies coming into force each day.


An ample amount of job opportunities are offered to technology management graduates in different fields of Network Infrastructure, Internet Connectivity, Information Security, System Development, Software Sales, and IT Consultancy. The students develop a critical thinking mind which helps them in understanding what innovation does and how important it would be in today's world. They learn to work in coordination and promote these innovations for the betterment of the future.


The job profiles for technology management graduates would be one of the highest-paid jobs. Freshers can earn up to Rs. 30 lakhs p.a. (approx.).
Course Fees Technology Management
Minimum Fees
Maximum Fees
Private
Government
Private
Government
PG

55.00 K

P.G.D in Technology Management at Symbiosis Center for Distance Learning, Pune

25.70 K

MBA in Technology Management at Alagappa University, Karaikudi

22.07 Lakhs

P.G.P in Technology Management at Masters' Union, Gurugram

11.70 Lakhs

MBA in Technology Management at Indian Institute of Technology Delhi

DIPLOMA

64.70 K

Diploma in Technology Management at Amity Directorate of Distance and Online Education, Noida

---

Data not available

64.70 K

Diploma in Technology Management at Amity Directorate of Distance and Online Education, Noida

---

Data not available
Course Subjects
Colleges have different requirements, but the subjects usually are the same, and all of them include marketing, accounting, finance and management. Here are some major subjects –
Information Technology for Business

Organisational Behaviour and Interpersonal Skills

Technology, Creativity and Innovation

Technology projects, Appraisal and Evaluation

Technology Transfer Management

Technology Forecasting and Assessment

Production and Operations Management

International Business and Strategic Alliances

Organizational Development and Team Building

Leadership and Change Management

Strategic Management of Technology

Performance Appraisal and Counselling

Industrial Relations and Labour Laws
Careers in Technology Management
The candidate can pursue higher studies after completing MBA in the technology management field of MPhil and PhD in management. On completion of PhD, they can become professors in various management colleges. For getting admission in M.Phil or PhD, they have to appear for exams like UGC NET or UGC CSIR NET. Various job roles can be done after graduation like Chartered Financial Analyst, Risk Manager, Auditor, Project management Professional, and Financial Risk Manager.
Upcoming trends
A lot of new trends are upcoming in technology management field. Let's talk about a few of them.
Artificial Intelligence – The machines are learning and increasing their ability to learn more, they act intelligently and transform the world.

The Internet of Things – The use of smart devices is growing rapidly in the world. These devices help in gathering and transmitting data.

Wearables and augmented humans – When humans started wearing fitness trackers, wearable devices got made which will help in living a life which is healthier, safer and more efficient.

Big Data and augmented analytics – Big data is the exponential growth of data to create a big world. The highly advanced technologies of AI helps in working with complex data easily.
Job Profiles and Top Recruiters
Job Profiles Offered After Technology Management Course
Students who study MBA in Technology Management have the edge over other students. Many companies wait for such students to fill their top positions. Companies like Consulting Services, Insurance & Financial Companies, Academic Institutions, Healthcare Organisations and many others recruit these candidates. Below is the table along with the job positions and description –
Job Profile

Job Descriptions

Analytics Manager

An Analytics Manager is responsible for heading various cross-functional projects which involve the use of advanced data modelling and techniques.

Data models are developed, built and maintained in reporting systems by them for business decisions.

They design and build technical processes which help in solving issues with the business.

Analyst-level employees are recruited, trained, developed and supervised by them.

Product Manager

A Product Manager looks into the needs and desires of the customers.

They measure the nature and scope of the products in the present market and those to be launched in the future.

They launch new products in the market, keeping in mind the requirements of different customers and the investment to be made.

System Manager

A System Manager checks if the businesses and organisations are within the rules and regulations of the technology departments.

They install and maintain software and hardware. They report all technological improvements and changes to their colleagues.

They work in close contact with the top executives to ensure efficient, effective computer-related activities are carried out.

IT Manager

IT Managers run regular checks in the organisation to check the network and data security.

They update the system software to meet the opportunities available in the market.

They help their staff in learning new technology by organising developing and implementing IT policy.

They conduct audits and reports all the changes.

Chief Technology Officer

The Chief Technology Officer has to present reports to the clients, which consist of the status, goals and progress of the project. They make and execute strategies.

Key performance indicators are created and looked over for the IT department by them.

Project Manager

Project Manager defines the scope and objectives of projects.

They place orders for the resources and materials required to meet the objectives of the business. They track the costs being spent on the project.

They check the progress and make the required adjustments to complete the tasks. They measure the performances to locate places where improvements can be made.

They make proper working schedules and plans to meet the goals in time.

Technology Management Top Recruiters
Many companies lookout for graduates in technology management for their departments. They are highly skilled in managing technology and adapting themselves to new technology as well. A bright future lies in front of these graduates. Some of the recruiting companies for technology management graduates are:
Network Technology

Internet Service

Cybersecurity

System Development

Technical Sales

IT Consulting
Average Salary
The pay scale of the different job profiles in technology management field have been given below –
| | |
| --- | --- |
| Job Profile | Average Salary |
| Analytics Manager | Rs. 10 lakhs p.a. (approx.) |
| Product Manager | Rs. 12.5 lakhs p.a. (approx.) |
| Computer Systems Analyst | Rs. 6 lakhs p.a. (approx.) |
| System Manager | Rs. 7 lakhs p.a. (approx.) |
| IT Manager | Rs. 8 lakhs p.a. (approx.) |
| Chief Technology Officer | Rs. 15 lakhs p.a. (approx.) |
| Project Manager | Rs. 12 lakhs p.a. (approx.) |
Required Skillset for Technology Management
All the managers of Technology Management need to have a few skills for excelling in their corporate world. A few of the required skills have been mentioned below –
Critical Thinking – Managers have to use logic and reasoning to precisely locate the strengths and weaknesses of problems and their solutions and conclusions.

Active Listening – Managers have to keep all ears to the other people when they are speaking, note down points of their colleagues which would help them in future.

Speaking – Speak politely and clearly to convey the information.

Coordination – The team members should work in coordination with each other to complete the tasks as soon as possible and in an effective manner.

Problem Solving Skills – The perfect skill of identifying the problems and reviewing the related information.
Course Curriculum for Technology Management
The course curriculum of Technology Management includes various C-level management, new business ventures, cybersecurity, data management and analytics and digital and business transformation subjects. The students will have to attend seminars and various projects.


During the projects and seminars, they will get opportunities to connect with different heads and other program components. In technology management course, an online learning platform is given to the students, which will have the edge over other students. This learning will help the students to have face-to-face study experience.
Popular Technology Management Entrance Exams in India
Popular Technology Management Colleges in India VIEW ALL
Frequently Asked Questions (FAQs)
Question: What preparation is required for the MBA Technology Management Entrance Exam?
Answer :
Here are some tips students should keep in mind while preparing for the exam.
Make a full proof plan as each exam has a different set of questions as well as the time limit.

Look into the previous year's papers and make sure you read all the important details in each one.

For clearing the exam, the student would be required to have in-depth knowledge, sharp memory and analytical skills.

Practising, as many papers and model tests would help clear student doubts and manage time.
Question: Which are the top colleges offering this course?
Answer :
There are not many institutes which offer this course, some of them are mentioned below for your reference with their NIRF 2020 ranking too.
| | | |
| --- | --- | --- |
| Name of College | NIRF 2020 Ranking | Entrance Exam |
| Narsee Monjee Institute of Management Studies | 24 | NMAT/GMAT |
| Anna University | 59 | TANCET |
| Chandigarh University | 51 | CUCET |
| Amity University | 41 | CAT |
| Institute of Business Management and Research | 76-100 | MAHCET |
| Lovely Professional University | 49 | LPUNEST |
Question: What are the fees of the above-mentioned colleges?
Answer :
Each college mentioned above has a different fee structure depending on their ownership, i.e. government or private.
| | |
| --- | --- |
| Name of College | Average Fees |
| Narsee Monjee Institute of Management Studies | Rs. 4 lakhs (approx.) |
| Anna University | Rs. 41,000 (approx.) |
| Chandigarh University | Rs. 1.8-2 lakhs (approx.) |
| Amity University | Rs. 5.8-6 lakhs (approx.) |
| Institute of Business Management and Research | Rs. 80,000 (approx.) |
| Lovely Professional University | Rs. 3-4 lakhs (approx.) |
Question: What is the average starting salary of the freshers?
Answer :
The students would earn a salary between Rs. 4 lakhs p.a. (approx.) to Rs. 20 lakhs p.a. (approx.).
Question: How long is this course?
Answer :
MBA in Technology Management is of 2 years with 4 semesters. The first year has common subjects for all other MBA courses while the second year would have different electives and specialisation options for the students.
Questions related to Technology Management
Showing 18 out of 18 Questions
Courses Similar to Technology Management
Interested in Technology Management? Find information around eligibility, career scope, jobs , colleges and exams and much more for free.