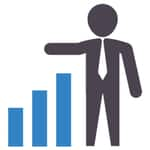 Corporate Management
Degrees offered: B.A.(Hons), B.B.A, B.C.A., B.Com, B.Com(Hons), B.Voc., BS
Q&A : 8 Question
What is Corporate Management
The Corporate Management course teaches students about the basics of leading a corporate establishment from making administrative decisions to making policies so that the business achieves its objectives. Corporate management is a group of senior executives and managers who lead, direct, and administer an organisation. Corporate general managers are employed in multiple sectors like manufacturing, media and telecommunications, and scientific services. A 20% growth is expected in employment vacancies for corporate managers. Undergraduate and postgraduate courses are available in Corporate Management which is offered by many colleges and universities in India and abroad as well.
Eligibility Criteria (UG & PG) of Corporate Management
Candidates have to fulfil the following eligibility criteria to pursue corporate management.
An Undergraduate degree in any stream is accepted for MBA corporate management.

At least 50% marks in bachelor's degree and 12th class is required for getting admission.

The admission process differs for different institutes. Most of the colleges and universities offer admission to the course based on entrance examination and performance in graduation.

After the candidate qualifies for the entrance examination, he/she is called for an interview.

Admissions are offered to candidates after the personal interview round.


Entrance Exams for Corporate Management
NMAT- NMAT which is also known as NMIMS (Narsee Monjee Institute of Management Studies) Management Aptitude Test and is conducted by GMAC (Graduate Management Admission Council. The mode of examination is online and the duration is two hours. Language skills, quantitative skills and logical reasoning of the candidates are tested in NMAT. This national level entrance exam selects students for MBA in NMIMS and other B-schools in India.
GMAT- Graduate Management Aptitude Test is a 3.5-hour examination. GMAT scores are used by graduate business schools to offer admissions. The exam is conducted online. Top 50 B-schools in India and other universities accept GMAT scores.
ATMA- AIMS Test for Management is one of the popular National level MBA entrance exams in India. ATMA score is accepted for admission by 500+ MBA/PGDM colleges in India. It is conducted online and 0.25 marks are deducted for every wrong answer. Qualifying candidates are selected for MBA in top-notch institutes across India.
IBSAT- ICFAI Business School Aptitude Test is a two-hour examination with four sections. It is a common entrance exam for all IBS courses. IBSAT is an online examination and has no negative marks. Quantitative ability, reading comprehension, verbal ability, data interpretation and data adequacy of the candidates are checked in IBSAT.
Scope of Corporate Management in India and Abroad
Successful graduates can work in Banks, educational institutes, brand and marketing, public works, corporate companies, financial organisations, and business consultancies. Many job opportunities are waiting for Corporate Management graduates. Students who are interested in business and possess good leadership skills are suitable for this course. Students who are comfortable working in a group are needed for Corporate Management studies. Diverse workplaces have to be explored by them.
Students with the ability to face personal challenges, interpersonal relationships, and any other issue are required. Those who are good at problem-solving are suitable for management consulting. Corporate Management is opted for because it offers a wide scope after studies. It aids the student's career development and skills. Some skills like communication, language proficiency and leadership learned in Corporate Management serve lifelong to the student to network with a lot of people. The industry is actively hiring Corporate Management graduates to corporation everything. This leads to the improvement of the business and growth of the industry. Corporate Management students have more chances of getting corporate jobs.
Course Fees Corporate Management
Minimum Fees
Maximum Fees
Private
Government
Private
Government
UG

2.70 Lakhs

B.C.A. in Corporate Management at Lal Bahadur Shastri College of Higher Education, Bareilly

---

Data not available

6.20 Lakhs

Dual Degree in Corporate Management at GEMS B School, Bengaluru

---

Data not available

PG

14.35 K

P.G.D in Corporate Management at Jain Vishva Bharati Institute, Ladnun

16.91 K

P.G.D in Corporate Management at Veer Narmad South Gujarat University, Surat

13.50 Lakhs

MBA in Corporate Management at BML Munjal University, Gurgaon

10.50 Lakhs

Executive MBA in Corporate Management at Indian Institute of Management Jammu

DIPLOMA

36.71 K

Diploma in Corporate Management at Jawaharlal Nehru Institute of Corporate Social Responsibility, Delhi

---

Data not available

36.71 K

Diploma in Corporate Management at Jawaharlal Nehru Institute of Corporate Social Responsibility, Delhi

---

Data not available
Course Subjects
The corporate management syllabus is not the same for all colleges. The syllabus of corporate management differs for various colleges and universities. Some subjects in the Corporate Management course are as follows:
Management and Behavior Process

Managerial Economics

Business Environment and Legislation

Financial and Cost Accounting

Information Technology for Managers

Quantitative methods for management

Communication and Technical Writing

Entrepreneurship

International Business

Retailing

Health Care Services

Hospitality
Careers in Corporate Management
Eight of the top ten jobs in popular countries are carried out by graduates in business, sales and HR. Marketing associate professional is the top job of business management graduate. Some graduates choose to study further choosing one of the many specialisations in management. With diverse career options and an exceptionally good salary, the Corporate Management course tends to be highly productive. One can enhance his team working skills, communication and interpersonal skills, leadership quality and many other technical and soft skills through the Corporate Management course. This makes the corporate managers shine before all other professions, it is the corporate manager who leads the organisation and upholds its reputation in front of the world. An average graduate with no work experience can earn Rs. 3-4 lakh p.a.
Upcoming trends
Environmental, Social and Governance Risks- Investors consider climate change and sustainability to be mainstream priorities. Cyber attacks also persist to be an area of concern due to data breaches. Investors will form policies on cyber risks and what the role of boards will be.
Blue Chip Companies Face Corporate Governance Issues- Not only the mid-cap companies face corporate issues but the leading companies also face corporate governance issues. A little more than half companies in the nifty 50 index received 4,552 complaints in FY19. Hence the need for professional corporate managers would rise. Only the skilled would be vigorously sought after and selected.
Artificial Intelligence- To improve the overall customer experience, AI is being used more. Specific scenarios are easily adapted by artificial intelligence without human intervention. These artificial intelligence tools are available now to improve many facets of file for both business and customer.
Students also liked
Job Profiles and Top Recruiters
Employment in corporate management is projected to rise by 5% from 2019-2029, which is faster than all other occupations and it is going to result in 505,000 new jobs. Sought-after skills may vary a bit from career to career in corporate management, but they are universally desired by employers. There are several career options available for graduates of management studies. These graduates can work in several industries like healthcare, corporations, and non-profit organizations. Here are some job profiles and descriptions of the responsibilities for reference.
| | |
| --- | --- |
| Job Profile | Job Description |
| | A brand manager is responsible for adapting a brand strategy for a company's target market. A brand manager is a brand guardian who maintains integrity across all company marketing initiatives and communications. |
| | An Entrepreneur responsible for planning, and directing the operations of a company. They create policies, set goals and meet the potential investors and clients. |
| Management Consultant | A Management Consultant works to provide solutions to the client's changing business needs. Also provides counsel, advice, and functional expertise in specialized areas like strategy, mergers, governance, reorganizations, and organization. |
| | A marketing manager builds awareness by developing and executing marketing strategies to meet consumer need and increase profits. |
| | An Equity research analyst works for both buy-side and sell-side firms in the securities industry producing research reports, projections and recommendations encompassing companies and stocks. |
Top Recruiters in Corporate Management Field
Educational institutes, banks and marketing, public works, personal business, tourism industry, industrial houses, multinational companies, financial organizations, and business consultancies are top recruiting companies for Corporate Management graduates. Among the top recruiters for Corporate Management are:
Talent Place

Alcor

Soshace

Reliance Industries Ltd.

Indian Oil Corporation Ltd.

Oil and Natural Gas Corporation Ltd.

State Bank of India

Tata Motors Ltd

Bharat Petroleum Corporation Ltd

Tata Steel Ltd.

Larsen & Toubro Ltd

HDFC Bank Ltd

Mahindra & Mahindra Ltd

Vedanta Ltd.

Maruti Suzuki India Ltd.
Average Salary
Salary plays a vital role in a student's life. He/ she has to go through the salary offered before opting for a course. Average salaries for the most craved job profiles in Corporate Management are given below.


| | |
| --- | --- |
| Job Profile | Salary |
| Human Resource Manager | Rs. 4-7 lakh p.a. (Approx.) |
| Brand Manager | Rs. 5-10 lakh p.a. (Approx.) |
| Entrepreneur | Rs. 4-8 lakh p.a. (Approx.) |
| Management Consultant | Rs. 7-9 lakh p.a. (Approx.) |
| Marketing Manager | Rs. 7-10 lakh p.a. (Approx.) |
| Equity Research Analyst | Rs. 8-10 lakh p.a. (Approx.) |
Required Skillset for Corporate Management
Interpersonal Skills- Management jobs require the ability to build strong relationships with team and clients. To lead a team, one needs to earn the respect of his/her colleagues. Aspirants must know how to deal effectively with people. Demonstration of managerial qualities is a must while maintaining the ability to play your part as a team member.
Technical Skills- Skills involved in enriching the manager's ability to implement techniques to achieve the company's objectives are technical skills. Technical skills involve operating machines and software, production tools and pieces of equipment. Other than these skills needed to boost productivity, design new products and services are also technical skills.
Planning- Planning is a vital aspect of an organisation. It refers to one's ability to organise activities within the limits of available resources like time, money and labour. The planning process includes identifying and setting achievable goals, developing new strategies and charting schedules on how to achieve the goals set. Only little can be achieved without a good plan.
Delegation- Delegation helps the manager to save time, optimise productivity and ensures responsibility on the parts of employees. Delegation abilities have to be possessed by every corporate manager to attain optimal results and accomplish the required results.
Course Curriculum for Corporate Management
Corporate Management course is designed to help students gain business knowledge and be aware of the forgeries of trade. The course can be completed part-time also. Economics Methods for Management, Business Ethics, Strategic Management, and Communication are a few of the topics in the course. Corporate Management equips the students with innovative business methodologies with the help of collaborative teamwork. The main objective of the course is to train students to make strategic and operational decisions to meet the expectations of the company. Knowledge on how to work as a team is delivered to the students. Postgraduates in Corporate Management can work as communication associates, marketing communication manager, brand manager, project manager, and so on.
Popular Corporate Management Entrance Exams in India
Popular Corporate Management Colleges in India VIEW ALL
Frequently Asked Questions (FAQs)
Question: What are the benefits of pursuing an MBA?
Answer :
MBA degree gives a good career start and leads to wide scope for career development and skills. It also gives an innovative outlook. MBA graduates have the privilege to network with the best people in the market. An MBA degree not only enhances professional growth but also personal growth.
Question: Is there any scholarship option for MBA?
Answer :
There are few steps to avail scholarship for MBA. Visit websites on the internet to know about government and private scholarships offered by various universities. Get a good GMAT score. Exceptionally good GMAT scores offer an MBA at top-notch colleges. No generic application letters but well-constructed letters to the specific universities requesting for scholarship help. Early application to colleges yields the reward.
Question: Where can Corporate Management courses be pursued abroad?
Answer :
The United States is the topmost choice for management studies. The United Kingdom, Canada, Australia, Germany, Spain, Singapore, Switzerland, the Netherlands, are other choices pursuing Corporate Management abroad.
Question: Why is Corporate Management important?
Answer :
Corporate Management helps in achieving group goals. It arranges the factors of production, assembles and organizes the resources effectively and integrates the resources to achieve goals. It directs group efforts towards achievement of pre-determined goals.
Question: What is the role of a corporate manager?
Answer :
The role of a corporate manager is to direct, plan or implement objectives or activities to ensure continuing operations, to maximize the returns on investments and to increase productivity. A corporate manager also appoints department heads of managers and assigns or delegates responsibilities to them.
Questions related to Corporate Management
Showing 5 out of 5 Questions
Courses Similar to Corporate Management
Interested in Corporate Management? Find information around eligibility, career scope, jobs , colleges and exams and much more for free.