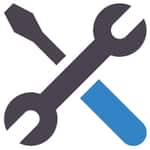 Infrastructure Management
Degrees offered: B.A., B.B.A, B.E /B.Tech, B.Sc., Diploma, M.E /M.Tech., M.Sc.
Q&A : 14 Question
What is Infrastructure Management
One of the most explored specialisations of management courses in Infrastructure Management. The course is programmed to provide students with a thorough understanding of general management traits. The Infrastructure Management course focuses on the highly evolving and major sector of India that is, the Construction Industry and creating professionals specialised in construction as well as in sectors related to infrastructure.


And with the rise in the Infrastructure Industry, the demand for well-educated professionals is rising. Universities across India provide Infrastructure Management Courses at both undergraduate and postgraduate levels. The major sectors included in the course are Infrastructure finance, construction sector, facilities management, real estate supervising, and Infrastructure investment management. The course provides an insight into Infrastructure Management elements such as contract management, project planning, and designing, supervising contract, and policy development. Students are also able to tackle challenges in Infrastructure development and innovation in the country.
Eligibility Criteria (UG & PG) of Infrastructure Management
The Eligibility criteria are mostly similar to all other UG/PG courses. The criteria mostly depend on universities and might vary. Some of the most common requirements in the Infrastructure Management course are given below –


For Undergraduate Infrastructure Management Courses
Students must have a passing certificate of 10+2 from a recognised board of examination.

Students must pass any admission test conducted by the institute.

Students must provide all the documents additionally required by the institute.

For Post Graduate Infrastructure Management Courses
Students are required to have a Bachelor's degree in any of the courses from a recognised university.

Students must qualify any national level or university-specific entrance examination required for admission.

Students should be able to provide all certificates with any documents required by the institute.
Browse Popular MBA Colleges By Cities
Browse Popular MBA Colleges By States
Entrance Exams for Infrastructure Management Course
Common Admission Test (CAT)- The test is conducted by the Indian Institute of Management situated across the country for admissions into postgraduate management courses. It is mandatory to have a graduation degree to be eligible for the exam. It is held in November.
Browse more details about CAT
Common Management Admission Test (CMAT)- It is a computer-based examination conducted at a national level for post-graduation management courses. Students must have a bachelor's degree or final year students with results declared before the next academic session can also apply.
Browse more information about CMAT
Symbiosis National Aptitude Test (SNAP)- SNAP is an admission test for Symbiosis institutes situated across the country for various post-graduation exams. It is also a national level examination held in January.
Browse more details about SNAP
Browse more details about MAT
Scope of Infrastructure Management in India and Abroad
Infrastructure plays a key role in branding companies in countries. It is a very important factor of development not only in high-rise projects but also in the basic infrastructure requirements like drainage systems to developing cities. The Infrastructure Management course not only provides a wide range of career options in infrastructure policies, real estate development, financial analysis, and project supervision but allows showing innovation in the field at a global level.


With more private firms investing in India for major city development projects, the Infrastructure industry is blooming. This has also created a demand for highly skilled and educated professionals with Infrastructure Management degrees. The infrastructure industry is not limited to domestic and private projects, aspirants also opt for infrastructure development in fields like Railways, Water Supply, Oil and Gas Transportation, etc. After gaining some experience in the field, aspirants can also try to become a part of international infrastructure management projects, and it will help then to increase their professional efficiency as well as provide a unique experience.
Students also liked
Course Fees Infrastructure Management
Minimum Fees
Maximum Fees
Private
Government
Private
Government
UG

60.00 K

B.Sc. in Infrastructure Management at Singhania University, Jhunjhunu

---

Data not available

9.24 Lakhs

B.B.A in Infrastructure Management at RICS School of Built Environment, Amity University, Noida

---

Data not available

PG

90.00 K

P.G.D in Infrastructure Management at Sunbeam Institute of Information Technology, Pune

45.85 K

M.E /M.Tech. in Infrastructure Management at Indian Institute of Technology Kharagpur

12.80 Lakhs

MBA in Infrastructure Management at Symbiosis Centre for Management and Human Resource Development, Pune

10.88 Lakhs

P.G.P in Infrastructure Management at National Institute of Construction Management and Research, Pune
Course Subjects
The undergraduate course in Infrastructure Management is of 3 years further divided into 6 semesters whereas the post graduation course id of 2 years duration divided into 4 semesters.


Major Subjects in Infrastructure Management Undergraduate Courses
Service-level management

Systems management for business

Capacity management

Information Technology Infrastructure Library (ITIL)

Organisation Management

Infrastructure Management

e-Waste disposal

Incident management

Limitation of financial models.

Major Subjects in Infrastructure Management Postgraduate Courses
Human Resource Management

Disaster recovery

FDI in the Infrastructure Sector

Quantitative Techniques

Infrastructure Development

Space management

IT Application in Infrastructure

Econometrics

Infrastructure Finance

Business Statistics
Careers in Infrastructure Management
India is established as one of the fastest-growing economies at a global level and the Infrastructure Industry in one of the major reasons. It's fair to claim that a career in the Infrastructure Management industry in today's time is most promising. Students have the opportunity to decide from a list of domains to start their careers, and despite the competition, the employment rate is higher thus makes it easy to step into the professional world of the Infrastructure Industry. By opting for infrastructure, aspirants will be contributing to the economy of India directly.


From private firm handling to government projects, aspirants can gain experience and skills over large subjects. And with the increased demand of the sector, career initiation has become relatively easier for candidates.
Popular Colleges in India offering MBA
Browse Top MBA Colleges Accepting CAT Score: Location-Wise
Upcoming trends
Lately, the Infrastructure Industry has become one of the most focused sectors for the Indian government as well as private firms. Some of the major achievements in this sector have occurred within the last decade.


International projects like the bullet train project in collaboration with Japan are on the top list. The research and development domain in this field is not only focused upon by government agencies, but vast funding comes from some of the world-famous infrastructure private companies.


Some of the latest trends observed in the Infrastructure Management Industry are –
Advanced Materials

Virtual Reality

Self-Healing Concrete

Home Analytics

3D Printing

Exoskeletons

Wearable Technology
Browse infrastructure management certification courses
View complete list of infrastructure management certification courses
Job Profiles and Top Recruiters
The employment rate and the job profiles offered to play a major role are aspirants deciding their career domain. The field of Infrastructure Management is widely explored in the past few years. The demand for well-trained professionals is preeminent in both private as well as government sectors. The field is majorly dependent on the government for funding and other aspects. Companies sought professionals with a unique sense of their field, someone who can transform the conventional image of their brand and provide innovative ideas to the table.


Some of the major sectors in the field of Infrastructure Management include construction, building management, Infrastructure Finance, etc. Due to the diversity of the field, the job profiles offered are very distinct and have a different skill requirement. With the increasing popularity of the field among youth, the employment rate is still gradually increasing relatively in all related sectors. The jobs offered are not only in high packages, but they also come with job security and pension in case of a government employee.


Some of the most common job profiles found in the Infrastructure Management field are given below along with their description
| | |
| --- | --- |
| Job Profile | Job Description |
| Real Estate Manager | A Real Estate Manager supervises the properties and land owned by the employer. Manages all the legal documentation regarding the estate. |
| Infrastructure Engineer | An Infrastructure Engineer responsibility is to design and develop the blueprints regarding the project. It's his/her responsibility to work out any challenges in the designing of the project |
| | A Construction Manager focuses on the team productivity and is responsible for completion of construction projects within the time frame. |
| Infrastructure Project Manager | The major role of the Infrastructure Project Manager includes supervising all the project related aspects such as design and development, time frame for the project. |
| Finance Manager | A Finance Manager handle's the stake and assets invested in the project and acts as the middleman between the inverters and developers. |
| Planning Manager | The ground plan for a project is planned by the Planning Manager. It's his /her responsibility to keep track of daily activity and respond to officials. |
| Project Consultant | A Project Consultant helps in determining various project-related aspects like location, budget and feasibility of the overall project beforehand. |
Infrastructure Management Top Recruiters
Due to the high demand and growth of the Infrastructure Industry in India and abroad, the employment opportunities have almost doubled in the past two decades. Knowing about the top recruiters in their field might help students in choosing their career domain. Some of the top recruiters of India and sat global level are mentioned below –
Reliance Infrastructure Limited

Adani Group

Mott Macdonald

Wipro

GMR Infrastructure Limited

Hempel

IRB Infrastructure

Hindustan Construction Company

KPMG
Average Salary
Aspirants having an idea about the job profiles offered and their average salary in the sector choose for career-building play a crucial role. Here's a list of the common job profiles offered along with their average annual salary packages. The below-mentioned amount is an approximation; the actual packages differ because of many factors, including job experience and skills available for the same.
| | |
| --- | --- |
| Job Profile | Annual Income (in Rs.) |
| Real Estate Manager | Rs. 4-6 lakhs p.a. (Approx.) |
| Infrastructure Engineer | 9-13 lakhs p.a. (Approx.) |
| Construction Manager | 7-10 lakhs p.a. (Approx.) |
| Infrastructure Project Manager | 10-15 lakhs p.a. (Approx.) |
| Finance Manager | 8.5-12 lakhs p.a. (Approx.) |
| Planning Manager | 9-11 lakhs p.a. (Approx.) |
| Project Consultant | 7.5-10 lakhs p.a. (Approx.) |
Also read: Online Infrastructure Management Courses & Certifications
Required Skillset for Infrastructure Management
The skills required in most of the management courses are almost similar. Students equipped with these skills can be majorly benefitted at the recruiting process.


Companies prefer candidates who have either job-related skills or work experience to fit in easily in the environment.


Some of the most crucial Infrastructure Management skills are mentioned below –
Team leadership – To be able to handle the team and be productive, taking the minimum amount of time for project completion requires leadership qualities.

Analytical Mindset – To be able to realise and locate the challenges ahead and prepare for the same needs good analytical skills.

Clarified Basic Concepts – The basic concepts related to the field as well as the job must always be clear to smoothly grasp the complex problems and solve them efficiently.

Tech Updated – As the industry is evolving quickly, one must be aware of all its achievements and latest technologies to maintain their professional presence.
Course Curriculum for Infrastructure Management
The Infrastructure Management course curriculum promotes technical skills along with enhancing their ability in management related decision making.


Science in the field is multi-disciplinary, students are provided with in-depth concept clarification about the various domains like financing, business law, construction, equipment manufacturing, marketing, real estate handling, research, and development. It combines concepts of engineering, finance, management, law, etc.


Students are taught about the latest technological advancements in the field of construction, civil infrastructure, or building management. By the time of course completion, students have the required knowledge and skills to initiate their career in whichever field they prefer.
Popular Infrastructure Management Entrance Exams in India
Popular Infrastructure Management Colleges in India VIEW ALL
Frequently Asked Questions (FAQs)
Question: What are the exams related to MBA in Infrastructure Management admission? What are their eligibility criteria?
Answer :
Some of the most common entrance exams conducted for management courses across India are Common Admission Test (CAT), Management Aptitude Test (MAT), Common Management Aptitude Test (CMAT), Institute of Engineering & Management Joint Entrance Examination, apart from these many institutes conduct their entrance examination.


The basic criteria include having a bachelor's degree in any of the fields from a recognised university. Students are sometimes asked for additional documents depending upon the institute
Question: List of some of the top colleges in India offering the Infrastructure Management courses?
Answer :
Top colleges in India offering Infrastructure Management courses are mentioned below –
International Management Institute (New Delhi)

Institute of Management-Christ University (Bangalore)

Management Development Institute (Gurgaon)

Jamnalal Bajaj Institute of Management Studies (Mumbai)

Indian Institute of Management (Lucknow)
Question: What is the range of Infrastructure Management Course fee in private and government colleges?
Answer :
The Course fees infrastructure ranges from Rs. 3-5 lakhs per year in private institutes and government institutes the range is Rs. 20,000-40,000 per year.
Question: What are some of the most explored specialisations in the field of Infrastructure Management?
Answer :
As the field of infrastructure is not simply limited to domestic and government building projects, there are lots of specialisations for students to choose from. The most common or preferred specialisations after M.B.A. are:
Real Estate Management

Railway Sector Development

Infrastructure Finance Management

Infrastructure Marketing

Human Resources Management
Question: What entrance exams can I take to join a course on Infrastructure Management?
Answer :
Common Admission Test (CAT)

Common Management Admission Test (CMAT)

Symbiosis National Aptitude Test (SNAP)

Management Aptitude Test (MAT)
Questions related to Infrastructure Management
Showing 14 out of 14 Questions
Courses Similar to Infrastructure Management
Interested in Infrastructure Management? Find information around eligibility, career scope, jobs , colleges and exams and much more for free.