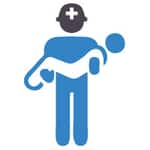 Disaster management
Degrees offered: B.A., B.A.(Hons), B.B.A, B.Sc., Diploma, M.A., M.E /M.Tech.
Q&A : 35 Question
What is Disaster management
Disaster, by its very nature, is unforeseeable, and when it strikes, it inevitably leaves behind devastation. People's lives are thrown into disarray, and chaos takes over completely. While we cannot control the occurrence of a disaster, what we can control is how we handle the aftermath, and this is where Disaster Management comes into play. When calamity strikes, be it natural or man-made, people require assistance and safety. Disaster Management trains you to help these disaster-struck, helpless people to recover from the calamity with minimum damage to their health and personal belongings.


The unpredictability of disasters having been acknowledged, there still are ways to predict (with limited accuracy) or estimate the probability of occurrence of a disaster, which courses in Disaster Management also teach. Those who aspire to help people in distress, in need, perhaps people rendered homeless due to disaster, can receive all the necessary training required to extend a helping hand.
Eligibility Criteria (UG & PG) of Disaster management
Eligibility in different levels/certificates of Disaster Management courses have different criteria:
MBA in Disaster Management- The aspirant must have completed a Bachelor's in any discipline with a minimum of 50% marks (45% for SC/ST/PWD/DA categories) or the equivalent in CGPA from a recognized university or board.

MSc in Disaster Management- Candidates must possess a Bachelor's degree with a minimum of 55% marks in any of the following disciplines: Environmental Science/Geology/Civil Engineering/Geography.

MA in Disaster Management- Aspiring candidates must possess a Bachelor's degree in any discipline from a recognized university. Candidates are also required to appear for entrance examinations wherever applicable, following which they may also be required to sit for interviews for admission to certain institutes.

PhD in Disaster Management- Eligible candidates are those who have completed a Master's or MPhil in the relevant discipline with a minimum of 55 percentile from a recognized university.

M.Phil. in Disaster Management- Candidates must possess a Master's degree in the relevant field from any recognized university.
Disaster Management Entrance Exams
In India, courses in Disaster Management are offered at the Certificate, Diploma and Postgraduate level.
NIDM (National Institute of Disaster Management) - The National Institute of Disaster Management conducts an entrance examination for admission into a postgraduate course in Disaster Management.


The institute offers ten courses, both basic and specialized, under Disaster Management:
Comprehensive Disaster Risk Management Framework (CDRMF)

Safer Cities (SC)

Financial Strategies for Managing Economic Impacts of Disasters (FS)

Earthquake Risk Reduction (ERR)

Climate Change and Disaster Risk (CIC)

Community-Based Disaster Risk Management (CBDRM)

Damage and Reconstruction Needs Assessment (DRNA)

Gender Aspects of Disaster Recovery and Reconstruction (GENDER)

Risk Identification, Assessment and Analysis (RA)

Risk Sensitive Land Use Planning (RSLUP)

TISS Entrance Exam (TISS-NET)- A computer-based entrance examination conducted by Tata Institute of Social Sciences, the TISS-NET is offered to students who wish to pursue an MA degree from the institute. The examination is conducted for admissions to 55 of its programmes, including a course in Disaster Management.


IGNOU Entrance Exam (IGNOU OPENMAT)- Students who have graduated in any discipline can sit for the IGNOU entrance examination to pursue a Postgraduate Diploma in Disaster Management. The IGNOU OPENMAT is a national-level entrance exam conducted for admissions to the institute's School of Management Studies which offers both MBA and PGDM courses. The examination is conducted twice a year, and its scores are valid for one year.
Scope of Disaster management in India and Abroad
In India, this discipline has high scope. Being a developing country, India still has many weak/susceptible regions where the need for better Disaster Management is still at the peak. Considering sources of disaster, both natural and man-made, there are certain parts of the country which are more exposed to threat than others, for factors that may be geographical and otherwise. Of these places, many still do not have sufficient resources and disaster management regulations to ensure minimum loss and proper recovery when calamity strikes.


The Ministry of Home Affairs is responsible for this field, and opportunities are plentiful for those who wish to contribute to saving the lives of disaster-stricken people. Careers in numerous departments of both government and private organizations are offered with high salary prospects, and an aspirant can build a very rewarding career out of this discipline. The United Nations, a worldwide organization that cares for the well-being of people belonging to every little nook and cranny of the globe, recruits graduates of Disaster Management courses substantially. In addition to pursuing an honourable path, candidates have plenty of scope in both India and abroad to build their careers.
Course Fees Disaster management
Minimum Fees
Maximum Fees
Private
Government
Private
Government
UG

7.53 K

B.Sc. in Disaster management at Mahishadal Raj College, Purba Medinipur

---

Data not available

1.80 Lakhs

B.Sc. in Disaster management at Khongnangthaba University, Imphal

---

Data not available

PG

10.00 K

P.G.D in Disaster management at CMJ University, Shillong

4.00 K

P.G.D in Disaster management at Morigaon College, Morigaon

6.18 Lakhs

M.E /M.Tech. in Disaster management at School of Engineering, University of Petroleum and Energy Studies, Dehradun

1.47 Lakhs

M.Sc. in Disaster management at Kerala University of Fisheries and Ocean Studies, Kochi

DOCTORAL

4.50 Lakhs

Ph.D in Disaster management at Shoolini University of Biotechnology and Management Sciences, Solan

---

Data not available

4.50 Lakhs

Ph.D in Disaster management at Shoolini University of Biotechnology and Management Sciences, Solan

---

Data not available

DIPLOMA

3.72 K

Diploma in Disaster management at BPHES' Centre for Studies in Rural Development Institute of Social Work and Research, Ahmednagar

15.00 K

Diploma in Disaster management at Jamia Millia Islamia, New Delhi

1.39 Lakhs

Diploma in Disaster management at World University of Design, Sonipat

15.00 K

Diploma in Disaster management at Jamia Millia Islamia, New Delhi
Course Subjects
Of the many subjects covered under various levels of Disaster Management courses, some of the common and important course subjects include:
Hazards, Risks and Disasters

Field Skills

Disaster Theory, Statistics and Logistics

Disaster Mitigation, Preparedness and Response

Earth catastrophes, Fire and Explosion

Understanding Natural and Man-made Disasters

Disaster Medicine

Rehabilitation, Reconstruction and Recovery

Strategies for Survival

Risk Analysis Techniques

Resources Analysis and Mobilization

The Experience of Vulnerability

Disaster Preparedness (various aspects)

Logistics Management

Communication, Participation, and Activation of the Emergency Preparedness Plan

Disaster Management courses are a mix of theoretical and practical subjects. Students are educated in theory and principle about various kinds of disasters, logistics, managerial aspects and risk mitigation practices and provided additionally with supplementary Audio-Video programmes, counselling sessions, teleconferencing sessions for an extensive understanding of the various aspects of each subject and much more. The goal is to train students in every manner possible to protect those in need.
Also Read: Online Disaster Management Courses & Certifications
Careers in Disaster management
In India, both government and private organizations offer good employment opportunities in the Disaster Management discipline. In government agencies, disaster management jobs are offered in departments such as drought management departments, fire departments, law enforcement, relief agencies, insurance companies, and industries in high-risk areas like mining, petroleum and chemicals.


Jobs in the public sector, too, are plentiful in the fields of research, teaching, consultancy, documentation, field training, mock drill expert, social work, engineering, rehabilitation work. One may also choose to work with top NGOs and international organizations, including the Asian Development Bank, United Nations Organizations, Red Cross, World Bank, and UNESCO.
Students also liked
Upcoming trends
In the year, the world has witnessed climatic devastation in the form of cyclones, forest fires, earthquakes, major explosions, and many more incidents, both major and minor.


Disaster Management, in today's scenario, has become all the more important in promoting resiliency among the populations and educating people about the proper resources and skillsets needed to take care of themselves.


Professionals in this field are integral to the society, to government and non-government agencies in protecting lives, and consequently, new trends are constantly emerging to help optimize the process as much as possible. Some emerging trends that disaster management professionals have begun to adopt include:
Risk-Based Planning: Today's vision in disaster mitigation promotes coordination between all sectors at various levels within the government. Information sharing among independent groups is becoming widespread in the pursuit of community resilience.
This approach is based on whole-community cooperation, educating communities to identify and assess risks. People are being taught how to use the correct precautionary measures and resources that aid in decision-making processes. These plans aim to prepare for the hazards that are estimated as most likely to affect an organization or a particular community, while also leaving room for adaptability for an effective response to unexpected scenarios.


Technology and Social Media: Social media is now being used by governments and the general public as an important tool for response and rescue. Social media has been used as an effective communication tool by businesses and agencies to obtain information during crises and to contact risk mitigators. The general public has also found this tool useful to keep a check on their loved ones who reside in or are known to be present in disaster-struck regions.


Public-Private Partnerships: When the lives of entire populations are at risk, maximum cooperation between agencies, both government and private, are essential in maximizing response and recovery operations.
Focus is on building collaborative relationships between public entities, businesses, volunteer organizations, and private agencies. These partnerships enable multiple resources to be brought together in building community resilience and protecting critical infrastructure.
Browse disaster management certification courses
Job Profiles and Top Recruiters
In a career in the field of Disaster Management, a candidate can have many important roles depending on the type of work they are willing to do and are interested in pursuing. Some of the options that are popular among aspirants include:
| | |
| --- | --- |
| Job Profile | Responsibilities |
| Disaster Recovery Manager | Managing the design, implementation, and communication of disaster recovery plans and processes, ensuring the integrity and security of company data, information systems, databases, and technology |
| Safety Specialist | Implementing, managing, and monitoring safety programs, procedures, and policies while ensuring their adherence to OSHA and other applicable requirements; evaluating the organization's facilities, equipment and procedures by conducting inspections |
| Emergency Services Director | Directing the staff and programs of the emergency services unit; introducing and developing new approved standards and guidelines for emergency service programs. |
| Nuclear Emergency Planner | Coordinating disaster response or crisis management activities, providing disaster preparedness training, preparing emergency plans and procedures for nuclear power plant emergencies |
| Hurricane Program Manager | Planning and directing disaster response or crisis management activities, providing disaster preparation training, and preparing emergency plans and procedures for natural disasters, especially hurricanes |
| Environmental Health and Safety Manager | Inspecting facilities to identify risks, monitoring compliance with safety procedures, maintaining a record of discharge or employee exposure to hazardous waste and/or pollutants, drafting inspection reports to document findings, developing safety and health procedures for all areas, implementing inspection policies and procedures and a schedule of routine inspections |

Disaster Management Top Recruiters
Organizations in India that offer ample employment in the Disaster Management field include:
Indian Institute of Public Administration (IIPA), New Delhi

SAARC Disaster Management Centre, New Delhi

National Institute of Disaster Management (NIDM), Ministry of Home Affairs, New Delhi

Haryana Institute of Public Administration (HIPA), Gurgaon

India Meteorological Department, New Delhi

Ambedkar Institute of Public Administration, Chandigarh

Centre of Disaster Management, Jaipur

G.B. Pant Institute of Himalayan Environment and Development, Nainital, Uttarakhand

Indian Red Cross Society, New Delhi and States Units

Indian Agriculture Research Institute (ICAR), New Delhi

Disaster Management Centre, Bhopal

Disaster Mitigation Institute, Ahmedabad
Average Salary
The salary of a Disaster Management professional can vary due to countless factors, one of the primary deciding factors being experience. That being said, the average salary earned by professionals in the field of Disaster Management can be estimated as given below.


| | |
| --- | --- |
| Job Profile | Average Annual Salary |
| Disaster Recovery Manager | Rs. 2-7 Lakhs p.a. (Approx.) |
| Safety Specialist | Rs. 6 Lakhs p.a. (Approx.) |
| Emergency Services Director | Rs. 10 Lakhs p.a. (Approx.) |
| Nuclear Emergency Planner | Rs. 9 Lakhs p.a. (Approx.) |
| Hurricane Program Manager | Rs. 9 Lakhs p.a. (Approx.) |
| Environmental Health and Safety Manager | Rs. 4-8 Lakhs p.a. (Approx.) |
Required Skillset for Disaster management
The field of Disaster Management is built around the idea of an emergency. Without a solid foundation of education, training, and experience, it can be very difficult for certain people to settle into a lifetime of dealing with crises.


Critical thinking, sound decision-making skills and flexibility in dynamic environments are essential skills in this discipline. Theoretical principles may extensively be taught with education and training, but these principles are only the tip of the iceberg that is an expert Disaster Management professional.


Candidates must attempt to inculcate soft skills like communication, time management and organizational skills as well. In times of emergency, good communication skills can prove very useful in preventing mass panic and establishing priorities and information on an ongoing basis.


Time management and organizational skills become important when the job at hand requires you to shift gears promptly to tackle another task on a priority basis, and managing said priorities when the work seems overwhelming.


Finally, imbibing the spirit of teamwork is paramount to becoming a Disaster Management professional. No individual is equipped to tackle everything alone, and help is always required. Knowing how to work well with a team, effectively coordinating work among teammates and executing the work together can shave off valuable seconds when dealing with an enormous crisis.
Course Curriculum for Disaster management
Any course in Disaster Management, be it an MA, MSc, PhD, MBA, so on and so forth, focuses on the causes of various kinds of disasters and the best ways to minimize their impact. Students are introduced to field operations, environmental systems and organizational management.


Students are also trained to recognize the signs of impending disaster and the kind of preventive measures that can be taken to ensure the protection of maximum lives and livelihoods even before the disaster hits.
Popular Disaster management Entrance Exams in India
Popular Disaster management Colleges in India VIEW ALL
Frequently Asked Questions (FAQs)
Question: What are the entry-level career prospects after a Disaster Management programme?
Answer :
At the entry-level, candidates can expect to find employment in fire departments, drought management departments, law enforcement sectors, and many more.
Question: How important is Disaster Management in India?
Answer :
Occupying a significantly important position in India's policy framework, disaster management is essential to answer the needs of poverty-stricken families who face the brunt of disasters more than others.
What's more, these people from India's predominant population. Hence, more professionals are required in these fields to deal with overwhelming populations of suffering victims who are helpless after calamities strike.
Question: What is the future of Disaster Management?
Answer :
With advancing technology, our reach is increasing enormously. Today we possess means of seamless communication with people living on the other side of the globe from ourselves. This, in turn, is bringing new trends and more advanced risk mitigation technologies into the Disaster Management field.
Communication has improved significantly, making it easy for large international organizations to optimize their operations and response time.
Technologies for predicting and estimating the probability of occurrence of a disaster, too, have improved significantly and today we are warned when a cyclone is making its way towards us.
In the future, we can expect these measures to take even greater leaps forward, taking us into a future where disaster fatalities are significantly reduced, and recovery rates are improved significantly.
Question: Is a career in Disaster Management risky?
Answer :
A lot of the job profiles in Disaster Management do not involve putting oneself in risk by performing onsite operations to deal with the damage of a disaster.
Those who are passionate about helping people in need but cannot handle the risk that one's own life may be put in can still pursue a very lucrative career in Disaster Management by handling the paperwork, policies, data management, security concerns, and employee management of the organization.
Question: Is a degree in Disaster Management worth it?
Answer :
Nothing trumps the feeling of contentment that comes from making a huge difference in people's lives where they may have otherwise been helpless.
A degree in Disaster Management is essential to prepare you for the highs and the lows that come with the job, and with the necessary qualification, you are in a position to extend as much help as you can to disaster-stricken regions and populations.
So, yes, if you are passionate about helping people, a degree in Disaster Management is worth it.
Questions related to Disaster management
Showing 34 out of 34 Questions
Courses Similar to Disaster management
Interested in Disaster management? Find information around eligibility, career scope, jobs , colleges and exams and much more for free.